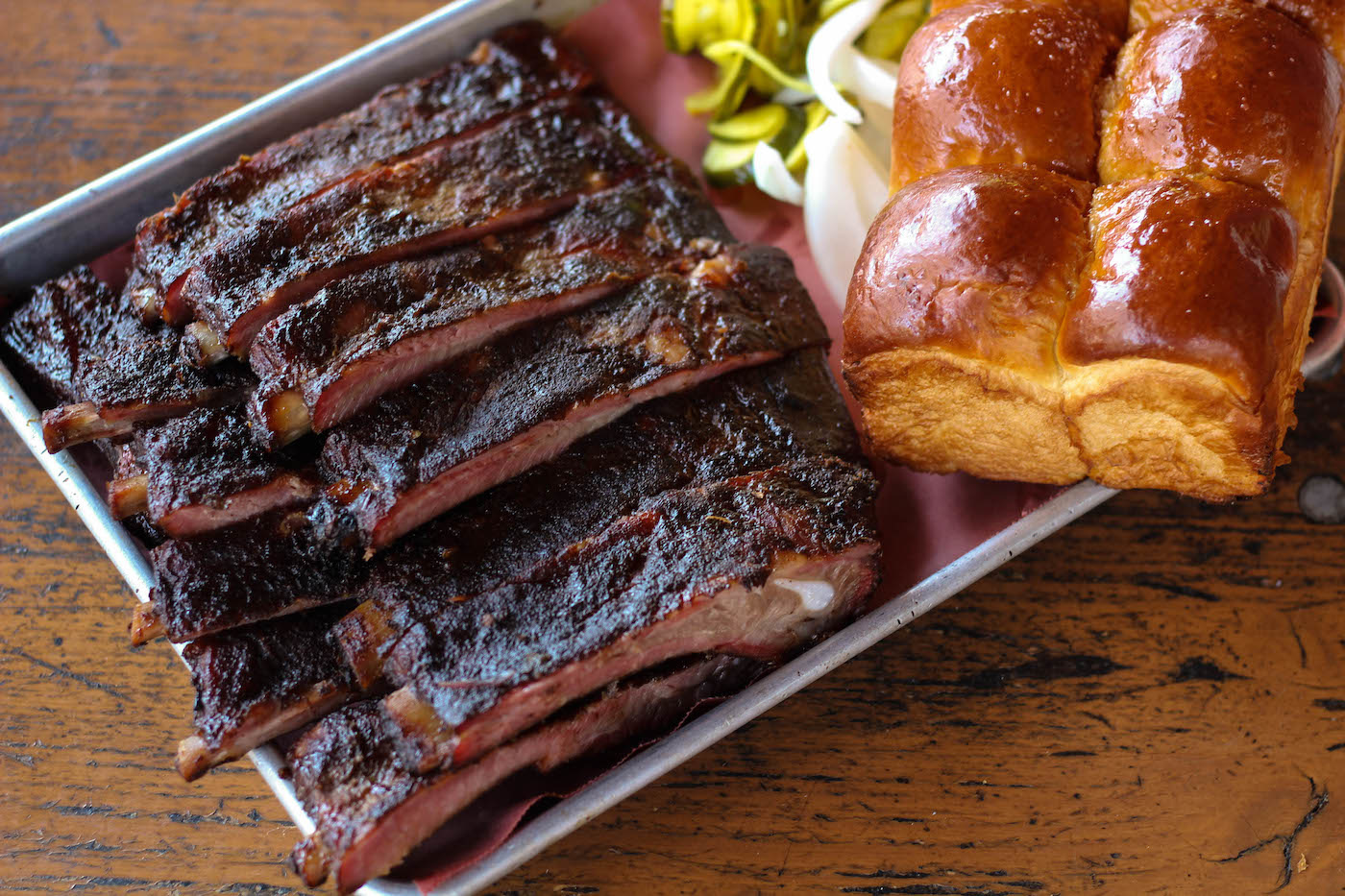 Super Bowl Sunday is February 2nd, and our home team is in the game! If you're hosting your own watch party, you're going to need some legit snacks.
But since you're no longer in college, Totino's pizza rolls won't do to feed your people. Make like a sophisticated Super Bowl party host and cook up some real foodthink barbecue ribs, Korean friend chicken, tacos, and kale guac.
---
Here we share some tasty, game-day-ready recipes from Bay Area chefs including Ryan Farr (4505 Burgers & BBQ), Gabriela Camara (Cala), Dennis Lee (Namu Gaji), and Samin Nosrat (Salt Fat Acid Heat).
Namu Gaji's Korean Fried Chicken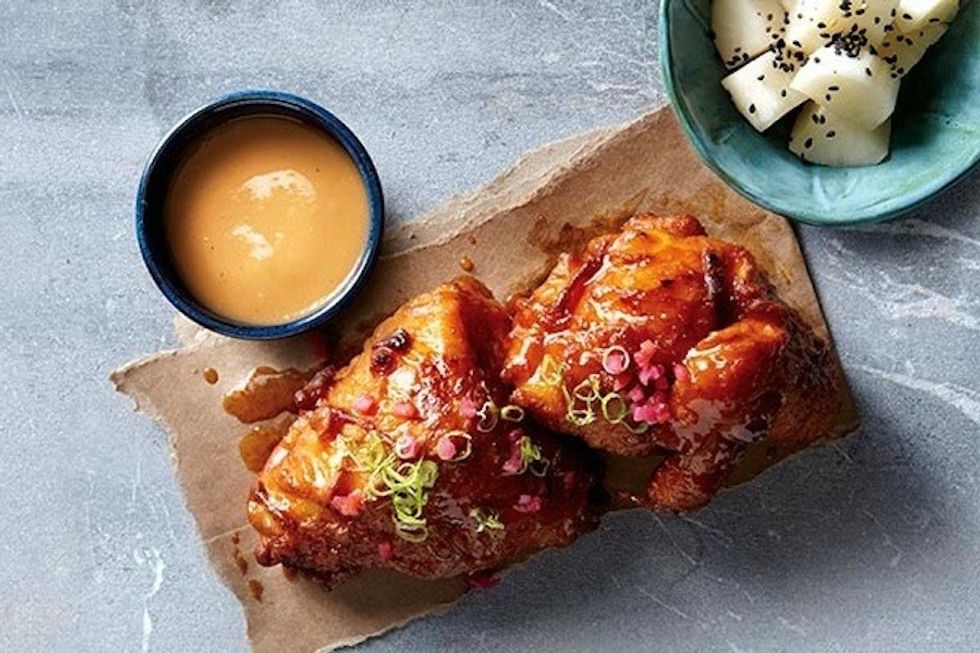 Move over, Colonel Sanders. At Namu Gaji, chef Dennis Lee's Korean Fried Chicken (KFC) is officially a cult favorite. Available on the restaurant's lunch menu, it's twice fried and then slathered with a sweet and tangy glaze that looks almost nuclear, thanks to a helping of gochujang, a kicky Korean condiment made from red chiles, rice, fermented soybeans, and salt.
Lee's Korean Fried Chicken is a far cry from Shake 'n' Bake in both flavor and processso if you're going to cook up this chicken for your Super Bowl party, open up a bottle of wine and practice being zen.
Ingredients
(serves 4-6)
3 quarts water
1/3 cup salt
1/3 cup soy sauce
Whole chicken, split into 8 pieces (2 of each: wing with breast, breast, thigh, and drumstick)
1 cup plus 2 cups all-purpose flour
2 tablespoons potato starch
1 tablespoon sea salt
2 tablespoons black pepper
5 cups cold sparkling water
5 quarts frying oil (rice bran,
canola, or peanut oil) or pork lard
KFC glaze (see below)
Special equipment: candy thermometer
1. Combine water, salt, and soy sauce in large pot. Place chicken in this brine, and soak for 3 to 4 hours in refrigerator.
2. Remove from solution and pat dry.
3. Lightly coat chicken in 1 cup of flour.
4. Whisk the 2 cups of flour, potato starch, sea salt, and black pepper together in large bowl.
5. Add sparkling water and mix until smooth.
6. Coat chicken in batter.
7. Heat frying oil to 320 degrees in 8- to 10-quart heavy-bottomed pot. Submerge chicken in oil for 8 minutes, maintaining temperature between 300 and 320 degrees.*
8. Remove chicken and allow to rest on a drying rack for 6 minutes.
9. Heat oil to 375 degrees.
10. Submerge chicken again and maintain temperature between 350 and 375 degrees.* Batter will appear golden brown and very crispy when done.
11. Coat chicken in warm KFC glaze. Plate the chicken.
12. Serve with daikon pickles, spicy slaw, and dashi gravy for dipping. See recipes online at 7x7.com/KFC.
*Chef's note: The temperature of the oil will drop when you place all of the chicken in. Increase or decrease heat to maintain proper temperature for the duration of cooking.
KFC Glaze
1/2 cup gochujang
1/2 cup distilled white vinegar
1 tablespoon fish sauce
2 tablespoons soy sauce
1/2 cup sugar
8 ounces unsalted butter
1 tablespoon potato starch mixed with 2 tablespoons water1
Combine all ingredients except potato starch slurry in small (4-quart) pot.
2. Bring to a simmer and add potato starch slurry, whisking vigorously.
3. Turn the heat down to very low to keep warm.4. Take the mixture off the heat, and whisk for a minute just before glazing the chicken.
Daikon Pickles
2 cups water
1 cup sugar
2 tablespoons salt
2 cups white vinegar
2 to 3 pounds medium-size Japanese daikon, cut into 1/2-inch cubes
1. Combine water, sugar, salt, and vinegar, and whisk until uniform.
2. Add radish and let sit, covered, for 24 hours. Then refrigerate until ready to eat.
3. These will easily keep for 6 to 8 weeks in the refrigerator.
Spicy Slaw
1/2 green cabbage
1 cup mayo
2 tablespoons sriracha (more if you like it hotter)
1. Thinly slice the cabbage.
2. Mix together with mayo and hot sauce until evenly coated.
Chef's note: "I think this slaw is best served right away, when you can taste the raw cabbage, but it's also good the next day, served after being refrigerated."
Dashi Gravy
1 cup heaping bonito flakes
1 piece kelp, 4 by 4 inches
4 quarts chicken stock
2 tablespoons fish sauce
1/4 cup soy sauce
1/2 cup mirin
6 ounces unsalted butter
6 ounces flour
2 tablespoons Parmesan cheese, grated
Black pepper to taste (approximately 1 teaspoon)
1. Place bonito and kelp in chicken stock in medium (6-quart) pot. Bring to a simmer and remove from heat.
2. Strain the liquid, discarding solids, and return to pot.
3. Add the fish sauce, soy sauce, and mirin to the stock.
4. In a separate 10-inch saut pan, melt butter on low.
5. Work the flour in until there are no lumps and the flour is fully incorporated (the mix will become a relatively solid mass).
6. Heat stock to a simmer, and add the butter-and-flour combination in small pieces, whisking them in.
7. Add cheese and black pepper.
8. Whisk for 4 minutes as the mixture bubbles and thickens.
9. Serve hot.
4505 Burgers & BBQ's Pork Spare Ribs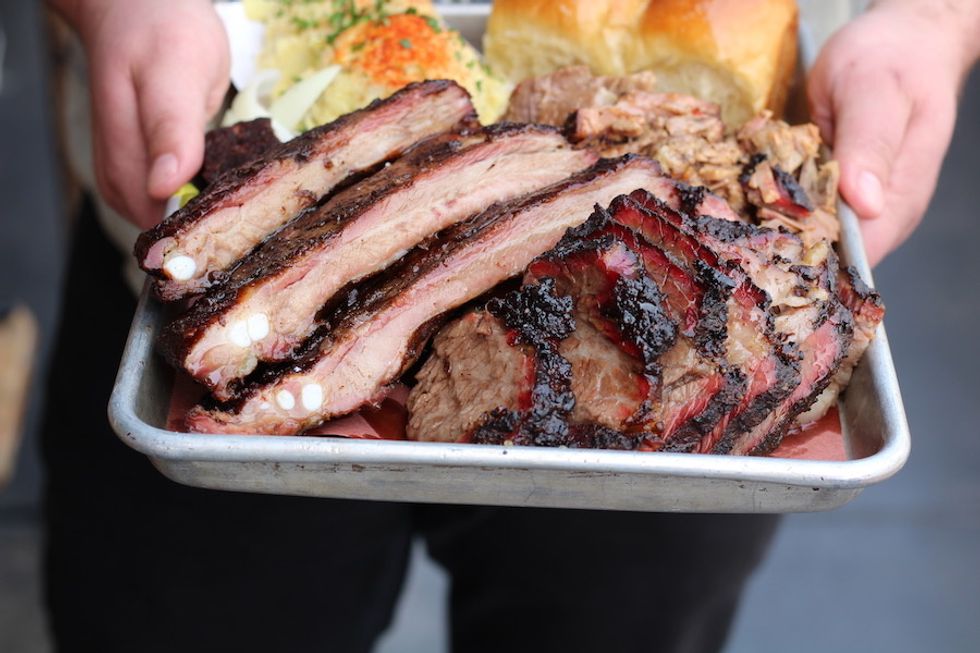 Sure, you could throw some burgers on the grill, but where's the prowess in that? Show off mad culinary skills at your Super Bowl party this year by replicating 4505 Burgers & BBQ's tender, chewy ribs. You can thank chef Ryan Farr later.
Ingredients
3 racks spare ribs
1 cup rib rub
cup Heinz yellow mustard
cup barbecue sauce
Rib Rub Recipe
8 tablespoons sea salt
3 tablespoons brown sugar
3 tablespoons coarse ground black pepper
tablespoon red pepper flakes
1 tablespoon ground ginger
Preheat oven to 220 degrees Fahrenheit.
Mix all ingredients in pork dry rub and set aside.
Take your rib rack, flip it over so the bone and silver skin is showing and trim off the extra flap of meat hanging off.

Pro tip: Extra flap of meat can be tossed in spice rub and cooked with the ribs, then chopped and used in baked beans, scrambled with eggs in the morning, or over rice with some scallions and a bit of sriracha.

Turn the rack back over so the meat side is showing, and brush liberally with yellow mustard.
Season with the rib rub, coating both sides evenly, approx. 1/3 cup of seasoning per rack of ribs.
Repeat on remaining two racks.
Place on a baking sheet and cook approx. 2hrs. Then flip every 30 minutes, brushing with your favorite BBQ sauce for the next 1-2 hrs until the meat starts to fall away from the bone.
Transfer to a cutting board and cut between the bones to separate (it can help to flip the rack over so you can more easily see the bones).
Transfer to a platter and serve with extra BBQ sauce on the side.
*Chef's Tip: You can do steps one through seven ahead of time so you aren't stressing during your party. Give the ribs a little char on your grill to heat them back up and caramelize the bark...and enjoy!
Tacos Cala's Pork Adobo Tacos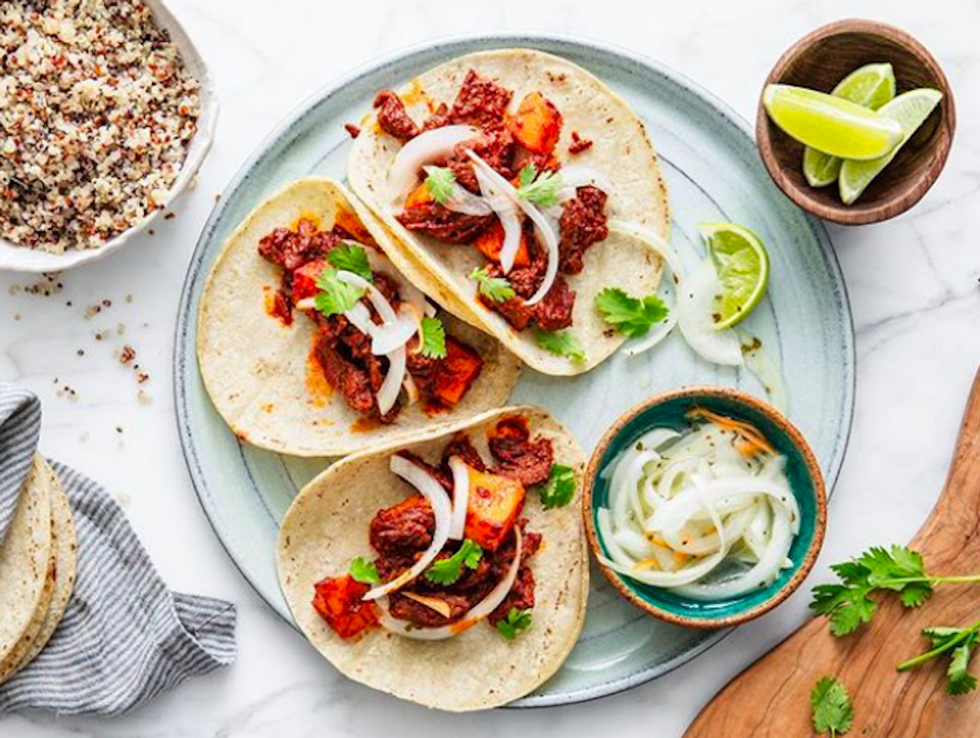 Recreating some of chef Gabriela Cmara's creations at upscale Cala would require your A-game, but surely you can whip up some tacos?
We love Tacos Cala, the no-reservation taco stand at the back of the restaurant serving Mexico Citystyle tacos guisados, or homestyle stews. Our favorite is the pork adobo, with chunks of pork shoulder that are browned and braised until tender in a spicy, smokey red salsa. You can do it.
Ingredients
(serves 12-15)
5-pound pork shoulder
adobo seasoning*
1. Cut pork shoulder into half-inch cubes.
2. Pure all adobo ingredients together in a blender and pour the resulting adobo sauce into a large bowl.
3. Add pork to the bowl to marinate in sauce for a minimum of 10 minutes.
4. Remove pork cubes from marinade and sear on all sides in a large deep-sided skillet over medium-high heat.
5. Pour chicken stock and leftover marinade into the pan until the pork is submerged.
6. Lower the heat to a gentle simmer, cover the pan and braise for approximately 3 hours or until pork is falling apart.
7. Serve pork with rice, beans, tortillas (Chef Cmara recommends La Palma's tortillas), and your choice of salsa or guacamole.
*Adobo ingredients
2 large cloves of garlic
1 large white onion
3 medium Roma tomatoes
3 dried ancho chiles, seeds removed
15 dried cascabel chiles, seeds removed
10 dried guajillo chiles, seeds removed
2 1/2 T achiote paste
1 cup rice oil
1 T salt
2 T water
Samin Nosrat's Buttermilk Roast Chicken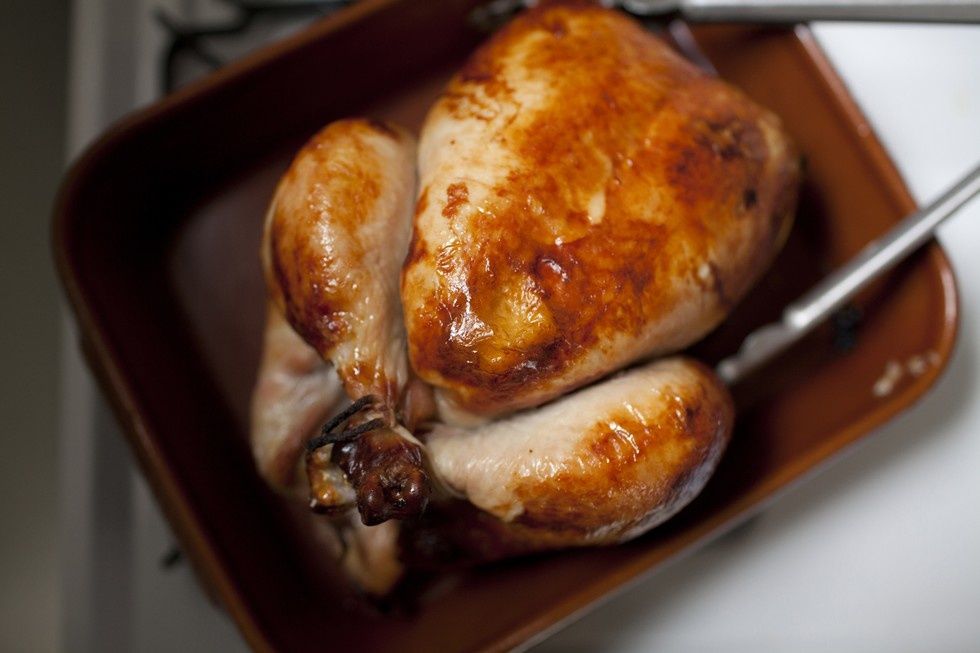 According to Google, and as reported by Today, "baked chicken breast" wins for the most-searched Super Bowl food by Californians. Not fried chicken wings (Arkansas) or decadent nachos (Alaska) or warm spinach dip (Texas), but bland AF baked chicken breast. C'mon, California. Really?
Well we know for certain that Berkeley-based chef Samin Nosrat, of Salt Fat Acid Heat fame, wouldn't stand for thatshe shared her distaste for dry, flavorless poultry (among other juicy reveals) in 7x7's recent interview with her on our podcast. So if you're really craving chicken, cook up Nosrat's juicy, tender roast bird instead.
Ingredients
(serves 2-4)
1 whole 4-pound chicken, cleaned (organs removed) and patted very dry
Kosher salt
1 quart buttermilk, well shaken
Any mixture of sliced green garlic, onions, parsnips, carrots, or other root vegetables (just to put at the bottom of the pan), cut into 1/4-inch pieces
Olive oil
2 bay leaves
Spicy French mustard such as Roland (optional)

1. Forty-eight hours before you want to eat this chicken, salt it aggressively. That means using at least a few tablespoons, if not more. The reason is that much of the salt will get washed off by the buttermilk, so here you're helping the inside of the chicken get seasoned. Put the chicken in a covered container and refrigerate overnight.

2. Twenty-four hours later, place the chicken in a re-sealable plastic bag and fill the bag with the buttermilk.
3. Seal it, squish the buttermilk all around the chicken, place on a rimmed plate, and refrigerate. If you're so inclined, over the next 24 hours you can turn the bag so each part of the chicken gets marinated, but that's not essential.
4. When you're ready to roast, preheat the oven to 475 degrees.
5. Add a layer of vegetables to a large cast-iron skillet and coat them with about 1/4 cup olive oil and sprinkle with salt.
6. Remove the chicken from the plastic bag and scrape off as much buttermilk as you can without being obsessive.
7. Place the bay leaves in the chicken's cavity.
8. Truss the chicken by placing a 12-inch length of butcher's twine with its center in the small of the chicken's back. Tie the twine around each wing tightly and then flip the chicken over and use the remaining twine to tie the legs together as tight as you can.
9. Place the chicken on top of the vegetables and drizzle it with a little more olive oil.
10. Place the pan in the oven with the legs pointing toward the back left corner and close the door. You should hear the chicken sizzling pretty quickly.
11. Roast for 15 to 20 minutes. When the chicken starts to brown, lower the heat to 425 degrees and continue roasting for 30 minutes and then move the pan so the legs are facing the back right corner of the oven.
12. Continue cooking for another 30 minutes or so, until the chicken is brown all over and the juices run clear when you cut between the leg and the thigh.
13. When the chicken's done, remove it to a platter and let it rest for 10 to 15 minutes before carving it. Serve with the roasted vegetables and, if you like it, spicy French mustard.
Note:
When you make fried chicken, sometimes you soak it in buttermilk the night before to tenderize it. The same concept applies here, except instead of frying the chicken, you're going to roast it whole. And the finished chickenwhich before it was soaked in buttermilk, was seasoned aggressively with saltwill be delectably tender and moist and packed with flavor. Take heed, though: because of all that buttermilk, the chicken will bronze in patches at first (places where the buttermilk soaked in more thoroughly) and then turn a deep brown color, almost like a Thanksgiving turkey. If that happens too fast or it gets too dark, simply cover the darkest spots with foil. It will still taste wonderful.
Excerpted from Secrets of the Best Chefs by Adam Roberts (Artisan Books). Copyright 2012. Inspired by Samin Nosrat.
True Food Kitchen's Kale Guacamole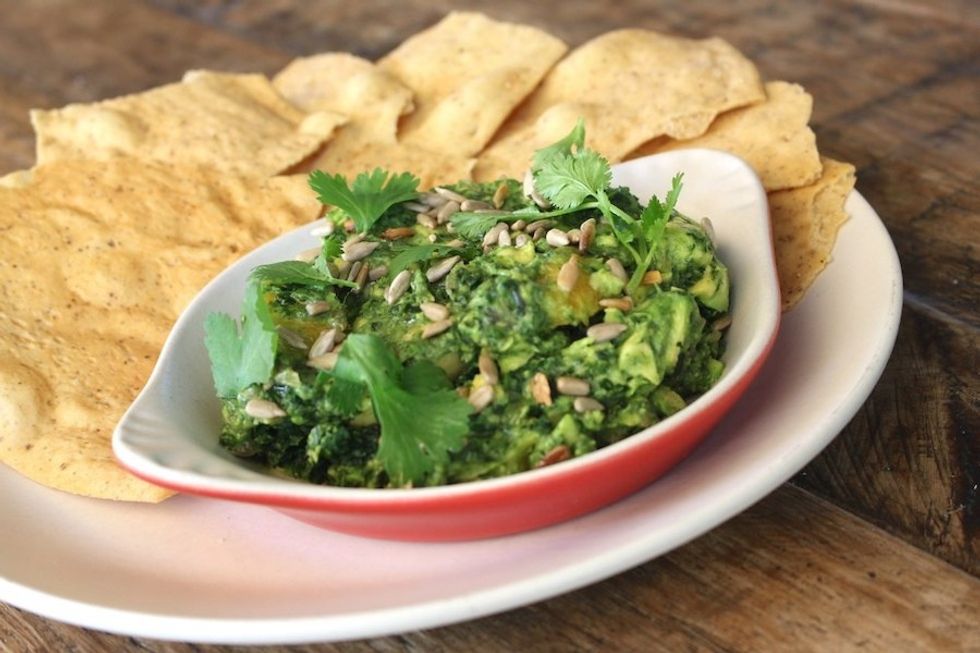 Let's be real, your typical Super Bowl Sunday spread is mostly fried, greasy, cheesy, and meat-tastic. And while we're not against these decadent snacks, we'd also like to add some greens to the spread.
That's where True Food Kitchen's kale guacamole comes in. You've got a lovely bowl of healthy fat in those California avocadostoss in some dark leafy greens for a truly nutritious dip. (Bonus points for dipping with crudits!)
Ingredients
(serves 4-6)
cup blanched and chopped kale
1/3 cup poblano peppers, roasted and peeled seeds removed
1/8 cup cilantro, chopped
1/8 cup green onions, chopped
1/3 cup grapefruit segments
1/3 cup orange segments
teaspoons sea salt
4 ripe avocados, lightly smashed
1. Remove stem from kale and blanch leaves in boiling, lightly salted water till tender, approximately 45 seconds.
2. Shock in ice water until chilled, squeeze dry, finely mince, and set aside.
3. Roast poblano peppers until charred on all sides, peel skin, remove seeds, finely mince, and set aside in a large bowl.
4. Lightly smash avocado.
5. Mix in blanched kale, poblano, cilantro, onions, citrus and salt until well incorporated.
6. Serve with chips and enjoy!
WesBurger's Tex-Mex Queso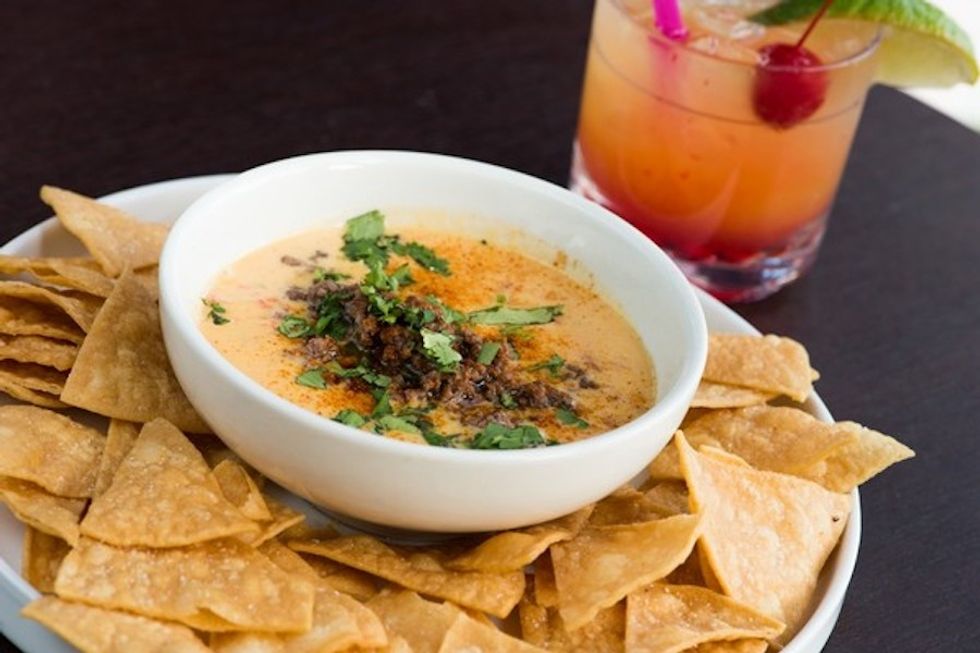 You can take the chef out of Austin, but you can't take the Austin out of now SF-based Wes Rowe, whose Wesburger in the Mission makes some of the best burgers in town.
But Rowe is really known for topping those burgers and tater tots (uh huh) and his signature Tex-Mex queso. Make it at home, and pour it over chips, tots, burgersfeel free to get crazy.
Ingredients
1lb white American cheese (You must source this from the deli counter, not the cheese aisle! Have them cut you a 1lb block and shred it at home.)
4 oz. asadero cheese, shredded
1 jalapeno chopped
1 large ripe tomato
1/4 white onion chopped
1 small bunch cilantro roughly chopped
1 tsp cumin (toast cumin seeds and blend in a spice grinder for a fresher taste)
1/4 cup whole milk
1. Sautee onion and pepper in a sauce pan with a teaspoon of oil until soft.
2. Place sauce pan inside of larger sauce pan filled with water to create a double boiler. This is important to keep the cheese from burning.
3. Add shredded cheese, milk, tomato, cumin, and cilantro to double boiler with jalapeo and onions stirring frequently till cheese is completely melted and all ingredients are combined.
4. Serve in a warm bowl, or out of a crock pot set to low.
* Awesome additions include spicy ground beef, guacamole, crema Mexicana, or all three!