Tie dyeing is a great pastime for both teens and adults. However, collecting the various tie dye supplies can sometimes become hectic. 
Thankfully, all-inclusive tie-dye kits are now easily accessible to simplify this process. These kits are convenient and come with easy-to-use tie dyes, suitable fabric (optional), rubber bands, plastic covers, etc. The more advanced the kit gets, the more items you get. 
But, with so many tie dye kits available on the market, choosing the right brand and finding out where to start might be a bit of an issue for some of you. 
I've compiled a list of some of the best tie-dye kits that are an excellent option for beginners and experienced dyers! No matter your next project, there's at least one kit. So, let's start. 
Before that, let's understand which tie dye is the best. 
Tie Dye – Which One Is The Best?
Fiber reactive dyes are the best tie dye for beginners and experienced dyers. When used on natural fibers like cotton, the dyeing process becomes easy, giving your fabric a permanent color that won't fade even after repeated wash cycles.
The molecules in the dye and cellulose fibers together form a strong bond. Thus, when the dye is applied, the molecules in the dye become a part of the cellulose fiber molecules. 
This molecular bond strengthens as the dye is allowed to sit for a fixed duration. And what you get is a permanent shade. 
What Do I Need For Tie Dye?
Before you begin tie dyeing, you will require some basic yet essential tie dye supplies. Coming to the fabric type, you must know which fabric is suitable for your project. The best way to understand this is to check what all fabrics your dye is compatible with. 
Here, I've summarized the supplies mentioned above for reference.  
Essential Supplies
A few materials and tools are essential to start with tie dyeing. All standard Tie Dye kits contain all the necessary items required. Yet, here's a complete list to make it easy for beginners.
Dye activator

Cotton fabric 

Squeeze bottles

Rubber bands

Dye
Optional Supplies
A few optional supplies will make your tie dye easier and less messy. With these pieces of equipment, you will be able to complete your project in a structured manner.
Twine 

A metal rack

Table cloth

Spray bottles

Large mixing bucket

Laundry detergent
Chemicals To Customize The Dye
You can customize your dye by either thickening or thinning it with chemicals. This will change how the dye will get onto the fabric eventually. To get the precise combination of these ingredients, experiment with them. Mix these chemicals to find a formula that works best for you.
Here are a few chemicals I often use for this purpose. 
Alginate

Urea

Calsolene oil
Tip: Don't overdo chemicals in your tie dye liquid to ruin everything. 
Safety Supplies
Generally, tie dye is safe to handle and child-friendly. But still, always follow some precautions as certain dyes might be toxic due to their chemical contents. Moreover, tie dyeing is a messy affair as well! 
You can use safety gear like:
Gloves

Mask

Tablecloth/plastic sheet
Tip: Get all the above supplies handy when working with your kids. 
Tie-Dye Material 
Generally, tie dyeing is executed on old garments to give them a unique look. If you're quite experienced with the process, I encourage you to try out some cool patterns. An excellent tie dye pattern will make your target material look 100x better. 
Here are my favorite materials that easily accept tie-dye. 
T-shirts

Pajamas

Sweatshirt

Joggers

Canvas shoes 

Hoodie

Socks

Handkerchief 

Tie

Hats
Remember that tie dye comes out well on natural fibers, such as cotton, rayon, linen, etc. Synthetic fibers can also be used. However, don't expect the same results then.
Best Tie Dye Kits – 8 Options You Can't Miss
Let's now explore some amazing tie-dye kits to assist you in dyeing. 
Let's discuss each of these below. 
Best Overall Tie-Dye Kit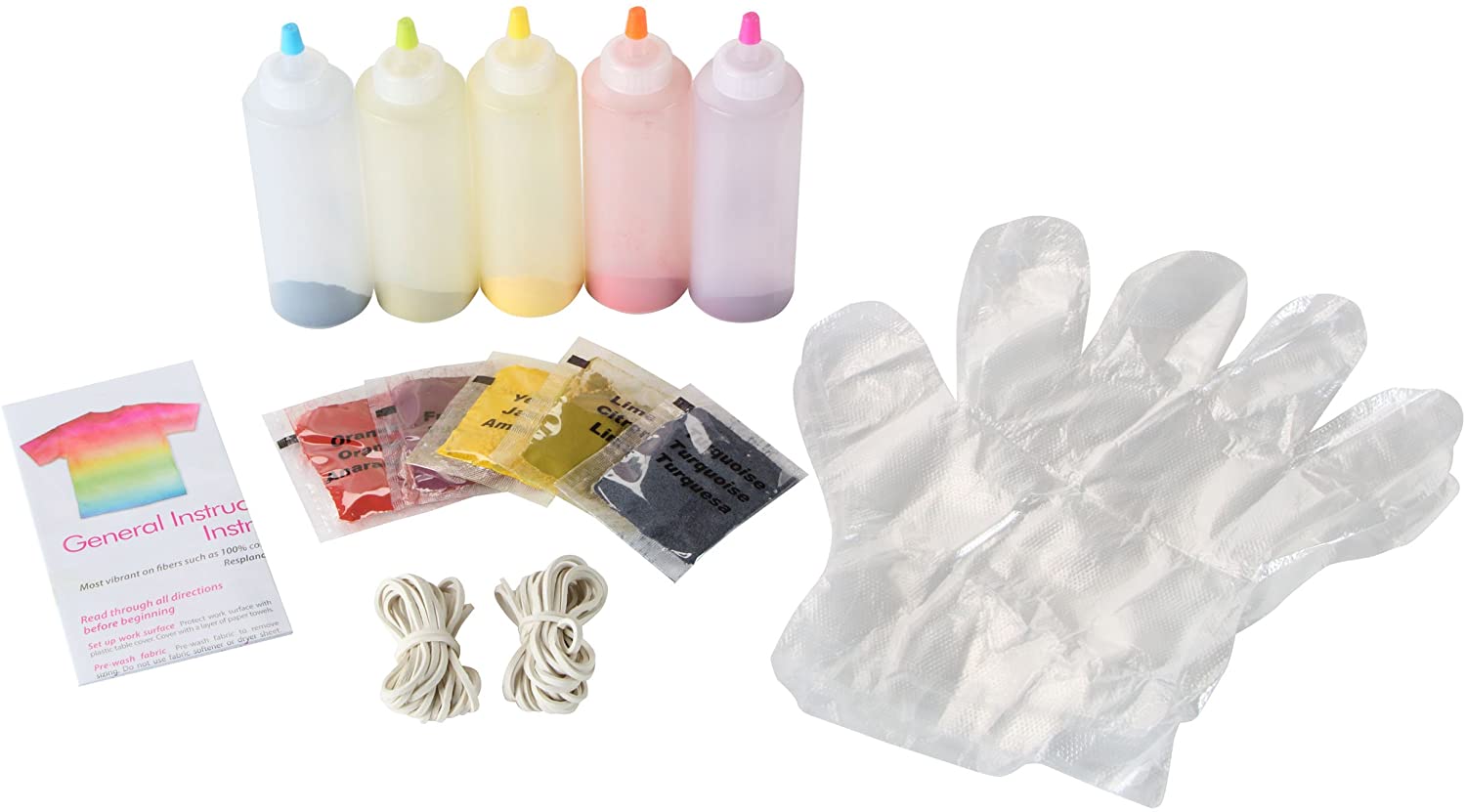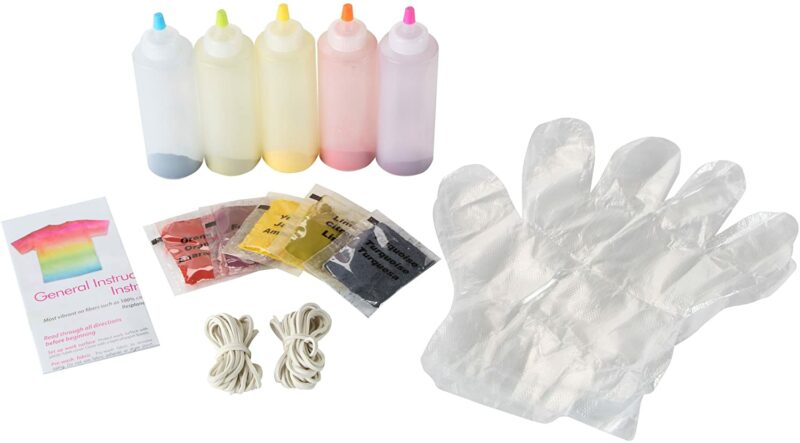 The Tulip One-Step Tie Dye Kit is designed to assist people of all ages and skill levels. This kit consists of five different incredibly vibrant dye colors. The other supplies included in the kit are safety gloves, rubber bands, and an easy-to-understand instruction guide. 
Thanks to the one-step process, you just have to add water to dye your desired fabric. For better results, I recommend pre-soaking your material in a soda ash solution before proceeding. The best part is that all dyes are non-toxic and fumeless as they don't require any heating.
Mixing the dyes is as straightforward as it can be. The dyes are permanent and formulated to stay bright and bold despite repeated washings. Thus, you can even create custom colors to show off your creativity. You can either hand wash or machine wash the fabric after dyeing. 
Pros 
Sufficient dye in the applicator

The dye colors are easy to dilute and mix

Colors don't bleed into other colors

Colors don't fade easily 
Cons 
Red, orange, yellow, and teal-colored dyes are not very dilutable 

Long drying time
Check the Tulip One-Step Tie-Dye Kit's latest prices on Amazon
Permanent Tie-Dye Kit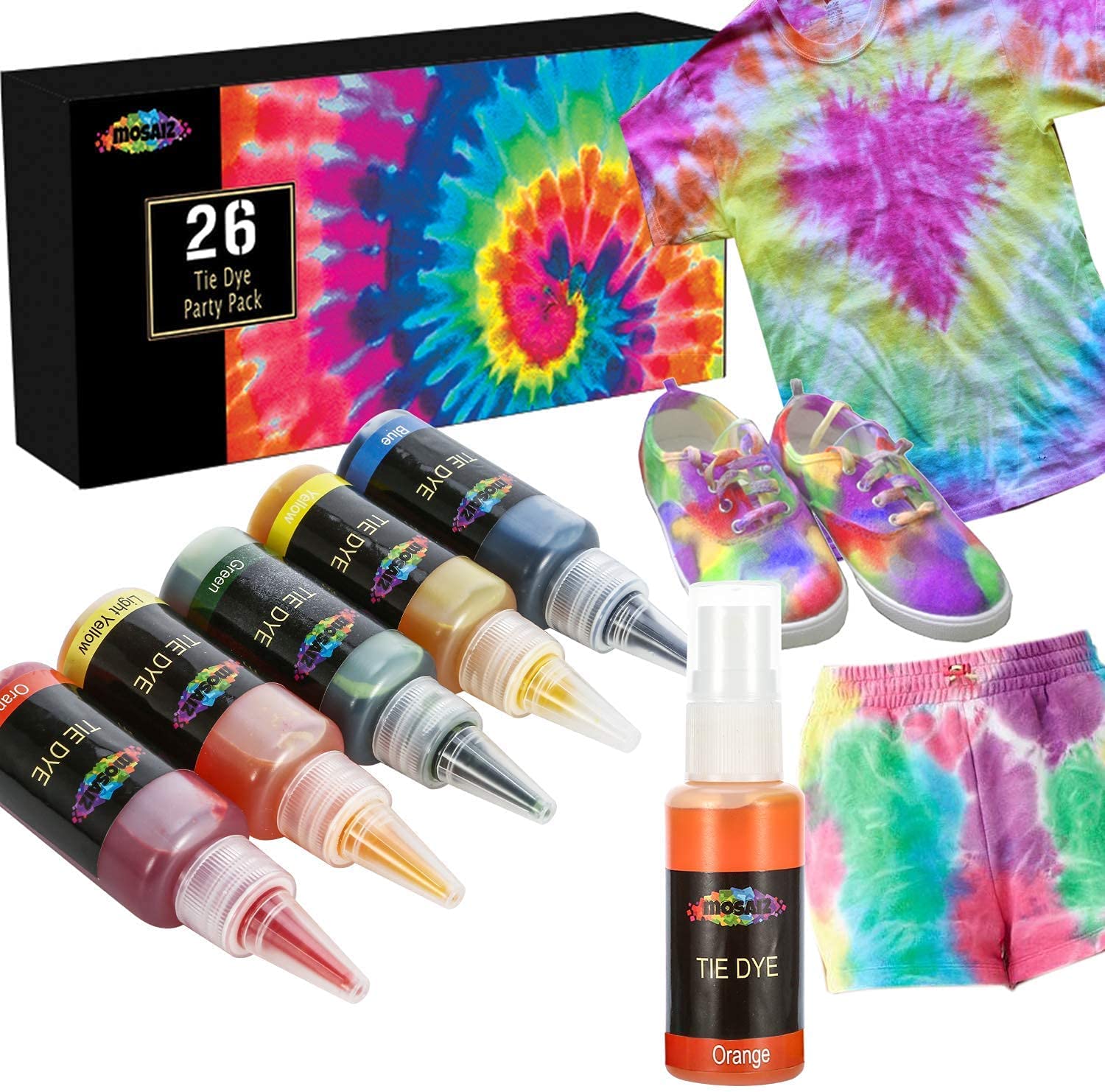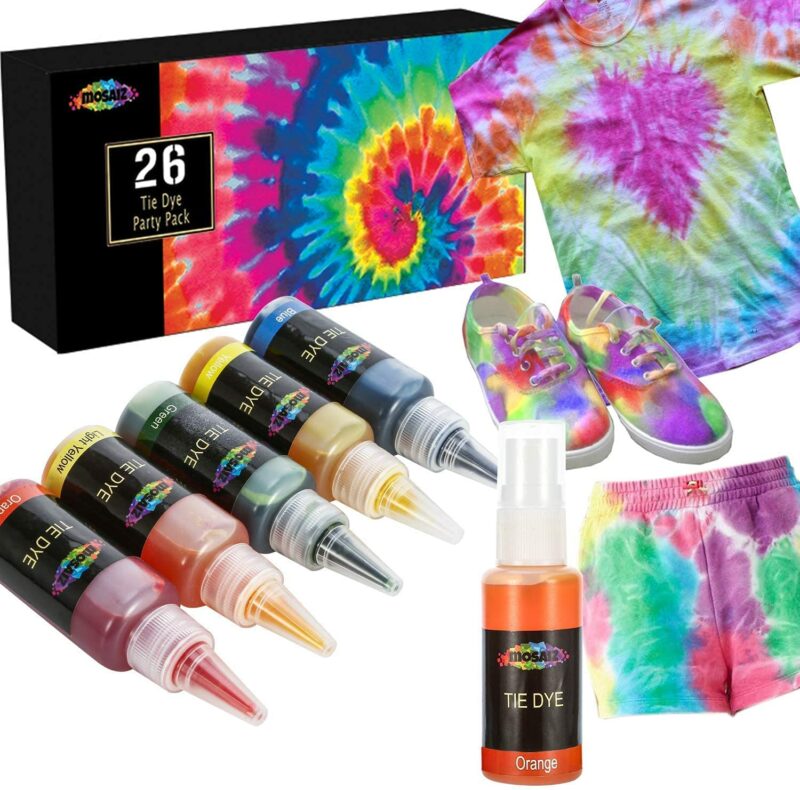 The Mosaiz Tie Dye kit is another excellent option for beginners and professionals. This kit comes with 26 vibrant dyes and supplies, including spray nozzles, rubber bands, a table cover, aprons, etc. It's complimentary! Are you wondering about the instructions manual?
This kit has you covered whether you want pastel, dark, rainbow, or any other tie dye colors. Thanks to both the spray nozzles and squeeze bottle, you can choose depending on your design and requirements. 
The colors are non-toxic. Hence, it is safe for kids. No pre-soaking of the fabric in soda ash is needed either. 
Make sure to add a little bit of water to the colors and shake the bottle well. The dyes stay for long, even after regular machine wash. For brighter results, use the dye on natural fabrics. 
Pros 
Wide range of unique colors 

The spray nozzle gives more options for dyeing 

Non-toxic colors

No heating or soaking in soda ash is needed 
Cons 
Insufficient dye amount  

The color tablets clog the spray nozzle at times
Check the Mosaiz Tie Dye kit's latest prices on Amazon
Tie Dye Kits For Kids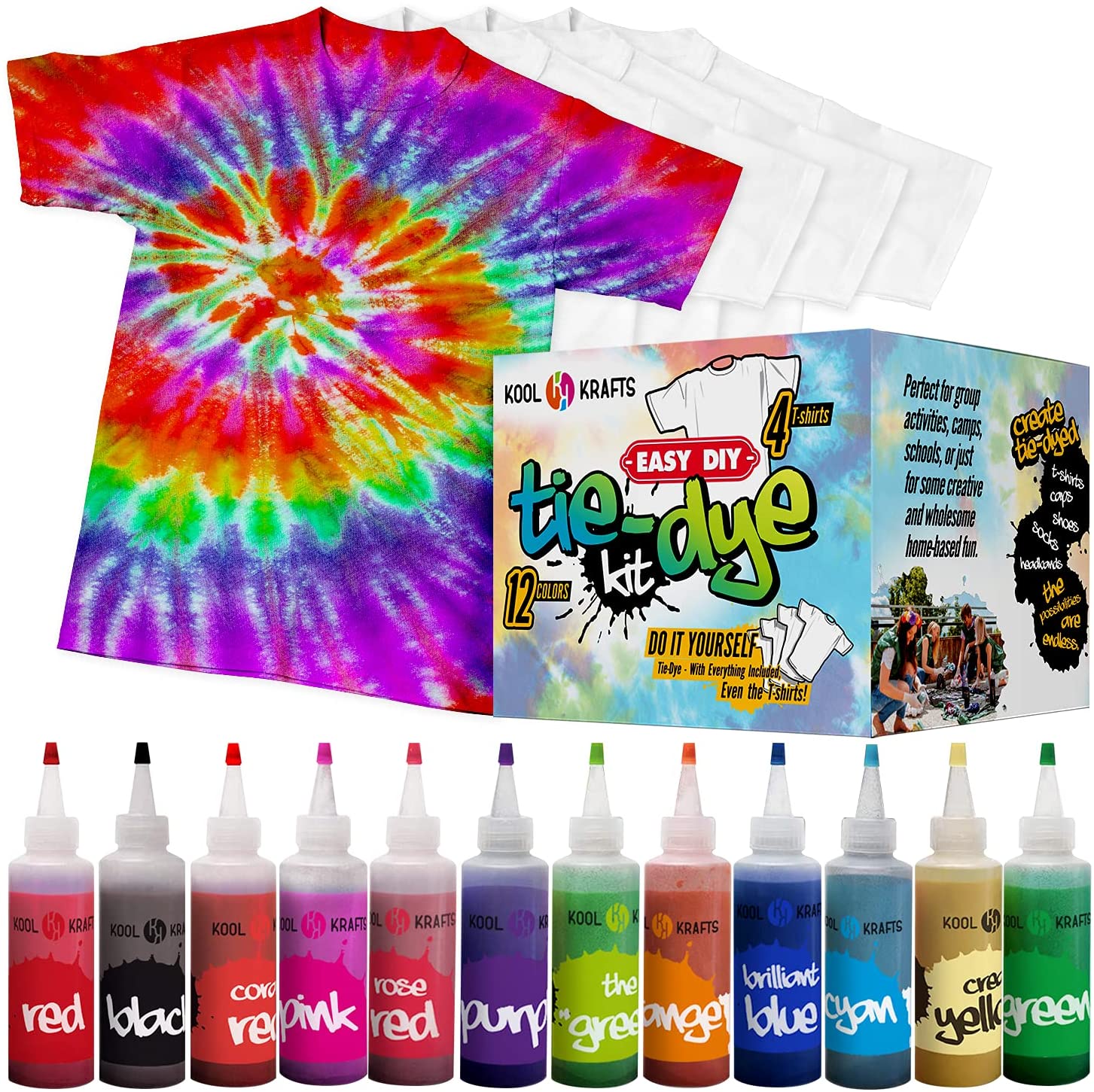 The Kool Krafts tie dye kit is ideal for kids' projects. The kit comes with 12 different color dyes in easy-to-grab squeeze bottles. You get t-shirts, gloves, rubber bands, tablecloths, etc.  
Note that the dye comes in powder form. Thus, you will need to mix it well with water before use. While doing all this, keep a check on the water used. Any excess use of the same will ruin the dye. 
All the items of this kit are crafted from non-toxic substances, keeping child safety in mind. The dyes are permanent, and the color stays bright even after repeated hand or machine washes. The kit comes with an instruction booklet that includes colored steps to make crafts. 
Pros 
The t-shirt quickly absorbs the colors

Surplus dye in the applicator

No fading effects after repeated washings 

The dye doesn't bleed into other clothes
Cons 
Unclear instructions, especially for kids

Quite challenging to prepare dye liquid from the powder form 
Check the Kool Krafts tie-dye kit's latest prices on Amazon
Tie Dye Kit With Shirts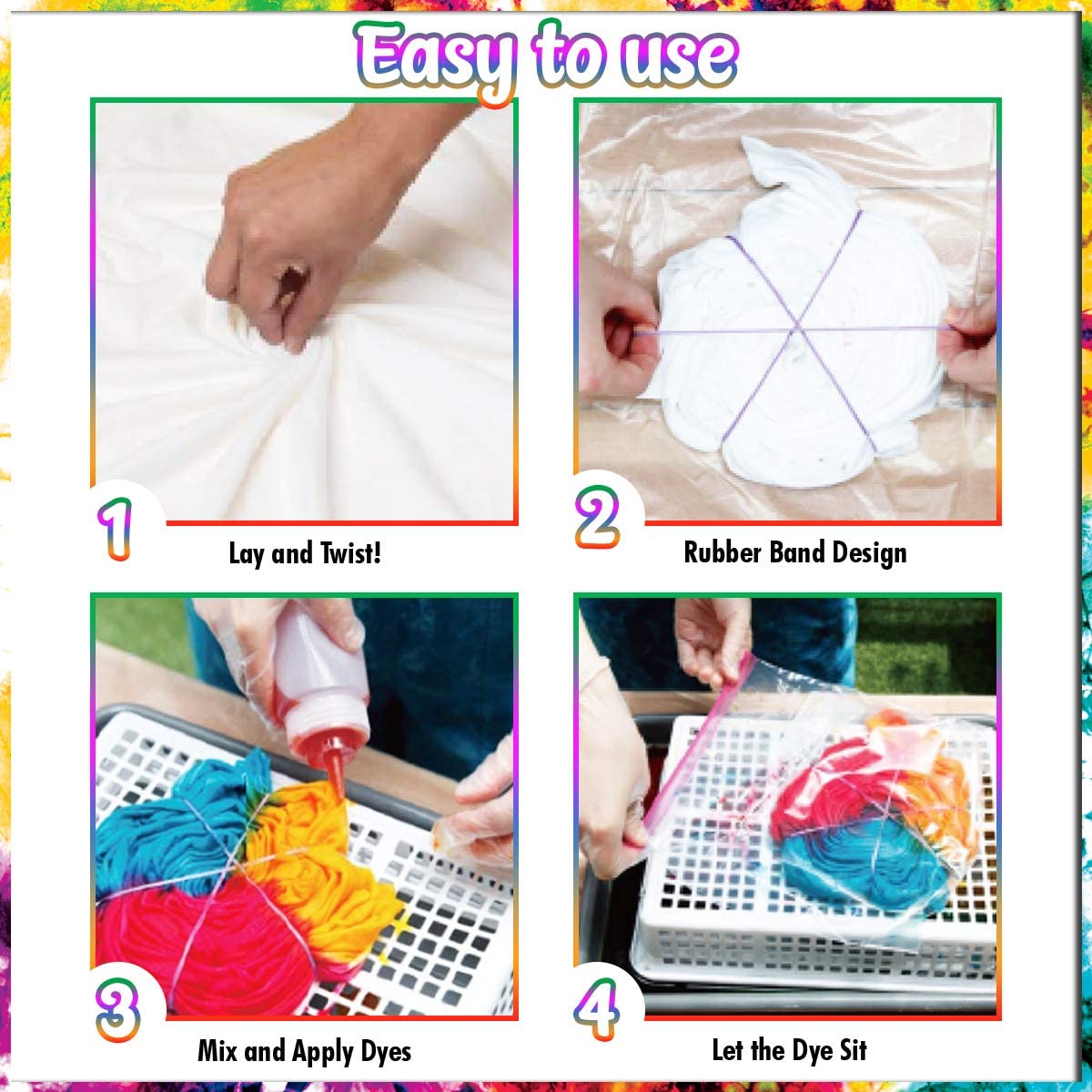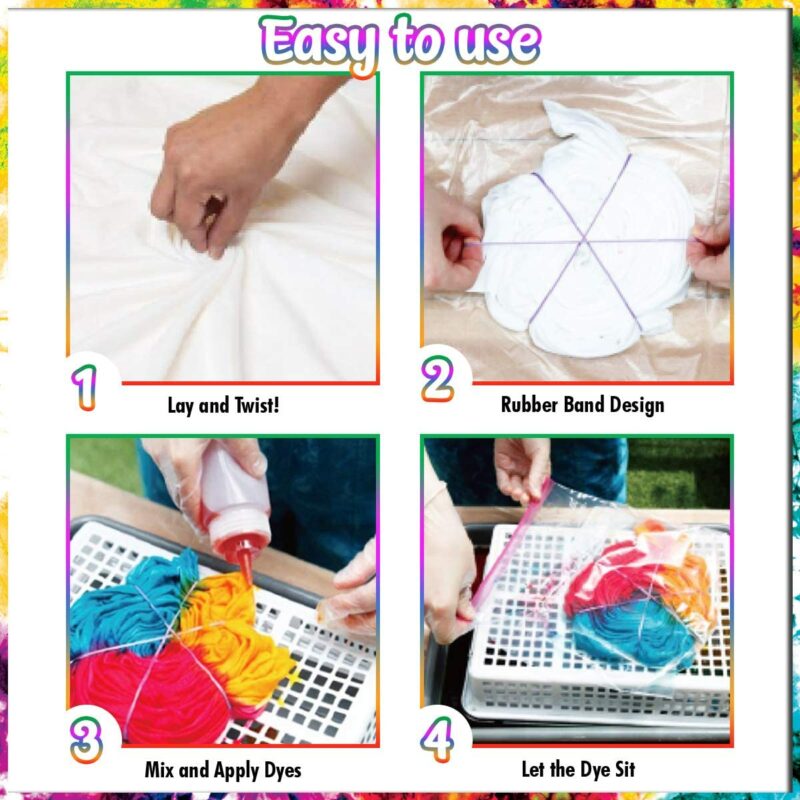 The Zoncolor Tie Dye Kit is designed for people of all ages. There are 18 different colors in easy-to-blend powder form. The supplies included are 18 BPA-free squeeze bottles, safety gloves, rubber bands, an apron, a tablecloth, a spray bottle, and an instruction manual. 
The easy-squeeze bottles make the dyeing process easy. You can also store the dyes in the same bottle for later use. So, less mess to deal with!
This kit is suitable to dye old clothes, hats, canvas shoes, scarves, bags, pillows, etc. All the dyes are non-toxic and acid-free, thus perfect for all projects.
Even without any soda ash or vinegar solution, the colors stay bright and bold. The instruction manual comes with easy-to-follow graphics. If you're not satisfied with the product, it also comes with a 30-day money-back guarantee. 
Pros 
Plenty of dye to dye multiple materials

The dyes are brightly pigmented 

Suitable for complex projects

The applicator bottles also store the extra dye
Cons 
Some standard color dyes are absent 

The dye keeps bleeding even after washing it more than once 
Check the Zoncolor Tie Dye Kit's latest prices on Amazon
Professional Tie-Dye Kit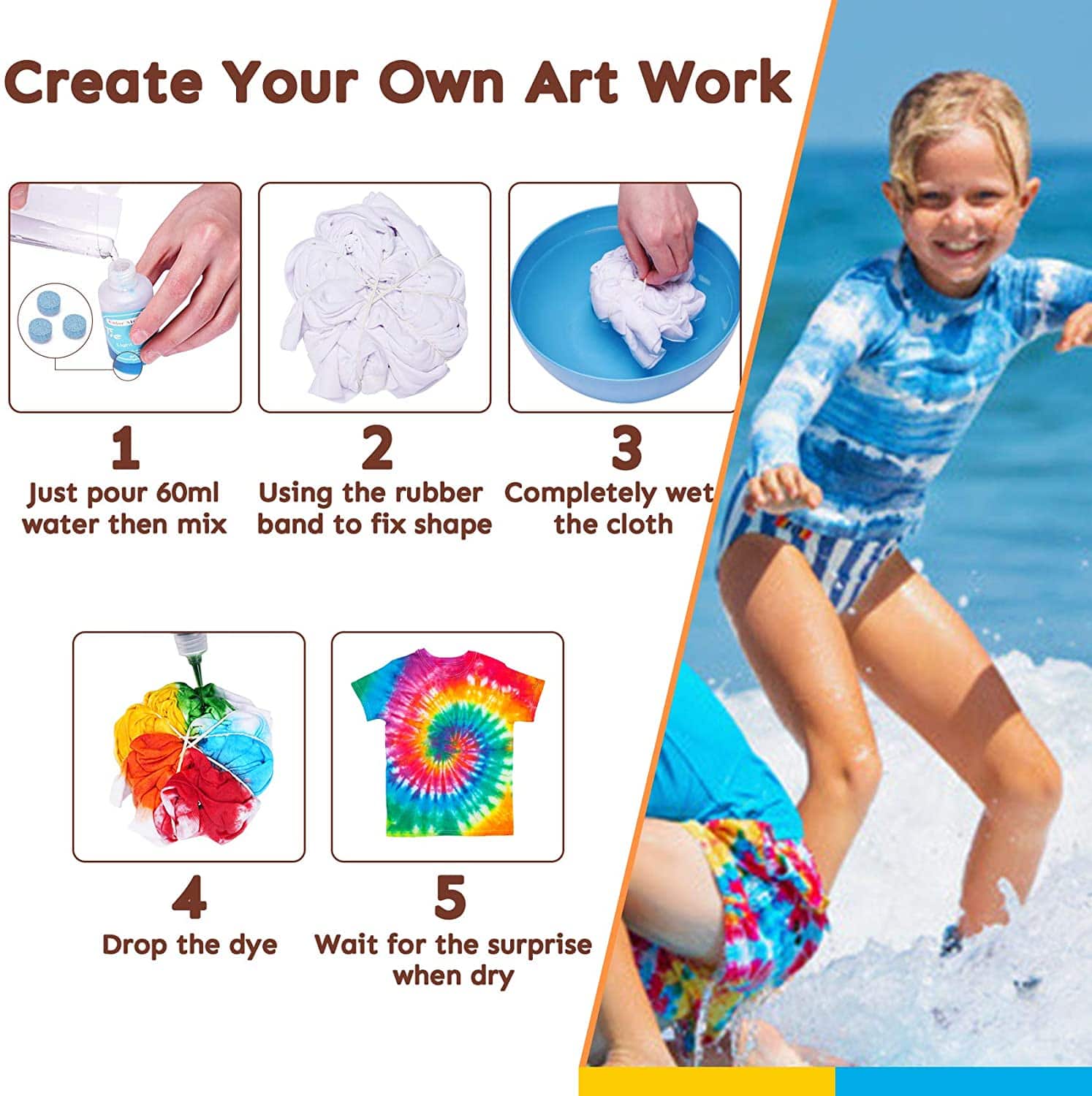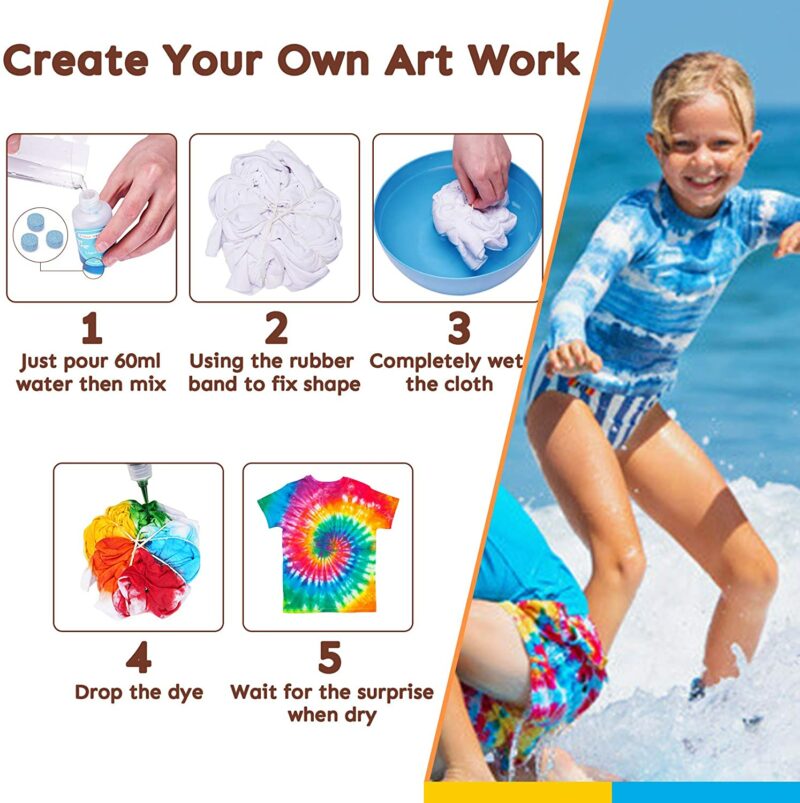 Are you looking for more color variations in your designs but don't want to purchase additional shades? This Color More Store DIY Tie Dye kit is for you then! It has 40 different tie-dye colors packed in separate squeeze bottles. 
The other kits' supplies include rubber bands, spray nozzles, plastic gloves, a disposable apron, table covers, and a guide. 
The color dyes are safe and non-toxic. Moreover, each dye has passed multiple strict tests before getting delivered to you. Each bottle has a color label to find the color you like quickly. 
To use the dyes, fill each bottle with your regular tap water, and shake well to dye your fabric as you'd want. 
The dyes are radiant and bold. Thus, rest assured as the design will stay on the fabric even after several washes. Some starting materials to dye are t-shirts, hoodies, sweatshirts, shorts, pants, socks, jackets, leggings, tote bags, pillowcases, shoes, and scarves. Use natural fabrics for the best results.
Pros
A wide variety of colors  

High-quality and thick dyes

The colors don't fade easily

Suitable for complex projects 
Cons
The dye bottles are a lot smaller

The colors don't blend easily, thus making it look mushy
Check the Color More Store DIY Tie Dye Kit's latest prices on Amazon
Tie-Dye Kit Tulip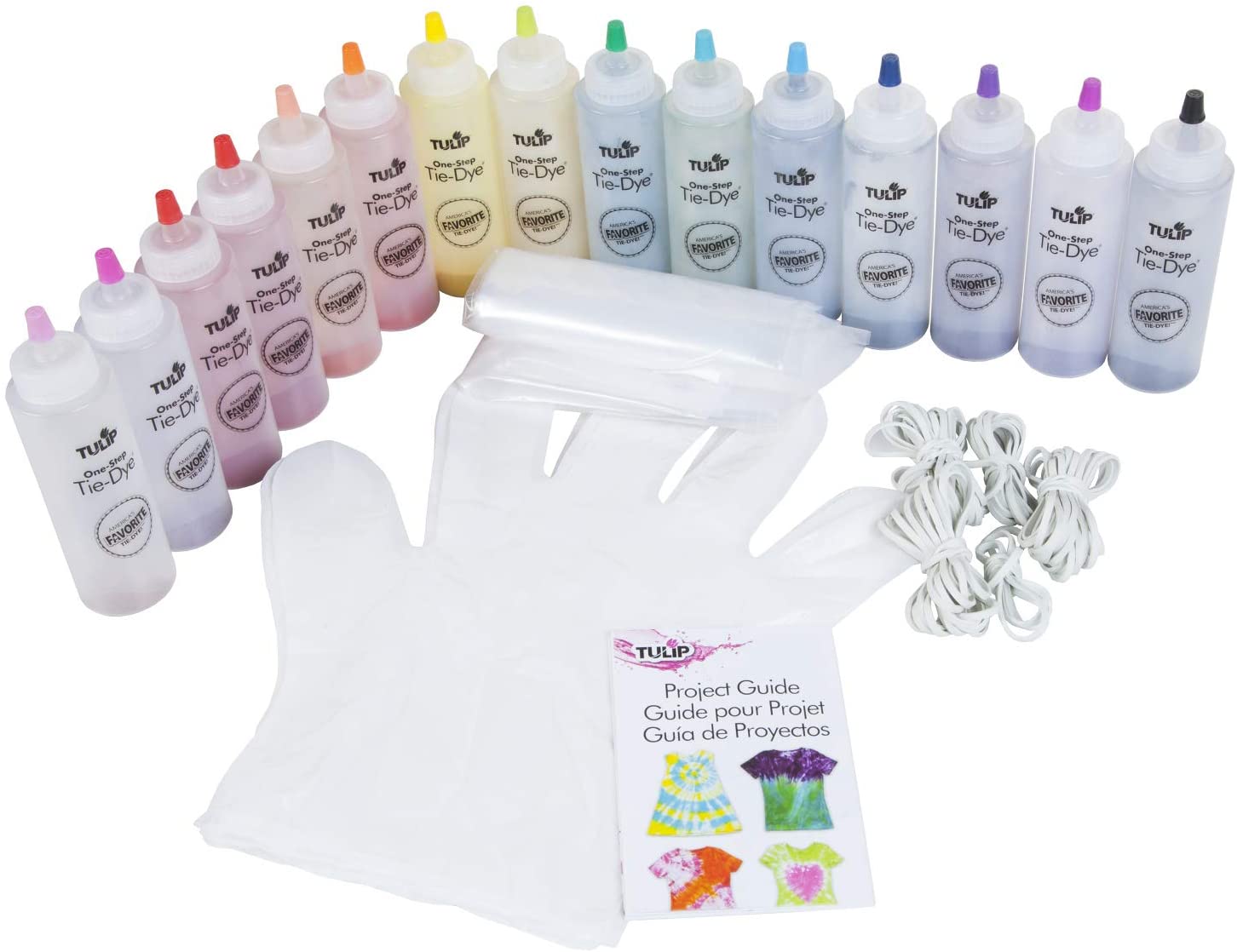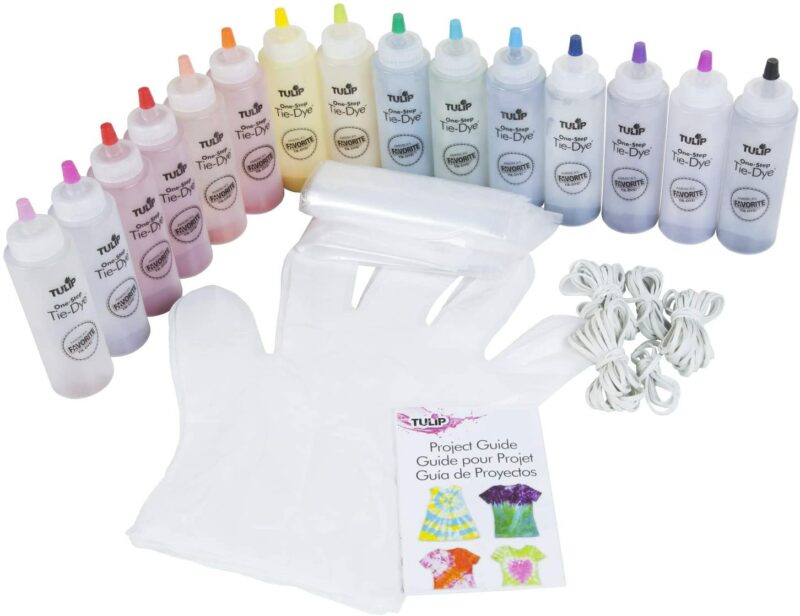 When it comes to tie dye kits, everyone's favorite brand Tulip can't be missed. This top-selling Tulip One-Step Tie Dye Kit is packed with 15 rich colors in easy-squeeze bottles. Moreover, you get enough tie dye supplies for a group of 5 people. Isn't this interesting?
The supplies include gloves, rubber bands, a plastic cover, and an instruction manual. 
The best aspect of this kit's dyes is that they are highly concentrated. It extends their life. To use these dyes, activate them with water. The dyes are non-toxic and of high quality, unlike other random dyes. The fabric doesn't require any pre-soaking in soda ash before dying.
The step-by-step guide includes over 8 amazing tie dye patterns to assist you in starting your project. Remember to use natural fiber fabrics like cotton and wool for the best results.
Note: Synthetic materials may lose the dye after a few wash cycles. 
Pros 
The one-step process comes in handy for kids 

The colors are all very pigmented

Beginner-friendly folding patterns included
Cons 
Preparing the dye is quite difficult  

The nozzles are very small 
Check the Tulip One-Step Tie-Dye Kit's latest prices on Amazon
Tie-Dye Kit With Instructions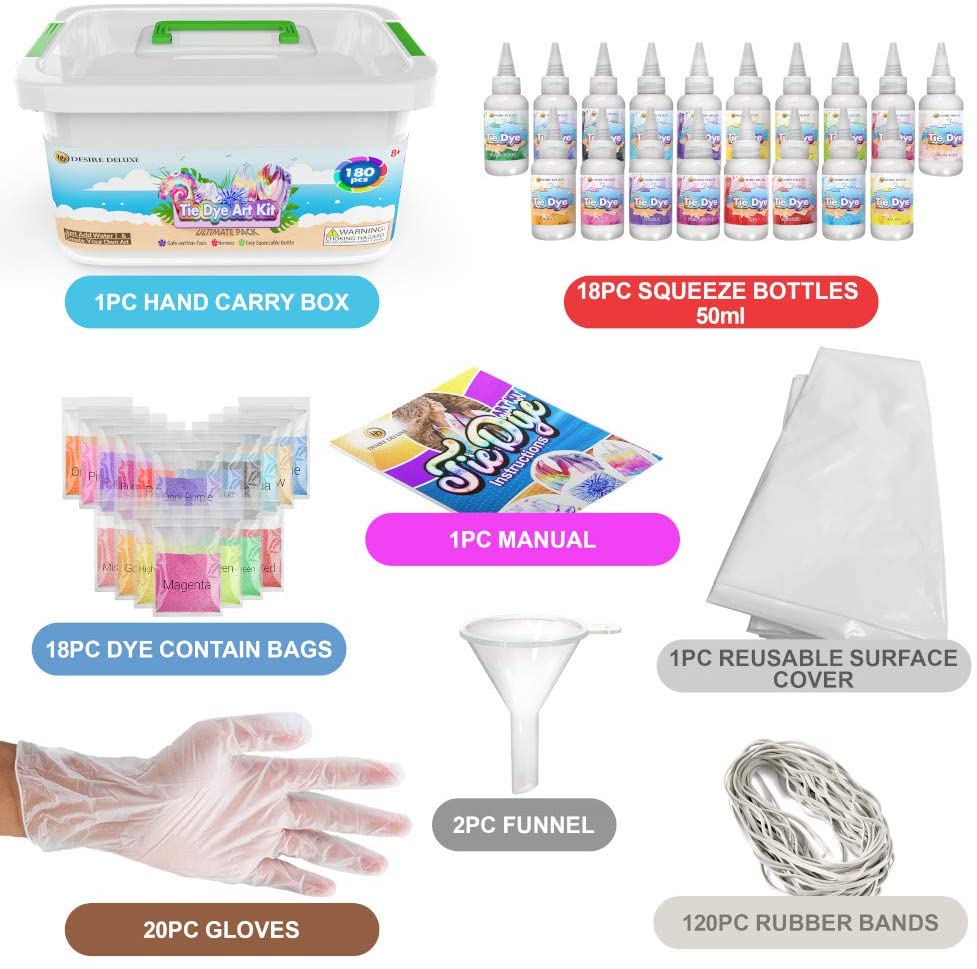 The Desire Deluxe Tie Dye kit includes 18 amazing high-quality dye color powders packed in soft-squeeze bottles. You can store these bottles safely when not in use. This kit contains everything needed to get started with the dyeing process. 
The main contents include gloves, 120 rubber bands, a reusable surface cover, and a couple of funnels. Since the dyes are highly mixable, you can use your creativity to create custom shades as I do.
This all-inclusive kit has a step-by-step guide featuring many designs to choose from. 
The dyes are permanent and color-fast so that they won't fade in the wash. This kit is excellent for summer camps, family reunions, group events, etc.
Pros
Properly labeled bottles for easy identification  

A step-by-step explanation for beginners 

Sufficient quantity of dye for the price 

Customization possible 
Cons 
Extended drying time 

The fabric bleeds at the first wash
Check the Desire Deluxe Tie Dye kit's latest prices on Amazon
Natural Dye Kit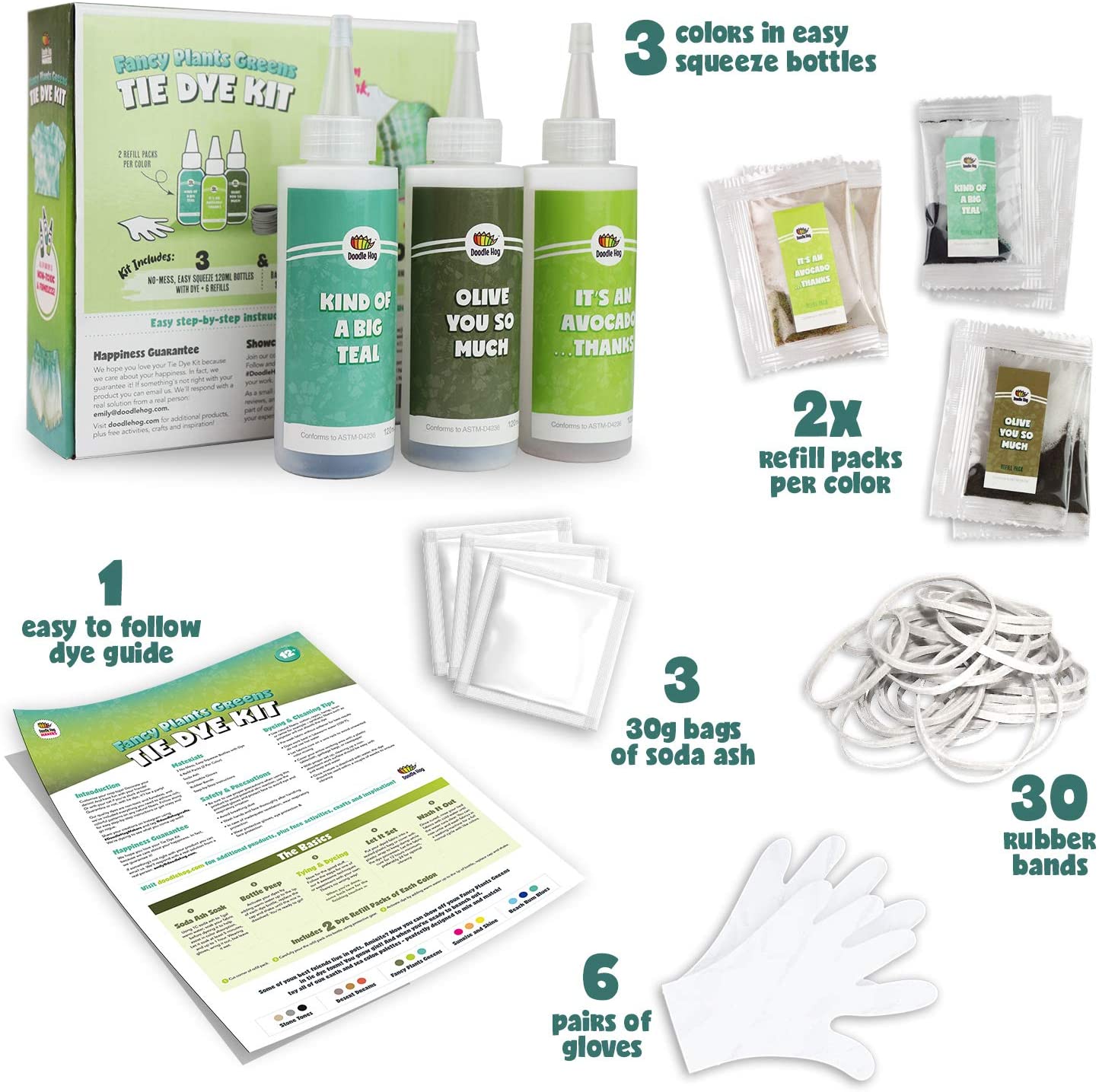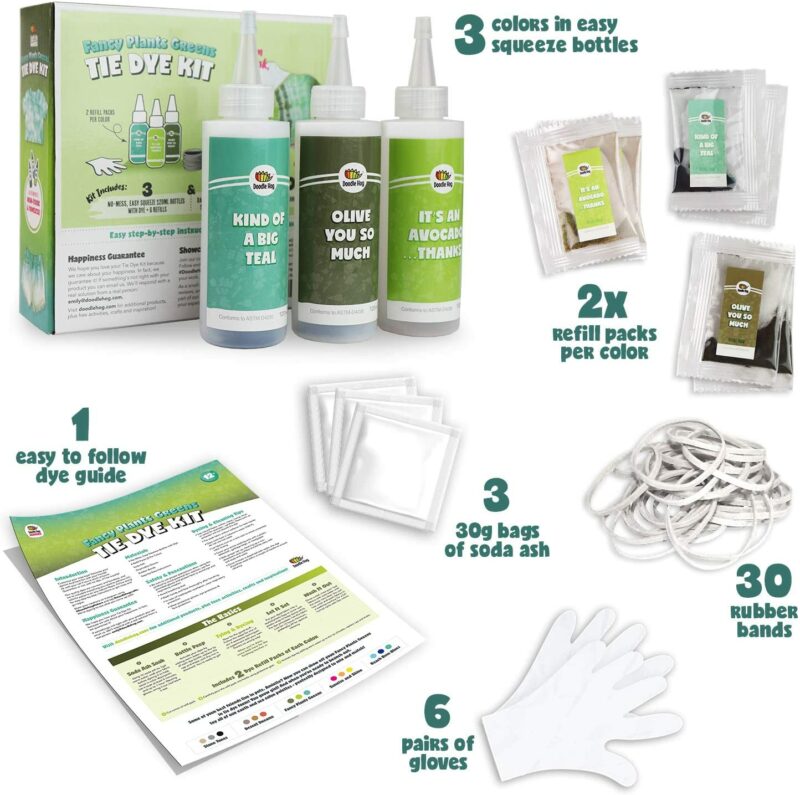 Last but not least, here's my all-time favorite natural tie dye kit. This DOOGLE HOG Store tie dye kit includes 3 different colors in separate squeeze bottles. The other supplies in the kit include:
Dye refill packs

Soda ash for pre-soaking items

Disposable gloves

Ties

An easy-to-use instruction guide
The main attractions of this kit are the two additional refill packs for each color. These dyes are non-toxic and fumeless, making them kid-friendly. Patterns like stripes, spirals, crumples, and ombre can be created with ease. The dye easily blends with monochromatic or two-tone dyeing techniques.
Some recommended materials to dye with this natural dye kit are hoodies, jumpsuits, denim, shoes, and face masks.
Pros 
Two supplementary refills of each color

No heating is required

The colors blend very easily

Ideal for monochromatic designs

The colors stay bright for a long time
Cons 
Not suitable for big projects 

Not much value for money
Check the Fancy Plants Greens Tie-Dye Kit's latest prices on Amazon
Recycle your old and boring clothes into something new and exciting with these amazing tie-dye kits.
Conclusion 
So, here you go. Whether you've invited your other tie-dye enthusiast friends the coming weekend or plan to team up with your kids, the above kits will suit you. The kits mentioned above will help you express your creative side and make something stylish from scratch. 
Moreover, if you're worried about applying chemicals or other toxics, rest assured as I've only discussed non-toxic variants. Want something all-natural? I've got this covered as well. 
So, happy tie-dyeing. 
The post 8 Amazing Tie Dye Kits To Get Started appeared first on Art & Craft, DIY ideas and Tutorials - Craftbuds.