Wondering what to get your young artist for the holidays? Here is a fabulous list of the "Best Art Gifts" I have ever seen. There are so many creative things on this list. There are art kits and supplies, books, and fun tools listed on this gift guide that kids will love. Whether you are looking for art sets, art kits, or even art supplies for your kids you have come to a great list.
These are the perfect gifts for anyone who loves arts and crafts!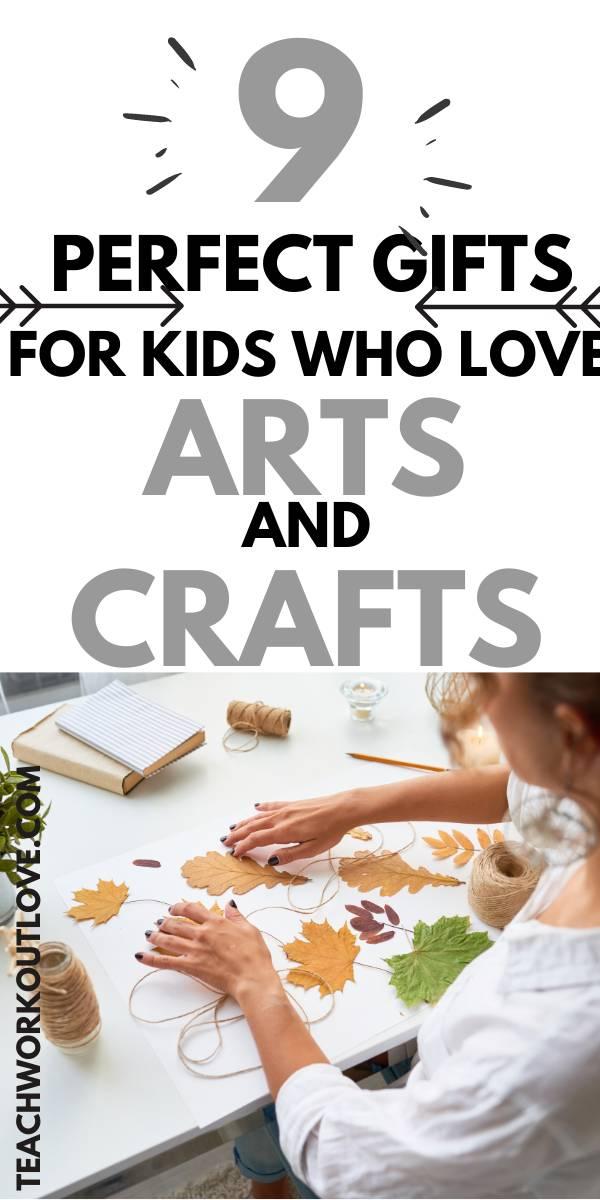 Kwikstix -Thin Stix Solid Tempera Paint is the classic tempera paint in a solid, washable stick form. This thinner version offers for more control and details while painting. These quick-drying paint sticks are perfect to use on any project that you would normally use paint. They can also be used as cake decorations or to do traditional crafts like tie-dyeing cloth. The Classic 12 Pack contains all 12 colors. This pack provides a full rainbow of colors to paint with the washable and fast-drying formula that allows them to dry in 90 seconds!
These fun and creative Scratch Paper Sets come in a rainbow of colors, create visually appealing patterns and make doodling and sketching so much more fun. No more messy markers or paint spills with these brilliant color-changing scratch sheets. Makes doodling and sketching fun for both adults and kids alike.
Let your creativity shine with the Crayola Light-Up Tracing Pad. This kids drawing board makes it easy for beginners to make the transition from drawing on paper to drawing on a blank canvas. The book of light-up doodles offers fun replicas of animals, vehicles, and more that your child can trace in just a few minutes, providing them with hours of entertainment.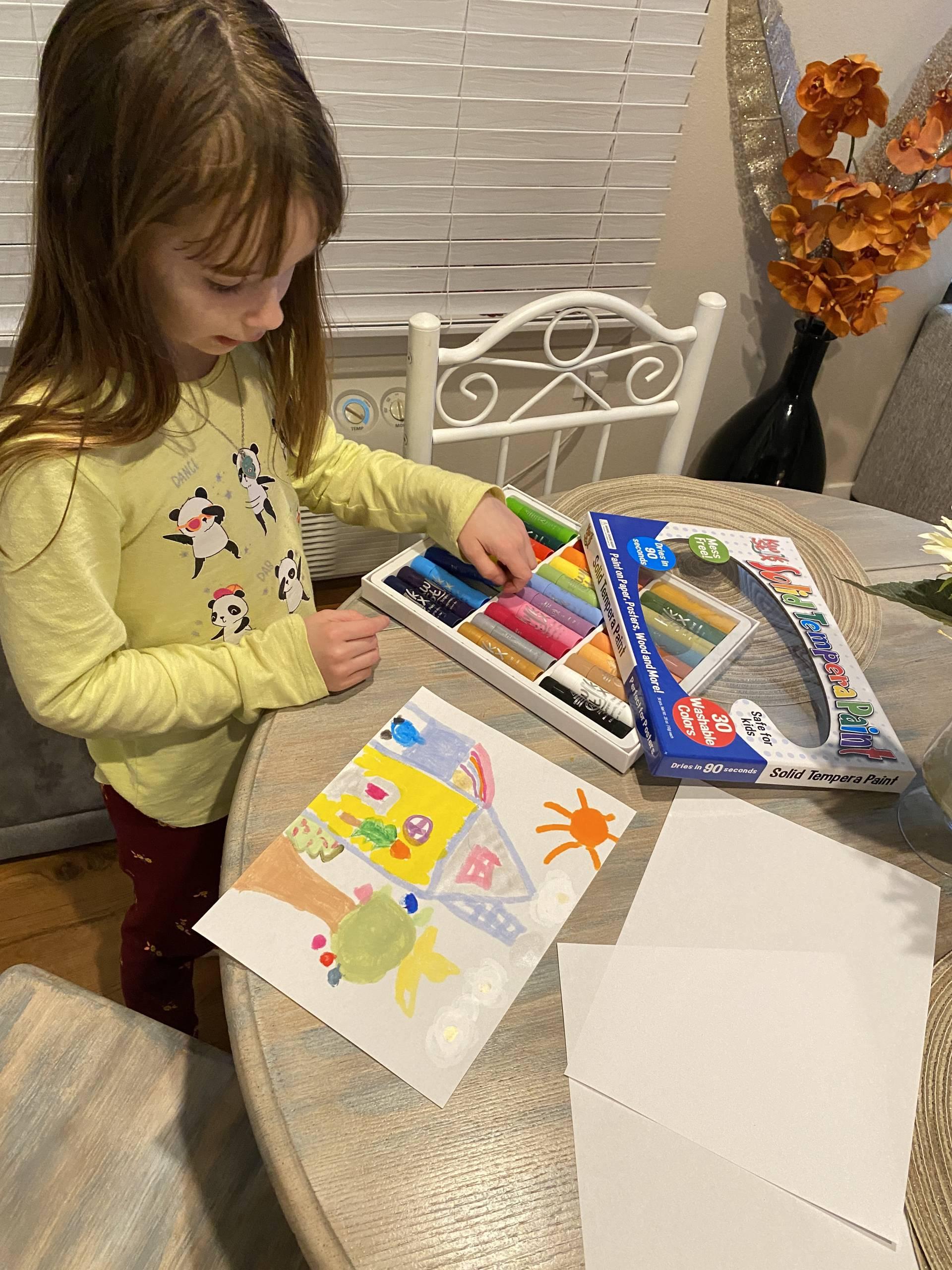 Keep your budding artist busy for hours with the KidKraft Art Table With Drying Rack And Storage. This sturdy table comes with a paper roll and two lids for storing coloring supplies, two cup holders for paintbrushes, and a handy drying rack to ensure your child's work dries quickly. Storage space on both sides ensures there is room for all supplies as well as plenty of room to create. When they're finished, they can hang their art on the provided hanging rack or put their dried artwork in the storage section under the tabletop. A hanging bar is also included to keep the artwork looking nice and neat even after it dries!
We all know how much kids love to color – now, they can doodle their way around the world with a fun coloring-in pillowcase, featuring an airplane flying over a mountain range and beautiful tropical sea creatures. The pack includes 10 washable fabric pens which all washes out on a warm machine wash, so the creative fun never has to end. The pillowcase is made from soft cotton and comes in four different sizes, including duvet.
Toddlers and preschoolers will learn about colors, animals, and more with the Melissa & Doug Wooden Latches Board. Kids will be intrigued by the bright colors and solid-wood doors that open to reveal a surprise. The colorful abacus is attached to provide visual stimulation for counting and math skills, as well as introduce the concept of opposites. Each of the four sides of this wooden activity board features latches that hook and slide down, a "puzzle piece" that opens and closes, a hinge that clicks shut, a window that slides open and closed, and an alligator latch that slides side to side.
As kids explore these features, they'll develop fine motor skills while learning colors, numbers, letters, shapes, and opposites. This educational toy comes in a gift box with a magnetic closure lid for easy wrapping and gifting! Melissa & Doug toys honor children's natural sense of wonder while providing endless opportunities to learn through pretend play.
The Kinetic Sand Unicorn Kingdom by Fred & Friends is an exciting addition to creative sand play. The set contains 2lbs of saffron glitter Kinetic Sand, molding tools with 3D molds, a sand scooper, and a unicorn pop-out figure for building worlds and castles, shaping unicorns and fantasy creatures, or just creating adorable mounds of sand in bursts of sparkle. The unique formula of Kinetic Sand never dries out, sticks to itself and not to you! It's 100% non-toxic and washable!
Scientific research has shown that playing creative and problem solving games stimulates a child's mind. Picassotiles magnetic drawing board is designed to promote problem-solving ability, hand-eye coordination, art drawing, writing skills, and logic training with open-end possibilities to facilitate and cultivate children's creative and powerful mind. By using this model drawing board your children can flex their budding creativity with this stimulating activity.
A creative, fun place for children to color, draw, paint, and more! The Great Creations Art Center allows children to imagine and create just about anything. A large dry-erase board and chalkboard on either side of the art center provide double the drawing and coloring space. The attached art caddy helps keep crayons and paints neat and organized.
Conclusion
This list will help you find the most interesting, cool art supplies. These are gifts that every child who loves arts and crafts would want to receive. There's nothing boring about these art supplies! We researched the top rated and most reviewed products which are fun and perfect for kids. Let's get crafty!
This post contains affiliate links and I may receive a commission, at no additional cost to you, should you purchase through one of my links. Please see my disclosure for more information.
The post 9 Perfect Gifts for Kids Who Love Arts and Crafts appeared first on Teach.Workout.Love.