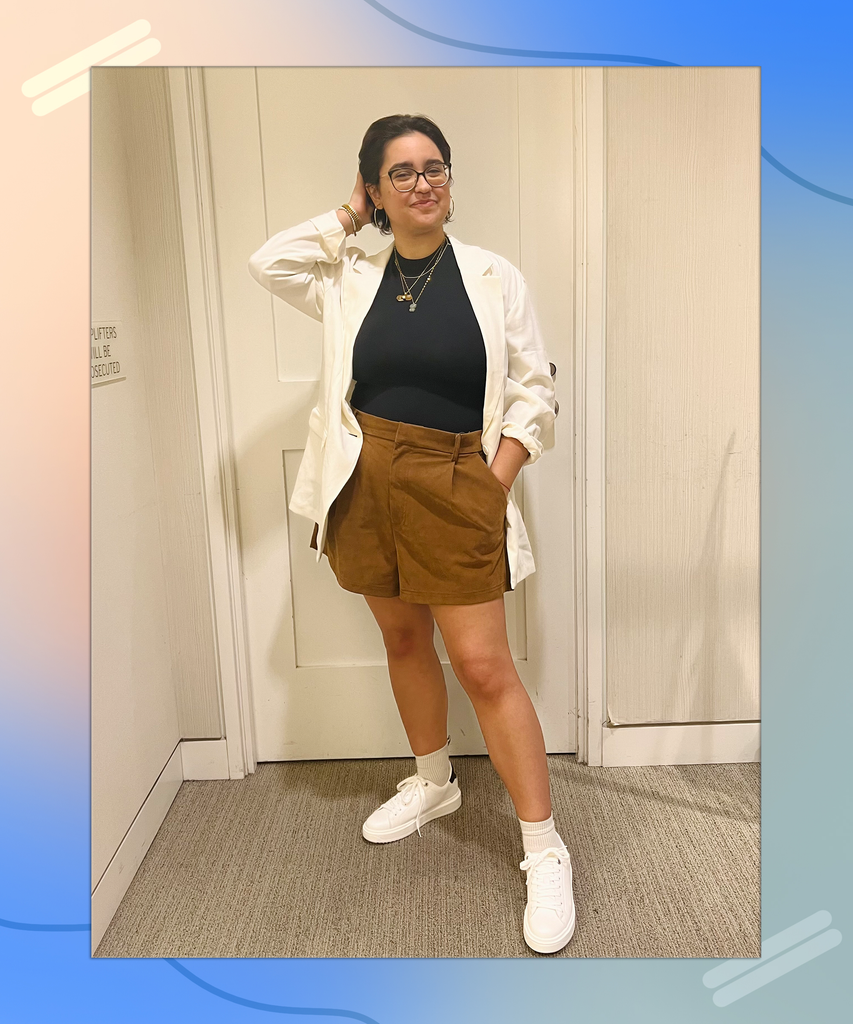 Sometimes I wish I could just have someone choose my clothes for me. But when I used to think about personal stylists, I would imagine something from my mom's time. And while it may seem like an old-fashioned concept (or maybe one reserved for only the rich), they're still very much around — and if you know where to look, you can find ones that are cool, creative, and know what the word "androgynous" means. I recently got to find this out for myself when Nordstrom sent me to Los Angeles to experience its styling services during the celebration of the opening of the newest Nordstrom Rack store.
The closest I've ever had to a styling experience was shopping with my mom for my prom dress and getting help from the associates. This was definitely not that. When you book a free in-store or online 30-minute appointment, you share your sizes, budget, and preferences, answering questions like "What are you looking to focus on for your wardrobe or lifestyle needs right now?" and "What are your favorite brands and colors to wear?" As someone who's constantly rebranding myself, I was really looking forward to my styling services. Is that the Aquarius or the genderqueer identity, who knows? Nevertheless, I'm always ready to start fresh — especially since I've gotten more comfortable with my gender identity. I gave my stylist Amanda McCarthy the following guideline: "I'm looking for androgynous pieces, something that is both feminine and masculine. My top 3 things are comfort, stylishly baggy, and neutral colors." She absolutely knocked it out of the park — a home run all the way. I wasn't sure what to expect, but when I walked into that extra-large fitting room and saw several outfits hung up that perfectly matched the description of what I wanted, I was sold. I bought most of the pieces she picked out for me, and if I could have purchased them all, I would have. I truly couldn't recommend the Nordstrom styling enough, especially if you're someone in between sizes — they know exactly what brand runs big, small, or true-to-size. I've never had a smoother shopping experience. Curious? Keep on reading to see how this Nordstrom stylist dressed this non-binary lesbian up for summer.
Breezy Masc For The Office Fit
I was instantly drawn to this outfit — specifically, these shorts. These pieces are definitely ones I would pick out individually, but would probably not pair together — especially not with the white blazer. But, it all works so well together. I told Amanda how much I loved the outfit and how perfectly it captured the vibes I was looking for. It's like she took the mental image right out of my head. This is exactly what I meant when I said I wanted a masc outfit.
And spoiler alert: This was my favorite outfit of the entire styling session. I loved — and purchased — every single part of this outfit (with the exception of the shoes). The suede Free People shorts are super comfy and classy enough to be worn to the office (at least.. to my office). The Skims mock neck tank is my newest obsession — I've worn it way too many times already! It's so soft, flattering, and thin enough to be super breezy without being see-through. While the Open Edit blazer requires steaming (a real no-no for my lazy lifestyle), this oversized white one is definitely worth it. It's very lightweight and goes with everything.
Casual & Cute Shopping Fit
More on the femme side, this outfit is super cute and I can easily picture it for a day out shopping in SoHo or getting lunch with friends. As much as I'm a total Madewell fanatic, I have yet to own actual Madewell jeans — until now. These jeans are so comfortable, I wore them on my 6-hour flight just fine. The other two main pieces of this outfit were amazing, they just didn't make the cut. The Good American white button-up and the Free People tank top were so soft and stylish — plus, I adored that shade of green. The crossbody bag really just tied it all together.
Tying up the white button-down was definitely my idea, and I think that, combined with my hair bandana, gives the outfit a more cottagecore vibe. I really made it my own, which Amanda suggested I do. I think if I didn't tie it up, it would be slightly more masc presenting — which I also love. I would usually stray away from skinny jeans for the comfort level and would probably not have tried these specific Madewell ones on, but I'm so glad she picked them for me. Otherwise, this outfit is totally in my comfort zone; I would wear this now and I would have worn it a few years ago too.
Picnic-Ready Queer Overalls Fit
When I showed McCarthy this outfit on me, she was shocked by how much it suited me — saying it looked like I already owned it. The green hair bandana really tied it all together. I would have definitely picked this entire outfit myself and paired it together too. It's exactly my vibe (you can tell by how happy I am in the mirror selfie) — which is a shock considering Amanda had never met me and only had a few words to go by.
I'm a big overalls person. They make the ultimate quick, easy, and super gay outfit — truly essential for any lazy person out there. I think everyone should own some denim overalls in every shade, and white was just what my closet was missing. These Free People ones are super comfortable (have you guessed by now that that's the most important element for me?) and insanely stylish. They truly go with everything. The stylist paired it with the same green Free People tank top and the same shoes you've been seeing in all these photos, the Adidas Retropy E5 Sneaker. I didn't end up buying this specific pair she had picked out, instead, I went with the black Converse Chuck Taylor All Star Run Star Hike High Top Platform (which I've been eyeing forever, and my stylist definitely approved of).
At Refinery29, we're here to help you navigate this overwhelming world of stuff. All of our market picks are independently selected and curated by the editorial team. All product details reflect the price and availability at the time of publication. If you buy or click on something we link to on our site, Refinery29 may earn commission.
Like what you see? How about some more R29 goodness, right here?
Shop 60% Off Nordstrom's Spring Sale Pieces
Meet Nordstrom Rack's Slept-On Clear The Rack Sale