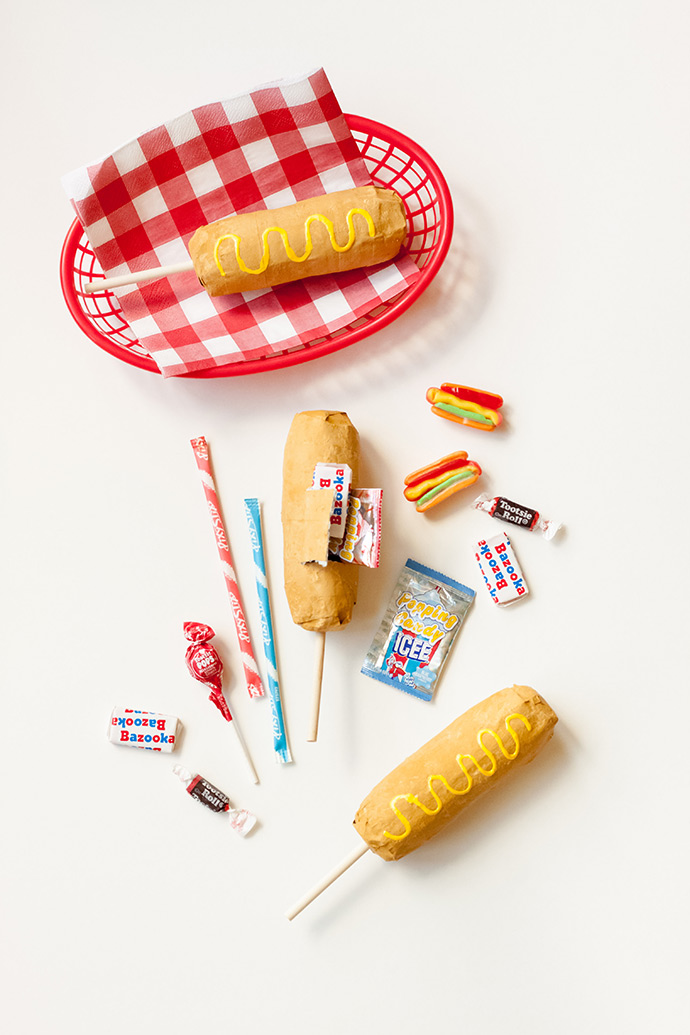 The state fair is a summer activity that brings out all the nostalgic feelings for me. Corn dogs, cotton candy, and elephant ears are foods that I definitely associate with a day at the fairgrounds. Bring the fair into your own backyard and craft these corn dog piñatas – your kids will love the treats packed inside: candy, tattoos, jacks, etc. Add a little puffy paint "ketchup" or "mustard", and you have the cutest piñata on a stick!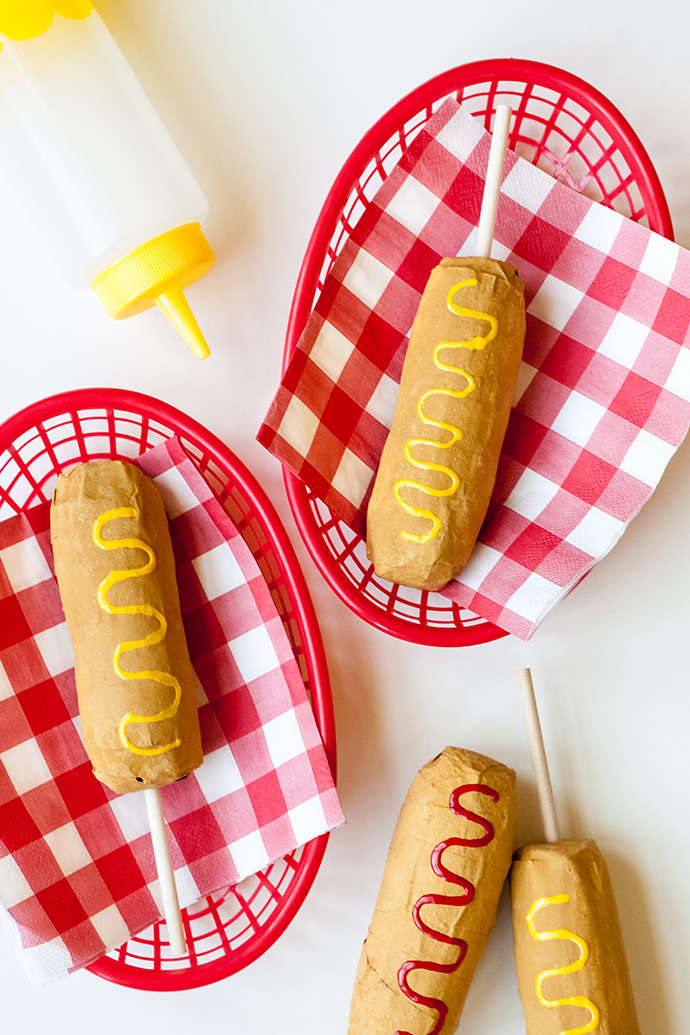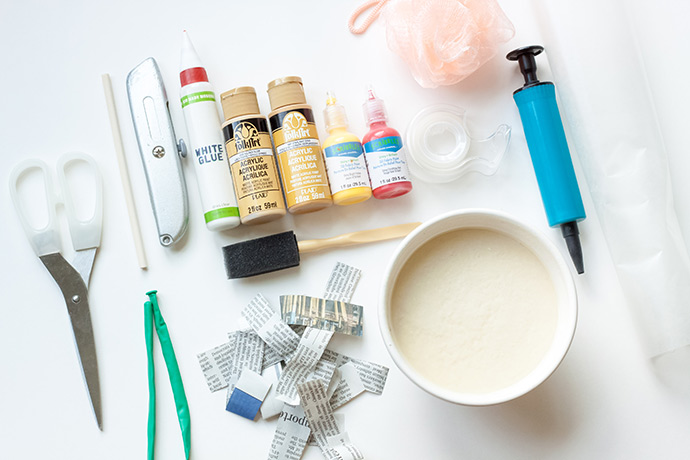 Twisty balloons
Balloon pump
Scissors
Wax paper
Glue
Clear tape
Newspaper strips
1 C flour, 1 C water
Acrylic paint
Sponge brush
Pouf mesh sponge
Box Cutter
Cooling rack
6" wooden dowel
Puffy paint in red or yellow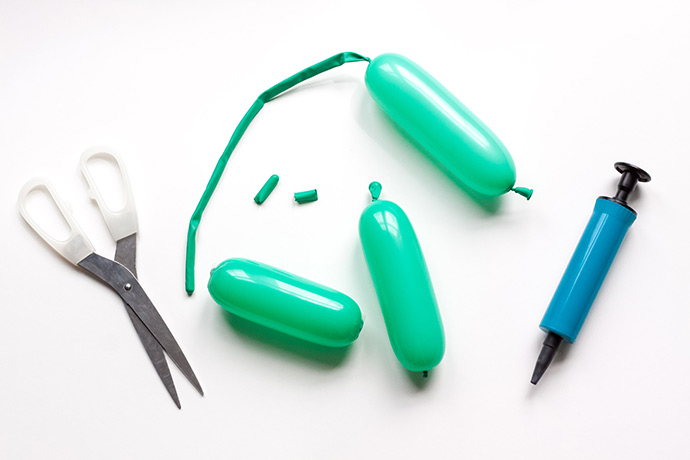 Step 1
Tie a knot in a twisty balloon, about 1.5 – 2" from the opening. Continue to tie knots in the balloon, about 1.5 – 2" from each previous knot. Use a balloon pump to blow up the first section. Tie off the end, and then cut the section off just above the first knot. Blow up the next section, tie off the end, and cut just above the knot. Continue to blow up each section, until you have several balloons shaped like corn dogs. Tape down the knots on each end of the balloons.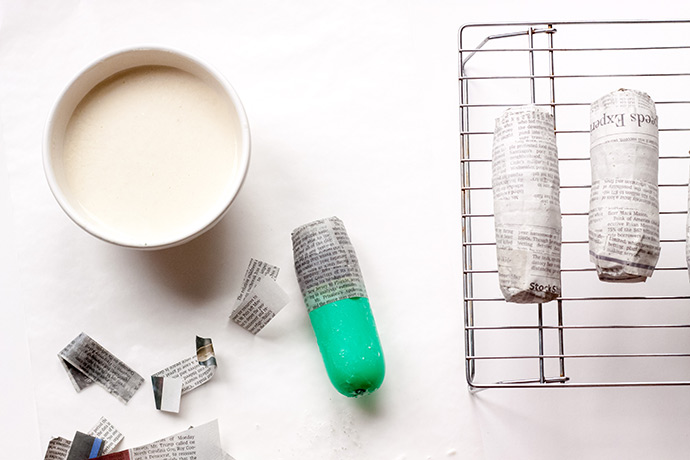 Step 2
Mix 1 C flour and 1 C water. Dip a newspaper strip in the mix, and use two fingers to "squeeze" off any excess paste. Lay the first strip across the top of the balloon. Continue to glue newspaper strips to cover the entire balloon. Glue at least two layers of newspaper to each balloon, and smooth out any lumps. Place on a cooling rack to dry overnight. Repeat with each "corn dog" balloon.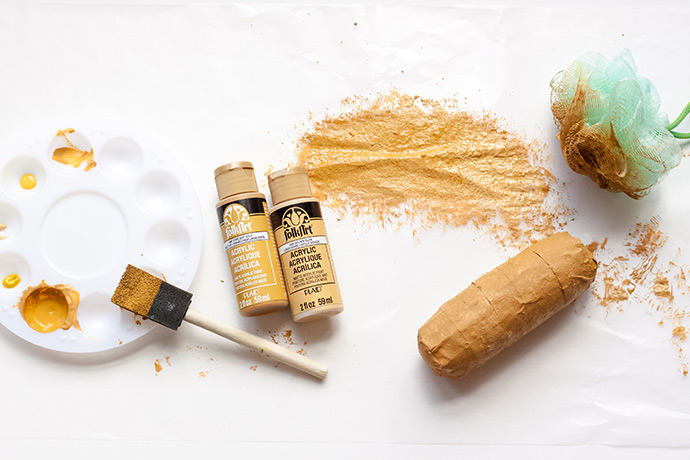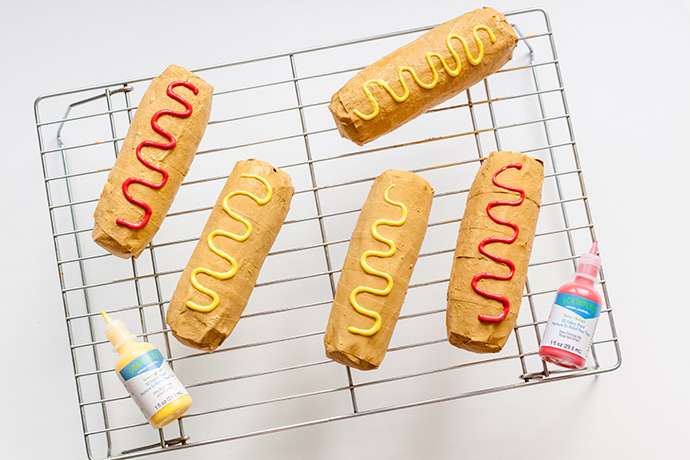 Step 3
Once the paper mache is completely dry, paint the corn dog a nice shade of golden-brown using a sponge brush. You may want to mix several colors together on wax paper, and apply using a mesh sponge to add some character. Allow to dry, and then add a squiggly line using red or yellow puffy paint to look like ketchup or mustard. Allow to dry.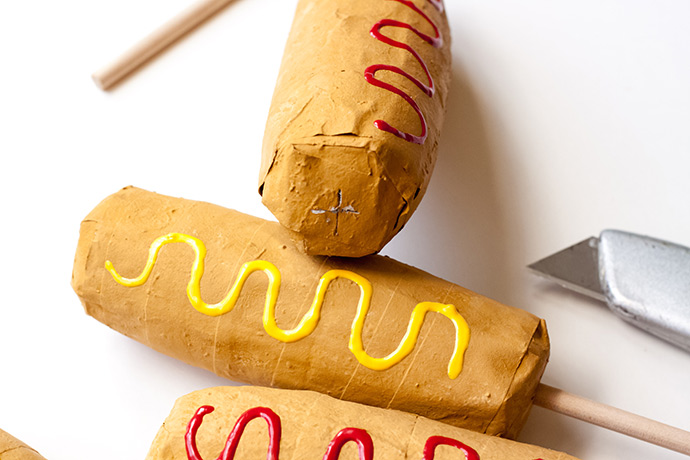 Step 4
Cut a tiny "x" in the bottom of your corn dog using your box cutter. You may add a dab of glue to the cut, and then insert your 6-inch dowel into the "x" at the bottom. Allow to dry.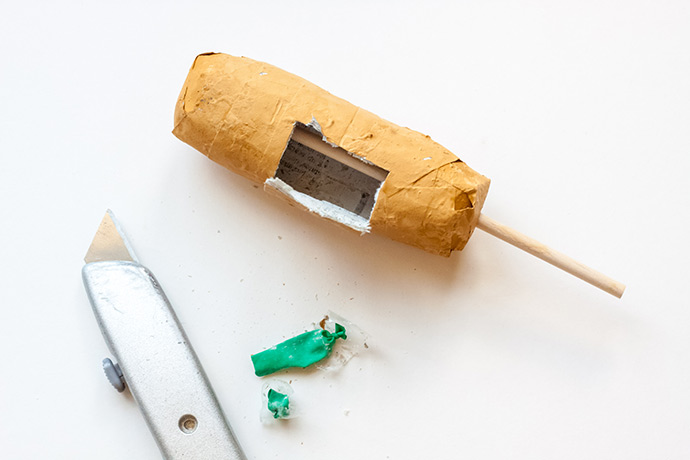 Step 5
Use a box cutter to cut three sides of a small rectangle into the back of your corn dog. The door will need to open enough to place small candies and prizes inside. Pull out the remaining balloon, and shake out any glue flakes. Fill the corn dog with some fun goodies, and close the door.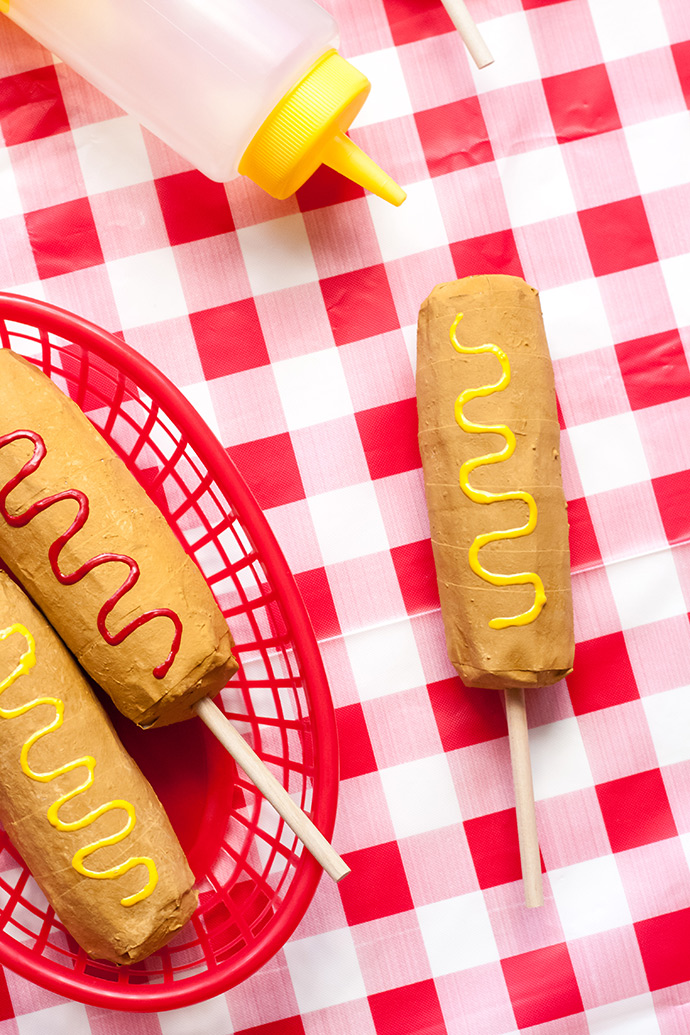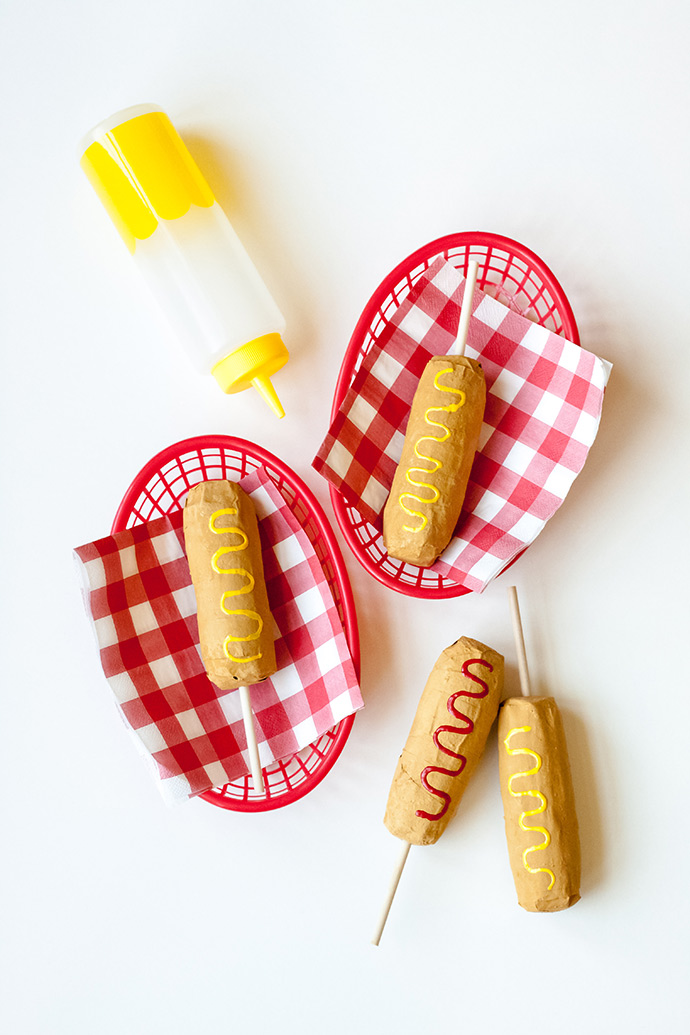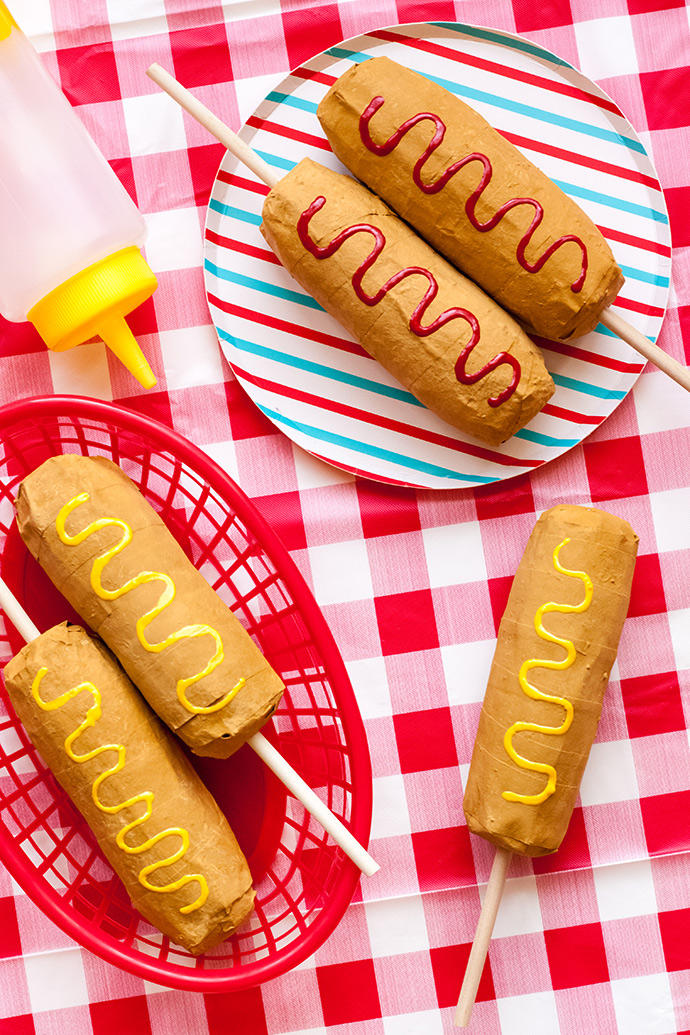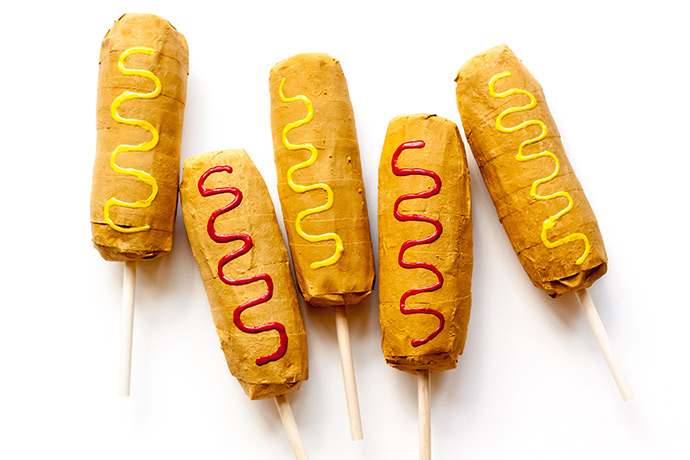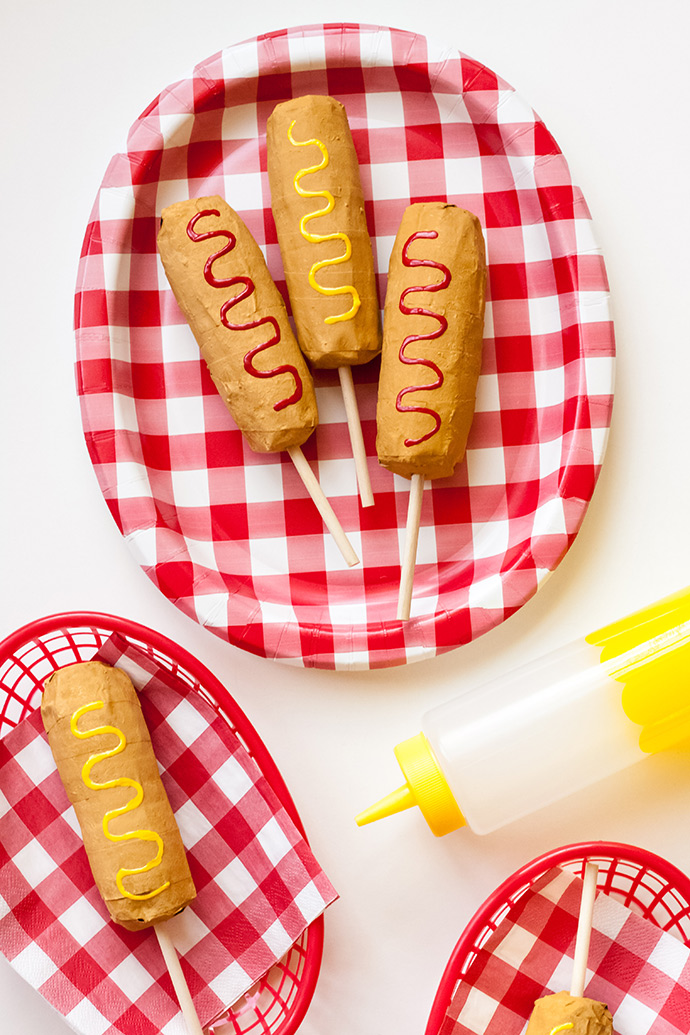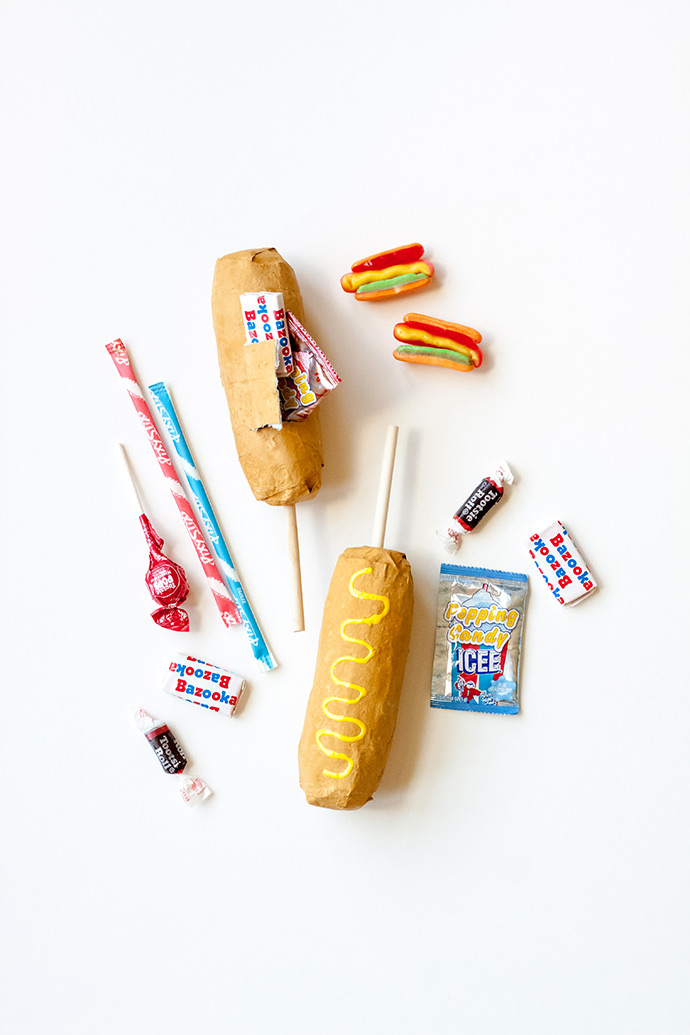 Your corn dog piñata is ready for the fair! Happy crafting!