One of my favorite things to do when I'm feeling the urge to get crafty is to find typical craft items and finding new ways to use them a little differently. These DIY Boho Inspired Perler Bead Elastic Bracelets are the perfect example. I'm going to show you how to transform a favorite kid crafting item into fun jewelry perfect for anyone of any age.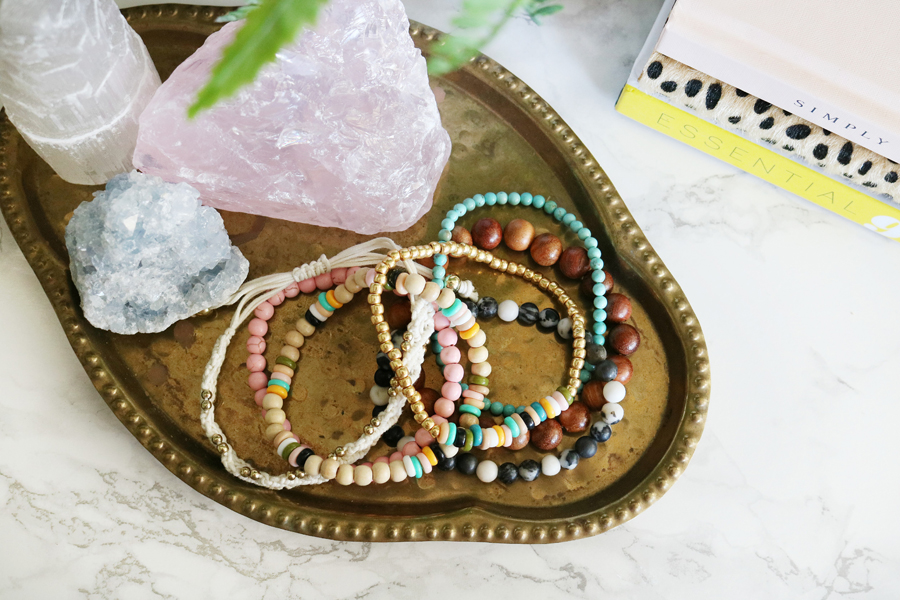 I've been making jewelry for years, all different kinds…from stamped metal necklaces and charms to all types of beaded jewelry items. Jewelery making is something I always come back to and really love doing. Sometimes it's fun to mix things up and use supplies that you wouldn't normally think of using. Years ago I used a popular kids crafting supply to make these Chevron Perler Bead Necklaces and they went crazy on Pinterest. I thought it would be fun to try the perler beads in a different way this time to make some fun bracelets.
LET'S GET STARTED, HERE'S WHAT YOU NEED TO MAKE THESE DIY BOHO INSPIRED PERLER BEAD BRACELETS:
SUPPLIES: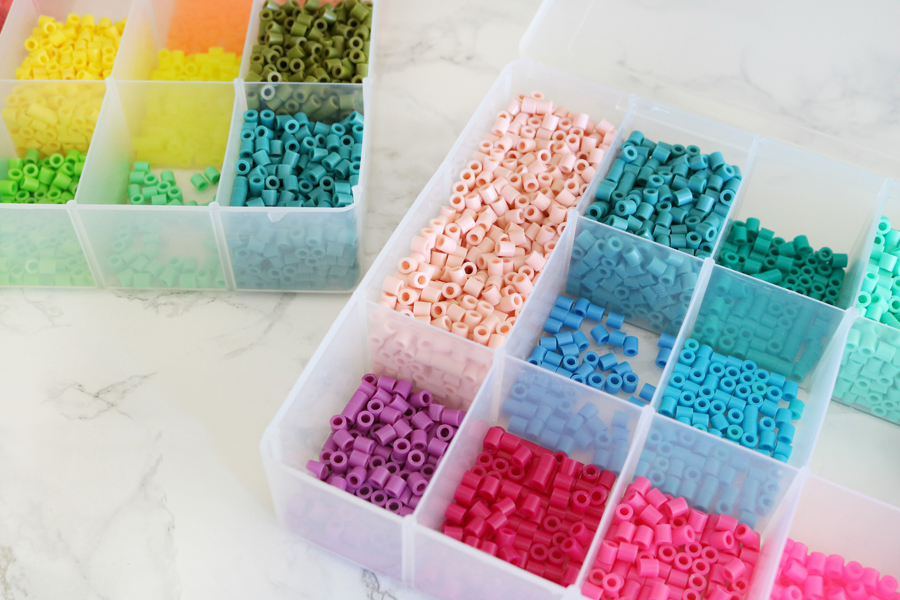 If you have kids you may already have a bunch of these tiny colorful beads that have magical powers to keep your kiddos entertained for hours on end. You can either raid their stash of perler beads or if you're looking for specific colors to coordinate with your personal style you can snag bags of single colors on Amazon just by doing a quick search for Perler Beads or in your local craft stores.
This project is easy and fun for the whole family. Let's make some bracelets!
HOW TO MELT PERLER BEADS FOR JEWELRY MAKING
Preheat your oven to 400 degrees and grab a flat metal baking sheet and line it with a piece of parchment paper. Be sure that the parchment paper lies flat so your beads don't roll everywhere. 
Stand your perler beads of choice up all over your baking sheet. Just leave a small amount of room between each bead so they don't melt into each other. As soon as your oven has reached 400 degrees carefully place the full sheet of beads on the baking rack. Bake for about 2 minutes, keep on eye on them. You just want them to melt flat and once they take on the flat donut shape like shown below they are done and can be pulled out of the oven to cool.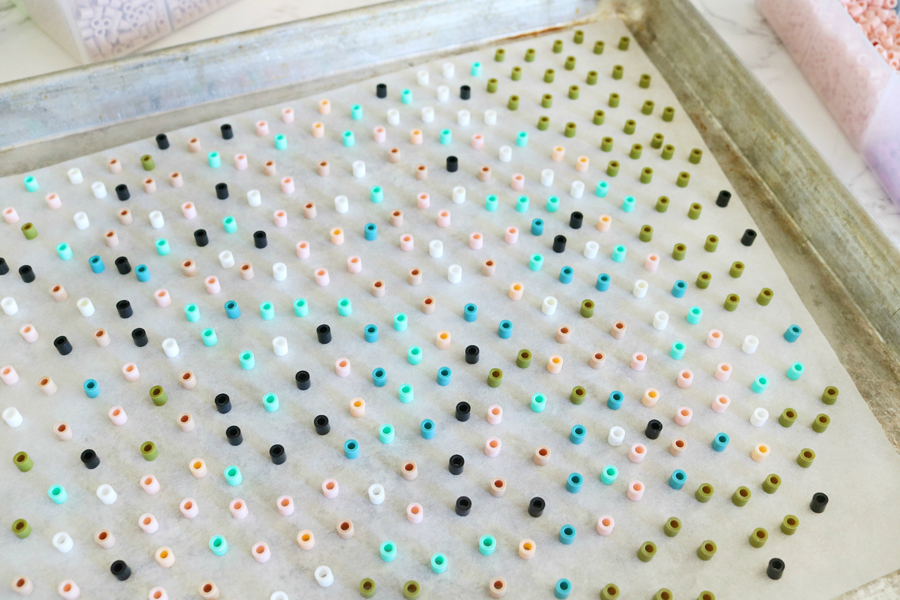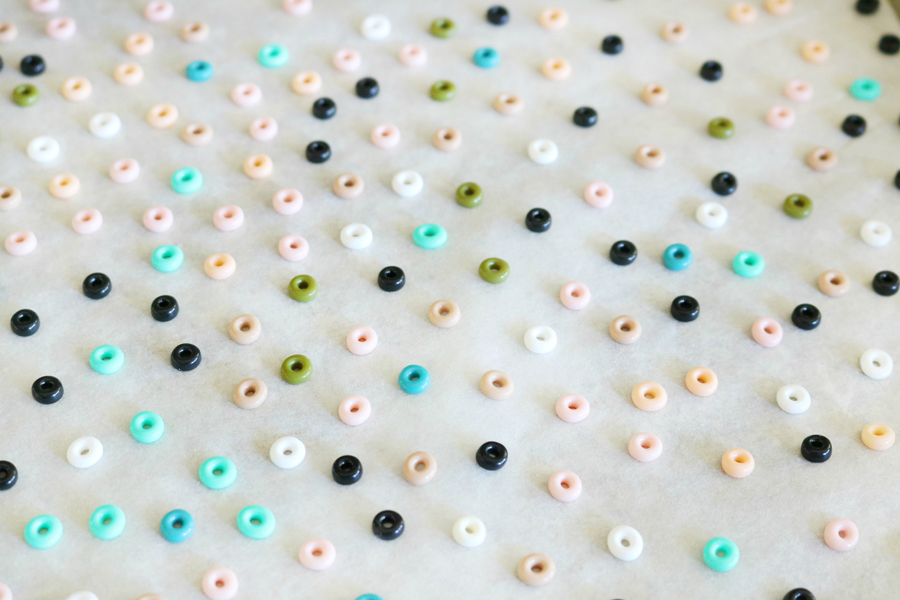 Once the perler beads are cool to the touch you can remove them from the baking tray and place them in a dish or storage container. 
HOW TO MAKE BOHO INSPIRED PERLER BEAD ELASTIC BRACELETS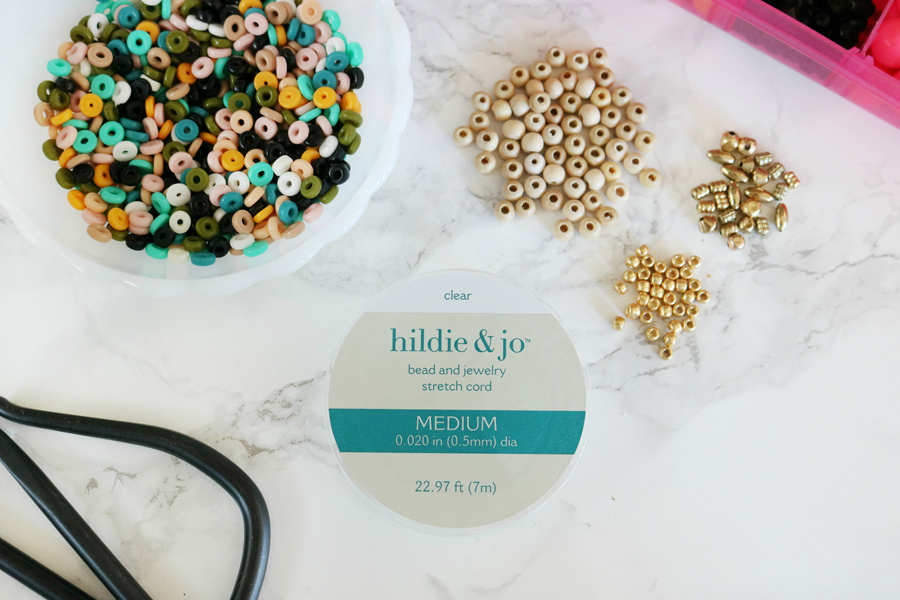 It's so easy to make these fun stretchy bracelets. Start by measuring the wrist size for the bracelet you want to make. Cut a piece of the 0.5mm clear beading elastic about an 2″ inches longer than your wrist size. 
Using whatever beads you want for your bracelet you can start stringing your perler beads and any other additional beads onto the elastic cording. Choose any pattern or style you want, choose something simple or something funky and mix things up. It's completely up to you and your personal style. 
When your bracelet and beads are all strung and it fits your wrist size with the excess 2″ elastic cording to spare it's time to tie the ends together. I simply tie three basic knots with the elastic cording tightly. Trim the extra elastic cording down, leave only about 2mm of a tail – you can tuck the knot into a bead and you'll never see it. 
IF YOU LOVE THESE BOHO INSPIRED BEADED BRACELETS BE SURE TO CHECK OUT THESE OTHER FUN AND EASY JEWELRY DIY'S:
I love that these fun little Boho Inspired Beaded Bracelets are so easy to make and that even the kiddos can help with this project. The perler beads are lightweight and easy to work with, they make the perfect addition when mixing and matching with your favorite beads to create these custom accessories.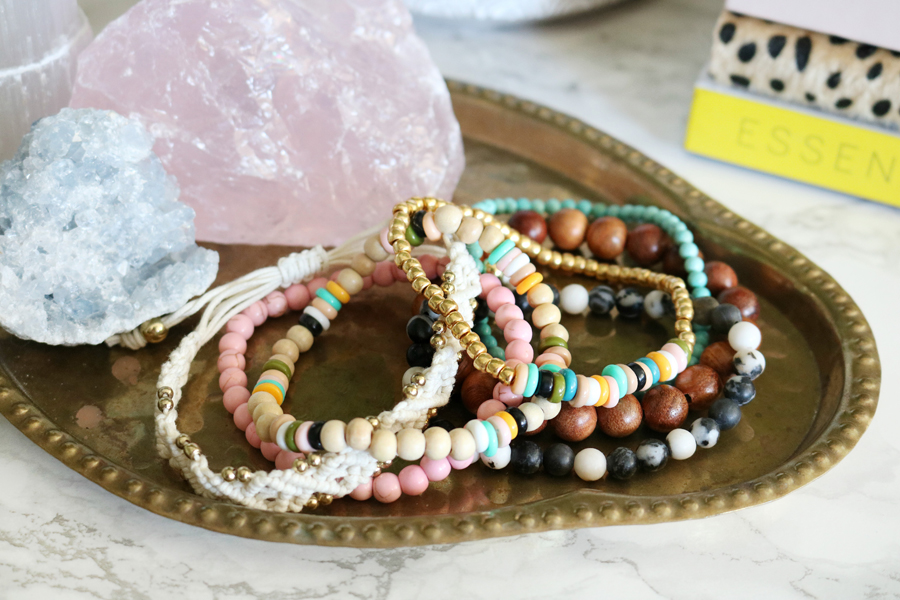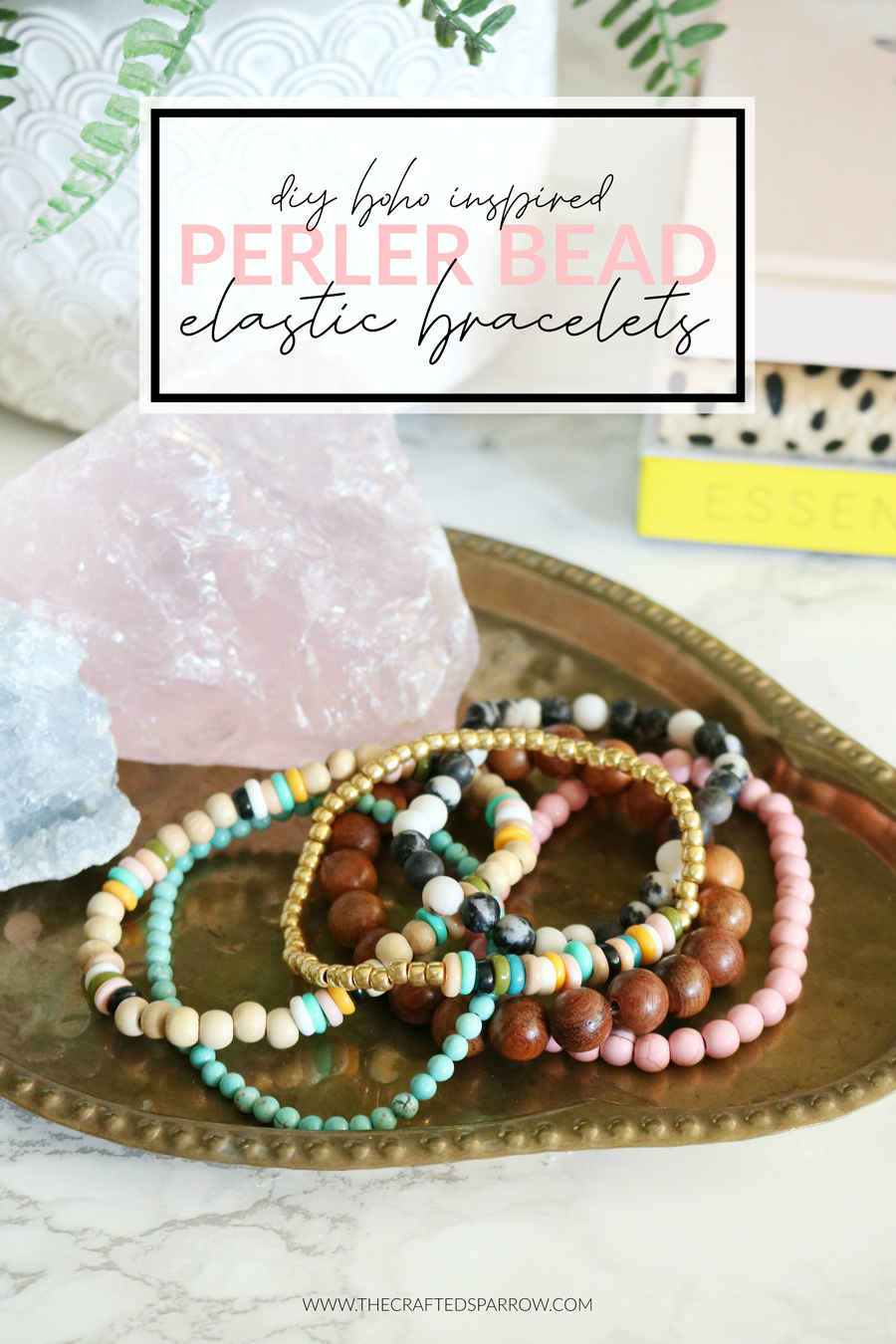 The post DIY Boho Inspired Perler Bead Elastic Bracelets appeared first on The Crafted Sparrow.