Finding the right balance between deliciousness and a healthy diet in a snack can be challenging. And this reason is why we're all glad for bacon-wrapped asparagus. It's flavorful, offers great angles of both meat and veggies, and works for every occasion. So, if you want a personal snack or a treat to serve to your guests, this recipe is a quick solution.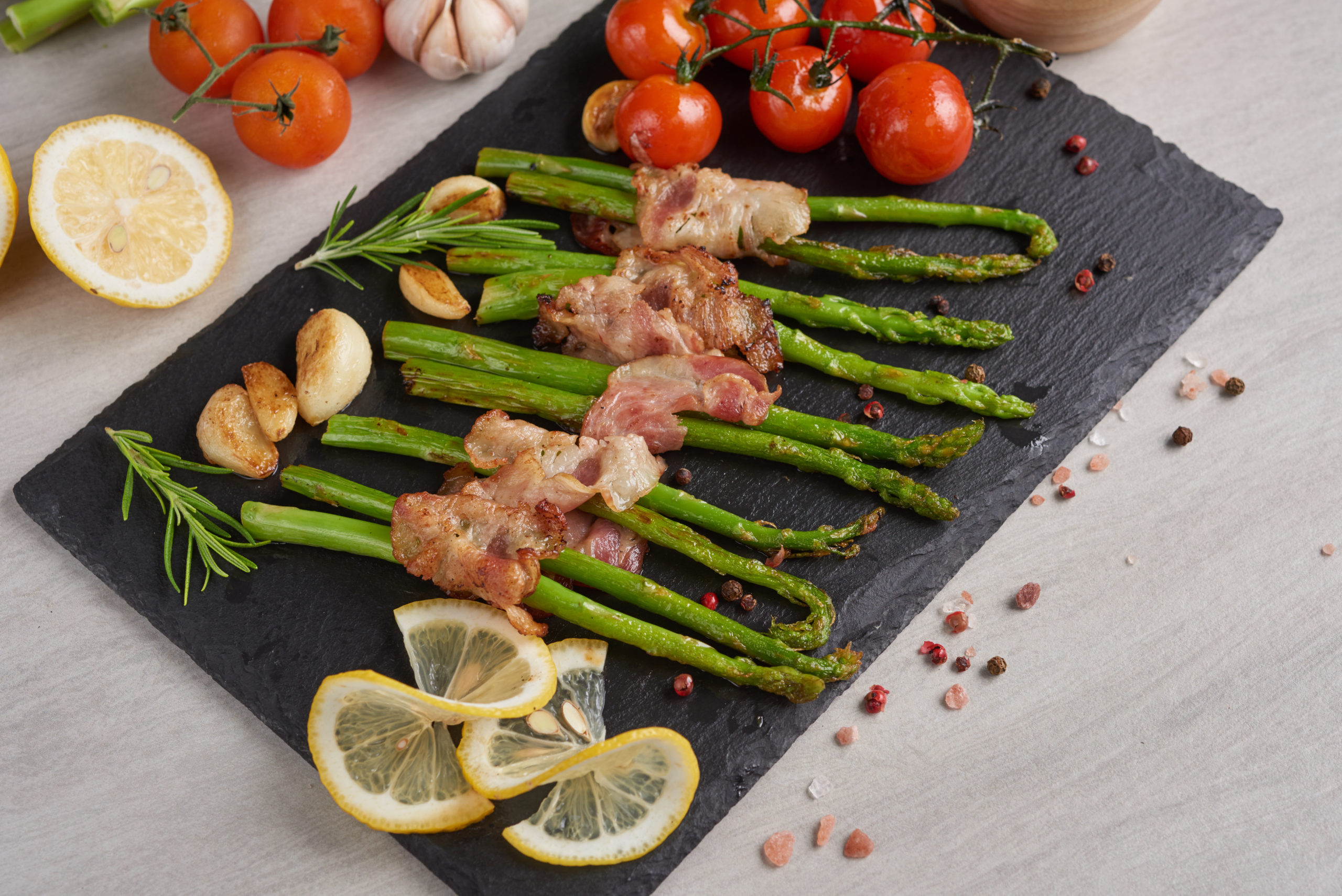 Asparagus Nutrition Facts
Tips to Making Bacon Wrapped Asparagus
Balance the Pairing-Make sure you have enough asparagus to bacon ratio so that you can round up the recipe to a healthy diet.
Season Well- Bacon-wrapped asparagus tastes best when richly seasoned, so don't hold back on the spices. You can use paprika, black pepper, garlic, or onion powder to lift the flavor.
Skip the Salt- While this recipe thrives on lots of seasoning, the bacon already has enough salt to lift the flavor. So, omit this step when cooking.
Prepping the Asparagus and Bacon
Before you cook, you'll first need to arrange the asparagus and envelop them in bacon strips. This process isn't as complicated as you feel, and you get pretty good at it with time. Plus, you can let your creativity express itself as you follow these steps.
Wash the Asparagus
Like every vegetable, asparagus should be washed thoroughly in running water before it's cooked. Also, for this recipe, you'd want the stalks dried first before you toss them in the stove, oven, or air fryer. Dried stalks crisp better when cooked compared to moist ones.
Trim the Asparagus
Cut off the pale green or white ends of the asparagus stalks. These portions are woody and don't tenderize when cooked. It's best to trim each stem individually to ensure you aren't wasting any edible green parts.
Season the Asparagus
Place the asparagus stalks in a container and drizzle some olive oil over it. Then, season with black pepper or any combination of spices you prefer. Next, toss the stalks with the seasoning, so they coat evenly. Then, sort in bunches of twos or threes.
Group the Asparagus Stalks
Some stalks are more prominent than others, so note this when grouping them. You want to divide the total asparagus and divide by how many people you're serving. Most times, one or two pounds of asparagus stems easily divide into eight bundles, with about three to four stalks in each wrap.
Wrapping the Asparagus
Take a bundle of asparagus and wrap one bacon strip around it. Start with one end at the midpoint of the pile, and gently work your way up. Wrap such that the strip slightly overlaps and holds the first end in place. Then, continue wrapping downwards till you reach the other end of the bacon.  Tuck that remaining end into one of the overlaps to secure it. It should look like a thin bouquet holder at the end and with enough exposed surface for cooking.
 

View this post on Instagram

 

Cooking the Bacon Wrapped Asparagus
Once your asparagus is wrapped in bacon, you can cook them using any of these techniques;
In the Oven
Sort the bacon-wrapped asparagus side-by-side on a sheet and cook in a preheated oven at 400F for 22 to 28 minutes. You want both ingredients crisp, with the bacon more than the asparagus. Also, the asparagus shouldn't be too browned.
On the Grill
To cook bacon-wrapped asparagus on the grill, you'll have to first hold the bacon end in place with a toothpick, so it stays when you turn it. Set the oven to medium heat and place the wrapped asparagus on the rack. Cover and leave it to cook for about 12 to 15 minutes, turning occasionally. You'll need each side to cook for about three to four minutes, and the recipe is ready when the bacon is evenly crisp.
In the Air Fryer
Set the air fryer to 400F and place the bacon-wrapped asparagus in the basket. Lower it into the air fryer and let it cook for about 10 minutes. You'll notice the stalks and bacon coming out crispy.
On the Stove
Place a skillet over medium heat and pour in some olive oil. Then, place the bundles on the skillet, arranging them, so they have enough cooking space. Make sure to use a large pan and cook in batches if you don't have enough space. When the bacon is crisp, turn and cook the other side as well. Serve when the stalks are tender and the bacon fully crispy. Note that using the stove may cause a mess due to splatters, so consider a spatter shield just in case.
Serving Bacon Wrapped Asparagus
You can offer this dish as a side or an appetizer. It's also a great addition to dinner tables and buffets. Plus, bacon-wrapped asparagus tastes excellent, whether warm or cold, so that you can offer them at any period.
You can serve them as they are after you cook. Or you can impart more complexity to the flavor with these serving ideas;
A sprinkle of grated Parmesan or goat cheese
A drizzle of sugar-butter mix
A sprinkle of chopped shallots
A smear of balsamic glaze
Print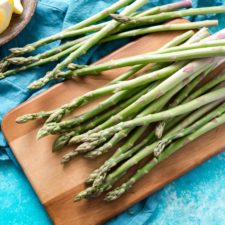 Oven-Roasted Bacon Wrapped Asparagus (8 Servings)
---
Two pounds asparagus washed and dried
One pound bacon, center-cut

One teaspoon

olive oil
Black pepper, freshly ground
Salt
---
Instructions
Cut off the woody ends of each asparagus stalk and toss in a bowl with the oil, pepper, and salt. Then, group them in bundles of twos, threes, or fours, depending on the thickness of the stems.
Tie each asparagus bundle with a strip of bacon. Start by placing one end at the middle of the pile, then wrap,so the strip overlaps and holds the end in place. Continue until the bacon strip forms, secure a wrapper around the bundles, and tuck the other end.
Arrange the bundles on the baking pan such that they don't overlap. Then, roast in a preheated oven at 400F for 20 minutes. Take them out when the bacon strips are crisp and the asparagus is tender. Then, serve hot, warm, or cold, and with whatever toppings you prefer.
Another exciting bacon-wrapped asparagus idea can be found in this video recipe.
The post How to Cook Bacon Wrapped Asparagus appeared first on BlogChef.