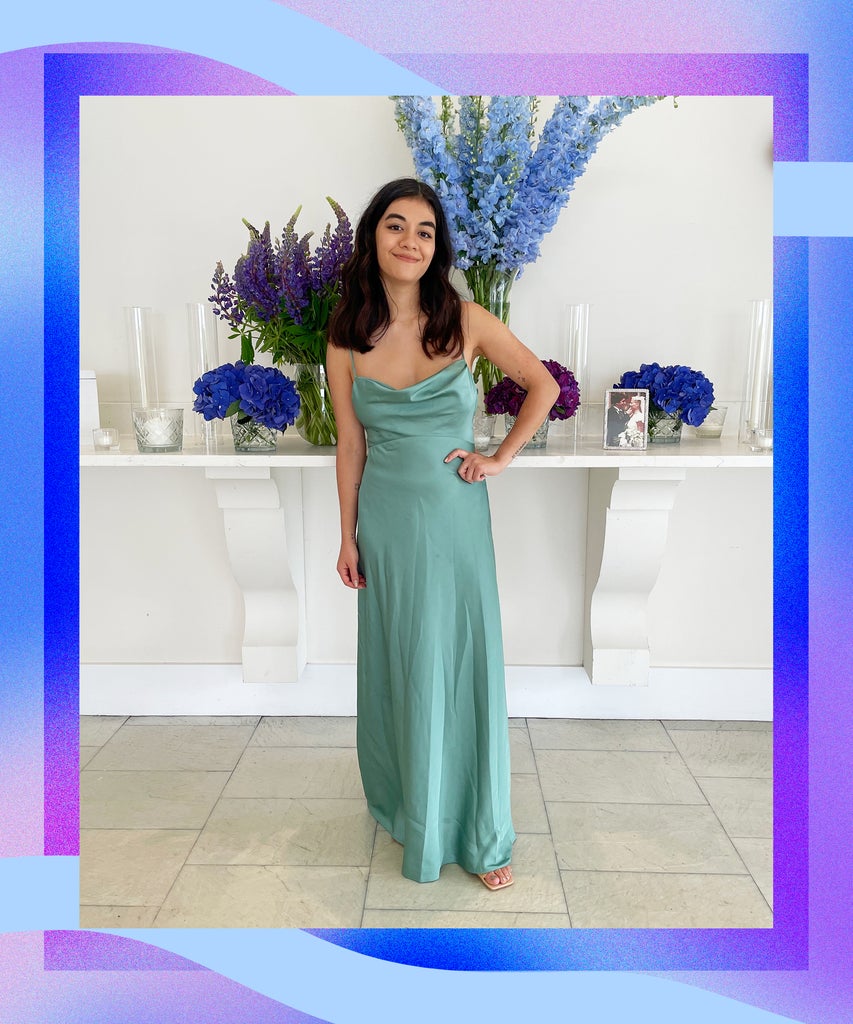 When I think of custom clothes, my mind immediately jumps to bespoke suiting or a couture gown fit for a celebrity attending the Met Gala — in other words, virtually unattainable for a semi-thriving, not-famous 20-something such as myself. However, as soon as I encountered Fame & Partners, it was like I'd found the perfect antidote to my formalwear-shopping struggles. It combines the convenience of online shopping (I only shop from my couch, TBQH) with the ability to tailor-make a garment to your own measurements. In other words, the fit would be perfect right out of the box — at least, in theory.
At 5'2″, shopping for petite-friendly clothes isn't always the easiest task, not to mention the additional cost of getting garments professionally altered. (However, my experience as a slim-bodied woman is nothing in comparison to what plus-size folks have to deal with.) All that said, I was both overjoyed (and a bit nervous) when I got an invite to my first-ever black-tie wedding. I love getting dressed up, but the thought of finding a full-length gown that didn't make me look two feet tall felt daunting. Ahead, join me as I try Fame & Partners for the first (but, spoiler alert, definitely not last) time.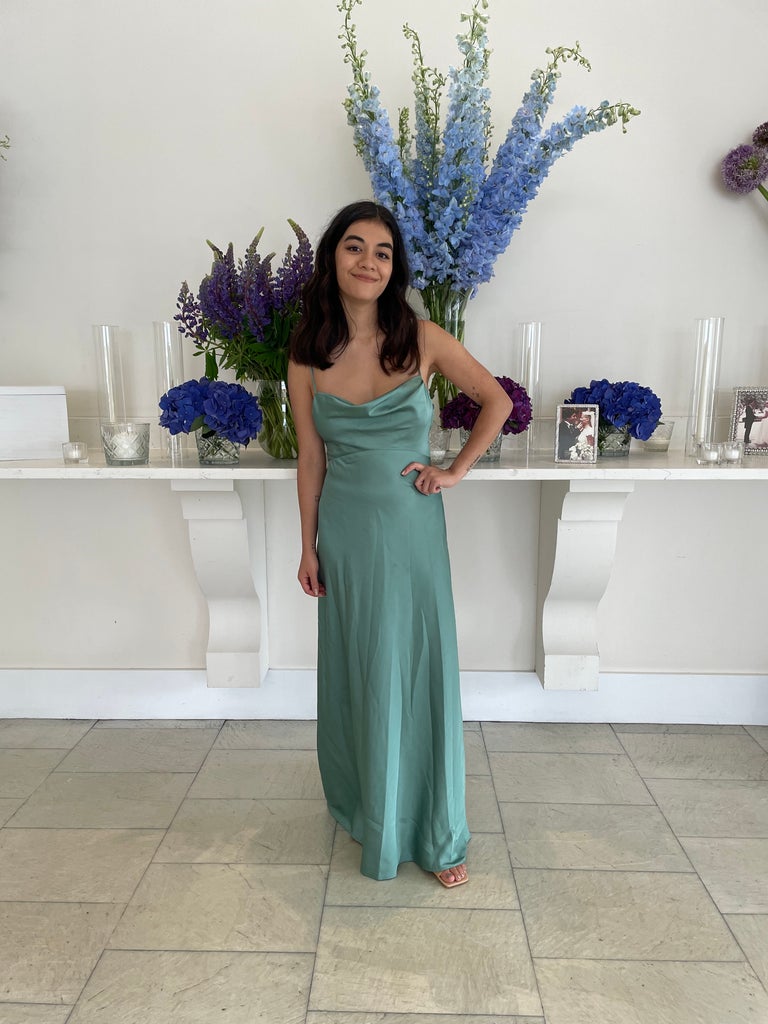 The Ordering Process
Armed with a tape measure and some positive thoughts, I browsed the pages of Fame & Partners formal dresses and settled on a spaghetti strap gown in pistachio matte satin. The site itself is easy to browse based on what you're looking for, but once you choose a style, the real fun begins.
First, you select a fabric colorway (some dresses even have printed options), and standard dress size as a jumping-off point. (Sizes range from 0 to 22.) From there, you add your height as well as the heel length of the shoes you're wearing with the dress. The last step is to choose a length of the hem: options range from calf-skimming midi to tea length to full-length formal with a train.
I should add that unlike ordering from most online stores, you need to factor in extra time for the garment to be made to your specs. The standard lead time is four to five weeks, so make sure you plan accordingly to ensure your order arrives on time.
The Try-On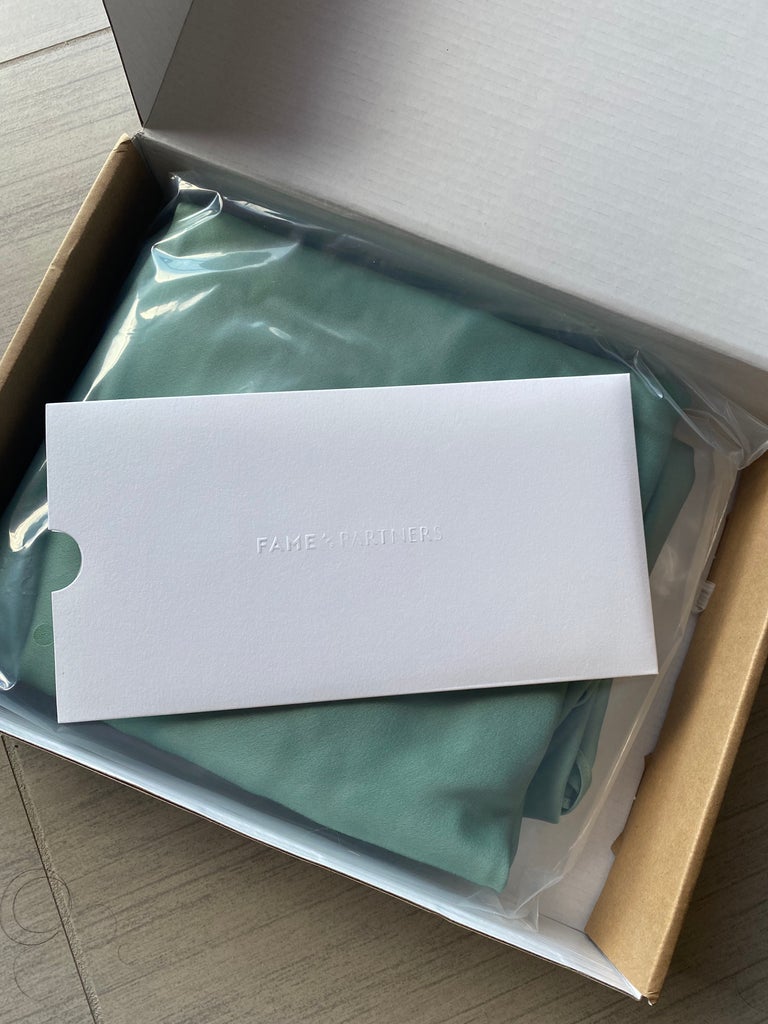 After a month of anticipation, my order arrived at my doorstep. (I've never opened a piece of mail faster, BTW). Inside, my dress was enclosed in a plastic bag with a card on top. I unfolded it and tried it on immediately, hoping that it would fit me like a glove and stop at my toes — something that has never happened before with full-length anything. (I get my jeans hemmed, folks.) To my shock and awe, it was as if Cinderella's own fairy godmother made this dress to my exact form. Sure enough, the length was perfect, and the empire waist sat just right on my weirdly long torso. Even the drapey neckline worked — something I normally would've never tried with an off-the-rack dress since the proportions sometimes overwhelm a petite frame. (I also loved the color, which was spot-on with the images online. You can order real fabric swatches for $2 a piece if you need ironclad peace of mind.)
The dress fit (phew!), but the true test would be to see how it wore throughout hours of crying, eating, drinking, and dancing. The dress itself was actually pretty comfortable and wasn't too tight — even after a filet mignon dinner and a slice of chocolate cake. My only gripe is that the loops used for hanging the dress had the tendency to peek out from my sides and had to be back tucked in every so often. (Maybe some strategically applied tape would help here? I'm open to suggestions.)
With dresses ranging from $135 to $480 (mine was somewhere in the middle at $349, but the final cost depends on the length you choose), Fame & Partners isn't inexpensive by any means, but it offers options at a range of price points. (If you're on a stricter budget, it also has a limited selection of ready-to-ship, non-customizable styles that can be sent within a few business days.) I personally don't mind spending more on a dress that I love (and will re-wear to future events), and the quality of my Fame & Partners dress was honestly better than I expected. Plus, designer pieces can easily exceed Fame & Partners' made-to-order styles, so if you're already planning on splurging, why not do so on a custom garment?
Final Thoughts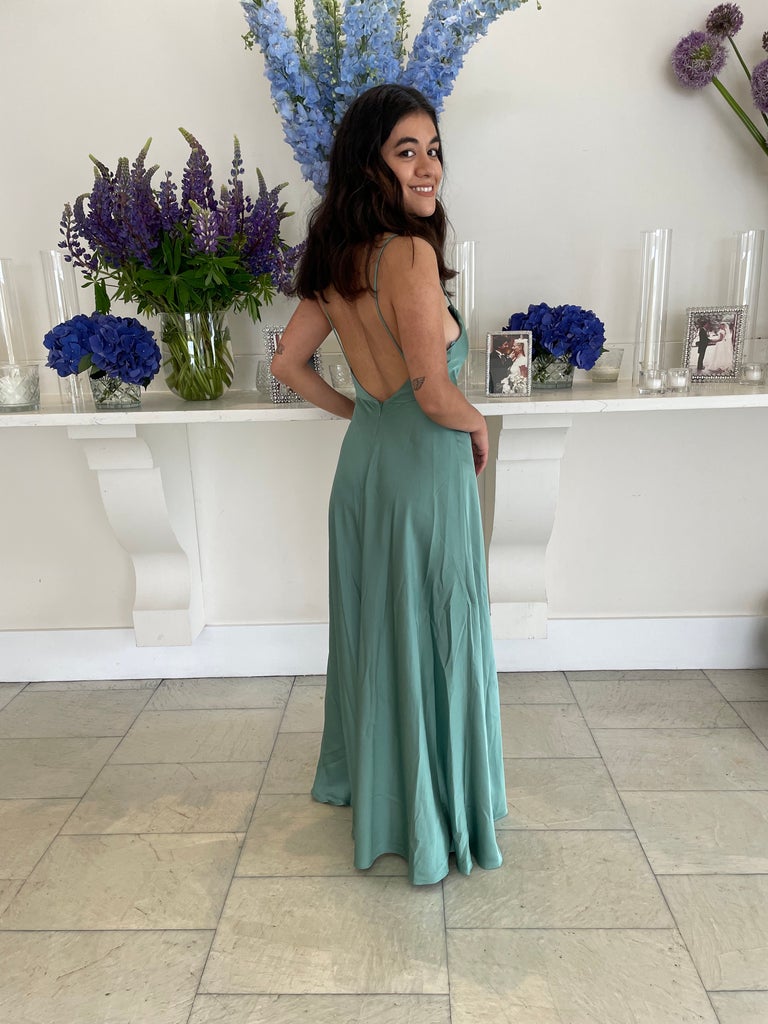 All in all, I have to say that I was thoroughly impressed with my Fame & Partners experience. After years of seeing them on Instagram (and adding many bridesmaid photos to my Saved folder), I totally get the hype. Fame & Partners is basically like paying a visit to the modiste in Bridgerton: You get to choose the fabric and style and then wait for a lady's maid UPS driver to deliver it to your home. While on the pricier end of things, I didn't feel like my dress wasn't worth the investment by any means — I felt super cute and confident all night. I also jive with the brand's goal of ultimately reducing clothing landfill waste by making made-to-order pieces more accessible for consumers like me.
While I may not have a social calendar overflowing with fancy parties, I'll at least spare myself the stress next time I need to find a dress for a fancy wedding. Now, if only the brand had been around when I was shopping for prom . . .
At Refinery29, we're here to help you navigate this overwhelming world of stuff. All of our market picks are independently selected and curated by the editorial team. All product details reflect the price and availability at the time of publication. If you buy or click on something we link to on our site, Refinery29 may earn commission.
Like what you see? How about some more R29 goodness, right here?
17 Wedding Guest Shoes Perfect For Outdoor Affairs
Why More Brides Are Choosing Black Wedding Dresses