I wake up in the morning engulfed in a white fluffy duvet and dressed in a pink, lace-trim nightgown. Looking across my room, I see my dresser lined with Chanel books, a statue of Aphrodite, my headband rack, a vase of pink roses, and my bows. Moments like this affirm that I am in my soft girl era. 
Growing up in a developing suburb outside Atlanta, I was one of six kids who enjoyed play time in the woods. Catching tadpoles and playing in the dirt was the way we lived for several years. Then, when I was seven, I moved in with my grandmother, and everything changed. 
Abuela embodied class and introduced me to Disney princesses and Nicholas Sparks. She designed my room to be a princess wonderland. There was a corner dedicated to playing with Barbies and setting up tea time.
Play time wasn't the only thing that changed; my clothes did, too. My grandma introduced me to style icons like Audrey Hepburn and Cher Horowitz that felt so foreign to me. When I lived with my mother, I wore jeans and overalls paired with a basic tee. But when my grandma picked out my outfits for school, I usually wore a pink dress or skirt with a blouse that had lace trimming and dainty details like flowers or bows.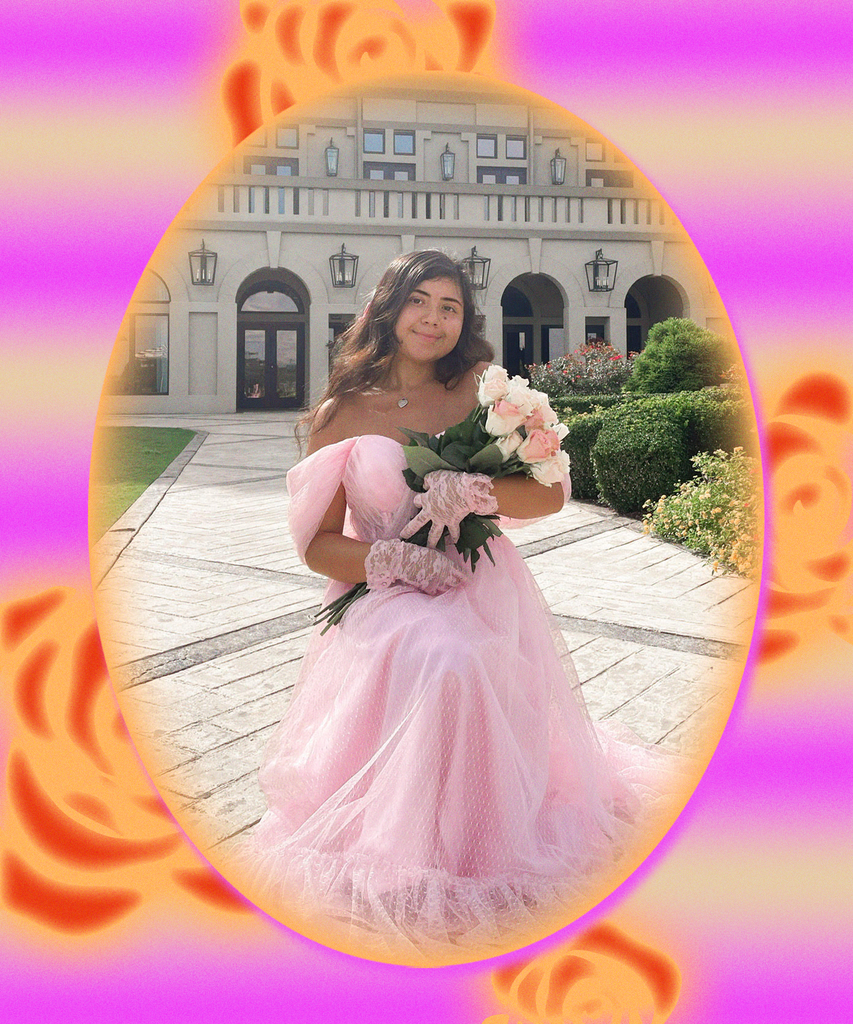 Initially when I wore these pieces, I felt uncomfortable. I wasn't used to wearing these types of clothes, and I was scared of getting them dirty. But soon enough, it became routine for me to want to feel and look pretty. I began to admire fashion, romantic sceneries, and how these regal women carried themselves.
Still, while I was dressing in these pink and puffy frocks, I couldn't help but feel like an outcast. None of the princesses I saw in movies or read about in books looked like me.
Throughout history, it has been predominantly wealthy white women who have been able to dress in these lovely gowns and tweed sets. They could afford to engage in leisure activities such as tea times and dress fittings.
Still, while I didn't share their wealth or their whiteness, I always felt beautiful when my grandmother helped me dress nicely. It was a reminder that although I might not be a "real" princess, I can still carry myself like one through kindness and style. I, too, am worthy of adorning my body, of being adored, and of becoming a role model — despite the hypercritical looks I'd receive from classmates.
Then, at 14, I moved back with my mother and siblings and things changed — again. From middle school up until the end of college in 2021, my fashion and lifestyle were influenced by peer pressure, the media, and life circumstances. I wasn't dressing like me or for me anymore; instead, I was dressing for what I thought other people expected of me. Experiencing financial distress at home and witnessing gang violence when I left my house, I always had to be tough. I was constantly bullied and felt insecure. I had lost my feminine touch.
Then, during the pandemic, I did what a lot of people did: I rewatched my favorite shows. Among them was Gossip Girl, the early aughts TV series about a group of privileged (and mostly white) students living on the Upper East Side of New York City. I had this fascination with the characters' clothes and their lifestyles on screen. Their garbs — such as Blair Waldorf's classic Constance Billard school uniform, her periwinkle blue dress from the street montage with Serena, and the big bow on a tweed skirt paired with a chiffon floral top — had an elegant and soft touch, and I adored it. It reminded me of my youth and how much I enjoyed dressing like that. 
While I am no socialite, I knew I could still emulate the same soft looks, not only through fashion but also by how I carry myself. So, in October 2021, I visited New York City for the first time, and I recreated fashion looks set against iconic scenes from Gossip Girl, like eating on the steps of the Met and having tea at the Plaza Hotel. 
I instantly felt a surge of energy and power. I knew I was re-entering my soft girl era, embracing my feminine side through fashion and lifestyle activities. The Tiffany Blue-colored icing on the top: It was boosting my confidence.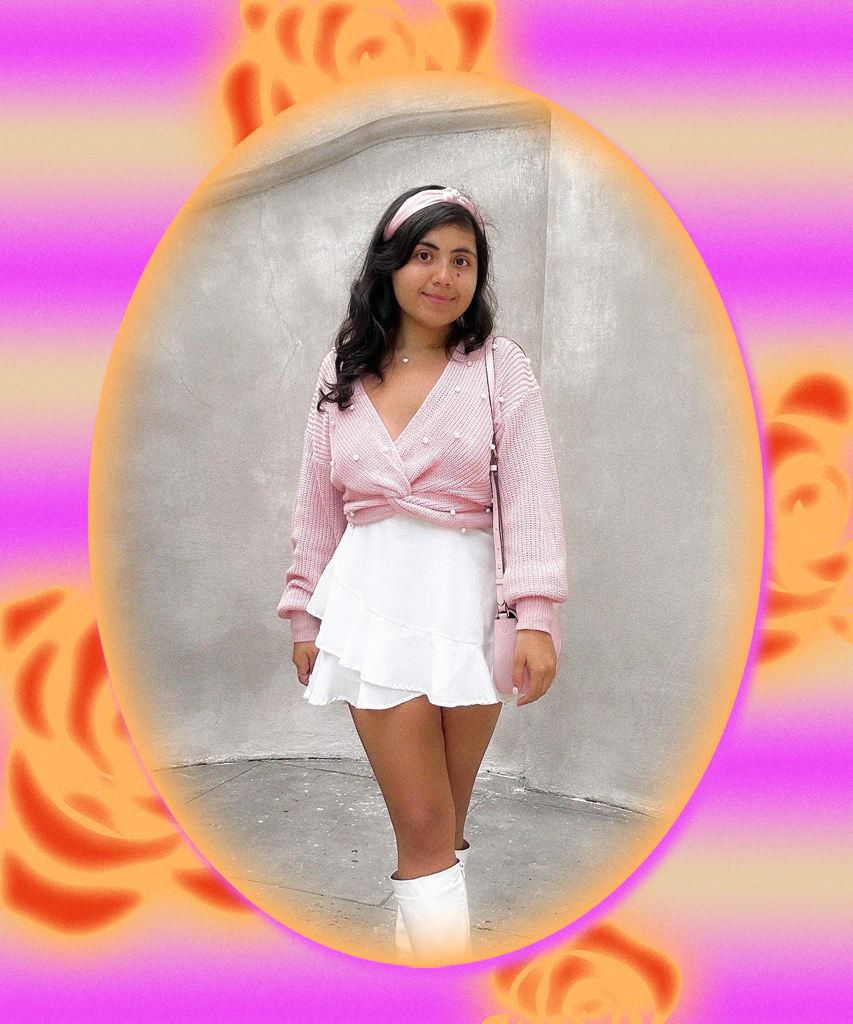 But more than style and communal activities, the soft girl era is about prioritizing one's well being. It allows me to express my emotions, romanticize my life, and get in touch with that gentle side of myself that can become entangled with the problems around me. As a brown-skinned Latina, I deserve this. More than that, embracing my inner soft girl shows others like me that they deserve to, too. 
We are allowed to dress in hyper-feminine clothing, too. We warrant soft, gentle play, too. When people dismissively tell me, "you dress like a white girl," I simply respond by saying that no one should be denied the ability to wear puffy dresses or tweed sets if they want to. Every woman is allowed to care about their appearance and upkeep, and we should not be deemed shallow or high-maintenance for doing what makes us feel beautiful.
There's a soft girl in all of us. This era has taught me that I can be open and vulnerable, and that beauty is not just a physical attribute — it is also about being kind, prioritizing self-love, and taking life seriously and gently. While you can make the soft girl aesthetic your own, here is a guide on how I achieve this look. 
Dress for the season.
During the spring and summer seasons, I enjoy princesscore or cottagecore fashion trends. This includes beautiful dresses that are flowy and puffy with details like bows and lace. Meanwhile, during the fall and winter seasons, I shoot for the plaza princess or preppy look since these months are cooler. The plaza princess style is inspired by a grown-up Eloise, the protagonist of the 1950s children's books, which could include tweed sets, tights, and layered pieces such as blazers, faux fur-trimmed cardigans, and pleated skirts.
Add pastel colors to your closet.
My favorite colors are pink and white. These two colors together give a soft, elegant touch to anyone. I prefer pastels over neon colors because they're easier to pair with other items and suit my look. However, I also love wearing black because it makes any outfit look chic and elegant.
Get the accessories right.
I'm huge on accessories. All of my jewelry is dainty and simple, but when paired together, it gives the essential soft girl look. I also adore headpieces. I like to add either a headband, a bow, or a beret to my outfit; these pieces lend a sweetness to my whole look.
When I wear dresses during the cooler months, I layer them with tights and stockings and pair my outfits with either a blazer or a scarf. When in doubt, I like to tie ribbons either on my neck or wrist and make a bow — it just adds a little something extra.
Partake in leisurely activities. 
I love engaging in activities that make me feel extra feminine. One of my favorites is tea time with girlfriends. Tea time allows me to dress up. I remember my childhood tea set-ups, and I turn them into reality. I also enjoy hanging at cafes, having brunch dates with friends, visiting bookshops, and exploring museums. These activities fit into the soft girl aesthetic because they're about leisure; they're things we are not able to do all the time. When my friends and I get together for tea, we get to put on pretty clothes and have this expectation that we will be indulging in dainty foods, delicious pastries, and an afternoon of catching up while enjoying each other's company. 
Take care of yourself.
The most fulfilling part of being in my soft girl era is doing something for myself. I set aside time to get my haircut and have my nails done with the perfect shade of baby pink. I dedicate at least one night a week to putting on my face mask and relaxing. These self-care activities can sometimes be pushed back due to work and other responsibilities, but it's important to make time for myself and enjoy what I love. I pamper myself and do not feel guilty about it. 
Like what you see? How about some more R29 goodness, right here?