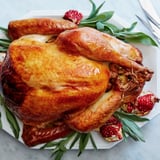 POPSUGAR is excited to present this roast turkey with giblet gravy recipe from Martha Stewart.
Over the years, I have tried so many great Thanksgiving turkey techniques, but the one that I rely on the most for a perfectly browned and juicy turkey is my Turkey 101 recipe.
Perfect Roast Turkey With Giblet Gravy
Ingredients
For the turkey:
12-14-pound free-range turkey
2 sticks butter, separated
1 turkey broth packet, plus 1 cup warm water
1 cup dry white wine
1/2 teaspoon salt, plus more to taste
1/2 teaspoon pepper, plus more to taste
Stuffing, if using to stuff the turkey
Kitchen twine
For the giblet stock:
Turkey giblets
Turkey neck
5 cups water
2 turkey broth packets
For the gravy:
1 cup water or dry white or red wine
Giblet stock
3 tablespoons flour
3 tablespoons water
Tools:
1 small saucepan
Cheesecloth
Kitchen twine
Toothpicks
Large roasting pan fitted with a roasting rack
2 baking dishes
Pastry brush
Instant read thermometer
Large saucepan
Strainer
Directions
To make the turkey: Allow turkey to defrost in the refrigerator, 2 to 3 days. Once fully defrosted, turkey can be kept in the refrigerator up to 7 days. When ready to cook, remove neck and giblets from within turkey (reserve neck, heart, and gizzard for giblet stock; discard liver). Rinse turkey with cold water and pat dry with paper towels. Let stand for 1 hour at room temperature.
Preheat oven to 450°F with a rack on lowest level. Melt 1 1/2 sticks butter in a small saucepan. In a small bowl, whisk 1 turkey broth packet with 1 cup warm water to dissolve. Combine turkey broth and melted butter in a large bowl. (Alternatively, forgo making the turkey broth and combine melted butter with 1 cup dry white wine). Immerse cheesecloth in the butter mixture and set aside to soak until fully saturated. Let remaining 1/2 stick butter soften at room temperature.
Fold wing tips under turkey. Sprinkle 1/2 teaspoon each salt and pepper inside the turkey. If stuffing turkey, fill large cavity and neck cavity loosely with as much stuffing as they can hold comfortably; do not pack tightly. Place extra stuffing in a small baking dish and set aside. Right before serving, bake extra stuffing uncovered at 350°F until golden on top, about 30 minutes.
Tie legs together tightly with kitchen twine. Fold neck flap over stuffing, and secure with toothpicks, attaching flap to underside of turkey (or just tuck underneath turkey). Place turkey, breast side up, on a roasting rack in a large roasting pan. Pour 2 cups water into the roasting pan. Rub turkey with remaining 1/2 stick softened butter and season generously with salt and pepper.
Lift cheesecloth from butter mixture and squeeze gently, leaving it very damp. Spread it evenly over the turkey breast and about halfway down the sides of the turkey (it can cover some of the leg area). Place turkey legs first toward the back of the oven and roast for 30 minutes. Using a pastry brush, baste cheesecloth and exposed parts of turkey with butter mixture. Reduce oven heat to 350°F and continue to roast for one hour, basting after 30 minutes. Add 3 more cups water to roasting pan.
Baste again then peel off cheesecloth. Turn the turkey so legs are now facing out, toward the oven door. Continue to roast until golden brown all over and an instant read thermometer inserted into the thickest part of the thigh registers 165°F, 1 to 1 1/2 hours more. Transfer to a board and let rest at least 45 minutes and up to an hour. Meanwhile, remove stuffing from both cavities, transfer to a baking dish, and bake until stuffing registers 165°F, 15 to 20 minutes. Enjoy!
To make the giblet stock: Trim any fat or membrane from giblets; discard liver. Rinse giblets and neck. Place a large saucepan with 5 cups water and bring to a boil. Skim off any foam that rises to the surface. Reduce to a simmer and cook until liquid is reduced to 3 cups, about 45 minutes. Strain broth and whisk in 2 turkey broth packets.
To make the gravy: Once turkey is cooked, pour all juices from the roasting pan into a glass measuring cup. Let stand until grease rises to the surface, then skim it off. Heat roasting pan on the stove over medium-high. Add 1 cup water (or dry white or red wine) to the pan. Using a wooden spoon, scrape up the bits from the bottom of the pan until liquid boils. Stir in giblet stock and transfer all to a saucepan. Add the defatted pan juices and boil gently until reduced to 3 cups, about 20 minutes. In a small bowl, whisk 3 tablespoons flour with 3 tablespoons water. Whisk flour mixture into saucepan and simmer, whisking, until thickened, about 5 minutes. Season to taste with salt and pepper, then strain into a warm gravy boat.
Information
Category

Main Dishes

Cuisine

North American

Yield

8 to 10 servings