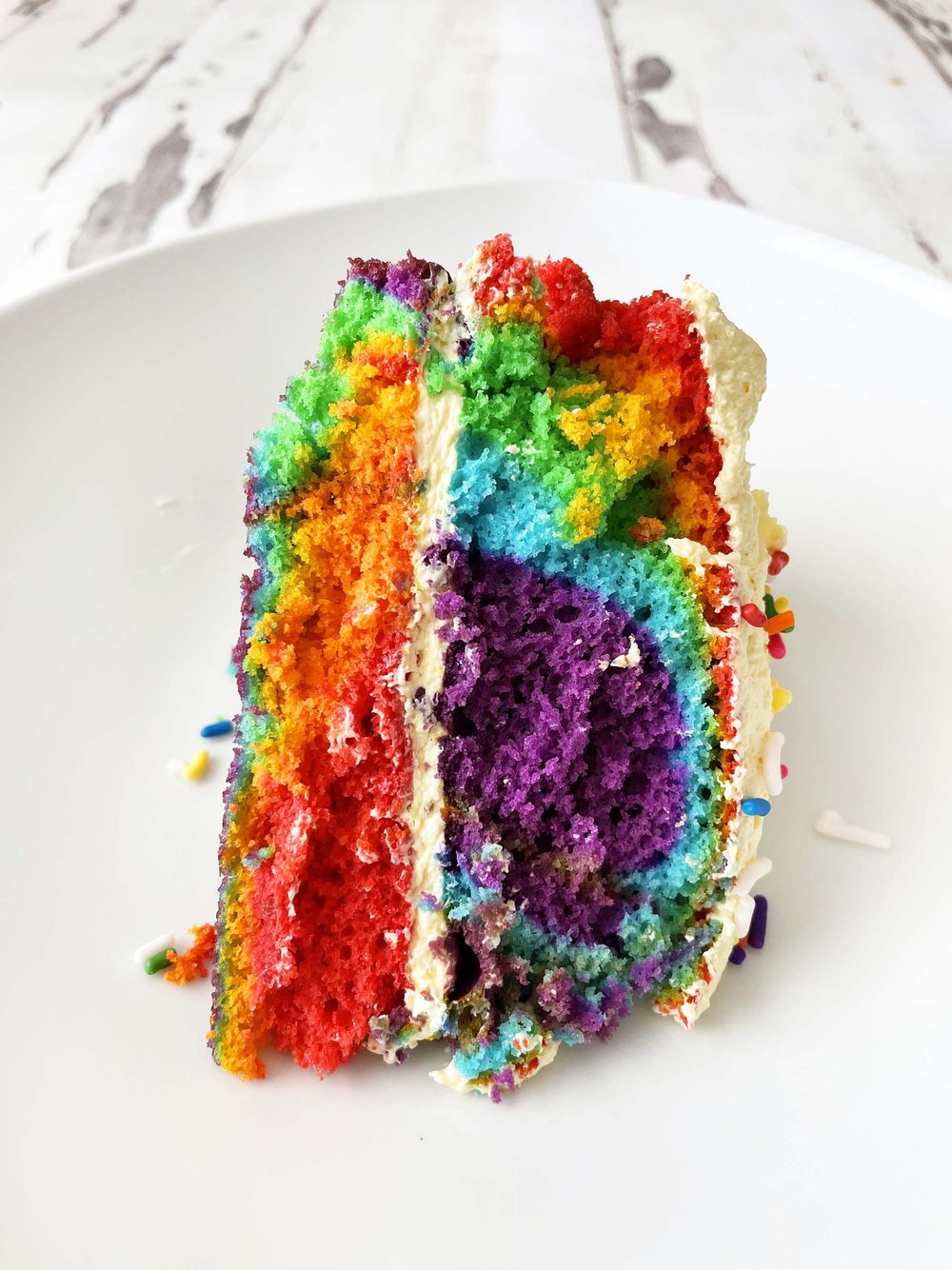 Another continuation of rainbow inspired eats and treats geared towards PRIDE month! This fun and vibrant rainbow cake is made with literally just a handful of ingredients and fairly little hands on time. This cake uses one of the oldest tricks in the book as far as cake mixes go, and that's simply using sparkling soda with the mix and nothing more!
That's right. You can make a cake with a box of mix and a can of soda. Pretty impressive, huh? It's so super easy to do too! Outside of that, you divide the batter and color it accordingly. I went with the rainbow colors of the PRIDE flag, but you can use whatever colors you wish.
I used standard gel food colors here and they turned out beautiful and vibrant with the white cake mix. Which I definitely recommend using a white cake mix and not any other for this very reason. Anything vanilla or otherwise will have a slight yellow hue to it.
The frosting here is one that really is best right away. You can store this cake in the fridge, but it's really ideal to eat it pretty straight away. Or at very least be sure it's covered in the fridge as the frosting does thicken as it sits out.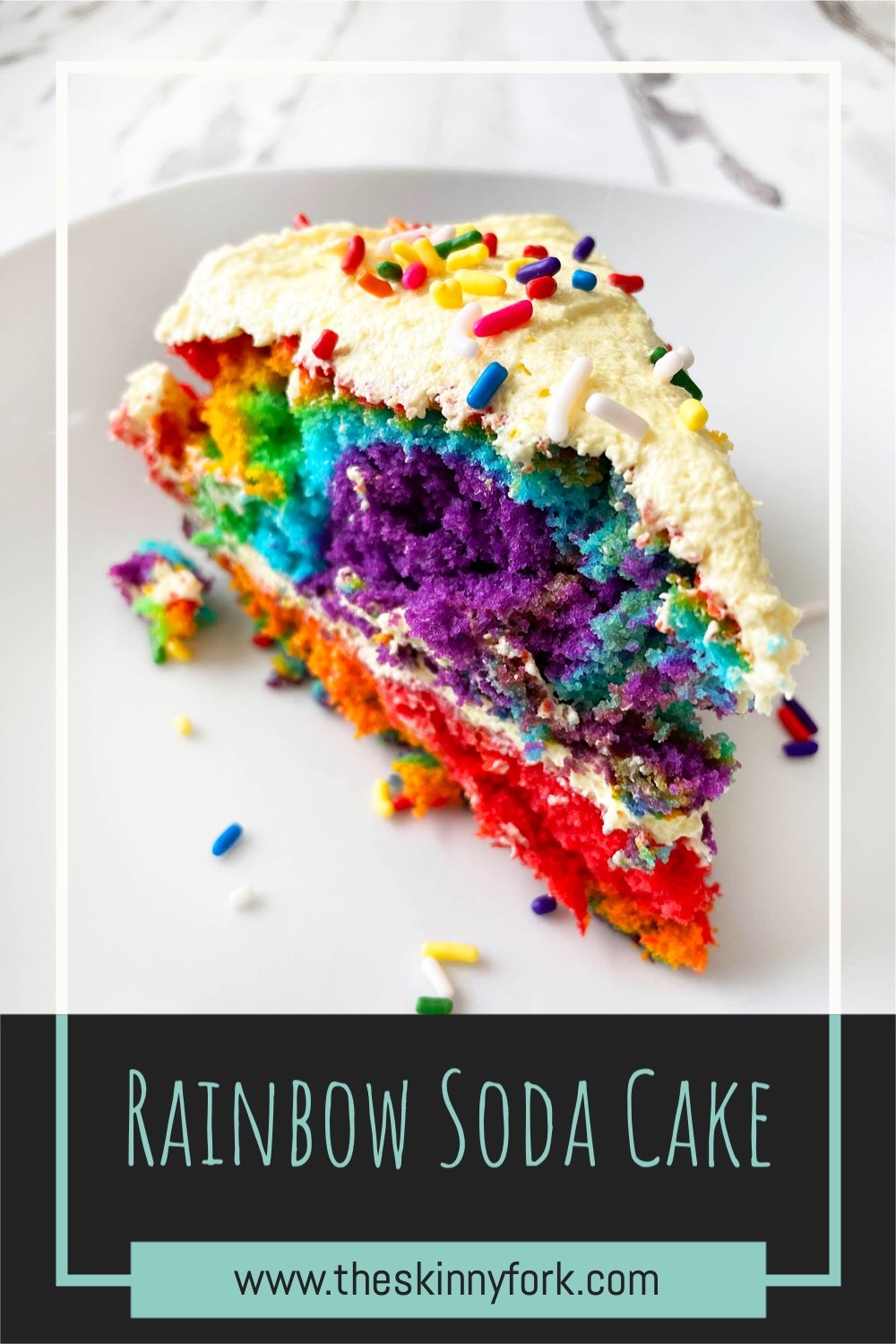 Rainbow Soda Cake
Yield:
12
Author:
The Skinny Fork (Amanda Plott)
Prep time: 10 Min
Cook time: 25 Min
Inactive time: 20 Min
Total time: 55 Min
Easy peasy rainbow PRIDE cake made with just a handful of ingredients and a few minutes of hands on time.
Ingredients
Cake
1 (15.25 Oz.) White Cake Mix
12 oz. Sparkling Mineral Water
Gel Food Coloring
Frosting
1 Oz. Sugar Free Vanilla Instant Pudding Mix
8 Oz. Fat Free Frozen Whipped Topping, Thawed
Instructions
Preheat the oven to 350 degrees F. and lightly coat two 8x8" or 9x9" round baking dishes with non-stick baking spray; set aside.
In a large bowl, beat together the 15.25 Oz. of white cake mix with the 12 Oz. sparkling water.
Divide the batter evenly among bowls and color accordingly.
Scoop half of each of the colors of batter into the prepared pan.
Use a butter knife to swirl the colors if desired for a marble effect.
Place both pans in the oven to bake for about 25 minutes or until an inserted toothpick comes out clean.
Once done, remove from the oven and set aside to cool slightly before turning out onto a wire rack to continue cooling; about 20 minutes.
While the cake is cooling, whisk together the 1 Oz. Sugar Free Vanilla Instant Pudding Mix and 8 Oz. Fat Free Frozen Whipped Topping until well blended.
When the cake is completely cooled, place one of the rounds of cake onto a serving plate and frost the top of it.
Place the other round of cake on top and frost that as well.
Add colored sprinkles if desired.
Enjoy right away or cover and keep in the fridge until ready to serve.
Nutrition Facts
Calories
197.38
Fat (grams)
2.54
Sat. Fat (grams)
1.38
Carbs (grams)
41.98
Fiber (grams)
0.56
Net carbs
41.42
Sugar (grams)
23.02
Protein (grams)
2.36
Sodium (milligrams)
327.46
Cholesterol (grams)
3.02
Nutritional Claims: Low Potassium • Kidney Friendly • Vegetarian • Pescatarian • Peanut Free • Tree Nut Free • Soy Free •Fish Free • Shellfish Free • Pork Free • Red Meat Free • Crustacean Free • Celery Free • Mustard Free • Sesame Free • Lupine Free • Mollusk Free • Alcohol Free • Kosher
Similar Recipes
Galaxy Roll Cake
Skinny Funfetti Cake with Buttercream Frosting
Skinny Tie-Dye Vanilla 'Crazy Cake'
Did you make this recipe?
Tag
@theskinnyfork
on instagram and hashtag it # theskinnyfork
Step-by-Step Photos: