Editor's note: This article has been updated with the most recent information. 
---
Even surrounded by Disney magic, you've still got to eat. And at Walt Disney World, mealtime can be an entirely immersive experience. It's not uncommon to spend at least as much time strategizing about where to eat at Disney as which attractions to ride. But not all food — and experiences — are created equal.
At Disney World, you'll need to think of meals in two separate categories: There are regular restaurants or meals that just serve as a place to fuel up and sit briefly before getting back to the action. Then there are meals that also count as entertainment and a way to see characters or shows without crowds.
Once your kids know that they can eat in space or that Mickey, Minnie or the princesses can join them for dinner, you may have to choose between an affordable meal and creating lasting memories during a pretty pricey dining excursion.
That said, things are a little different at Disney World right now because of the pandemic — especially when it comes to certain dining experiences.
For more travel tips and guides, subscribe to the free TPG daily newsletter. 
Some of our favorite sit-down restaurants have yet to reopen and the character meals that have resumed are modified. We'll do our best to note these changes as they come up, but be sure and double-check directly with Disney, especially since the situation is constantly changing.
Here's a quick roundup of our picks for the best restaurants at Disney World.
Best in Magic Kingdom: Skipper Canteen
Best in Epcot: Via Napoli
Best in Hollywood Studios: Hollywood Brown Derby
Best in Animal Kingdom: Tusker House
Best table service: Takumi-Tei (currently closed)
Best park character meal: Normally, Cinderella's Royal Table (dinner). Currently, Garden Grill takes our top spot.
Best character brunch: Topolino Terrace
Best meal for teens and tweens: Storybook Dining at Artist Point (currently closed)
Best out-of-this-world experience: Space 220
Best high-end meal: Victoria & Albert's (currently closed). A good substitute is California Grill or Steakhouse 71
Best quick service: Satu'li Canteen (Animal Kingdom)
Best snack: Dole Whip
Best grab and go item: Tie: Ronto wrap in Galaxy's Edge and spring rolls in Adventureland
Best outdoor meal: The Boathouse at Disney Springs
---
FOR NO COST ASSISTANCE WITH PLANNING AND BOOKING YOUR NEXT DISNEY VACATION, CHECK OUT TPG'S DISNEY BOOKING PARTNER, MOUSE COUNSELORS.
---
How to make Disney dining reservations
Steel yourself: In normal times, you had to book some Disney World restaurants six months ahead. Now, reservations are accepted just 60 days before your trip begins.
Typically, the hardest-to-get reservations are Be Our Guest, Cinderella's Royal Table (currently not offering character meals), Chef Mickey's, Victoria & Albert's (currently closed), Topolino Terrace (for brunch), Oga's Cantina and 'Ohana (for dinner). Now you can also add Space 220 to that "hard to snag" list.
The My Disney Experience website and app are your best friends for dining availability, though Disney World maintains a phone line to answer your questions (407-WDW-DINE or 407-939-3463). The phone lines open each day at 7 a.m. EST, but the website starts taking reservations at 6 a.m.
For spots that don't take advance reservations, such as Nomad Lounge at Animal Kingdom, you may still need to use the mobile walk-up waitlist. Even at restaurants that do take reservations, you can check the My Disney Experience app for "available now" options.
Related: Best credit cards for Disney and Universal
Best Disney restaurants
The best Disney World restaurant: Takumi-Tei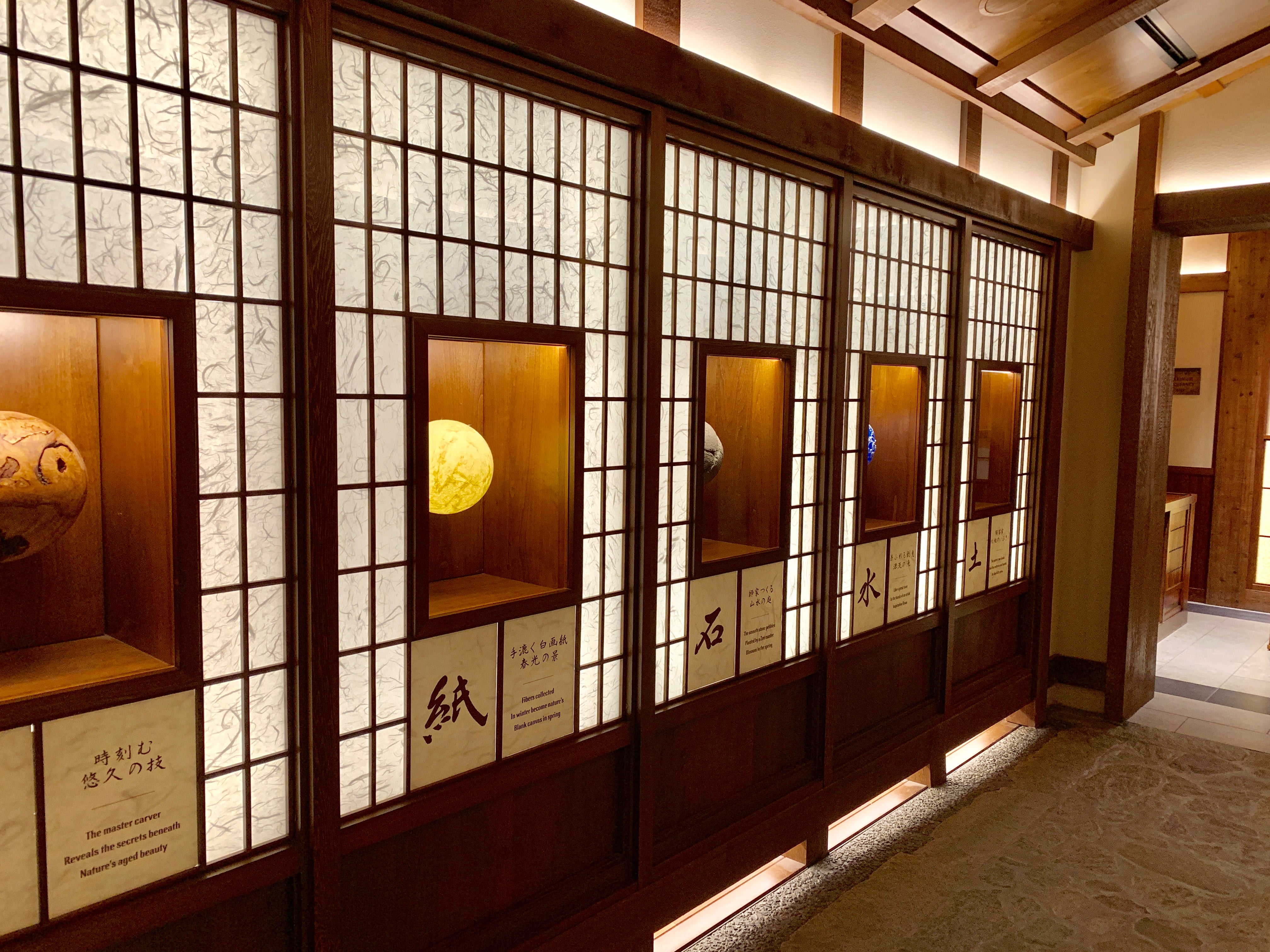 Upscale Japanese omakase in a theme park? Yes, please.
First opened in summer 2019 (though closed for now due to the pandemic), Takumi-Tei and its five themed rooms (water, wood, earth, stone and washi paper) immediately transport you out of theme park mode and into a calm, serene environment with extremely attentive service, solid food and great attention to detail.
Besides the $130 seven-course omakase menu option, you can choose to order a la carte as long as you didn't select the Chef's Table in the water room. There, you must order a nine-course, $180 meal that takes place over three hours.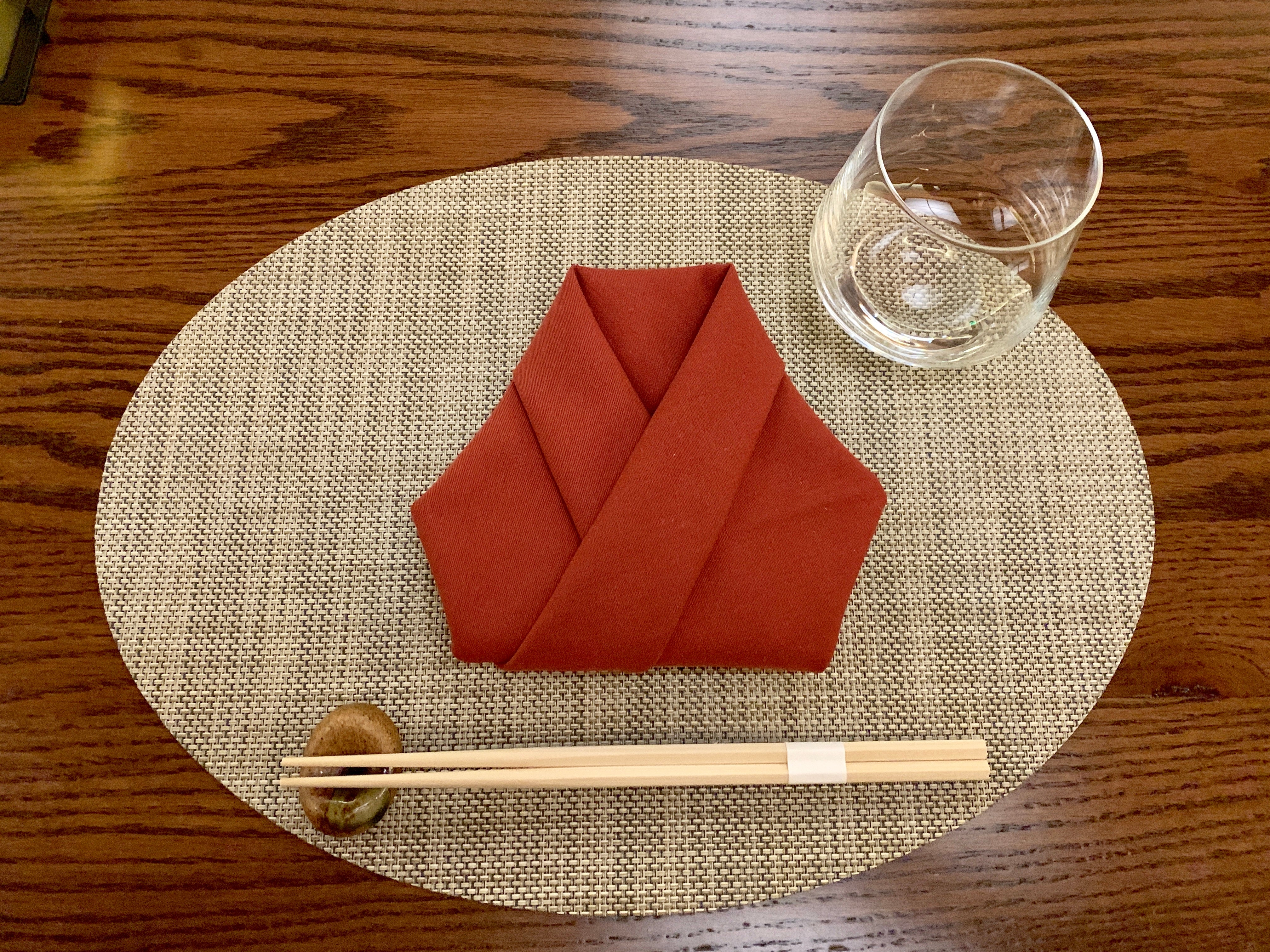 Among the individual dishes, we recommend the chef's sushi assortment, served in bite-sized pieces ($37), the telen-garden salad with watermelon and tuna sashimi ($20) and, of course, the wagyu beef is melt-in-your-mouth fantastic.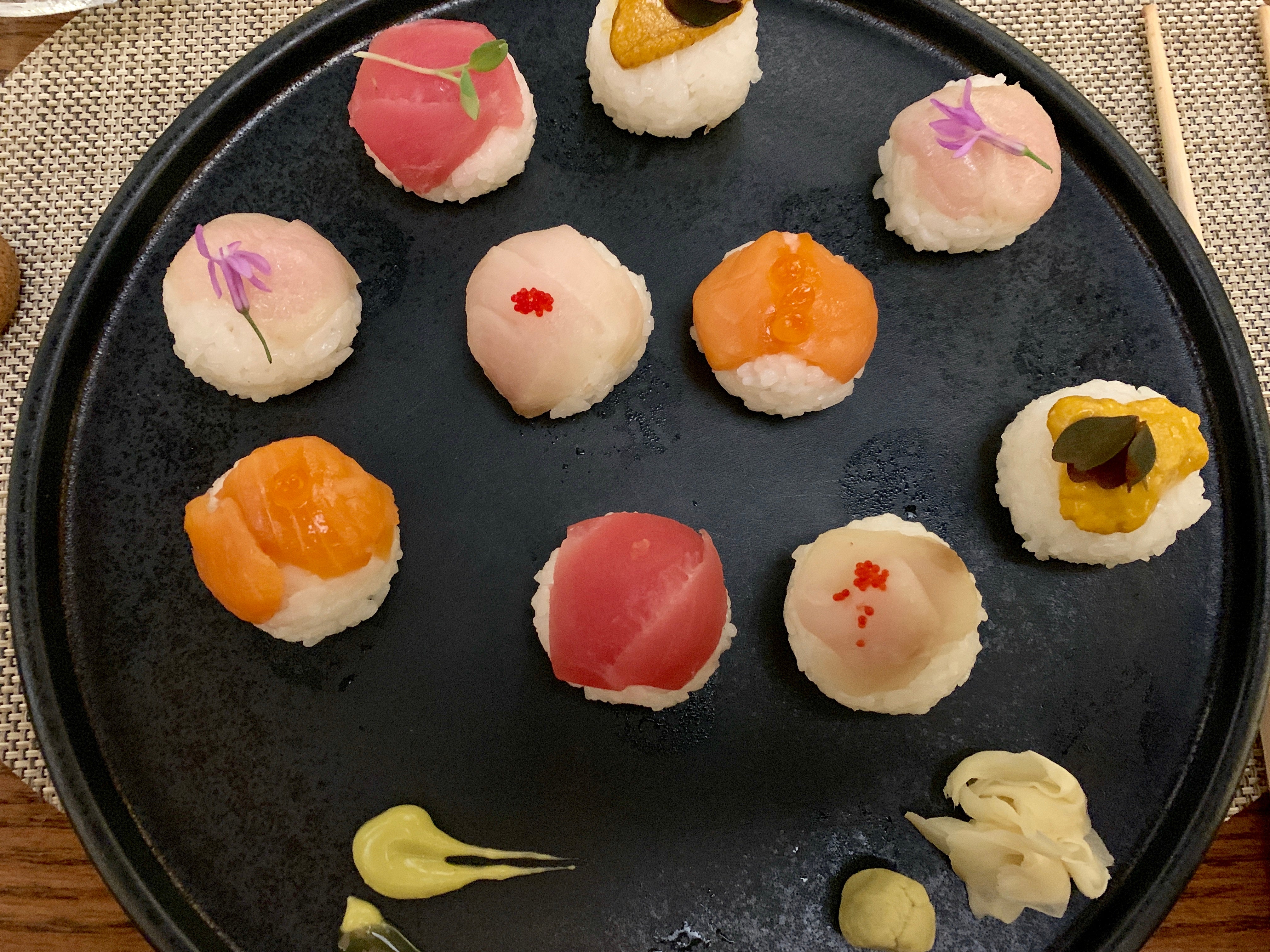 There's a children's menu, but it comprises items such as roasted duck and sea bass, so this restaurant may be one you save for date night or when the children are older — it's that good.
When Takumi-Tei reopens, it's a spot we can't recommend enough.
Related: These are the best hotels at Disney World 
Best restaurant in Epcot: Via Napoli
Don't worry, we aren't going to only list restaurants you can't go to right now. While Takumi Tei takes our "best of the best" category, we'll add another great Epcot option here that is actually open — Via Napoli.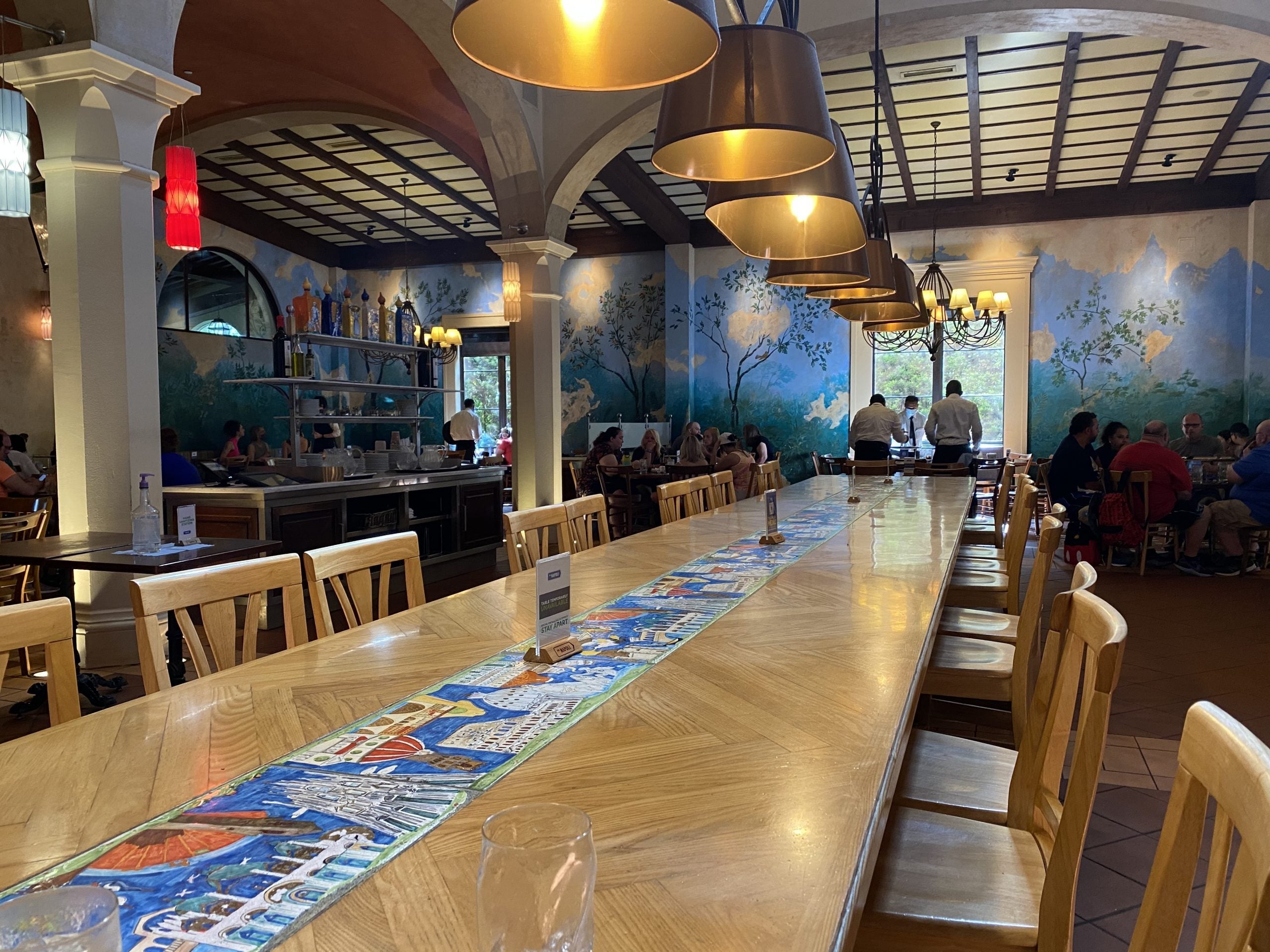 Via Napoli is located in the heart of Italy in Epcot.
This longstanding favorite may have slipped a notch since opening, but it still features legitimate Italian food that would pass muster in New York City's Little Italy. The prices are reasonable by Disney standards, with most entrées at or under $30. Pizzas are more expensive than you might hope (the large, shown below, was $44.50), but good for sharing as a large can serve a family of three or four. The Piccante Pizza with added pepperoni is a great choice.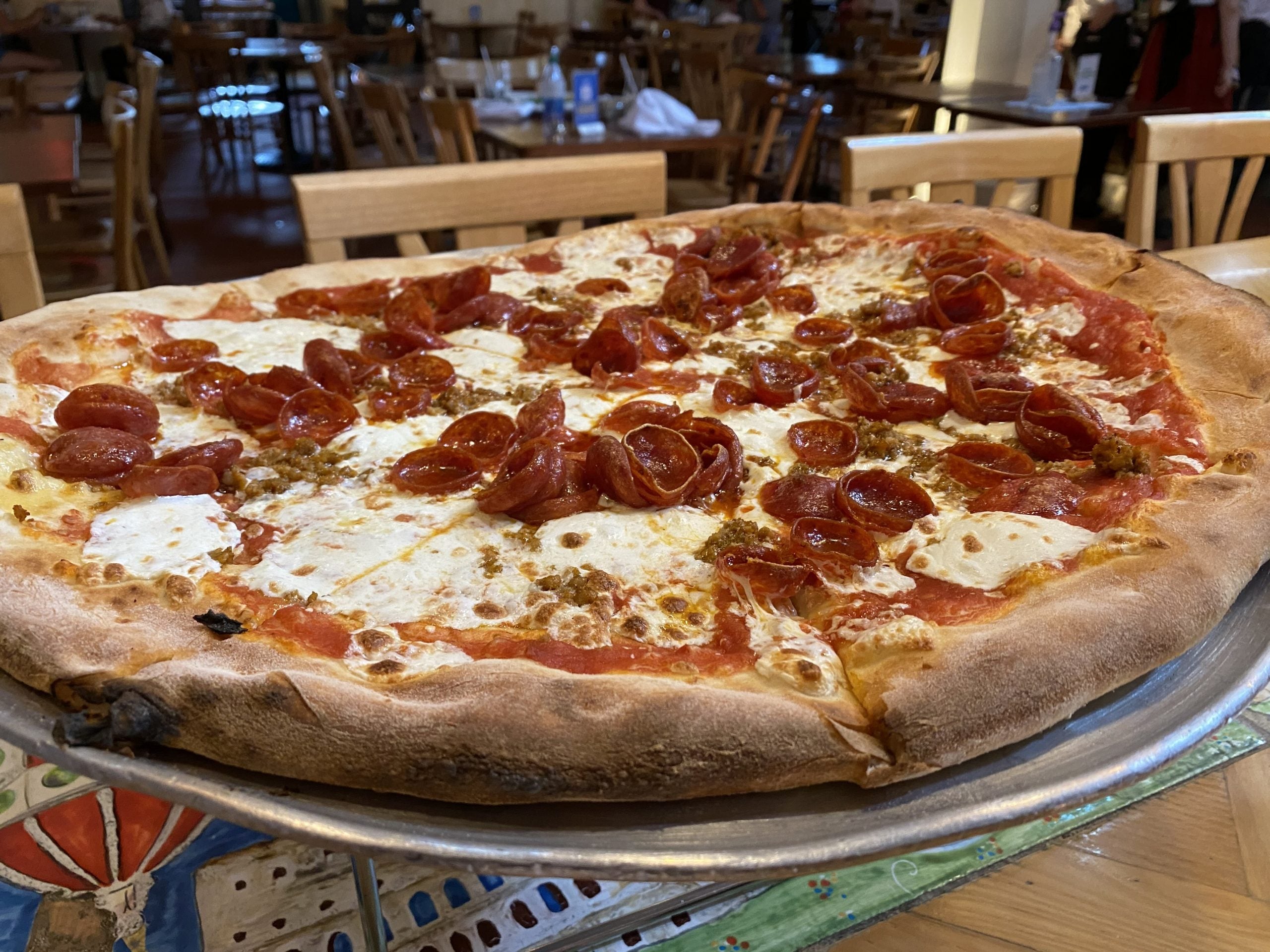 For now, you will need to make reservations due to capped capacity, but sometimes there is a walk-up window to order a slice if you are in a pinch.
Best restaurant in Hollywood Studios: The Hollywood Brown Derby
This Hollywood Studios replica of the California icon has an air-conditioned dining room that's an ideal lunchtime escape from the Florida heat.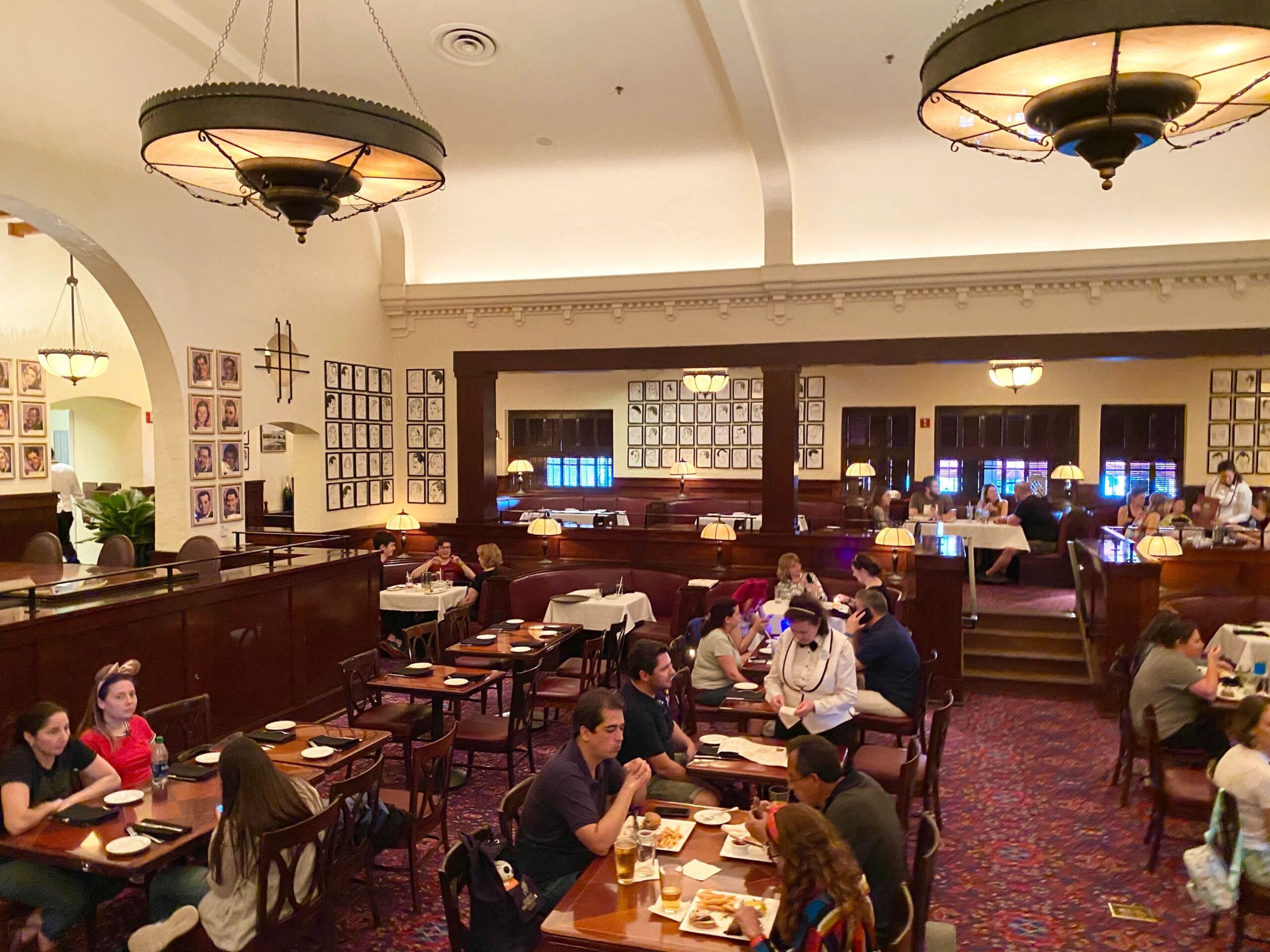 Service here isn't always fast and the prices aren't cheap, but it is a glorious way to fill up while getting a legitimate break from the park. The Cobb salad is worth it and you can't go wrong with the Brown Derby Signature Burger with bacon jam, cheddar, a fried egg and hand-cut fries.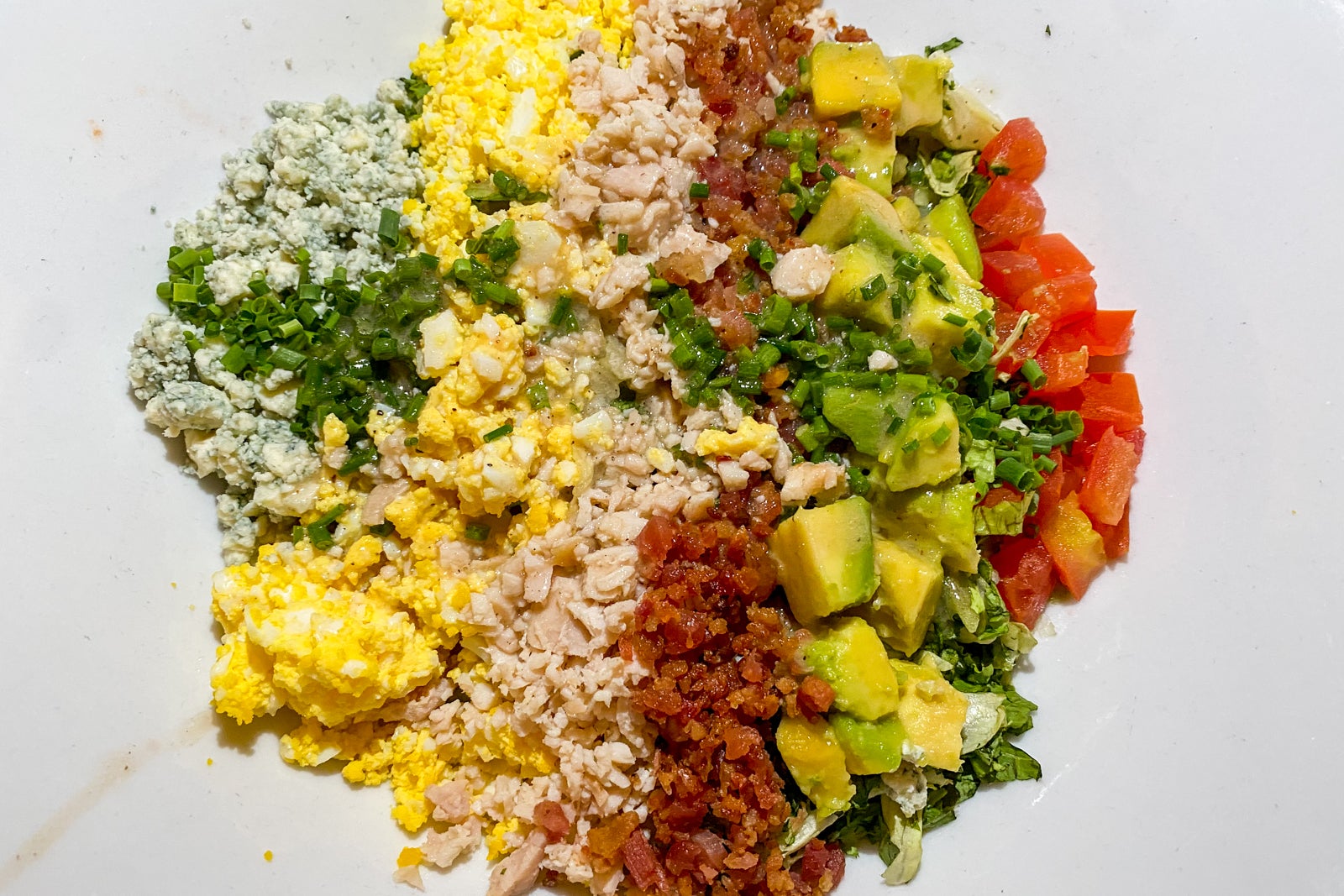 Count us in for a leisurely full-service meal and a mixed drink before hitting the parks again.
Best restaurant in the Magic Kingdom: Skipper Canteen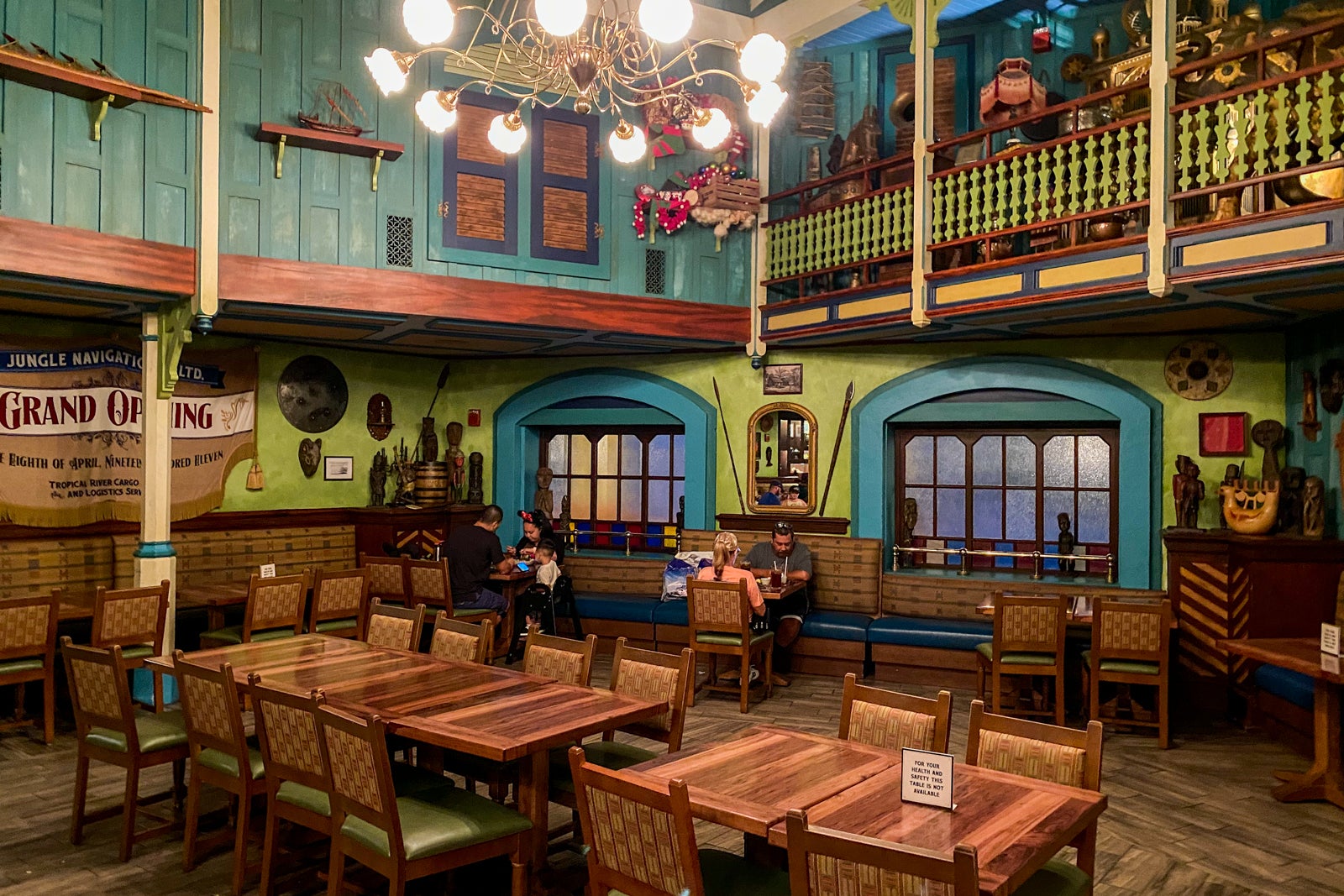 Unless what you are after is a character meal, Skipper Canteen takes our top spot for the best restaurant in the Magic Kingdom. This claim is especially true if you enjoy both the Jungle Cruise ride and slightly more adventurous eating than just fries and burgers.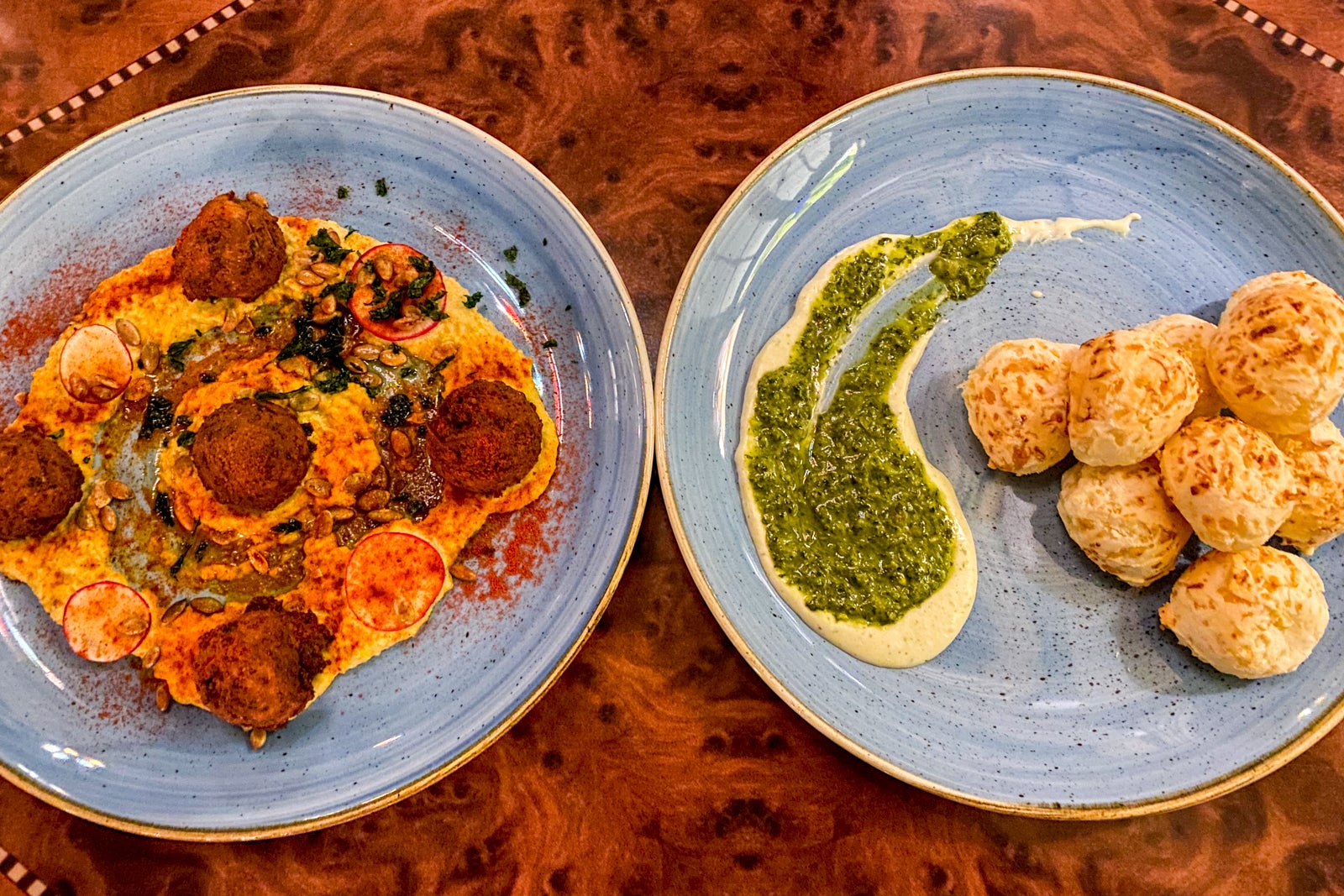 On the lunch or dinner menu, you will find dishes such as Falls Family Falafel ($10) and Tastes like Chicken (because it is!), which is crispy fried chicken served with jasmine rice, chili glaze and seasonal vegetables ($24). There's also a sustainable fish course ($31).
If you like spicy noodle dishes, the Perkins Thai Noodles served with tofu and/or chicken, vegetables, rice noodles and spicy chili-garlic sauce is fantastic and unlike anything else you'll find in Magic Kingdom.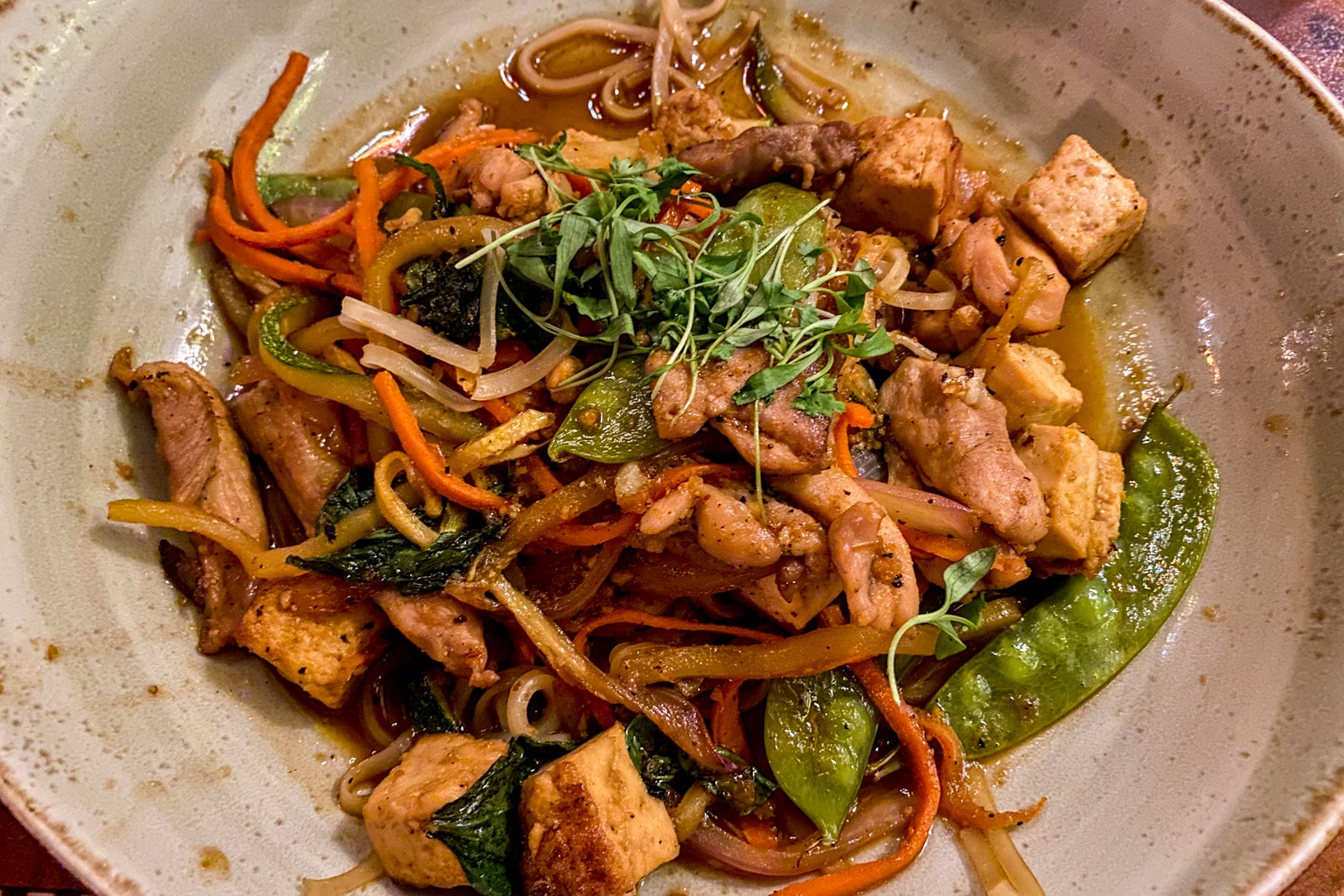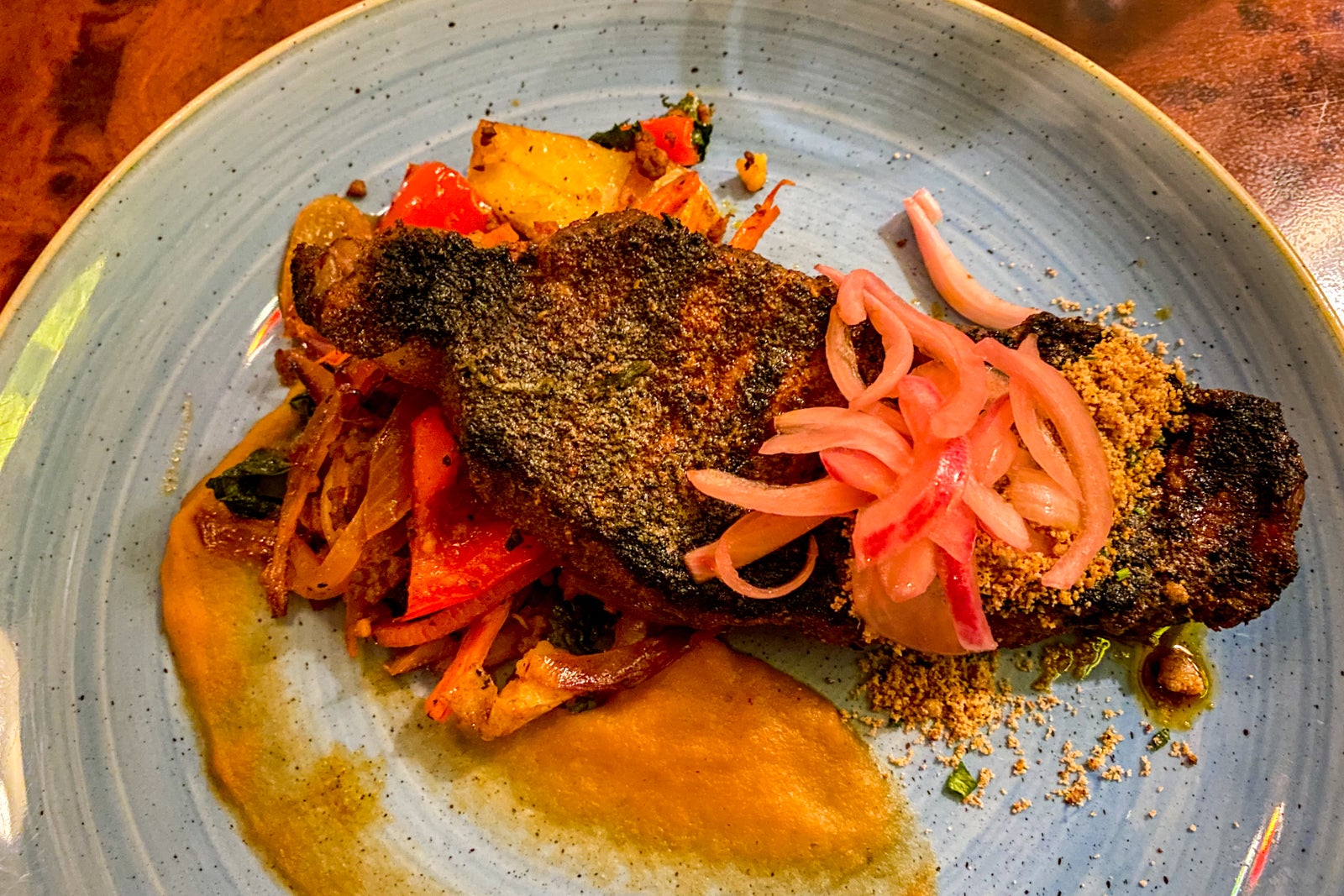 Best restaurant in Animal Kingdom: Tusker House
This was a tough call, as we have a few Animal Kingdom options we like roughly the same. But we'll give Tusker House the slight edge over Tiffins for the fun of the character sightings in cool costumes.
Tusker House currently has a set menu for its safari-themed character dining option. It's a bit on the pricey side ($55 per adult and $36 per child, plus tax and tip), but you get a lot of food — as in a "too much for one person" amount of food.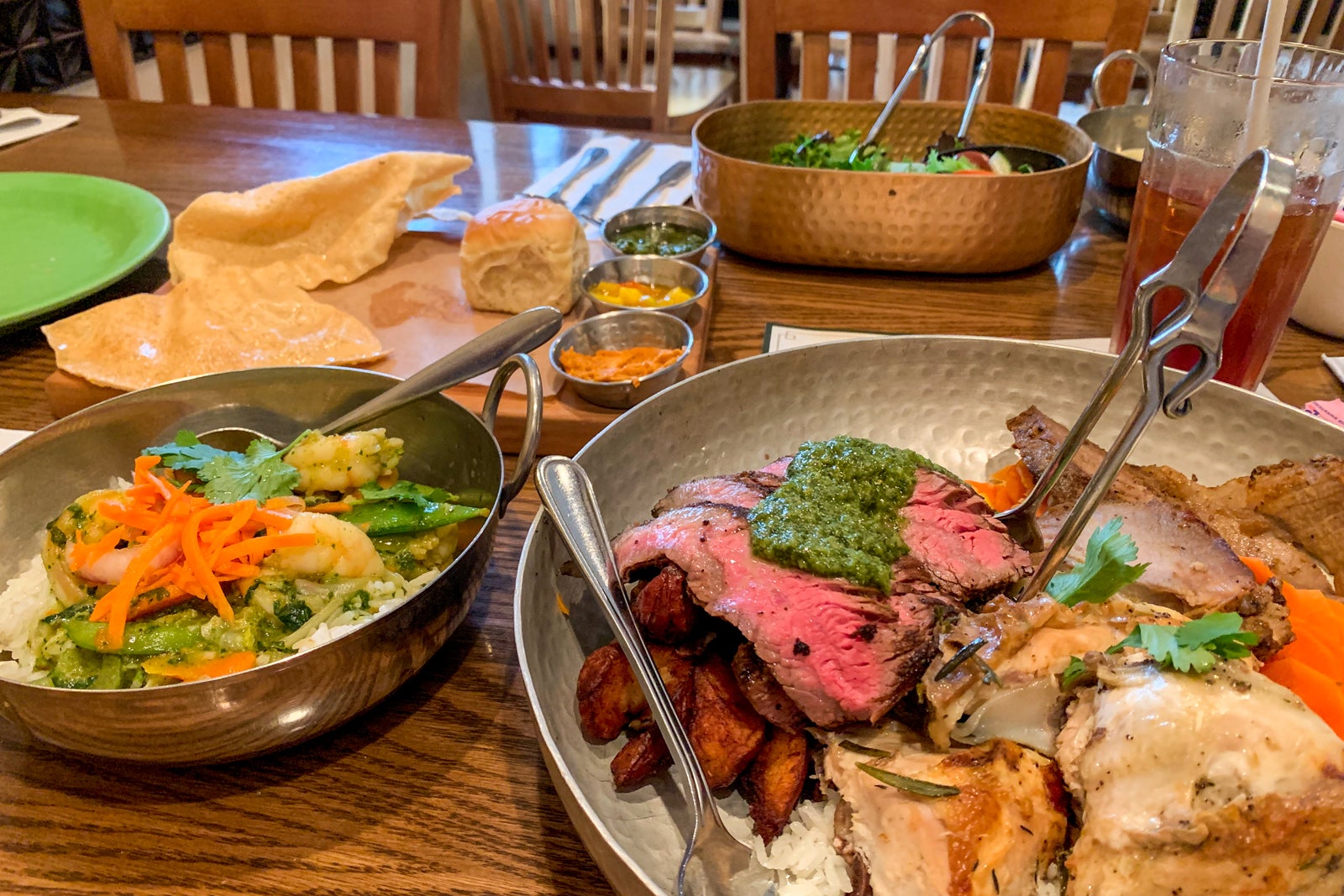 You'll get a salad and bread plate (with hummus, coriander and mango chutneys) as starters, a large sampler of Moroccan-spiced beef, curry shrimp, split-roasted herb chicken and pork (with sides) for your entree, and a dessert trio platter for dessert.
The shrimp and rice dish was easily the best of the entrees, but the entire meal was tasty. Out of the desserts, the brownie was a favorite.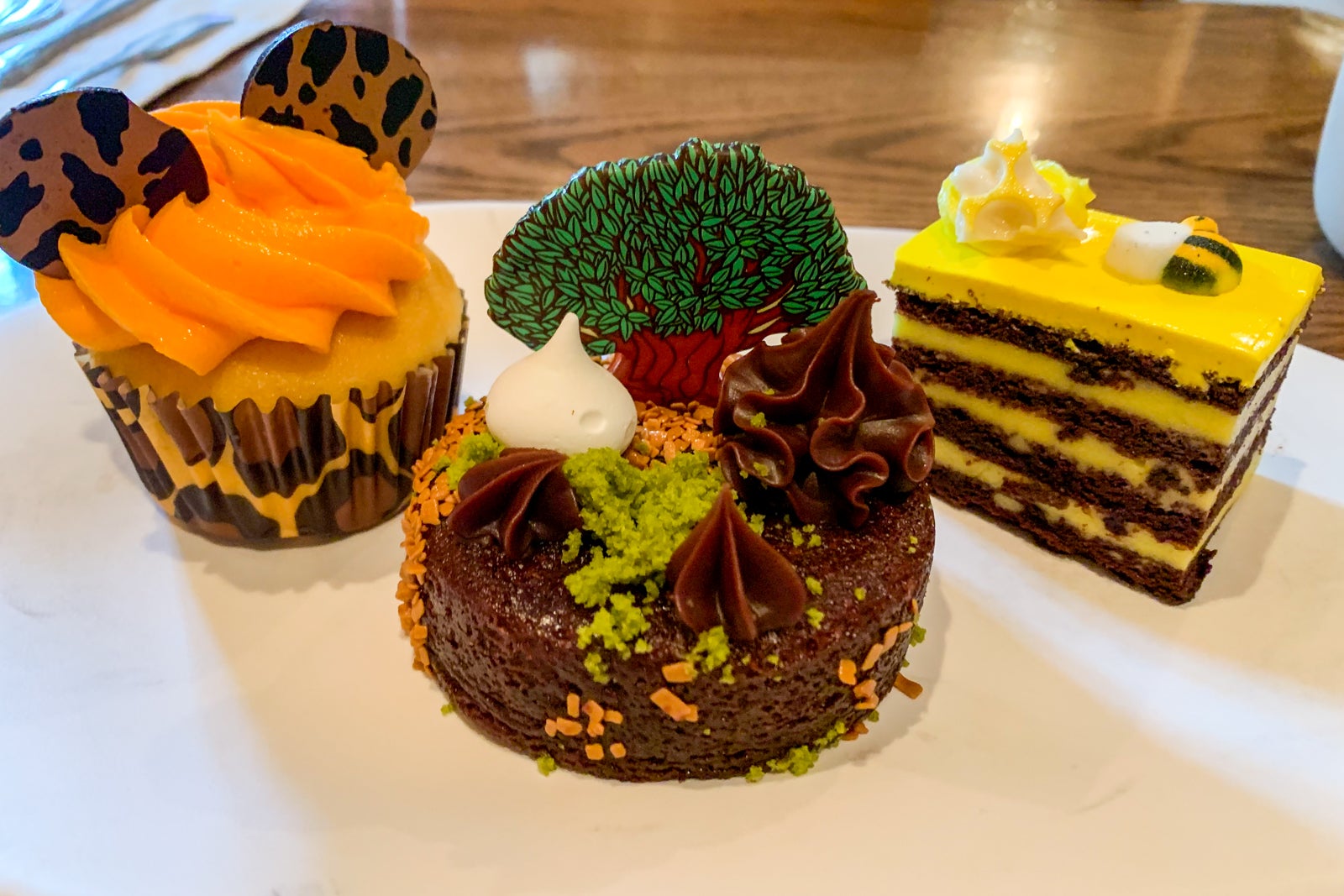 You can order an assortment of cocktails (from safari-themed drinks such as a Tikiti Punch to traditional drinks such as a Moscow mule), beers, wines and ciders at an additional cost.
Tusker House also offers a breakfast character dining option at a slightly discounted price compared to lunch and dinner — $42 per adult and $27 per child, plus taxes and tip.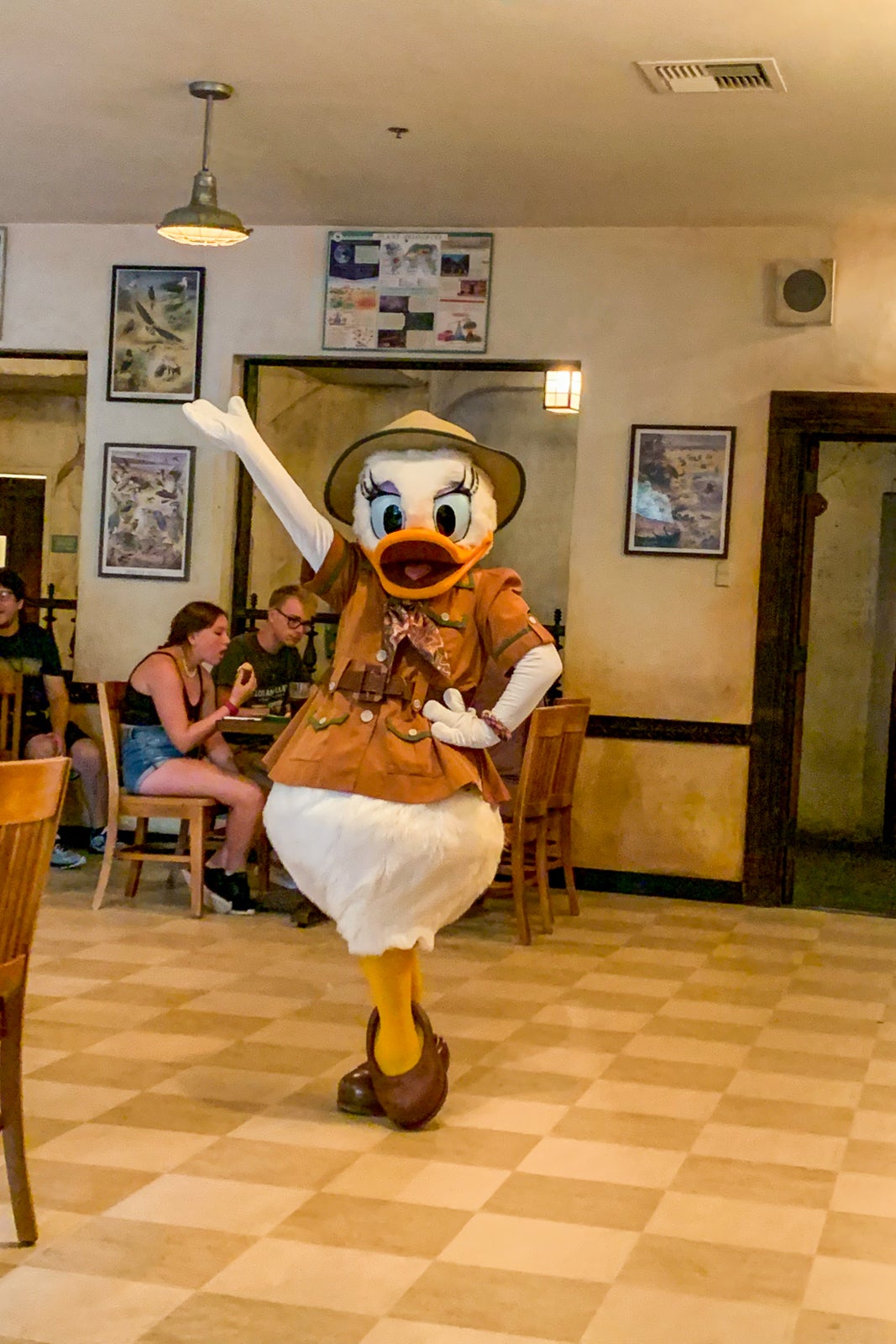 Keep in mind that character sightings at dinner are socially distanced, and guests are given a pre-printed postcard with autographs instead of having characters sign items at the restaurant.
Best quick service meal: Satu'li Canteen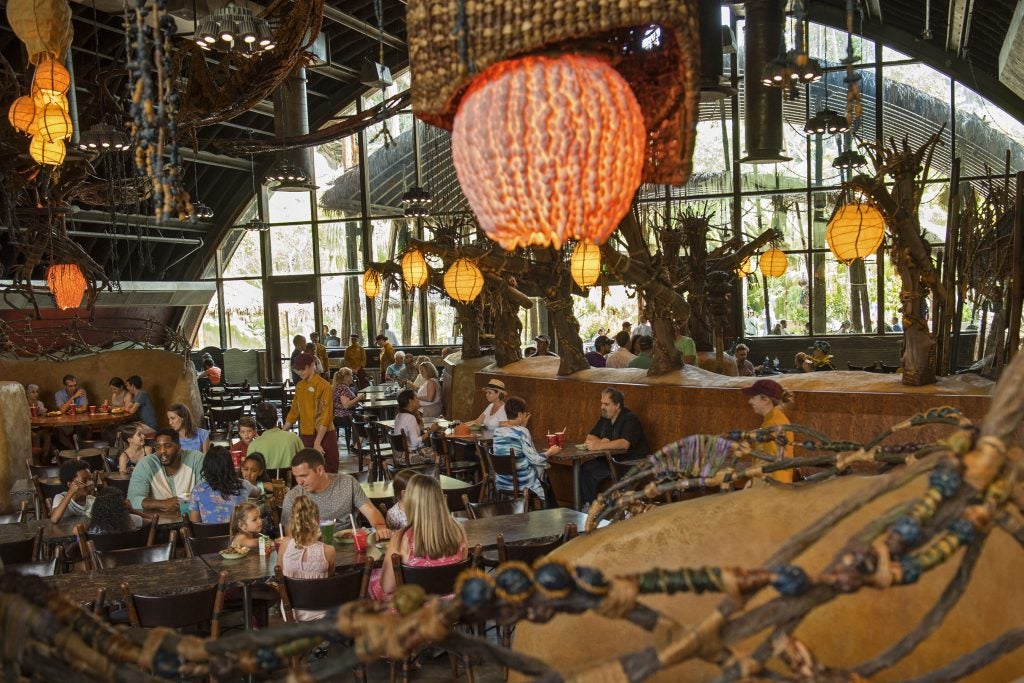 Quick service at its Disney-fied finest, this mess hall is next to Avatar Flight of Passage in Animal Kingdom.
The beef, chicken and fish bowls make a great fast and cheap lunch or dinner, and the blueberry cream cheese mousse is a highlight.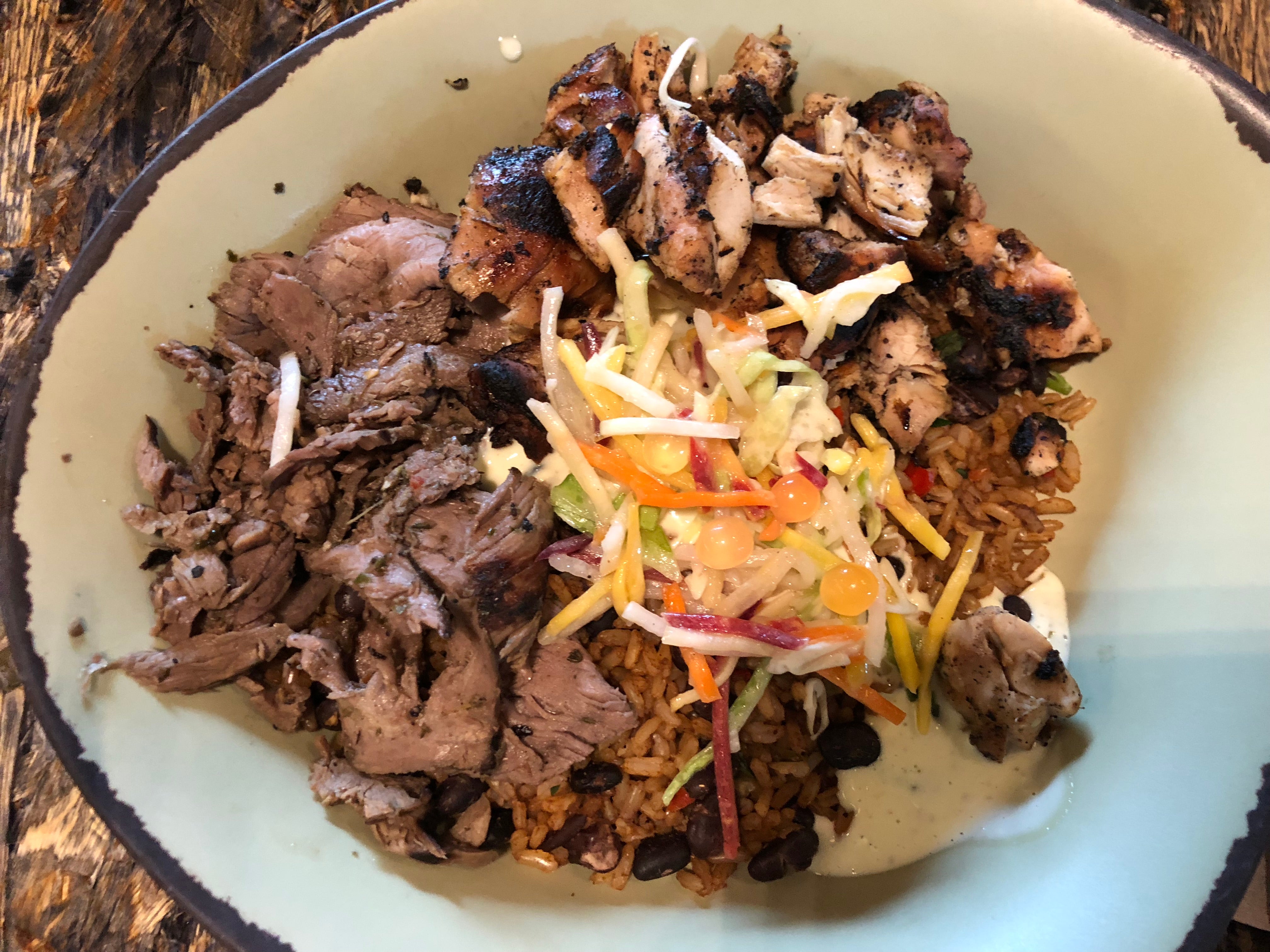 There's also wine and beer to help you wind down after the Avatar experience. This place is not only a yummy quick-service selection but also a good choice if you're trying to eat healthy while at Disney World.
Best fancy meal: Victoria & Albert's
If you simply want the best food at Disney World, head for this posh restaurant in Disney's Grand Floridian Resort and Spa.
Just don't expect to roll in straight from the parks, as men must wear dinner jackets and women are expected to don a nice dress, fancy pantsuit or skirt with a blouse. Children under 10 are not permitted. Expect to spend a few hundred dollars on a meal for two. Also, know that as of this update, this high-end joint has yet to reopen.
Until Victoria & Albert's reopens, try California Grill (in the honorable mention category, below) for a relatively upscale meal.
Related: Is it worth visiting a reopened Disney World?
Best street treats
Sit-down meals aren't the only things to get excited about at Disney — the treats can be just as fine (and a lot less expensive).
Dole Whip
Looking for the best snacks at Disney World? The list begins and ends with Dole Whip. Among a host of good and even excellent snacking options, Dole Whip reigns supreme.
What's Dole Whip? It starts with tantalizingly cold pineapple-flavored soft serve and then (if you're smart) there's added pineapple juice. On a hot day, it's perfection.
Disneyland and Disney World were, for some time, two of the very few places you could find this treat, though nowadays it's available elsewhere. The original is in Disneyland's Adventureland. At Disney World, you can get your Dole Whip on at the Florida version of Adventureland, just beyond The Magic Carpets of Aladdin at Aloha Isle.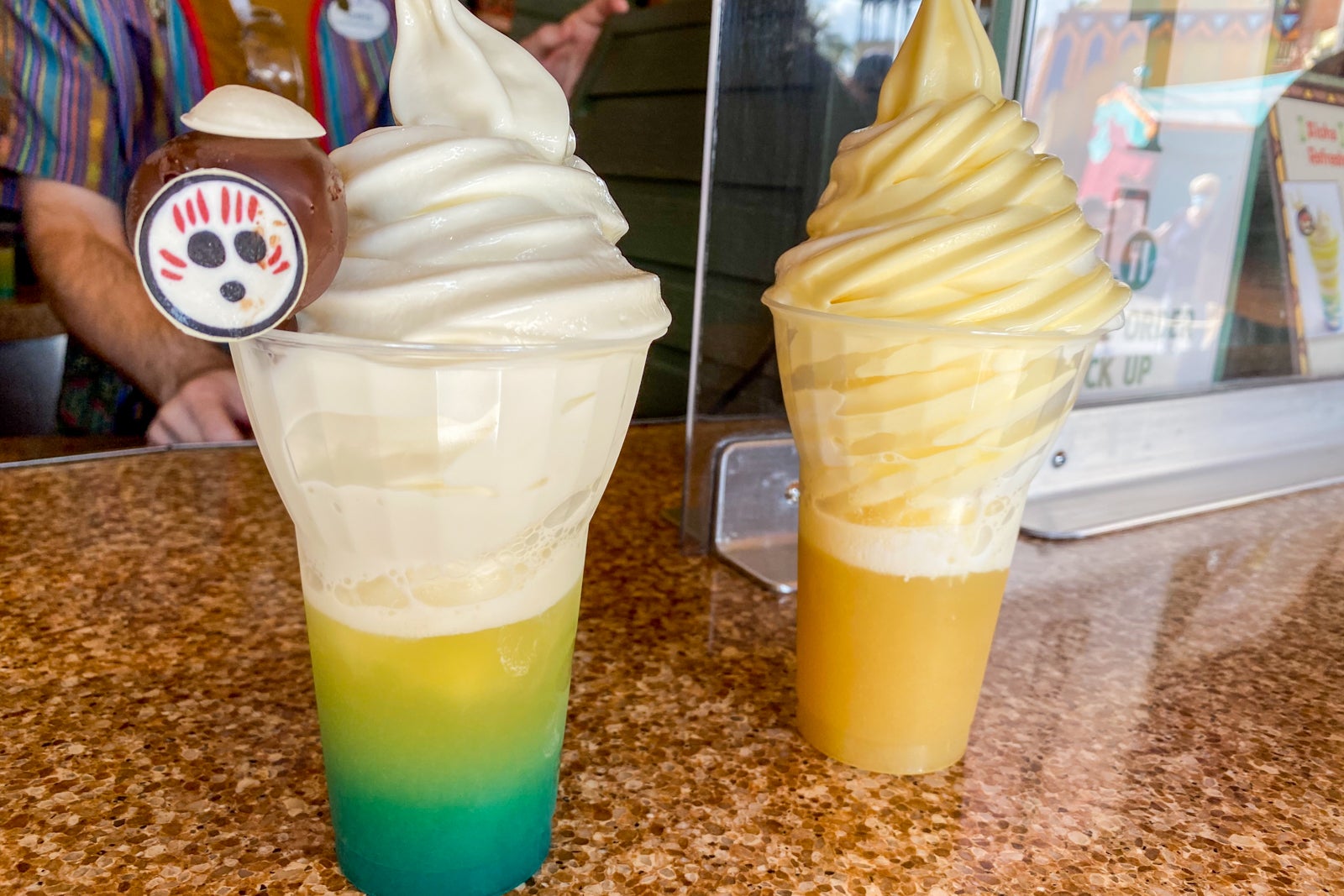 You can also find Dole Whip in Animal Kingdom at Tamu Tamu, where you can add a shot of alcohol, and at the Polynesian Village Resort just behind the main building as you head toward the pool.
Use mobile ordering on the My Disney Experience app for your Dole Whip. If you want to change things up, the coconut soft-serve shown above in the Kakamora Float, when available, is a a really fun way to try a twist on the old favorite.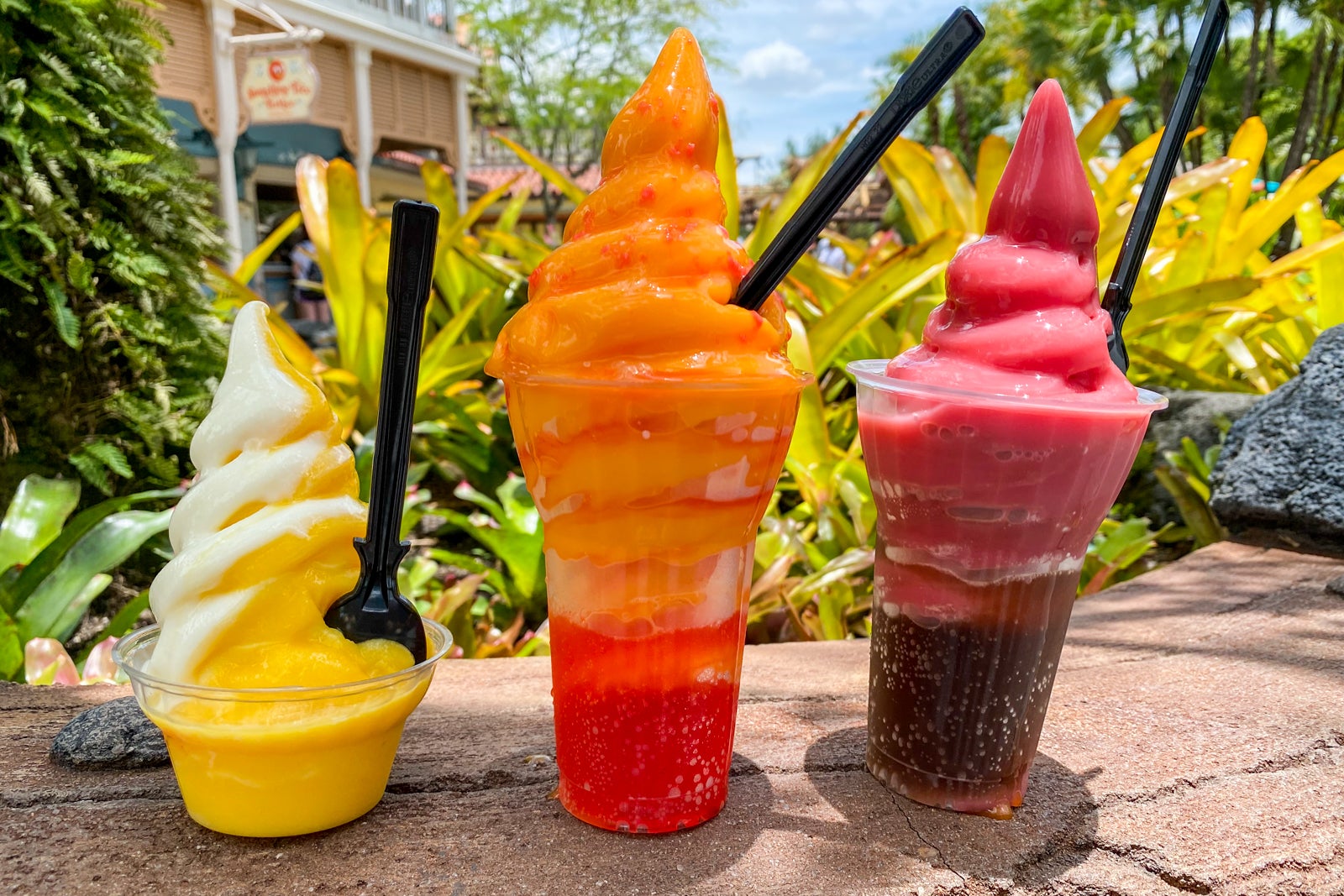 A similar (and extra sugary) cool Disney treat is LeFou's Brew, available at Gaston's Tavern in Fantasyland at Magic Kingdom.
Gideon's Bakehouse
If you are a cookie person, the hottest new thing on the Disney block is half-pound cookies from Gideon's in Disney Springs.
These are the sort of treats where if you need to see the nutrition facts before you order you shouldn't bother. These are massive, decadent and there are no printed calorie facts.
On the regular menu, you'll find the iconic original chocolate chip cookie, plus peanut butter crunch, triple chocolate and a few other more exclusive and limited-time options that can and do sell out early in the day. Rumor has it that the peanut butter iced coffee is a can't miss if you are into that sort of iced treat.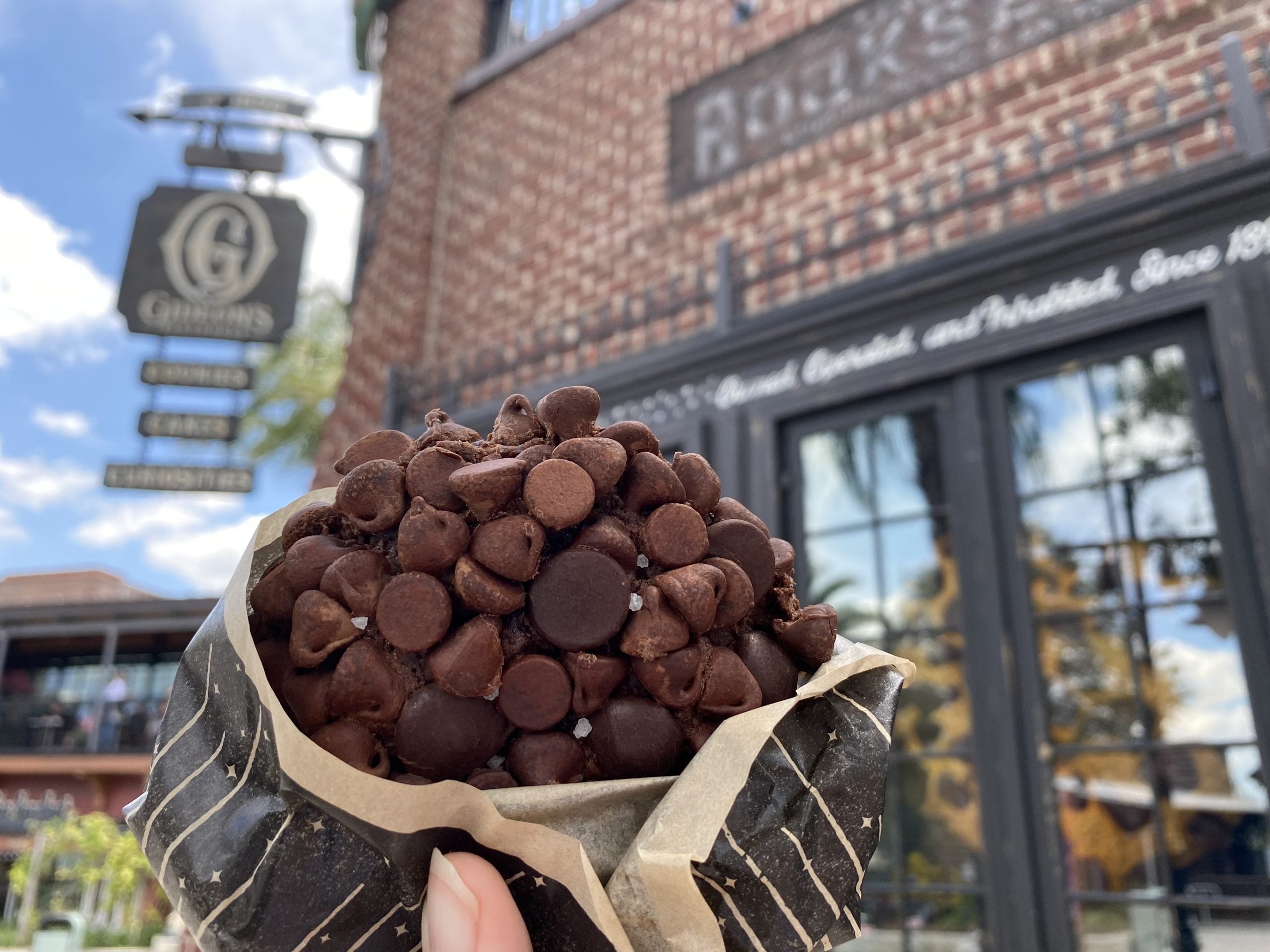 If you want one of these cookies (maximum purchase of six), you'll probably need to join the virtual queue as soon as you get to Disney Springs by going to Gideon's and adding your number to the list. It is often an hour or two of virtual waiting, followed by 10 – 20 minutes in the physical line once you are texted that it's your turn to join. The cut-off to get in the virtual queue can be a few hours before closing at times, so plan to join the line before 7 p.m. to have a good shot at cookie bliss.
Ronto wrap
If you ask us, there's no doubt that the best food within Star Wars: Galaxy's Edge is a grab-and-go wrap from Ronto's Roasters.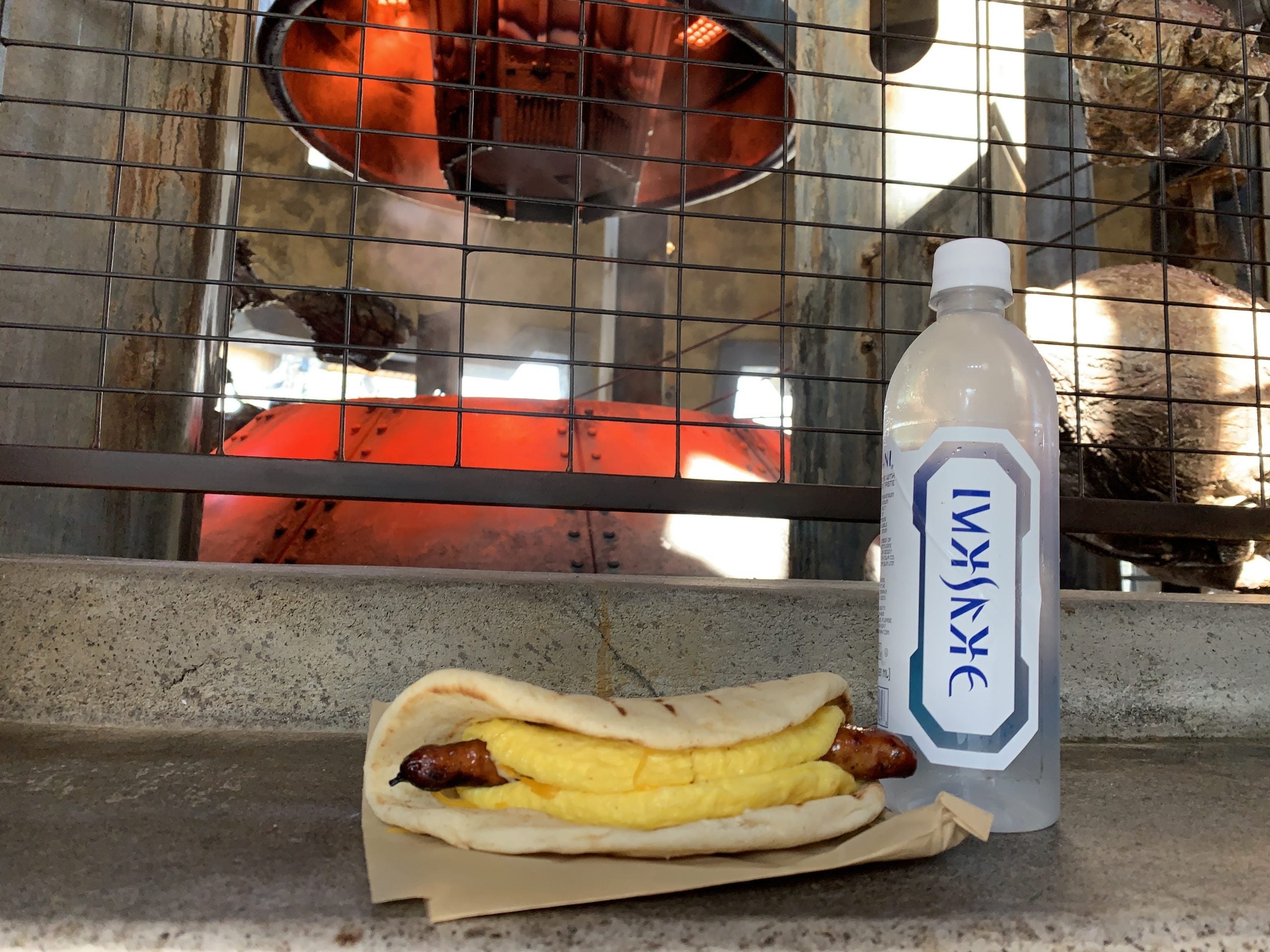 There are two versions of a great-tasting Ronto Wrap — both are around $13 — with grilled pork sausage wrapped in a warm pita as their base. The breakfast version (which is superior) adds eggs and cheese, while the post-breakfast version has peppercorn sauce, roasted pork and slaw.
For more TPG news and travel tips delivered each morning to your inbox, sign up for our free daily newsletter. 
Egg roll cart in Adventureland
It isn't open every single day, but if you're hungry and see a line forming at the egg roll cart at the entrance to Adventureland, you'll be wise to join the line.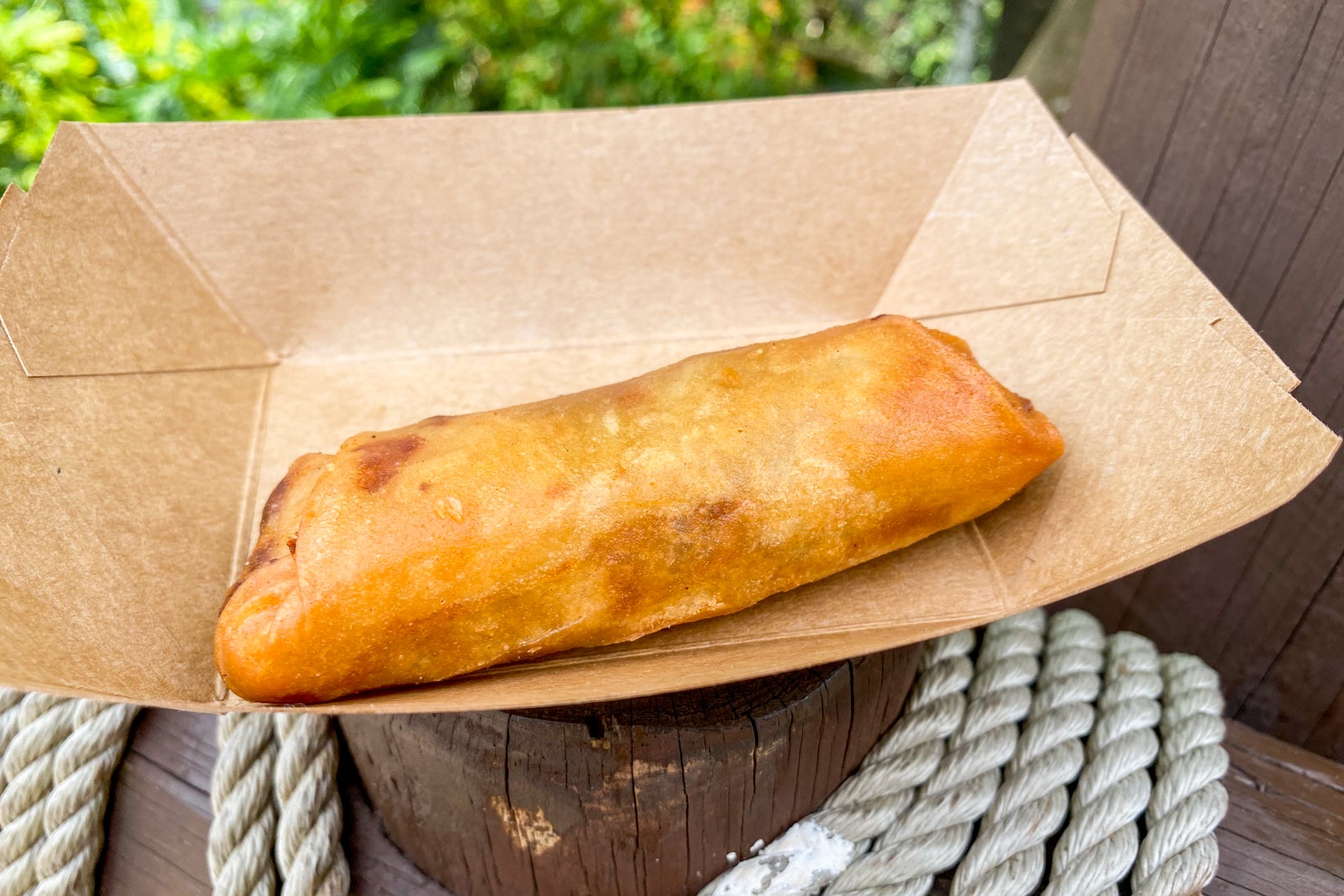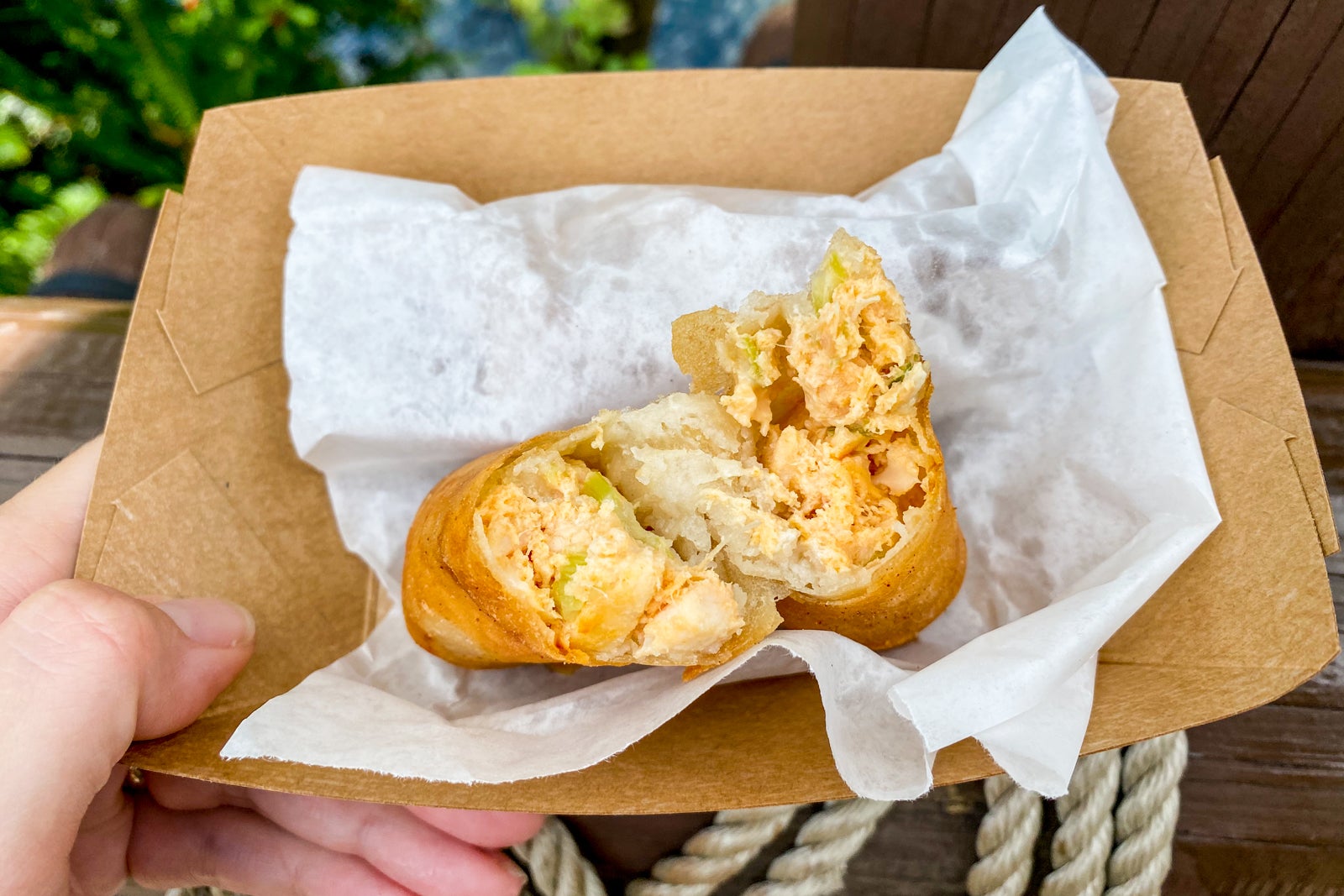 Here you can get two egg rolls in flavors such as pepperoni pizza, cheeseburger and buffalo chicken. That may sound a little weird, but they taste amazing. It's $9.50 for your choice of two egg rolls.
Best Disney character dining experiences
Do you want a side of Mickey or Cinderella with your bacon and eggs? That's usually no problem, but it'll cost you.
Having a Disney World annual pass, DVC membership or similar may lighten the bill at our favorite character meals, but there are no two ways around it: Disney World character meals are expensive.
Best character meal in the Magic Kingdom: Cinderella's Royal Table
Any conversation about Disney character dining has to include Cinderella's Royal Table, served in the iconic Cinderella Castle, the center of the Magic Kingdom. But it has drawbacks — it's pricey, and, currently, only Cinderella makes "surprise" appearances while you dine to wave from a safe distance.
During normal times, breakfast here is almost $70 per adult. Dinner is a bit of a better overall value at roughly $90 all-in, with much better food selections, including braised pork shank, pan-seared chicken, a charcuterie plate and amaretto cheesecake.
Right now, lunch and dinner are being served with price points a bit lower than normal ($62 for adults/$37 for kids) due to the absence of the regular line-up of princesses. Breakfast is currently $42 for adults and $27 for kids.
Despite the price, you'll quickly see the value inside the castle if this is on your bucket list.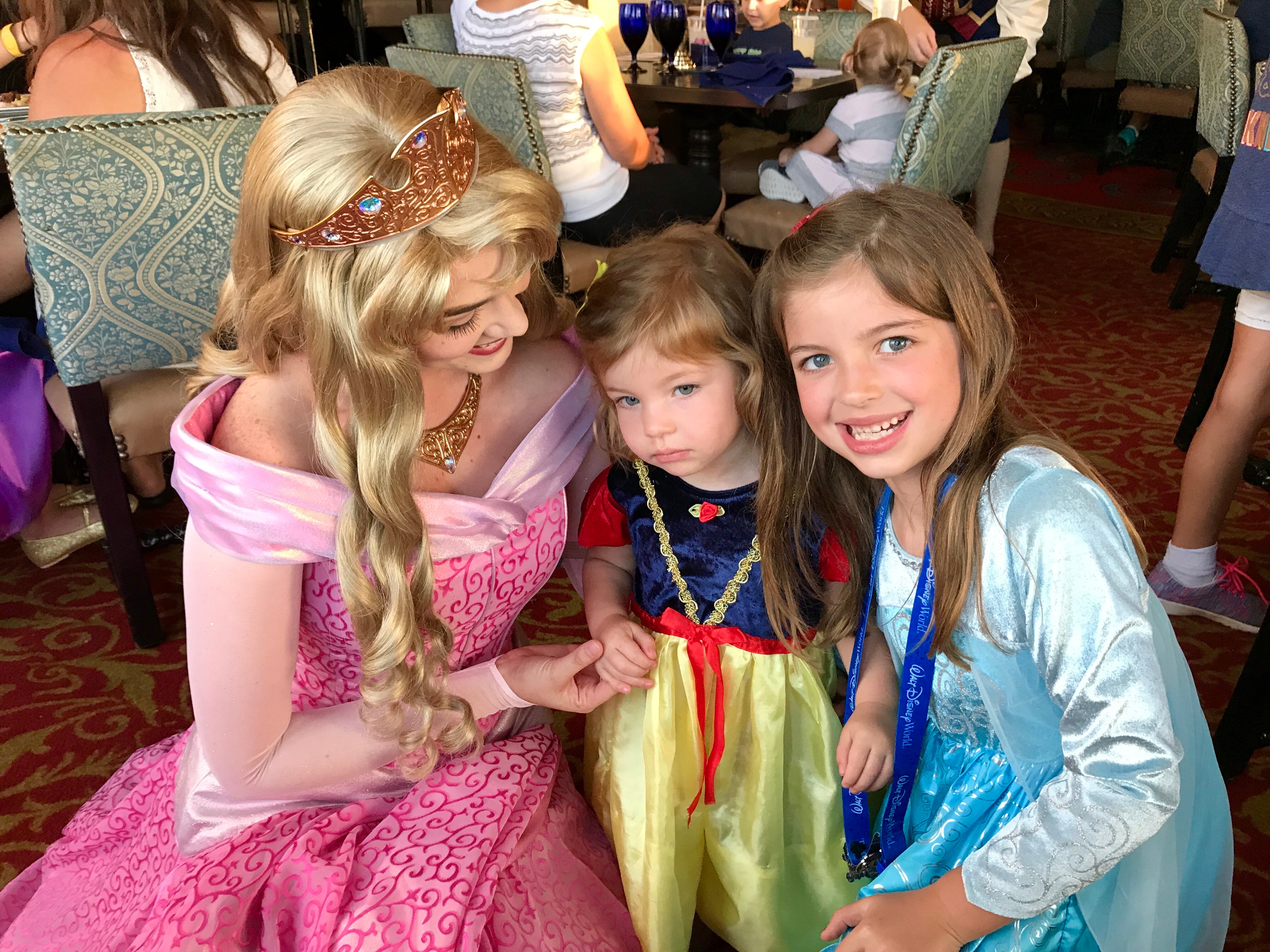 Normally, you meet Cinderella herself for a photo opportunity as soon as you enter. Upstairs, you'll get a seat in her castle dining room, along with a magic wand or a sword for your little ones. While you sit and eat, a host of Cinderella's friends, including Jasmine, Sleeping Beauty, Snow White and Rapunzel, stop by for table visits.
The actors own their roles and are warm, personable and engaging. Your little princesses (and princes) will leave with lasting memories. If you can get seats near the windows, you can use the natural light (shooting with the light behind your back) to get better photos with the princesses and enjoy a great view of Fantasyland during your meal.
Best character brunch: Topolino Terrace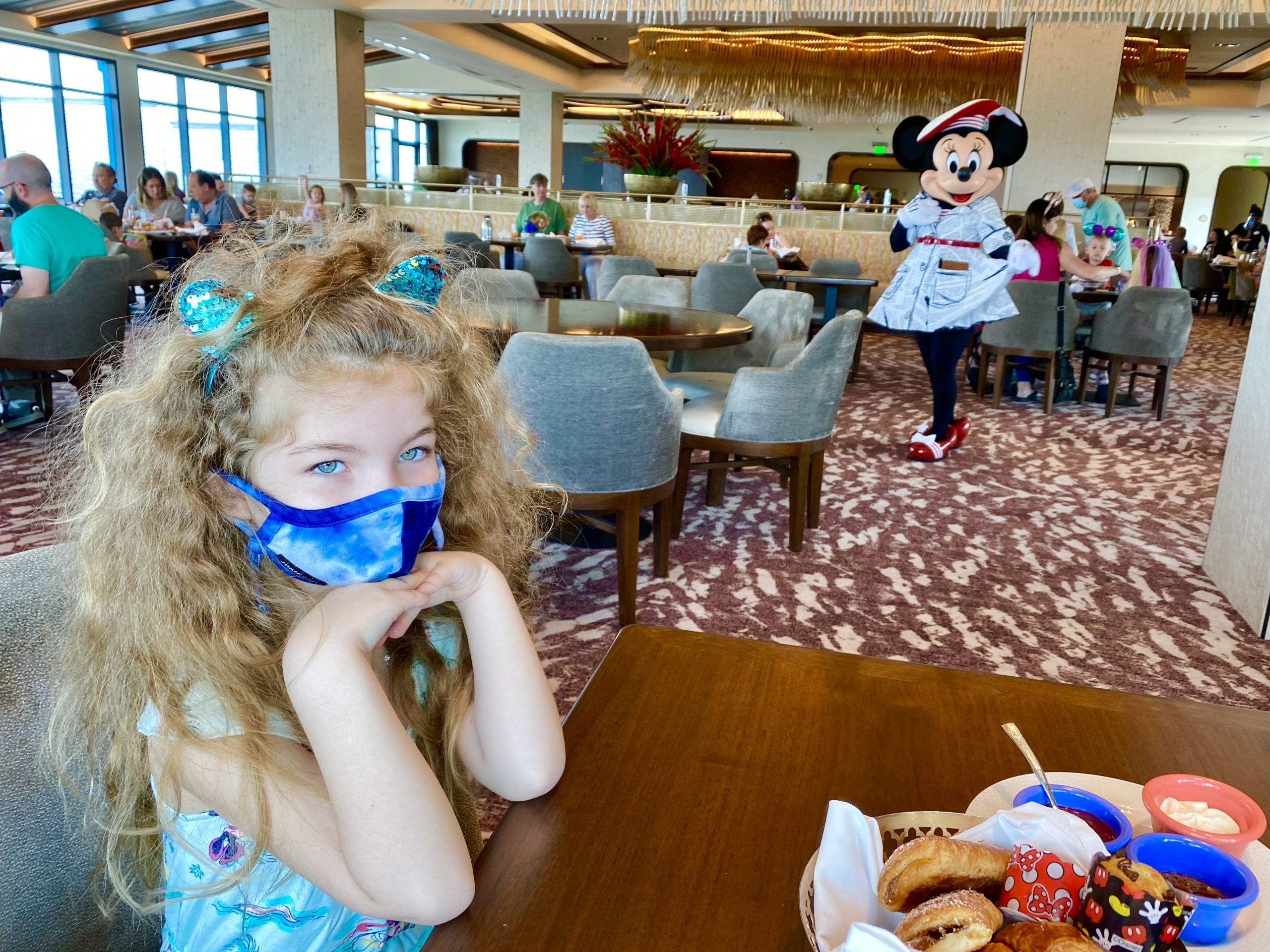 Cinderella has a run for her slipper in the top spot, because Disney's Topolino Terrace offers a very good character brunch — and it's currently fully operational. Located at the top of the new Disney Riviera Resort, Topolino has top-notch service, delicious food and some pretty famous characters in unforgettable costumes.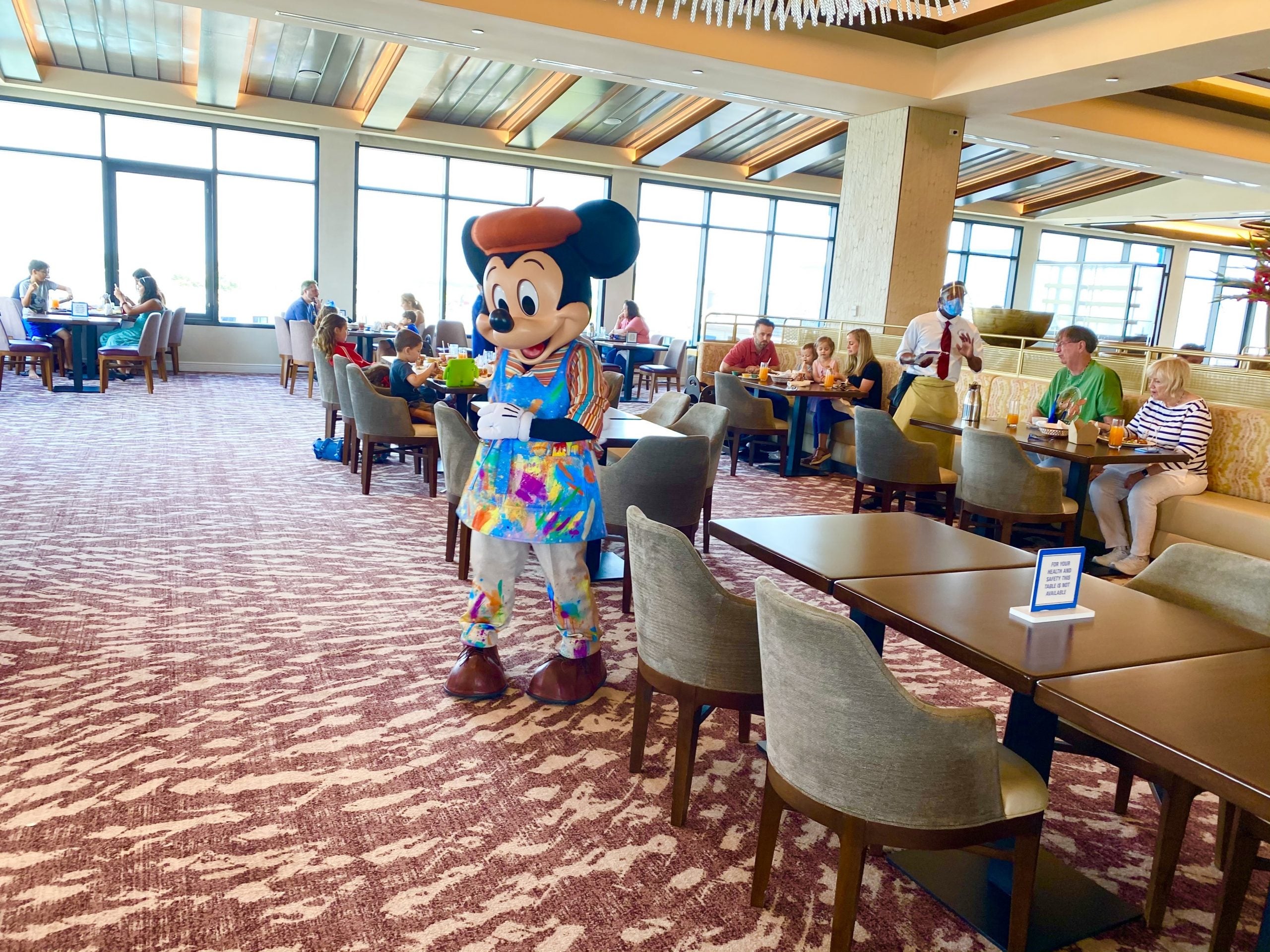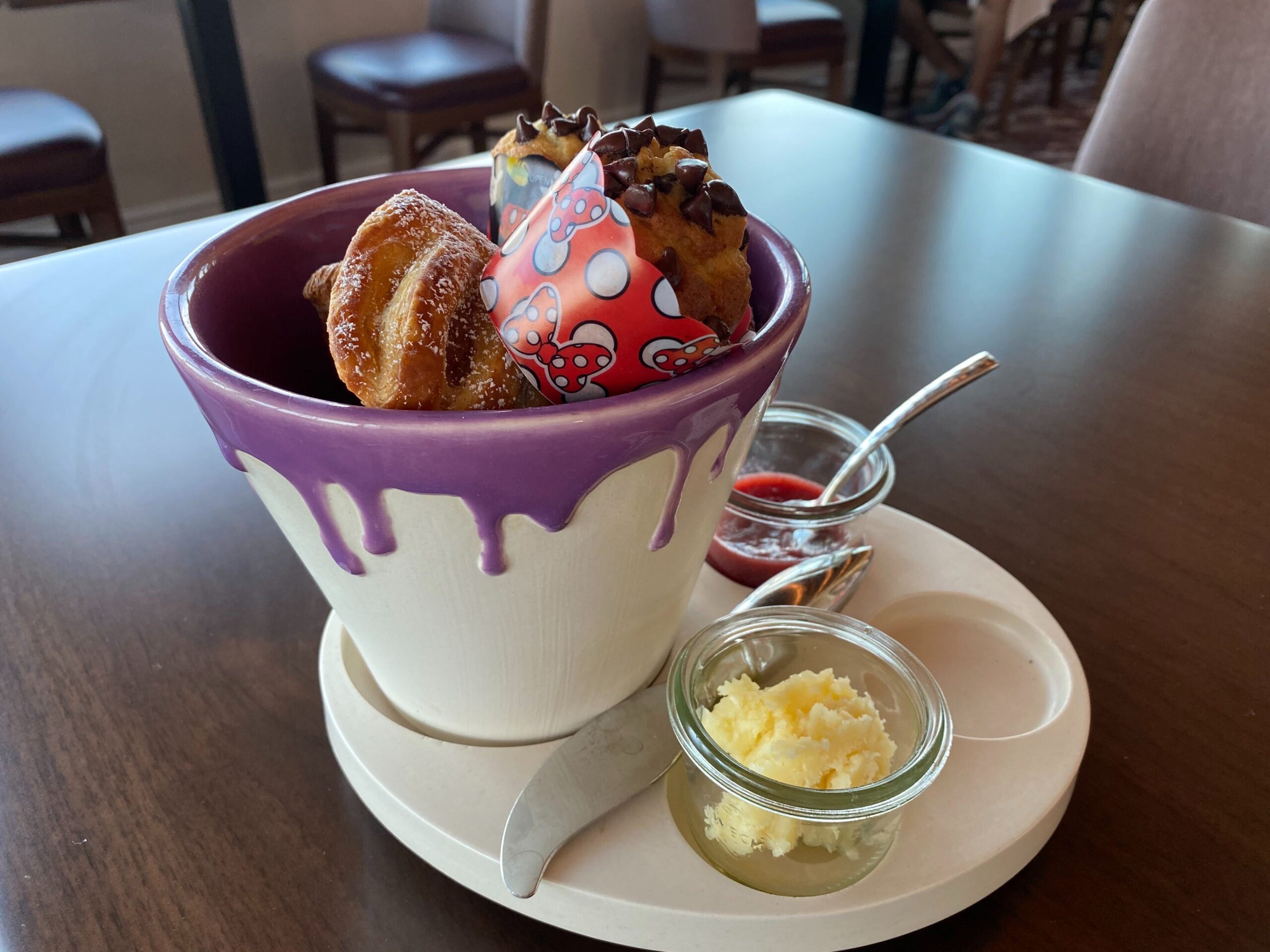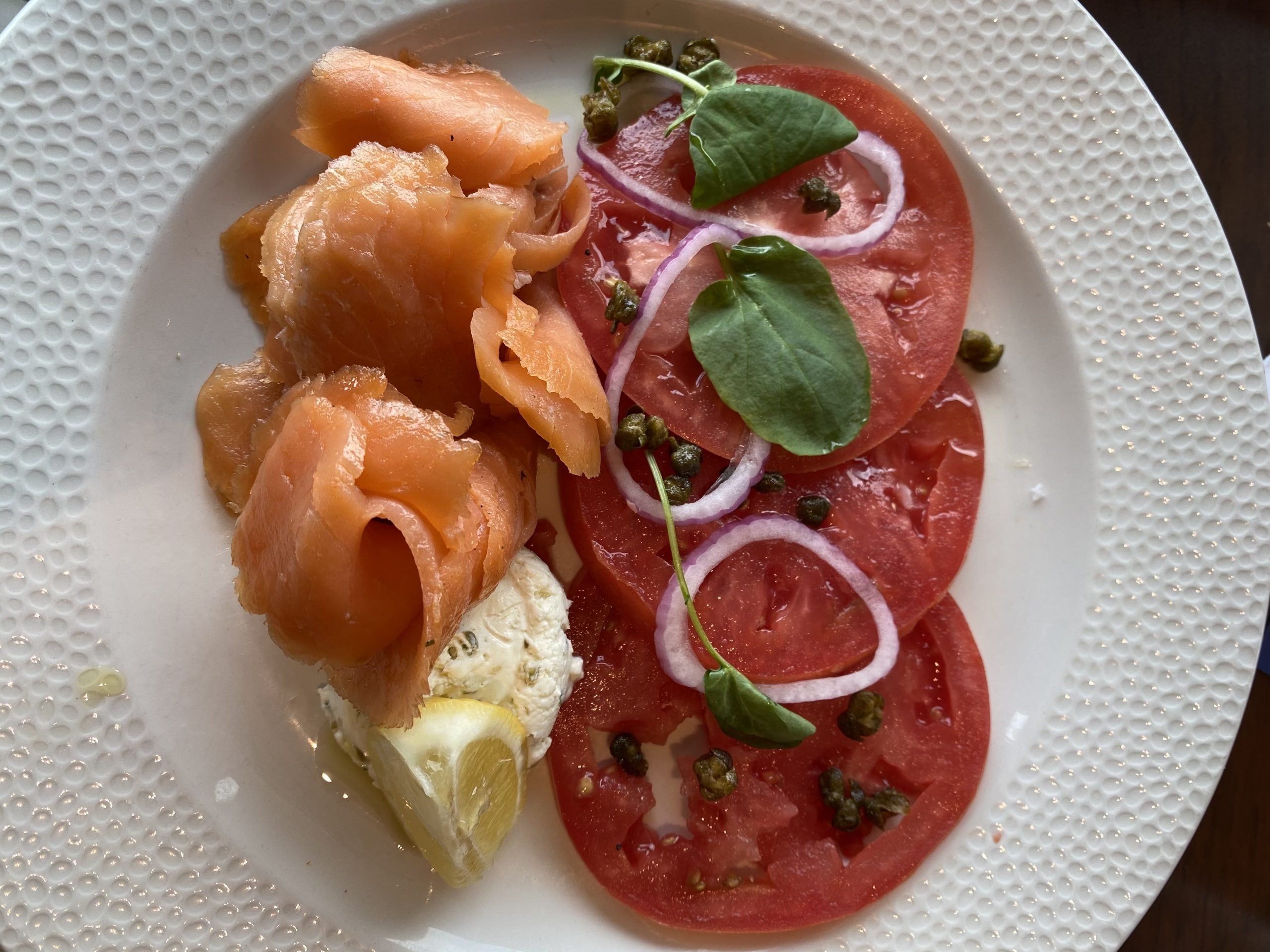 The breakfast at Topolino Terrace features a pastry basket, juice, coffee and an entrée from a selection including smoked salmon, quiche Gruyère, sour cream waffles or a wild mushroom scramble for $42.
Meals for kids up to 9 years old will cost $27 and come with options such as Mickey waffle dippers, eggs or fruit and yogurt.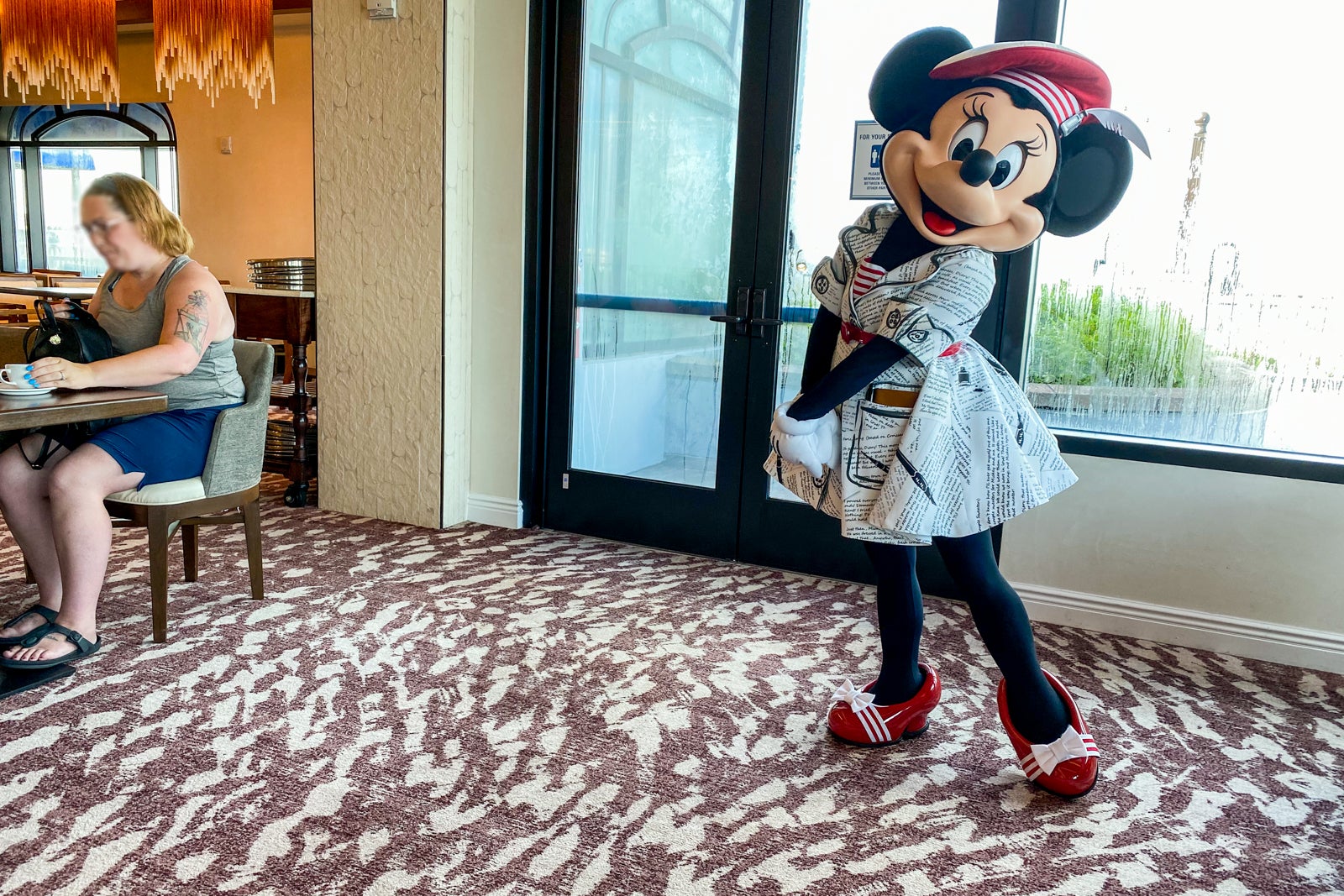 The food is very good and the characters are downright adorable. Minnie, Mickey, Daisy and Donald are in their finest Mediterranean outfits and are introduced to music. These days, the characters have to keep their distance from people but do a great job stopping at multiple points around the room.
Best character meal in Epcot: Garden Grill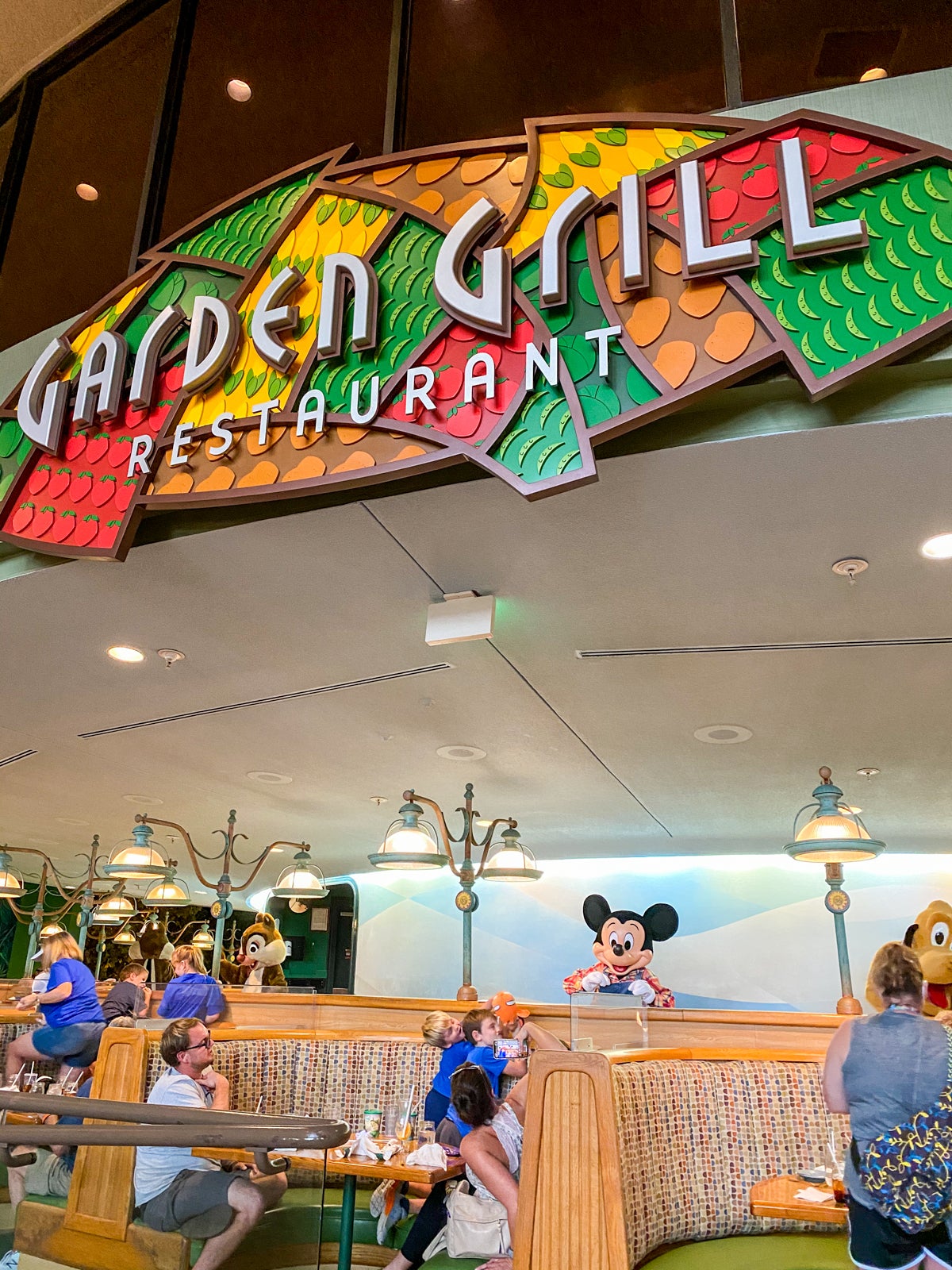 Located in Epcot's Land Pavillion, Garden Grill doesn't look all that interesting or impressive at first glance. In fact, for years, we just walked right past it.
But if you're after some relaxing time with classic characters, I'd actually call Garden Grill a sleeper hit.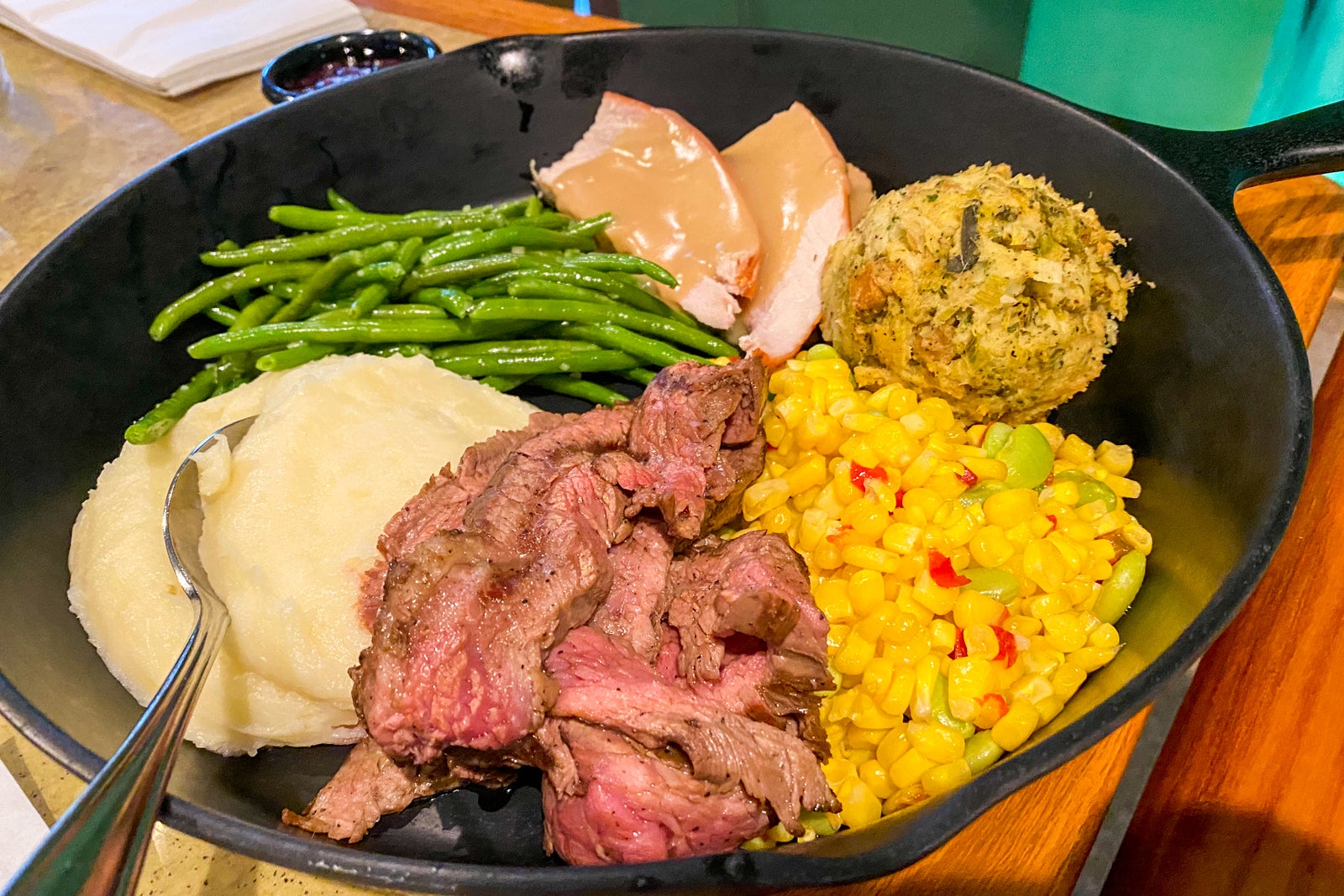 Priced at $55 for adults and $36 for kids, the all-you-care-to-enjoy "Chip 'n' Dale's Harvest Feast" has a family-style platter of sliced turkey, seasonal veggies, grilled beef, salad, cheesy mac, fluffy rolls and more. The restaurant actually rotates, and at some points, you can see scenes from the Living with the Land ride, which is where some of the ingredients may have been grown!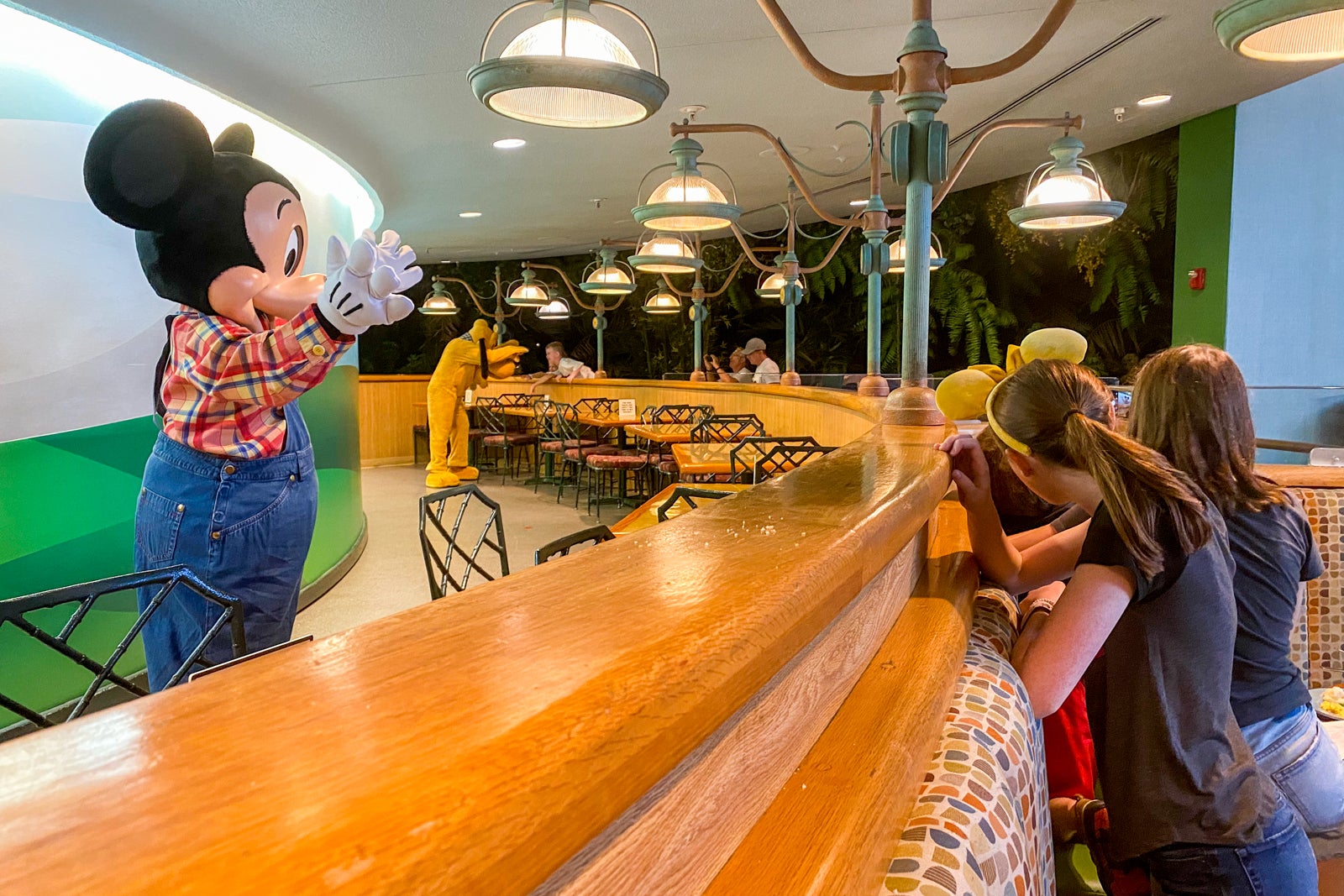 While the food here is solid, the characters steal the show. While you dine at your booth, Chip, Dale, Mickey and Pluto make regular socially distanced visits.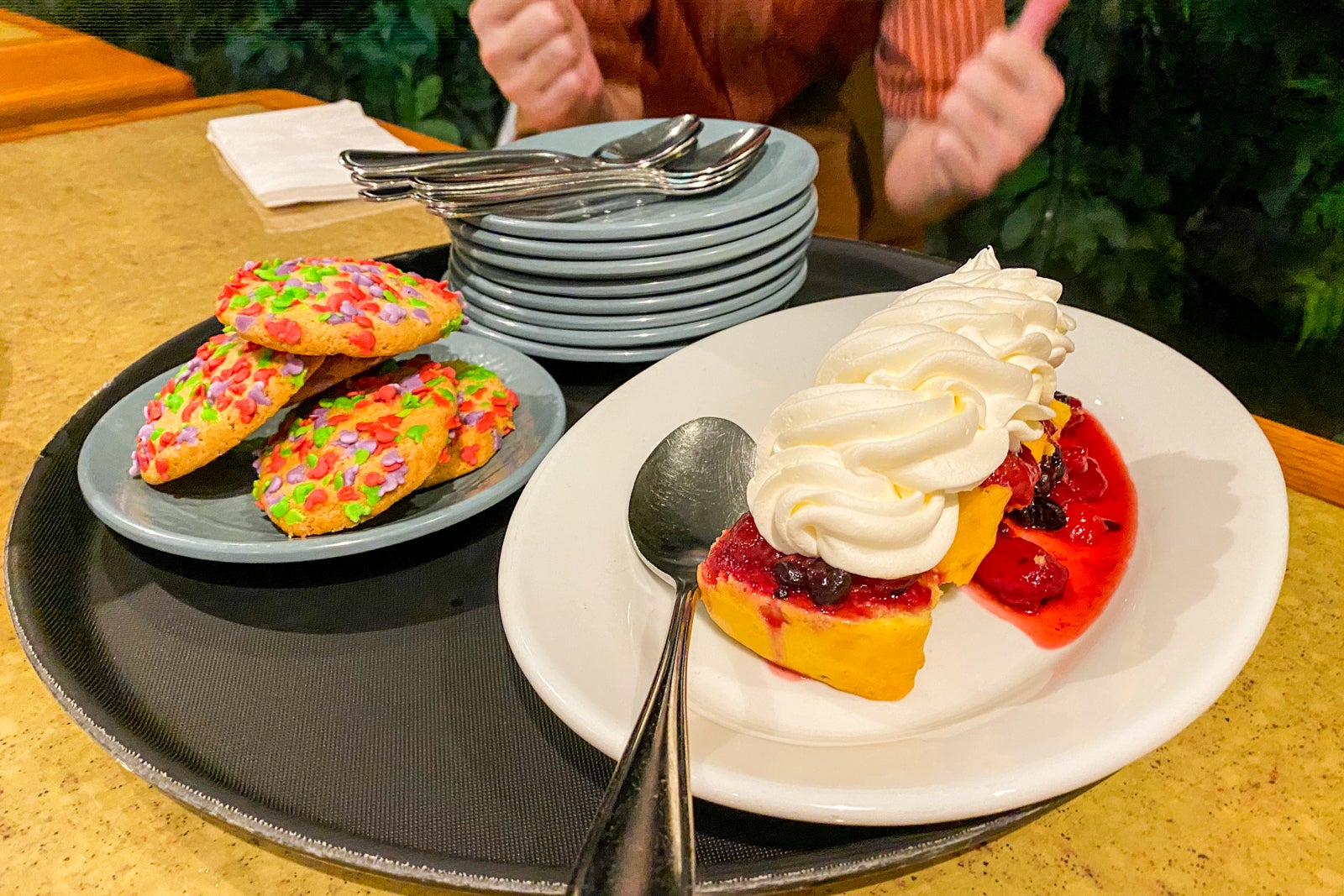 Just be sure to not over-stuff on rolls and macaroni, as dessert awaits at the end of the meal.
Related: Why you should use a (free) Disney vacation planner 
Contemporary Resort: Chef Mickey's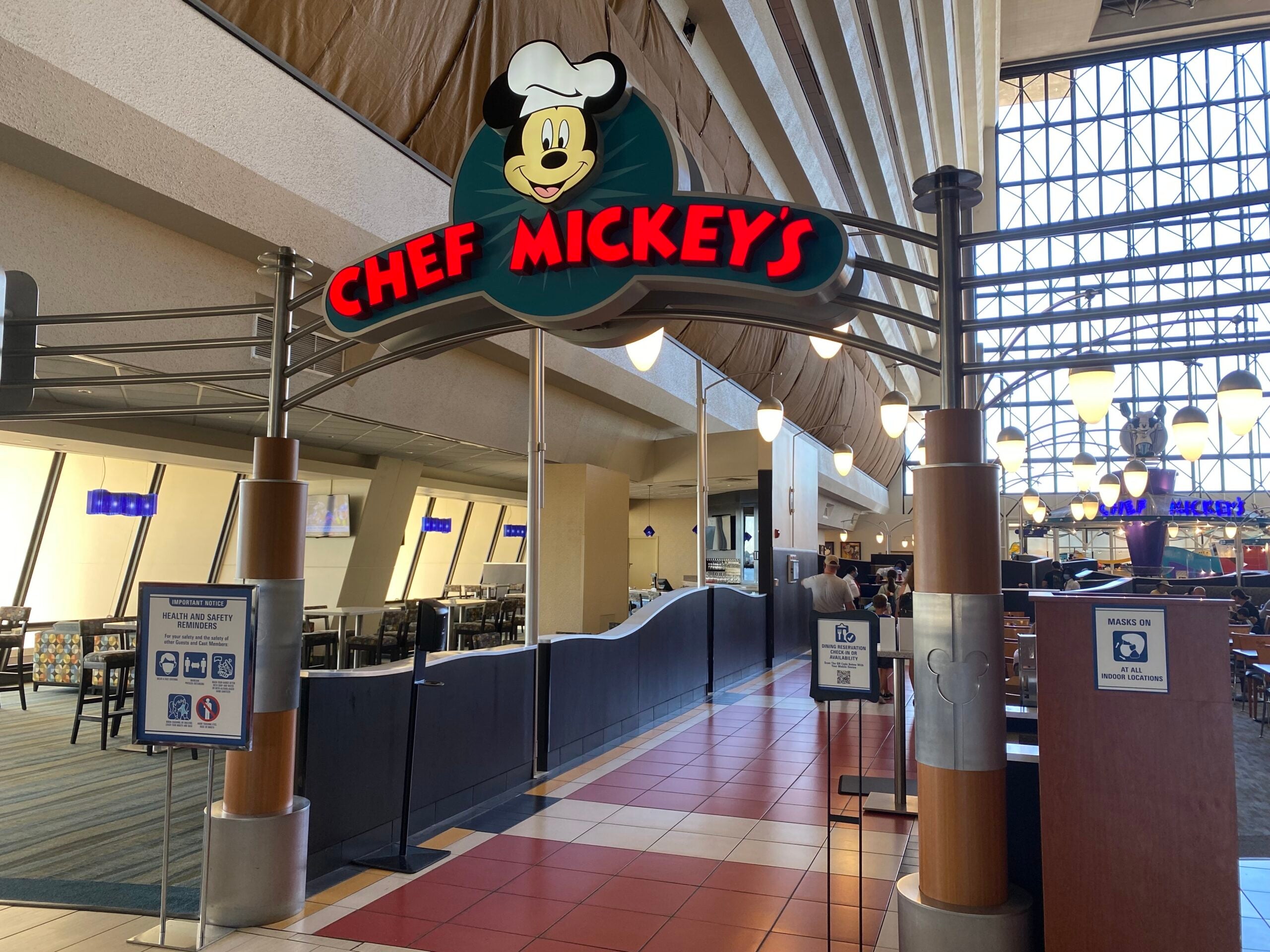 If you're looking for a meal that tastes OK and also keeps your kids occupied, look to Chef Mickey's inside the Contemporary Resort. This is one of the best combinations of food and kid-oriented fun, as long as you aren't looking for quiet.
It normally offers a buffet-style meal. Right now it's open for breakfast and dinner. Food is served family-style at a price of $42 for adults and $27 for kids at breakfast and $55 for adults and $36 per child for dinner.
Breakfast includes everything from eggs, bacon and sausage to salmon, Mickey waffles and the famous loaded potato-cheese casserole.
Dinner consists of options such as baby shrimp, potato gnocchi, prime rib, salmon and an assortment of desserts.
While you're dining, Mickey, Minnie, Donald, Pluto and Goofy dance around to music and keep your children mesmerized. We dined for an hour once at Chef Mickey's and our kids didn't complain one bit.
Best character meal for tweens and teens: Storybook Dining at Artist Point
One of the newest character meals at Disney World before the pandemic was also one of the best and most unique.
Located inside Disney's Wilderness Lodge (so, no park ticket required), the full three-course meal at Artist Point went well beyond burgers and fries with offerings such as a shrimp cocktail starter and main dishes that include butter-poached snapper and a truly amazing vegetarian dish that features butternut squash, arugula and gnocchi. There's a trio of included desserts (with a poison apple theme, naturally) and, best of all, a visit with the Evil Queen herself.
This restaurant hasn't yet made a comeback, but mark it down for a visit when it does reopen.
Related: What it is like at reopened Disney character meals? 
Best out-of-this-world dining experience
Brand new to Epcot is Space 220, a dining experience that virtually takes you 220 miles above the Earth to dine in space. This meal experience is pricy since it is a prix-fixe that includes two courses at lunch ($55) and three at dinner ($79), with kid meals costing $29.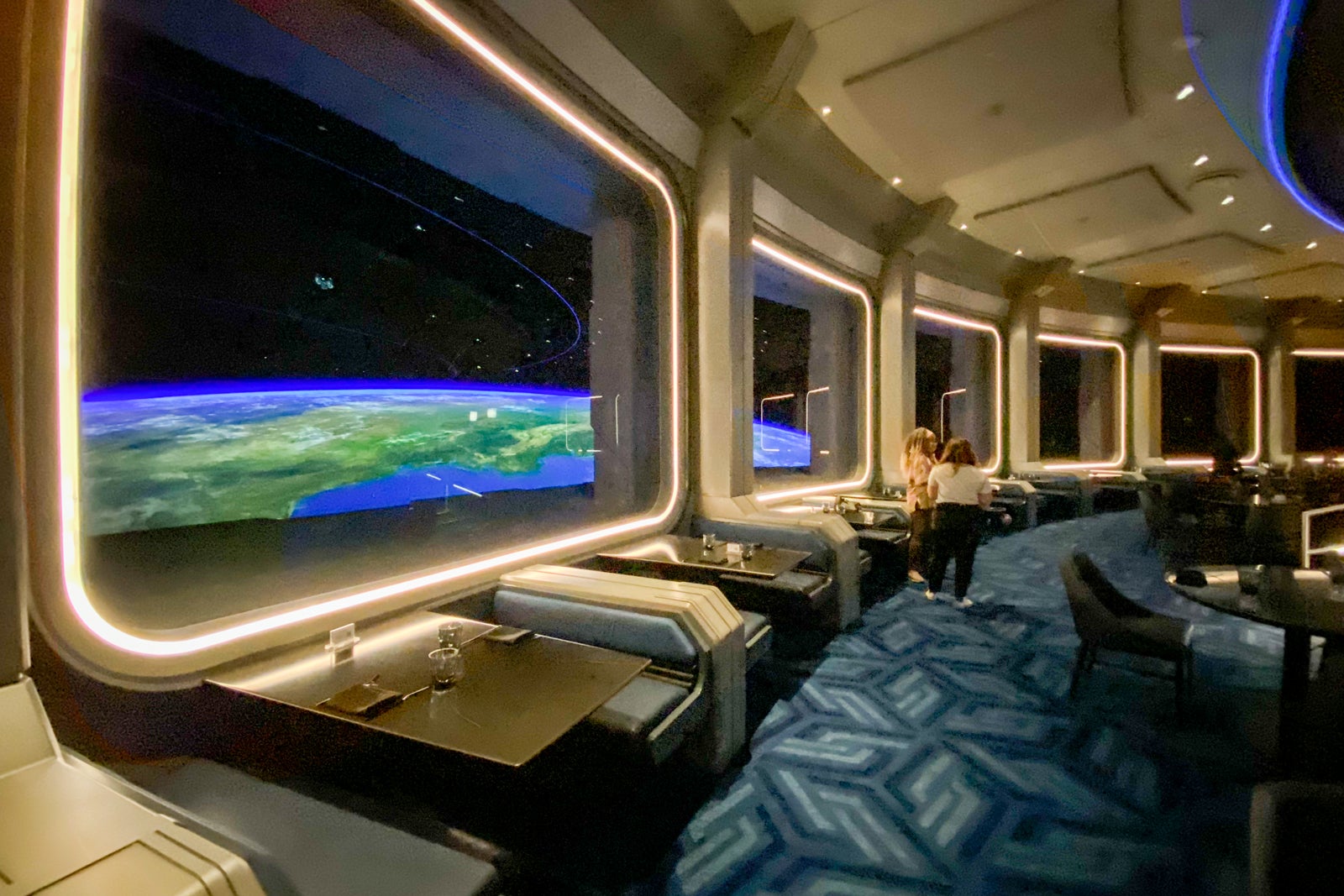 While "dining in space" as guests of Disney at a preview event, we enjoyed the Starry Calamari, Bluehouse Salmon, Sticky Toffee Pudding Cake and Centauri Burger … but being honest, it's the experience of blasting off and then dining in space looking out of the windows at ships and space tourists going by that you come here for more than the specific menu items.
If you can't get a reservation,  or don't want to spend the money or time required for a multi-course meal, then dining in the lounge or at the bar can be a great way to have the experience via an a la carte approach if you can get a walk-up spot.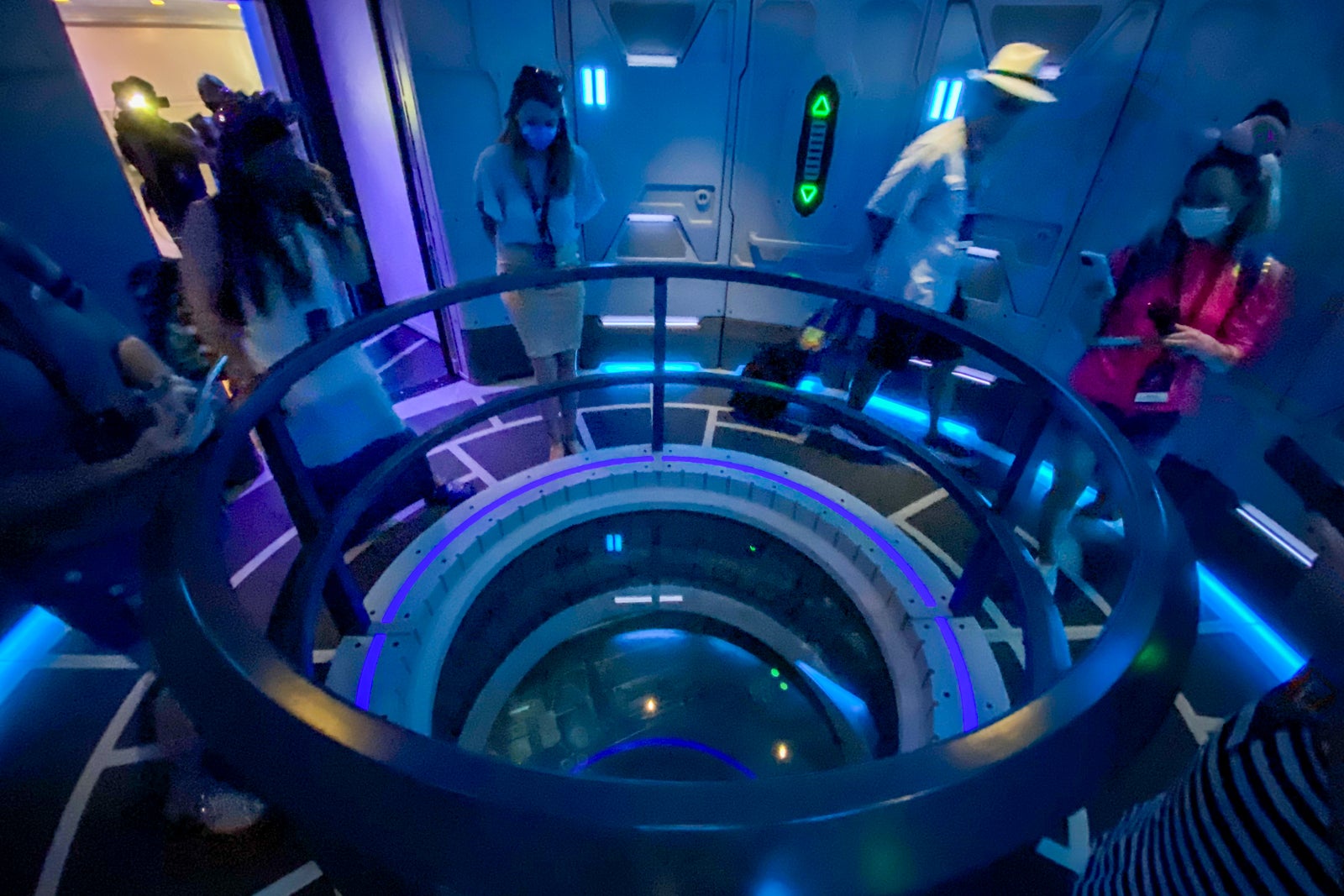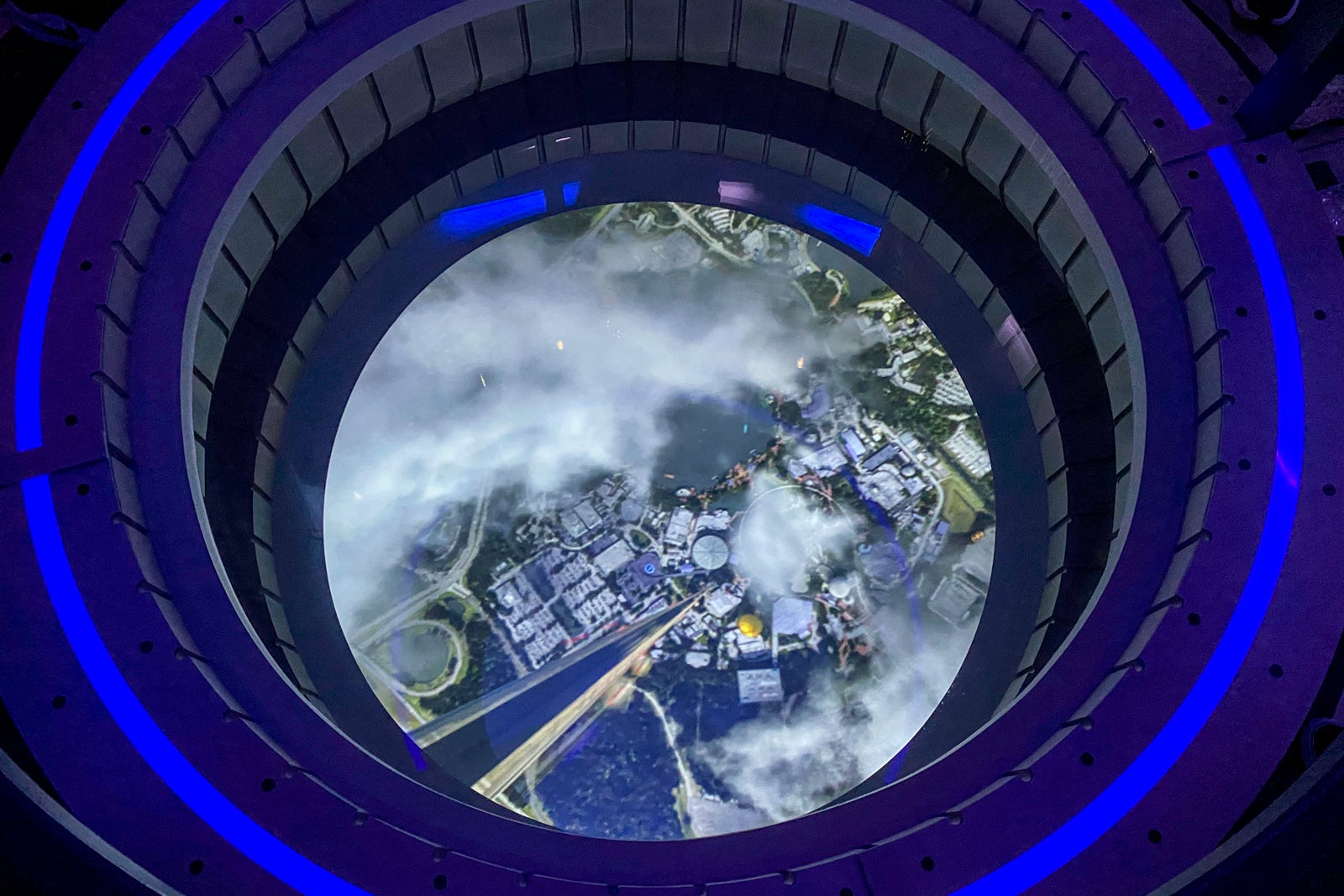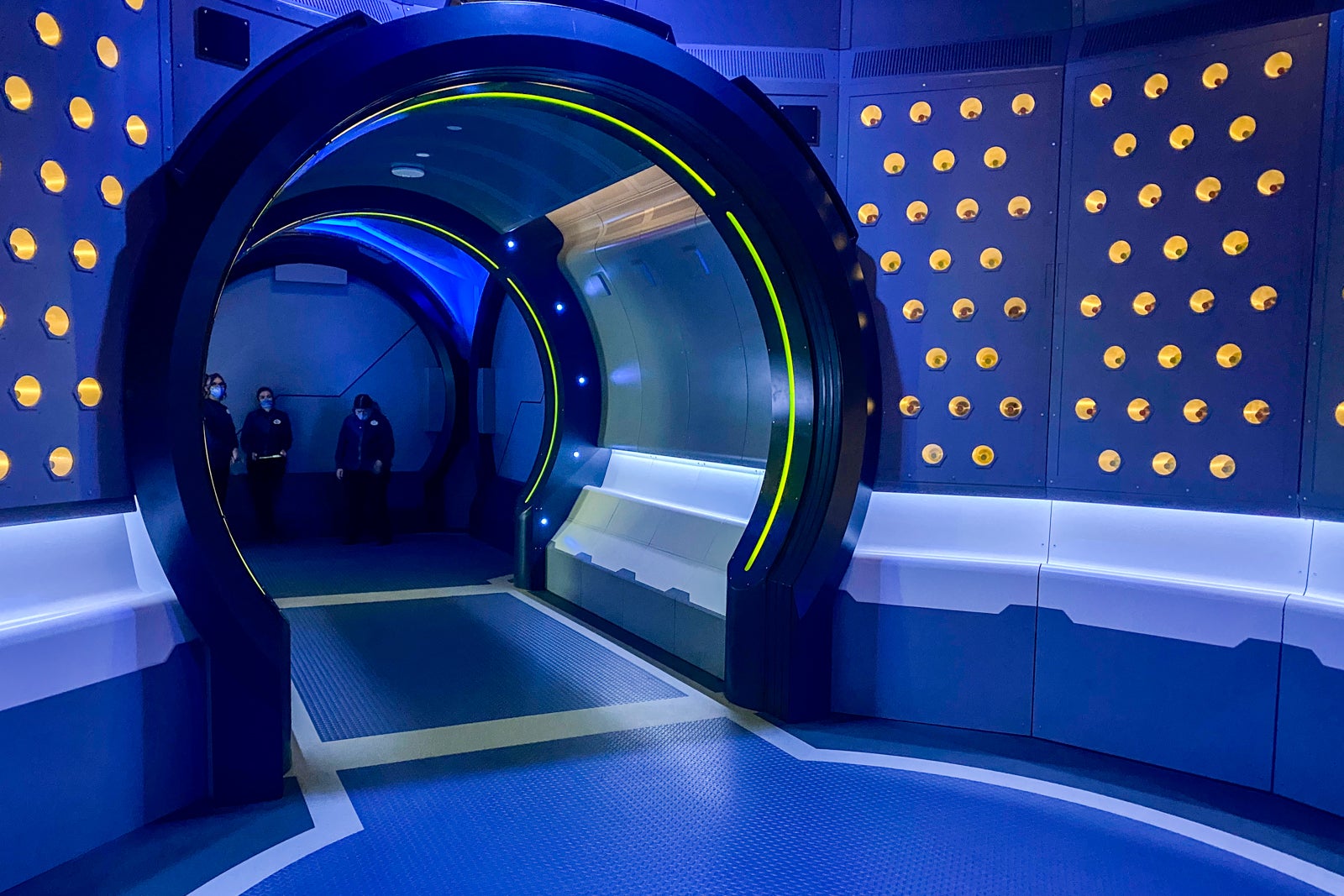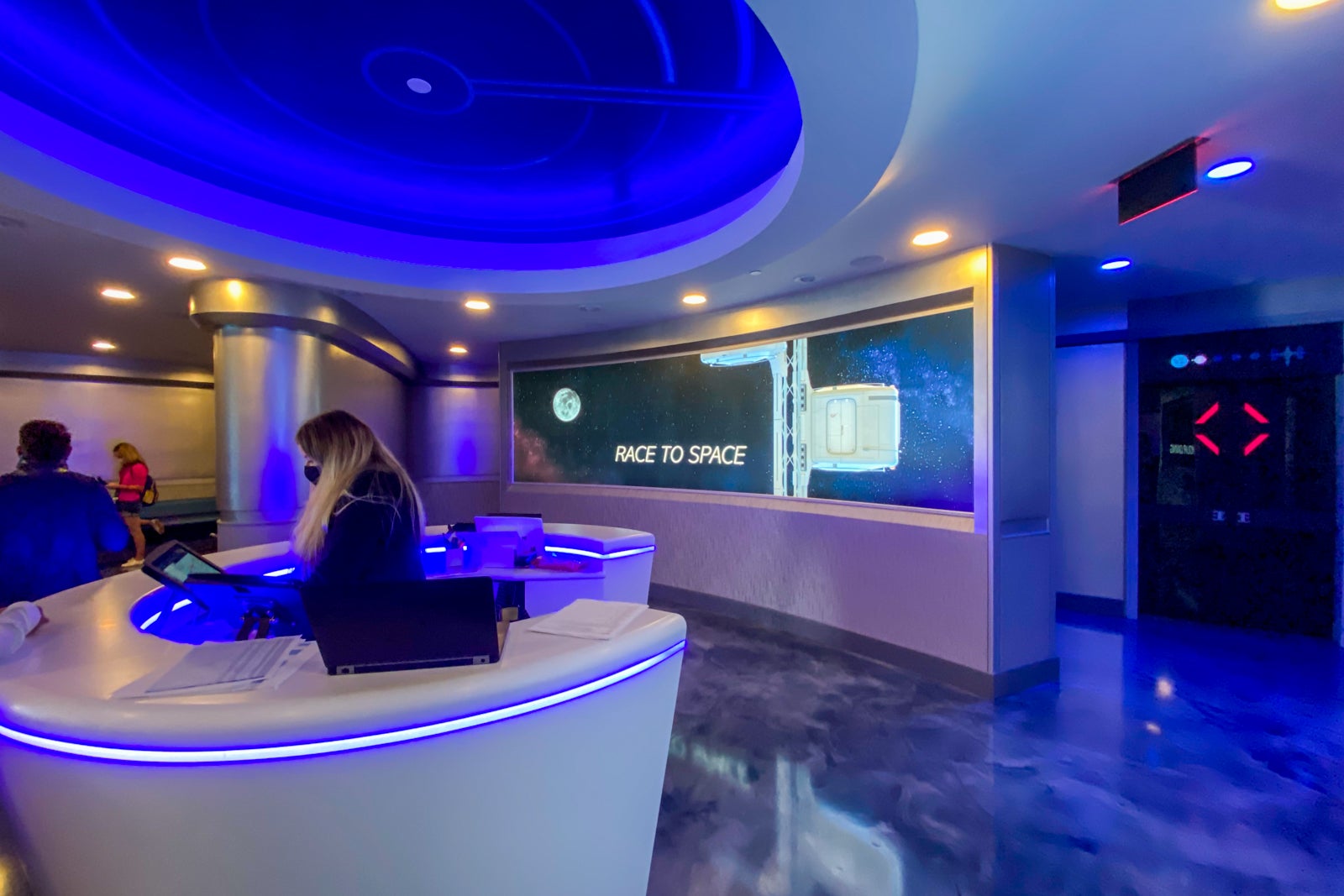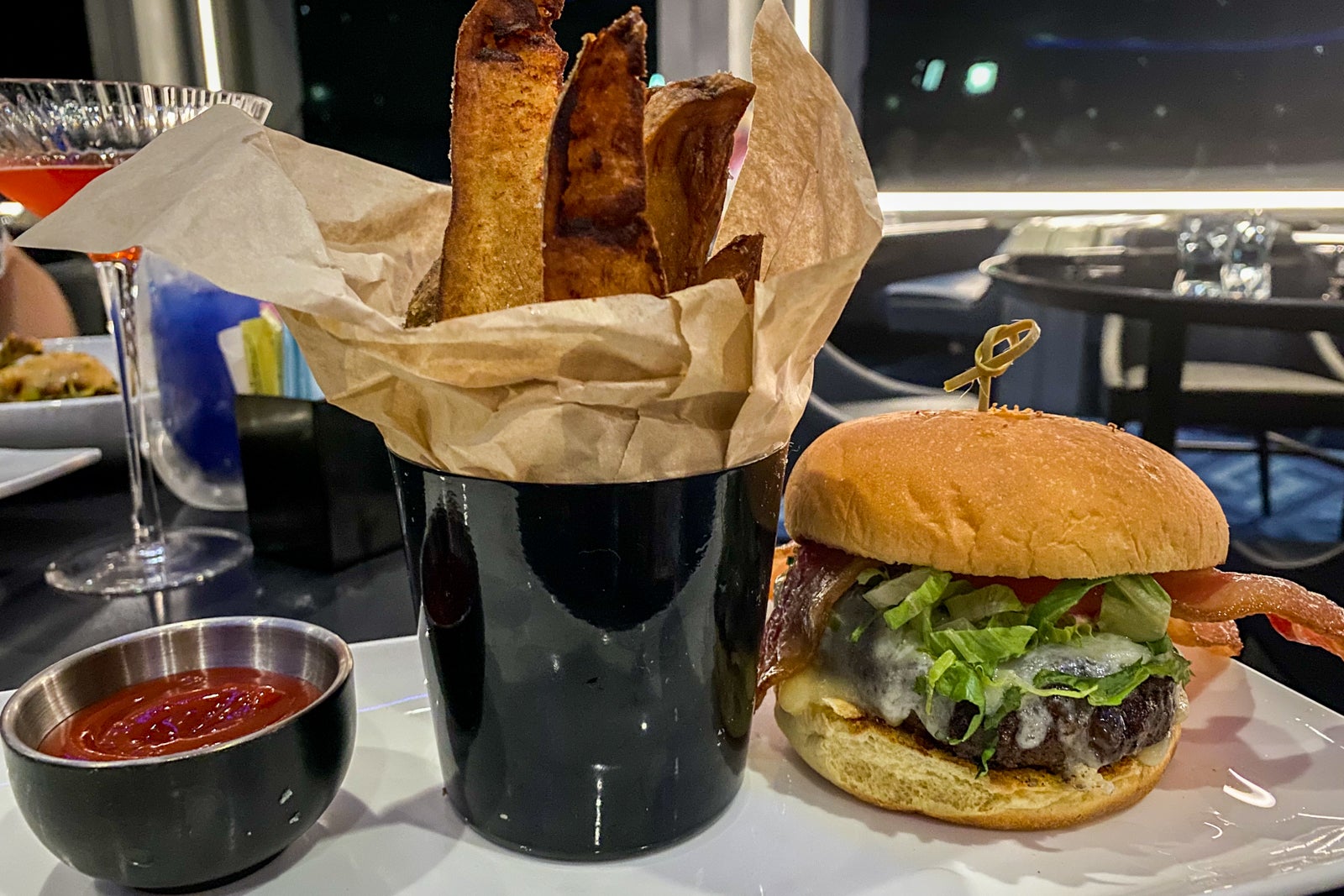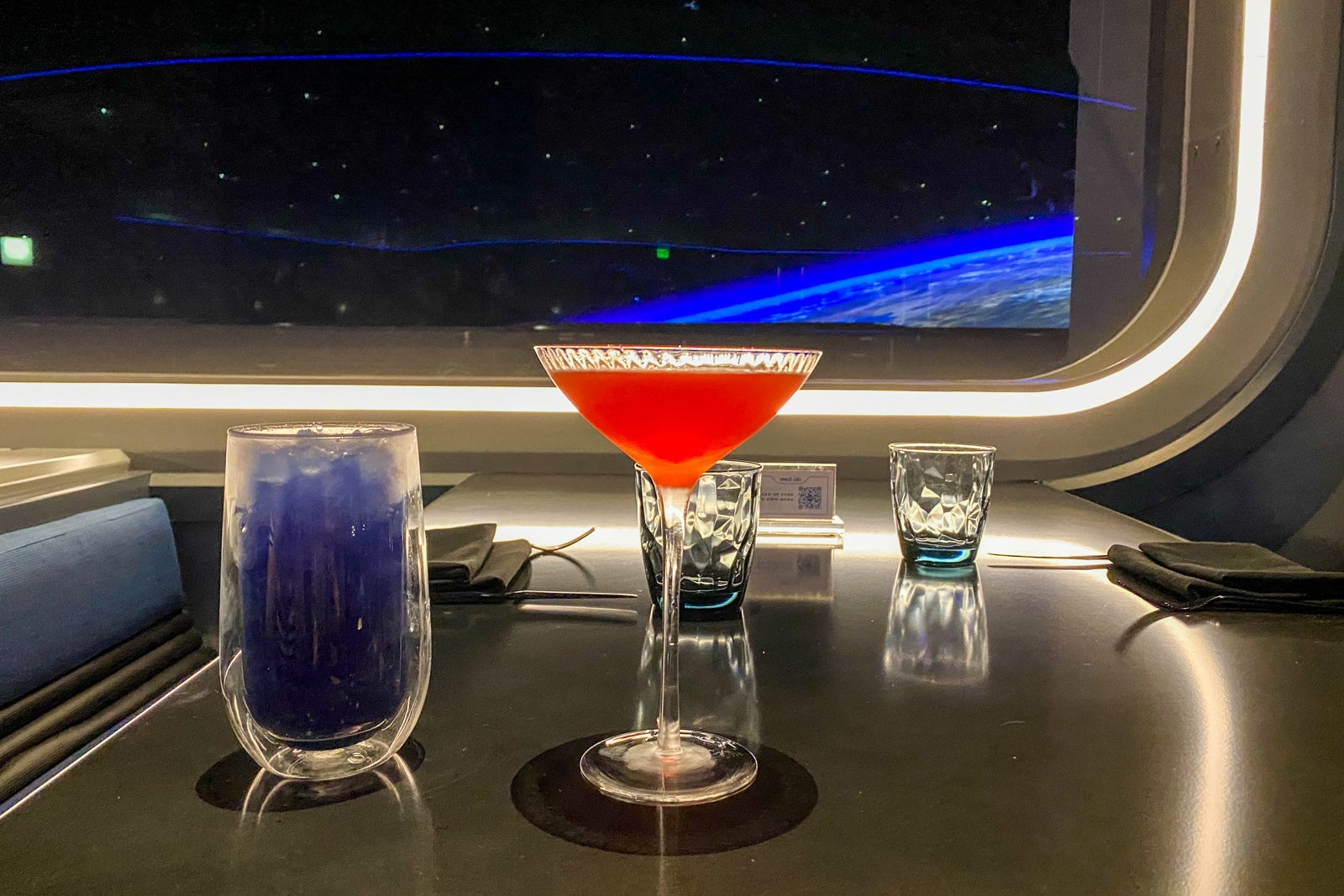 Best outdoor meals at Disney
If you prefer to eat outdoors, you're in luck at Disney. There are some great outdoor options beyond just getting your fish and chips to go and finding an open bench within the park (though that fully works, too).
The Boathouse at Disney Springs
A fantastic outdoor dining option is located on the water at Disney Springs, which means you don't need a park ticket to enjoy it. The Boathouse has plenty of indoor seating but also ample outdoor dining options.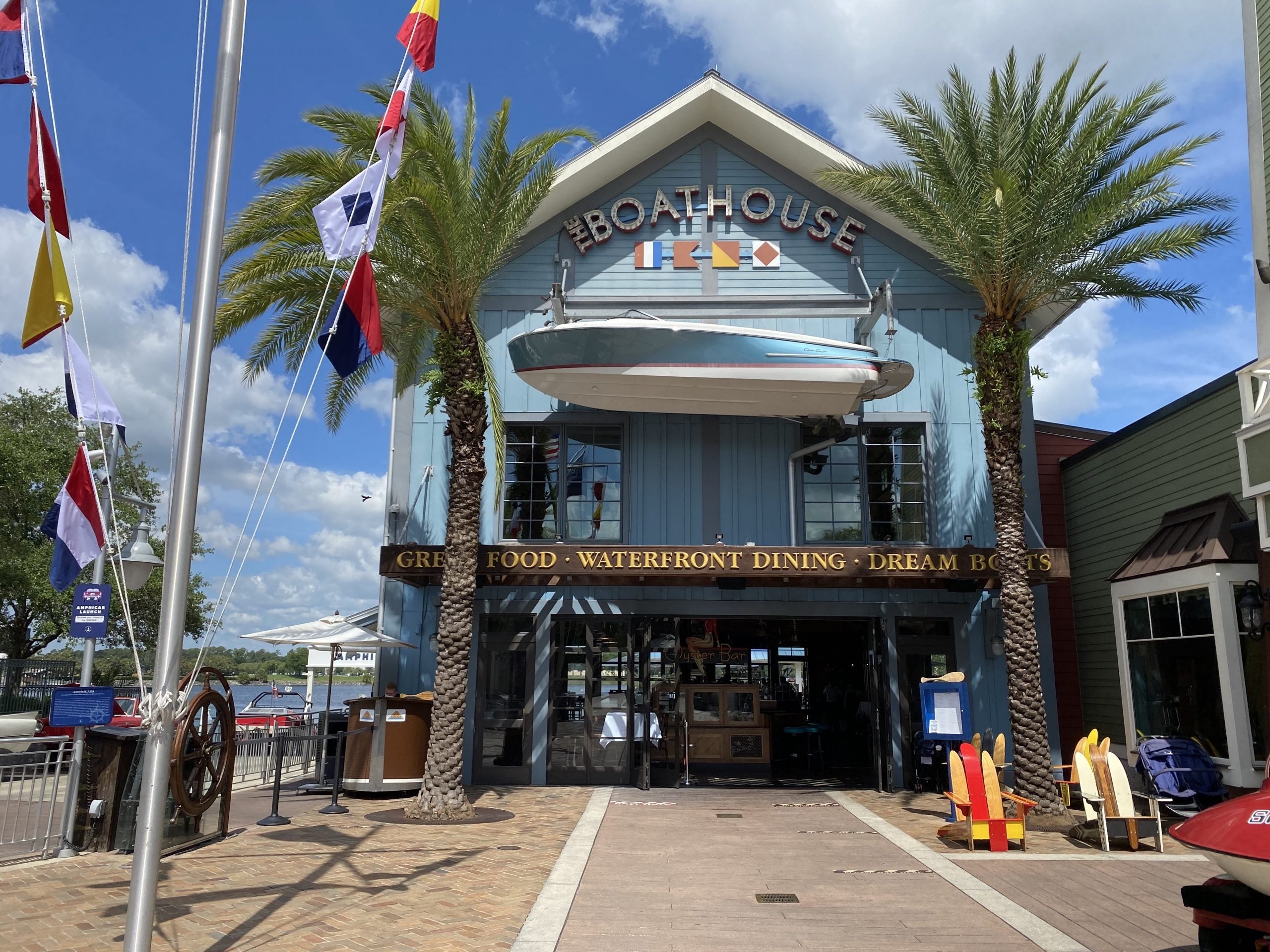 Not surprisingly, the Boathouse has very good seafood, including crab cakes, fish, poke, lump crab and more. The complimentary honey butter rolls are ridiculously tasty and worthy of the trip all on their own.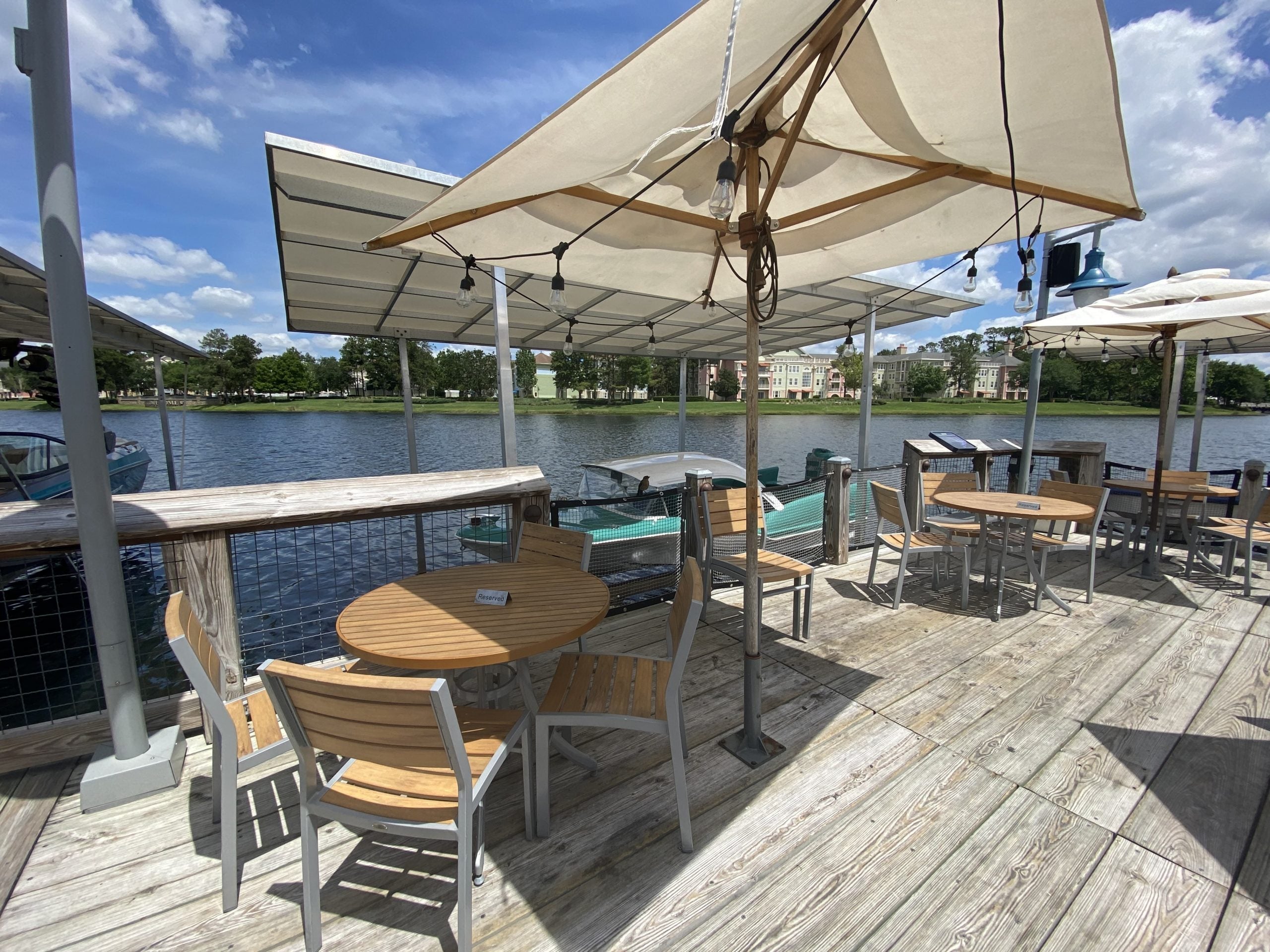 The burgers, fries and "Yacht Club" club sandwiches are all also hits. Prices here start under $20 for some of the sandwiches and burgers and top out around $30 for most entrees, making it more affordable than several other top spots for a nicer meal at Disney.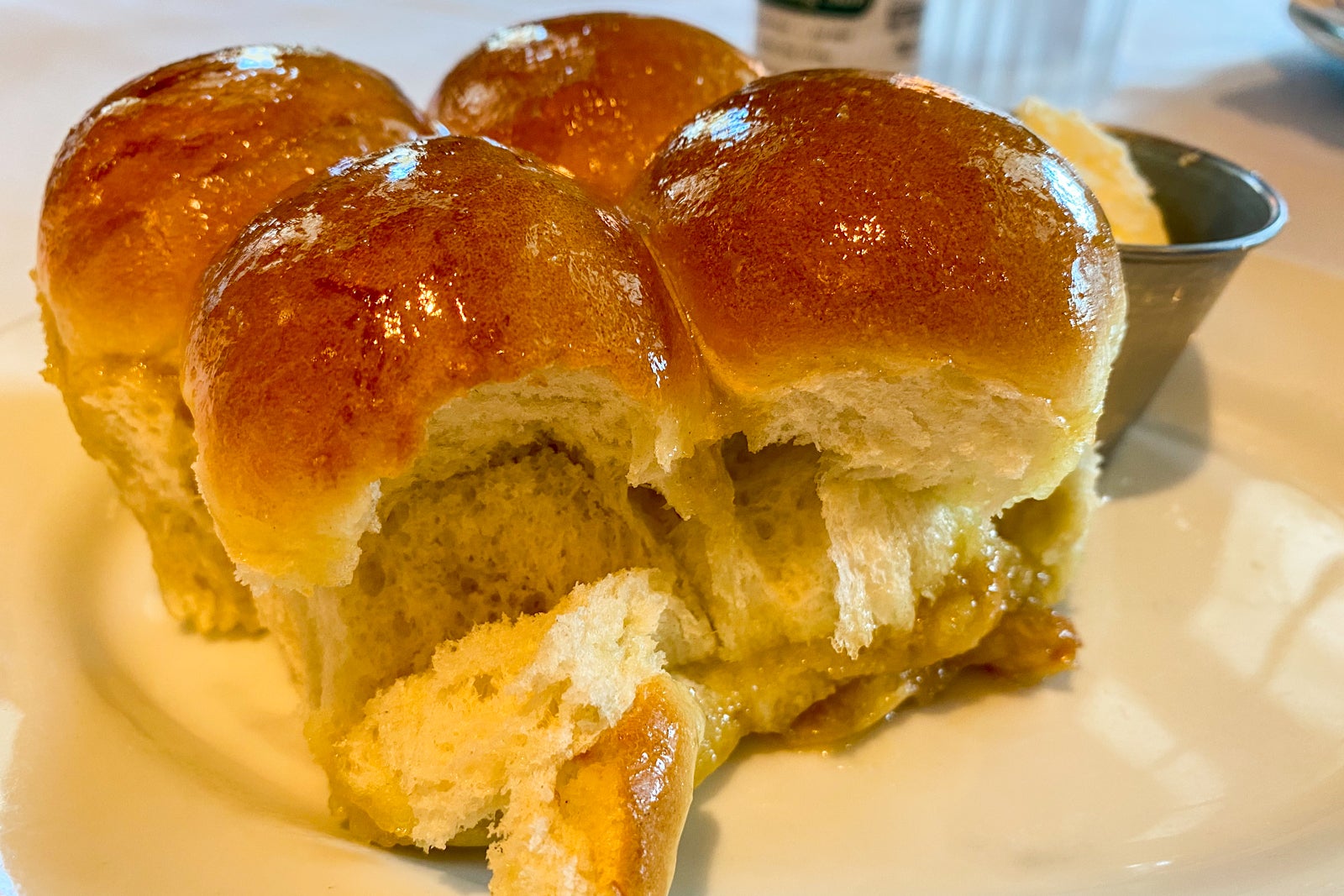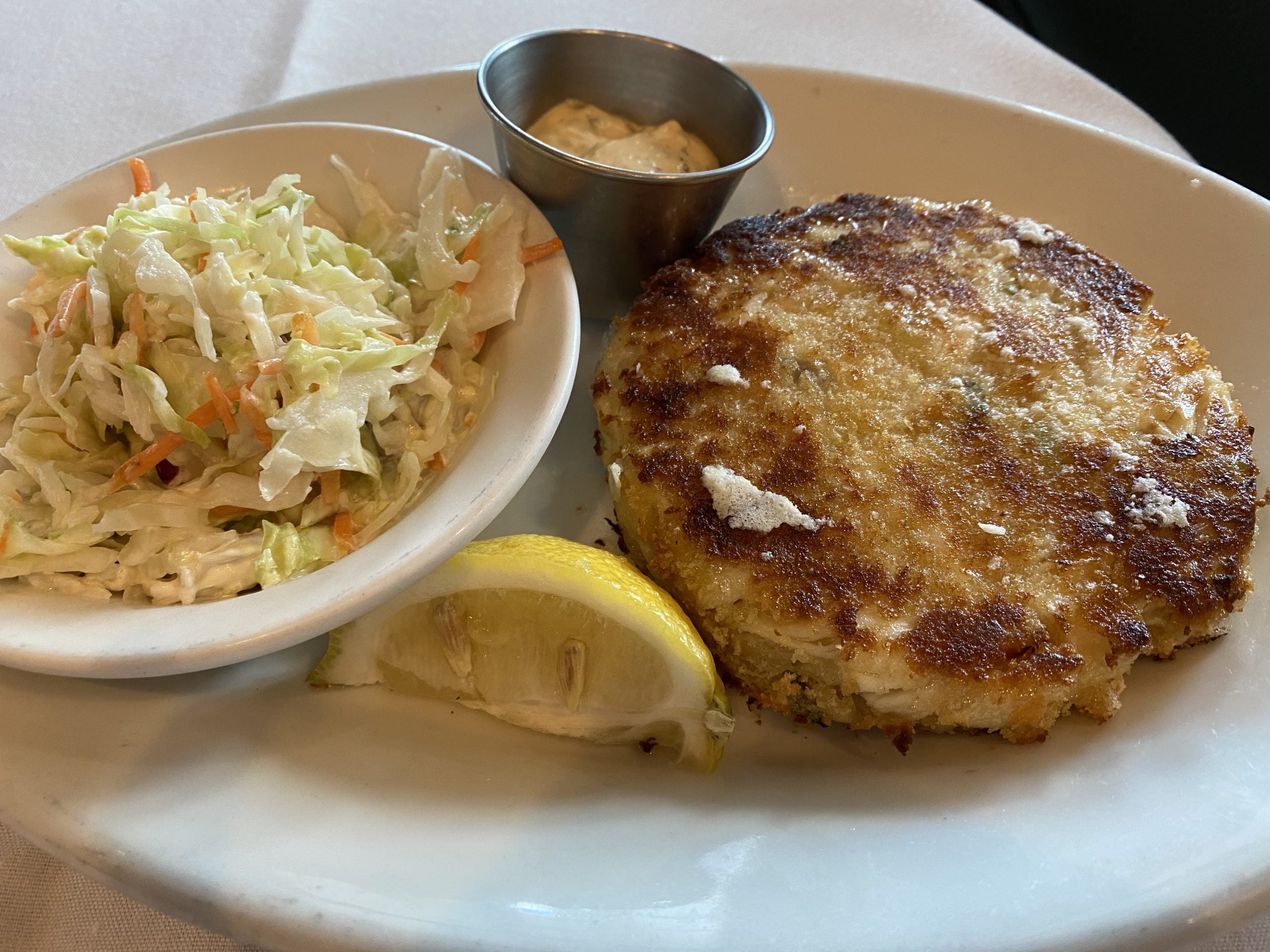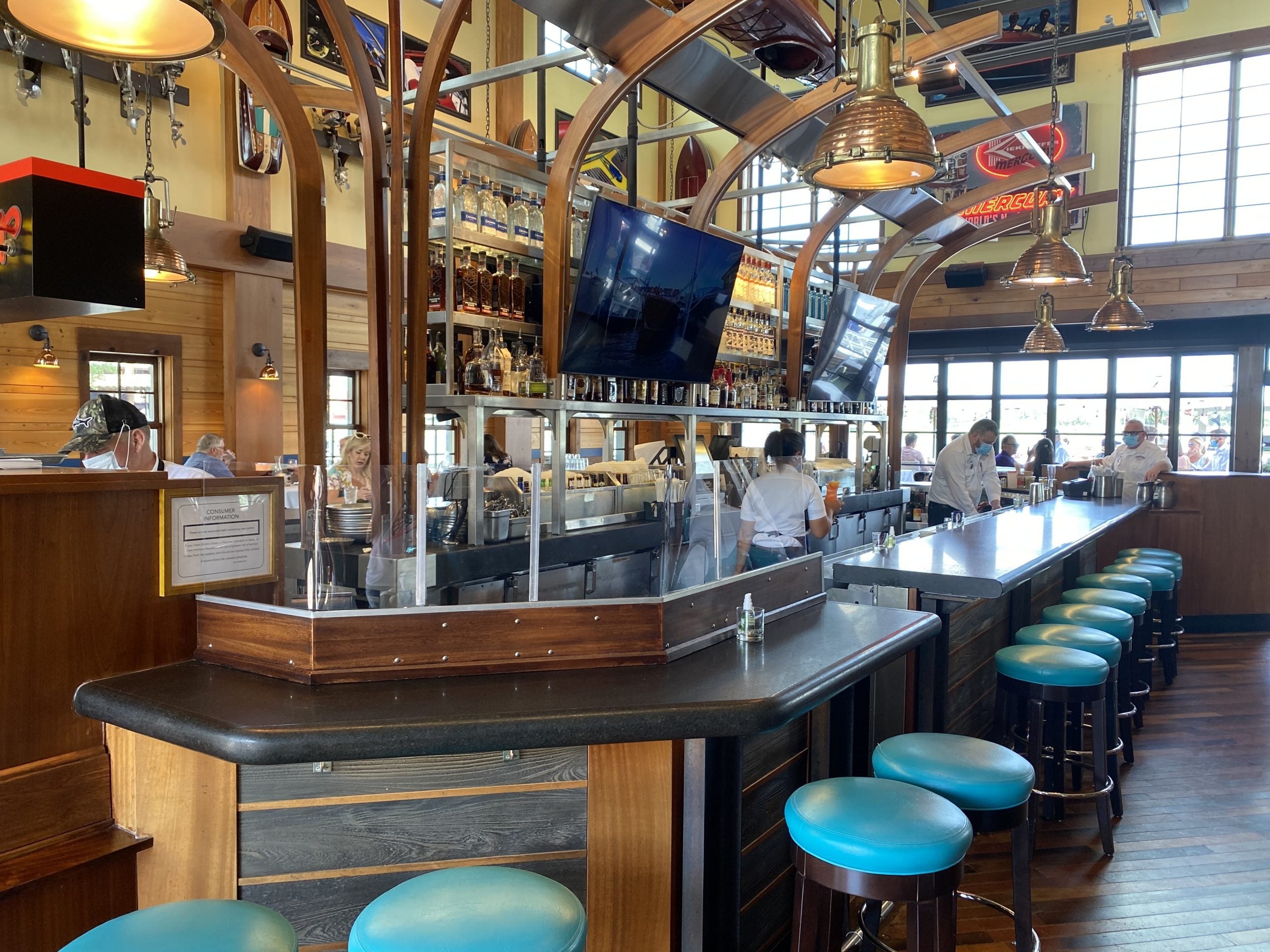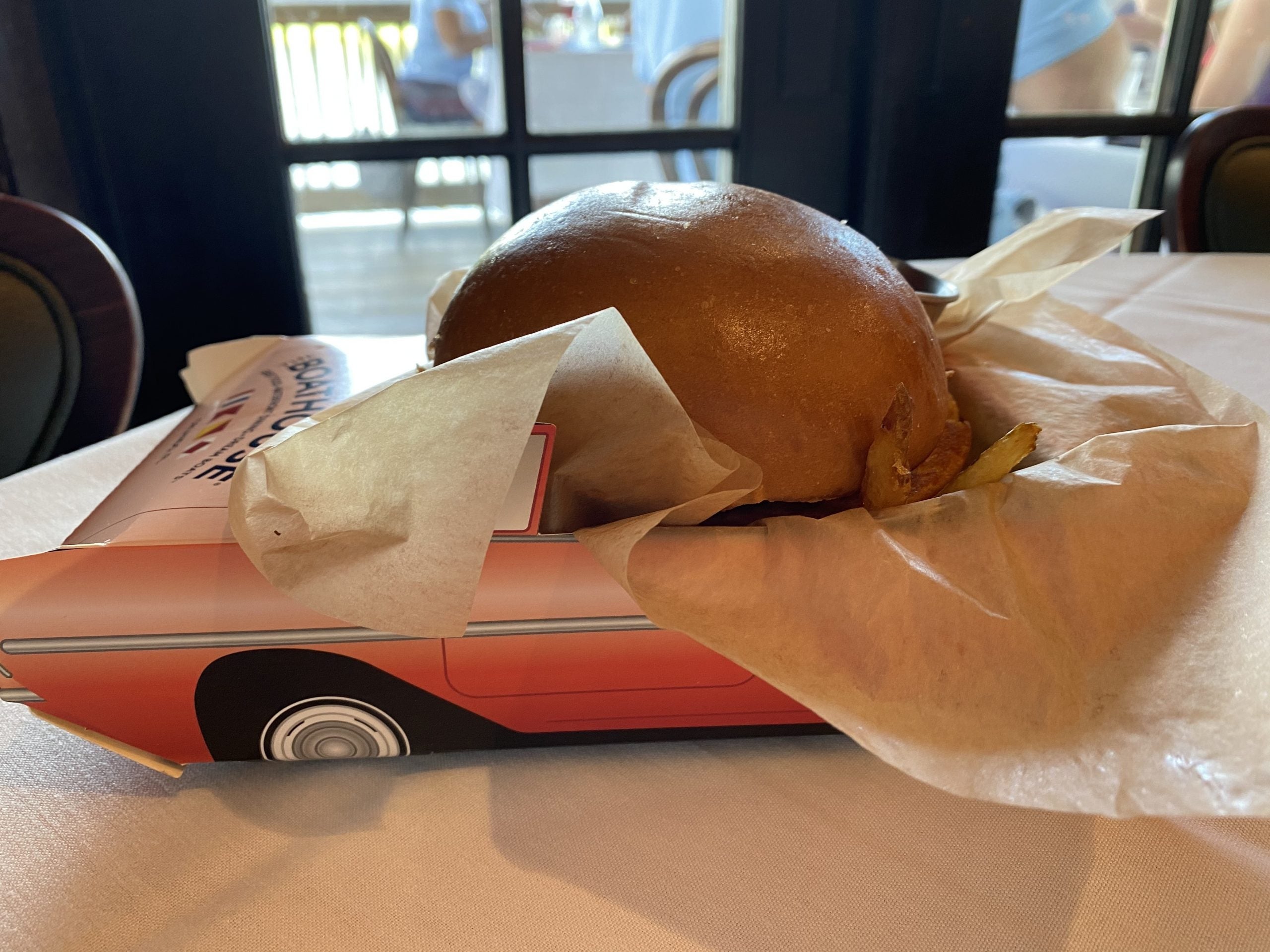 The kid meals, $10, were kid-taste-test-approved by my little eaters and come in cute containers.
Spice Road Table
A good walk-up option in Epcot that almost always has availability is Spice Road Table in the Morrocco Pavillion. Here you'll find Mediterranean-inspired options such as hummus, lamb, naan, shrimp and calamari by the water with an open-air, covered patio.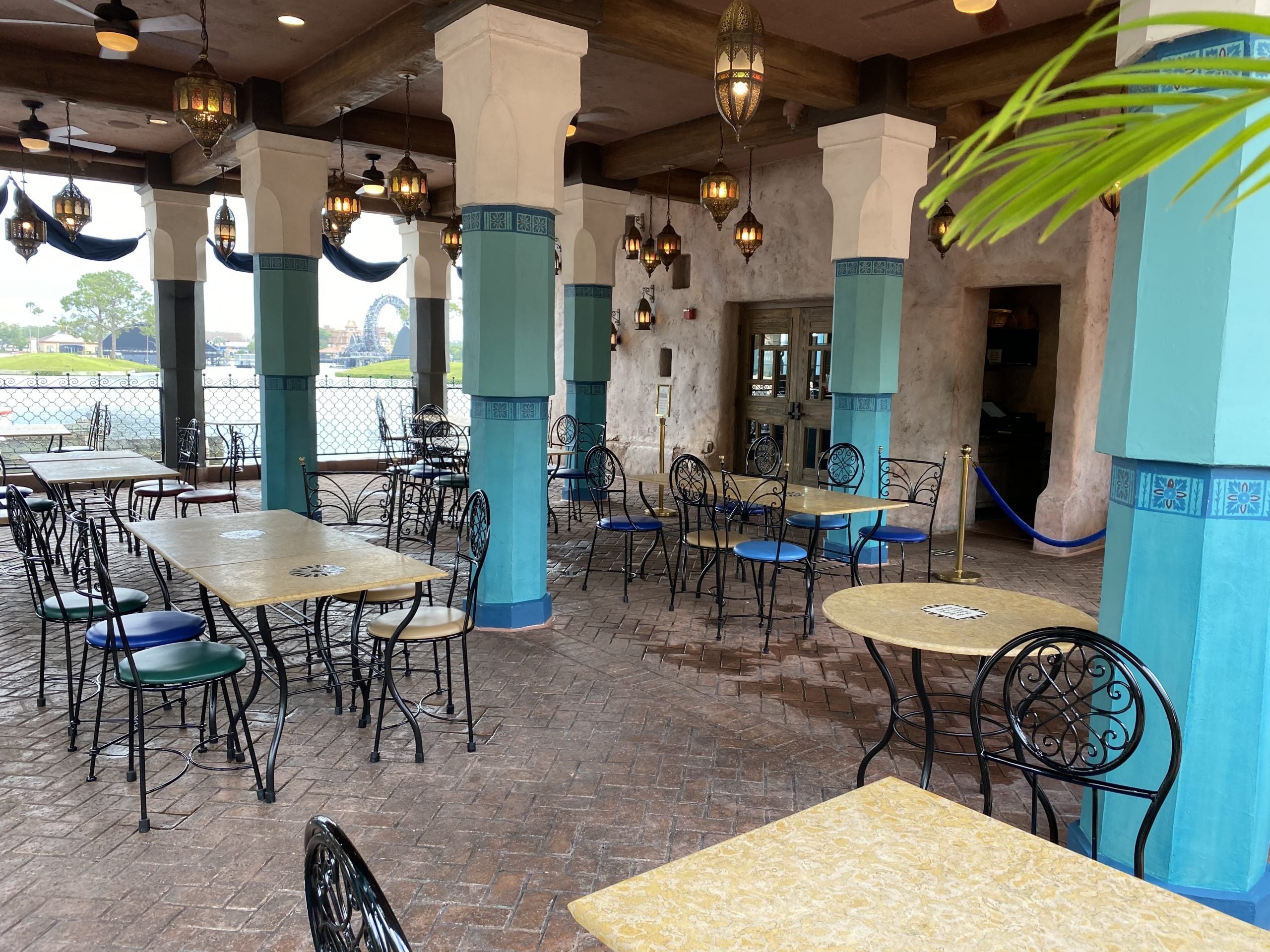 Geyser Point
Located alongside Bay Lake at Disney's Wilderness Lodge is the open-air Geyser Point lounge, with menu items such as cheesy barbecue brisket with chips, chicken wings, bison bacon cheeseburger and cheese and charcuterie boards.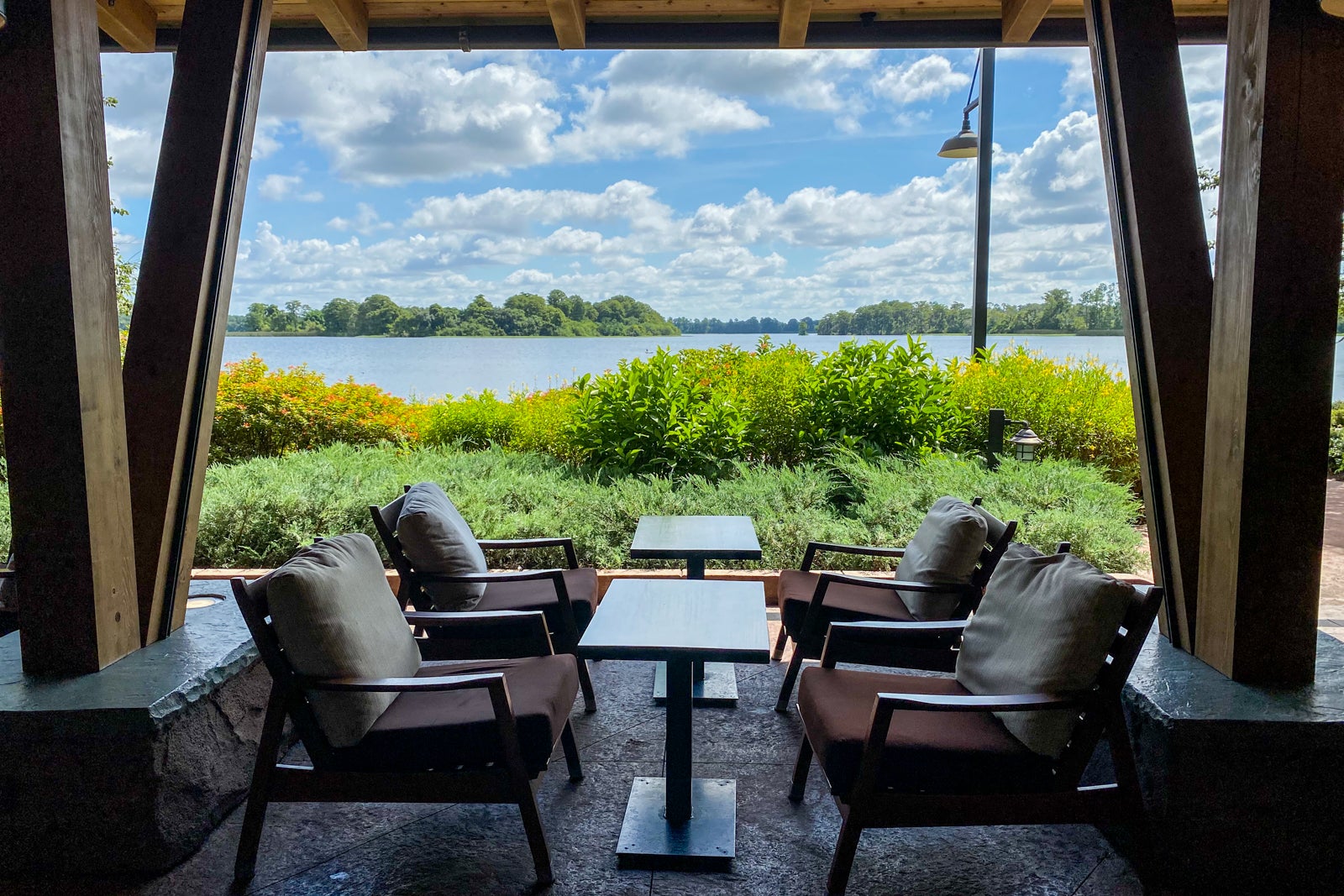 This spot doesn't take advance reservations and is open for walk-in drinks and food items for both lunch and dinner, making for potentially a great break from Magic Kingdom if you just hop a boat ride over to the Wilderness Lodge.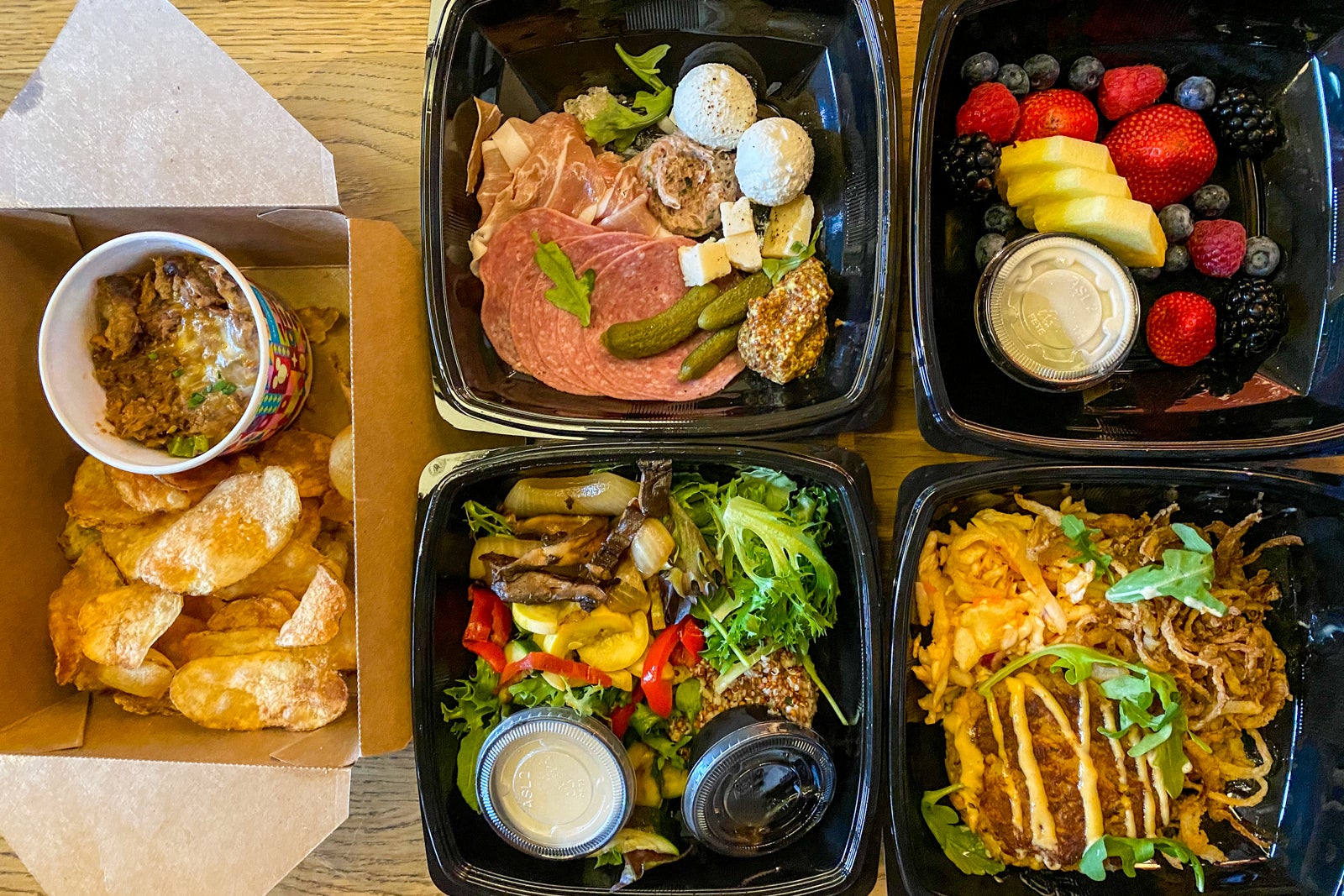 Nomad Lounge
Another sought-after spot that doesn't take advance dining reservations and offers some outdoor seating is Nomad Lounge.
Nomad Lounge is located right next to Tiffins Restaurant in Animal Kingdom and continues the adventurer and explorer theme. On this menu, you'll find churros ($9), Tiffins bread service ($12), Impossible sliders with yucca fries ($15) and a long list of signature cocktails.
As an added bonus, with a little luck, you can get a view of the character-filled flotillas on the "river" below.
Best dinner show
This one also hasn't reopened since the pandemic began, but we're keeping hope alive and including it here for its laugh-until-your-belly-hurts kind of fun. If the laughing doesn't make your belly ache, then the all-you-can-enjoy fried chicken and fixings can do the trick at what was one of the longest-running dinner shows in the country.
This dinner show at Fort Wilderness is a Disney classic and a ton of fun for kids and adults, as long as you like singing along to American classics and laughing at corny jokes. Or just come for the strawberry shortcake and bottomless sangria, wine and beer.
While it's on pause for now, when it's running there are traditionally three shows each evening. Prices range from $66 to $74 per adult (depending on your selected seating tier) and $39 to $44 per child, ages 3 to 9.
Related: Guide to visiting Disney World
Honorable mentions
There are a few restaurants that might not be as popular as our absolute favorites. Still, each of these should be on your list of spots to consider, especially if you can't secure one of the more coveted, hard-to-get reservations.
Yak & Yeti Restaurant
Yak & Yeti is both a sit-down and quick-service venue in Animal Kingdom. The quick-service window is a stripped-down version of the menu offered inside. Yak & Yeti isn't cheap, but the pan-Asian cuisine is quite good — making it one of our favorites at Animal Kingdom. The decor will give you a bit of the feel of eating in a Nepalese market.
One way to keep your total check affordable is to order one of the shareable plates (ahi tuna nachos are our favorite). The portion size is plenty for two or more. Skip the barbecue and burger in favor of the duck or one of the bowls. Make sure you finish with the dessert wontons — you'll be glad you did.
Regal Eagle Smokehouse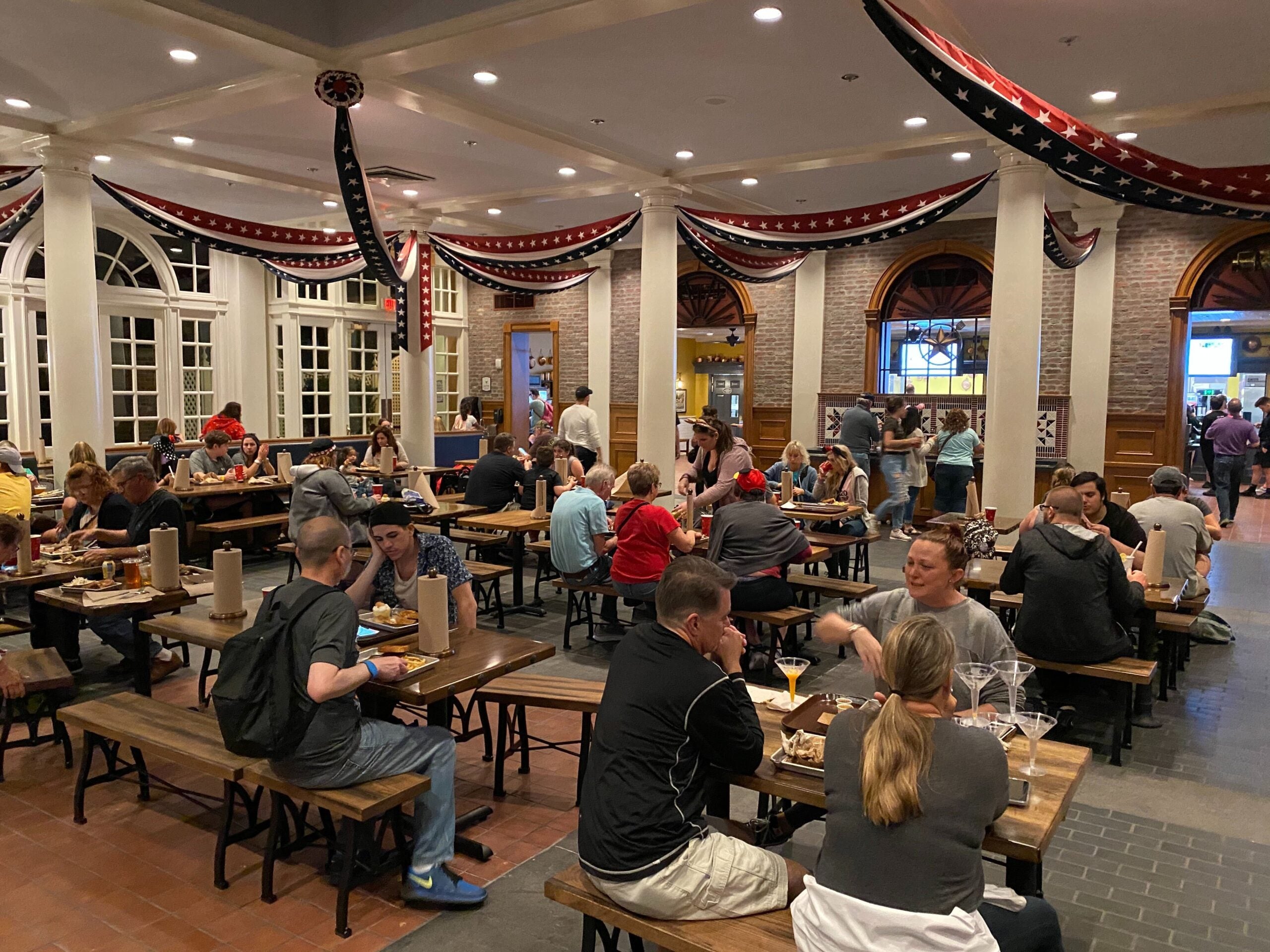 Regal Eagle is a newer kid on the block in Epcot.
Replacing the Liberty Inn in the American Adventure pavilion at Epcot, Regal Eagle features a variety of barbecue plates and draft beer. Purists hailing from barbecue meccas like Texas won't necessarily fall in love with the fare. But, the barbecue is good, if not legendary , and it's an exceptional value (especially by Disney standards) for families who can share.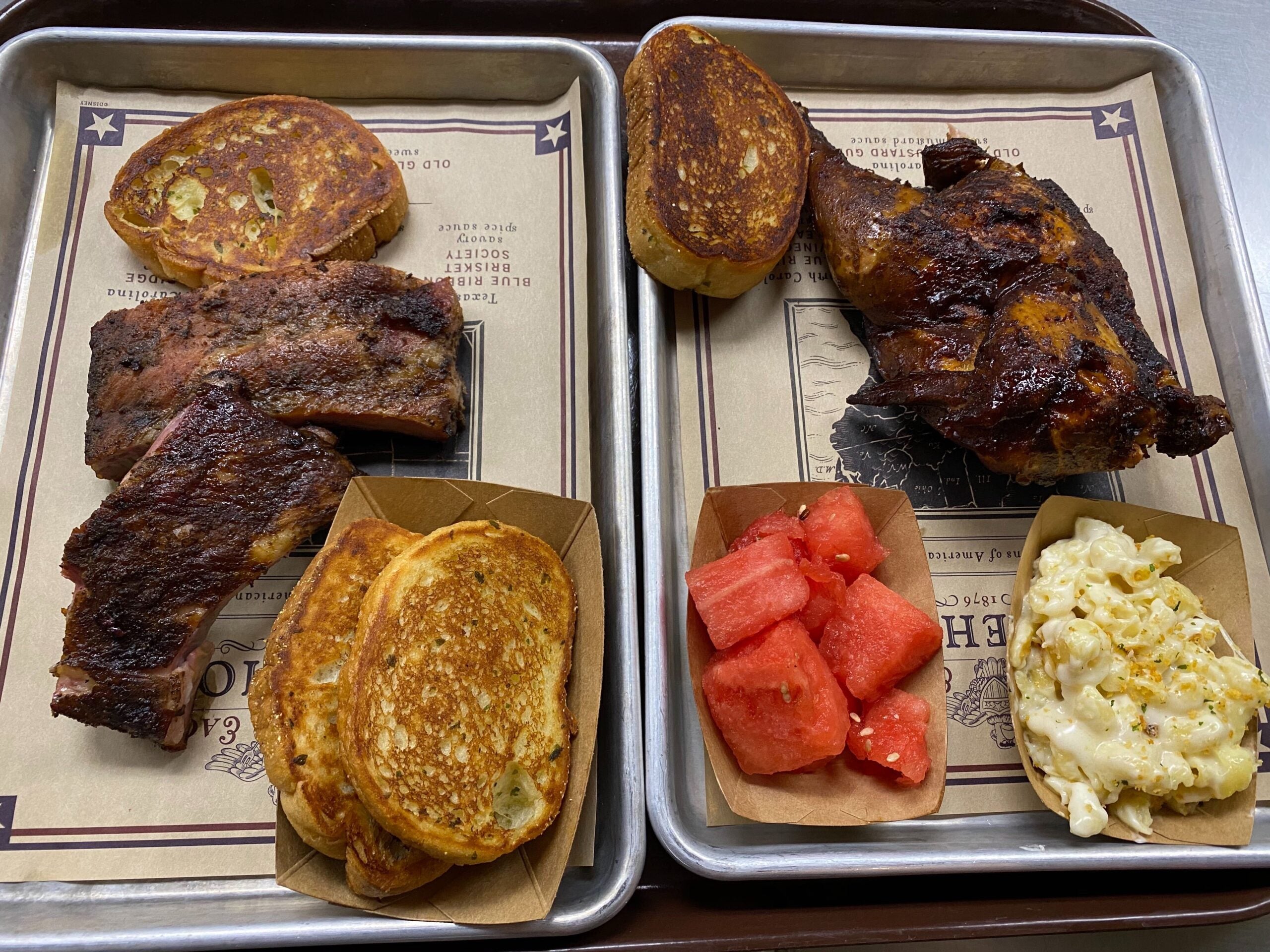 A kid's meal consisting of a chicken leg or barbecue rib and two sides along with a drink is around $8 and can feed a pretty hungry child. And for less than $20, you can order a combination platter that features your choice of three different types of meat from the menu. If you're a family looking to stretch your dollars, an air-conditioned meal at Regal Eagle may be the perfect Epcot lunch.
Crystal Palace
Located in the Magic Kingdom, on the way to Adventureland from Main Street USA, this restaurant offers good food and a few characters during normal times. Some even say the food at Crystal Palace is better than Cinderella's Royal Table.
The buffet is now gone and some say that has made the food even better. Here you'll find seasonal salads, homestyle buttermilk biscuits, blackened catfish with shrimp and a dessert platter.
During normal times, Winnie the Pooh and his friends will stop by your table and, if your kids are feeling adventurous, lead them on a march around the dining room. Plan on spending about $40 per adult and $25 per kid, plus tax and tip.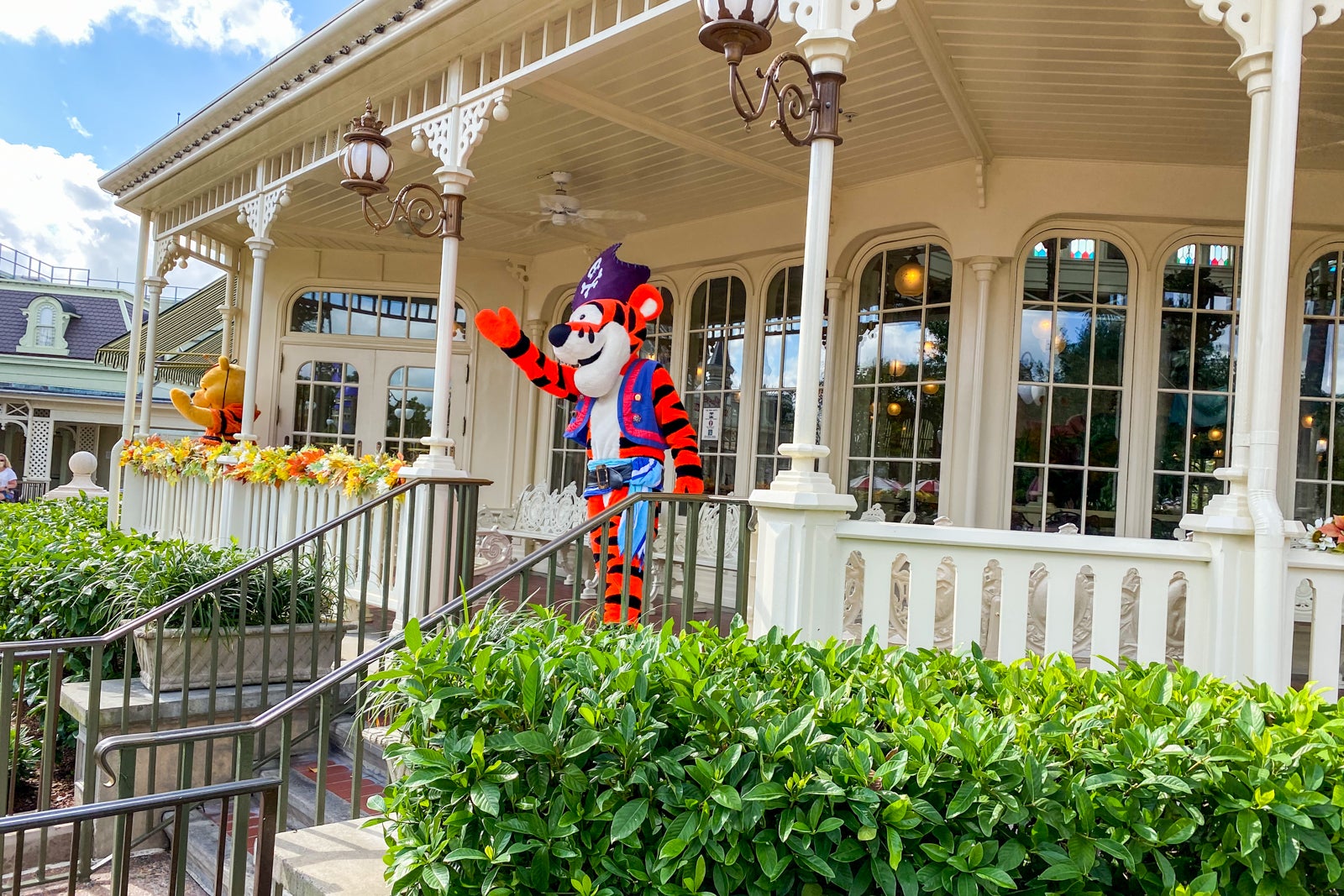 Oga's Cantina
Stay with us for a minute: We know that Oga's Cantina is really light on actual food items.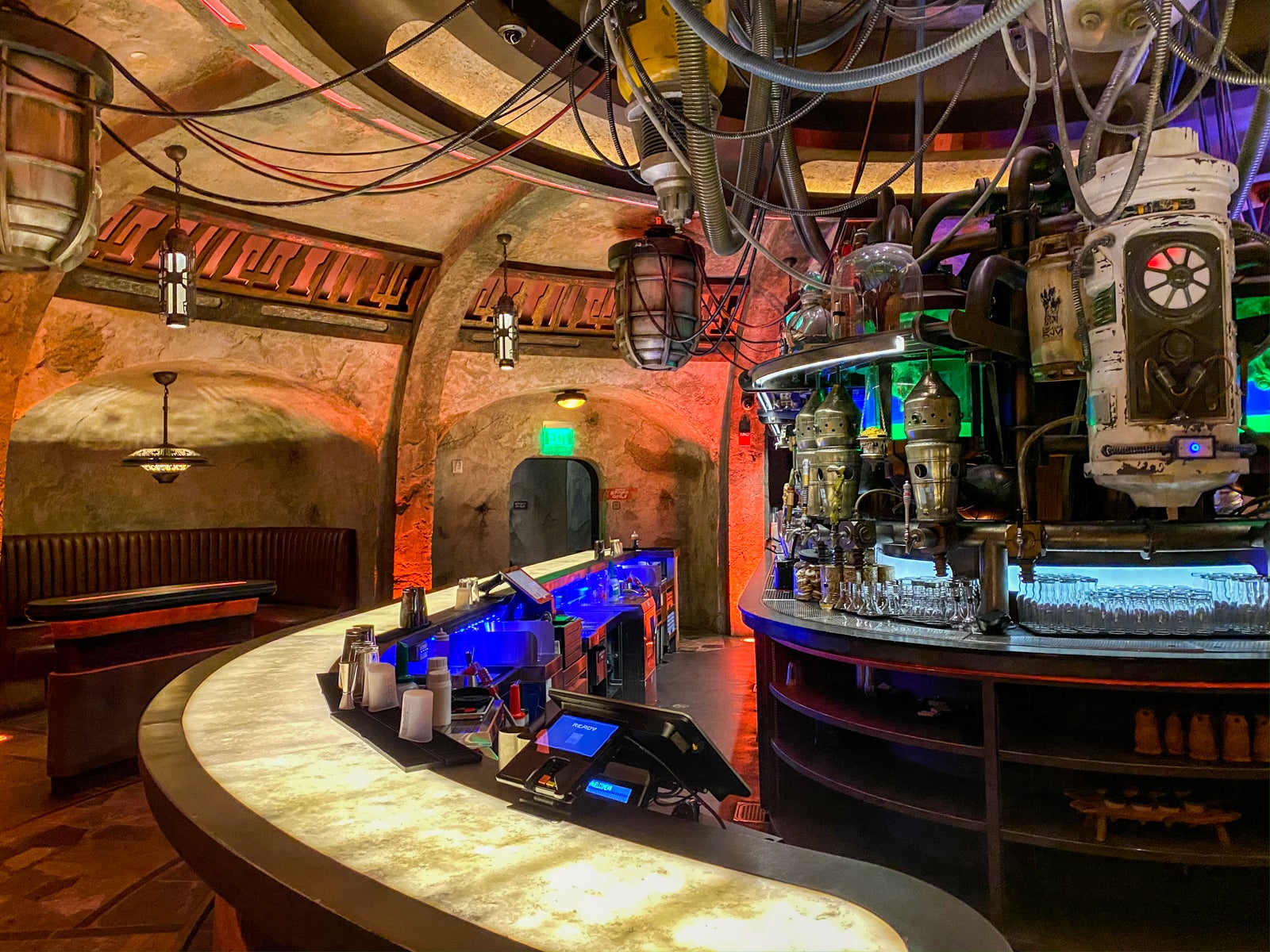 That could make it tough to classify it as a restaurant. However, the experience is so over-the-top we had to make an exception. You'll find Oga's Cantina in Batuu, the land of Star Wars: Galaxy's Edge. Make a reservation in advance, even if just for a drink.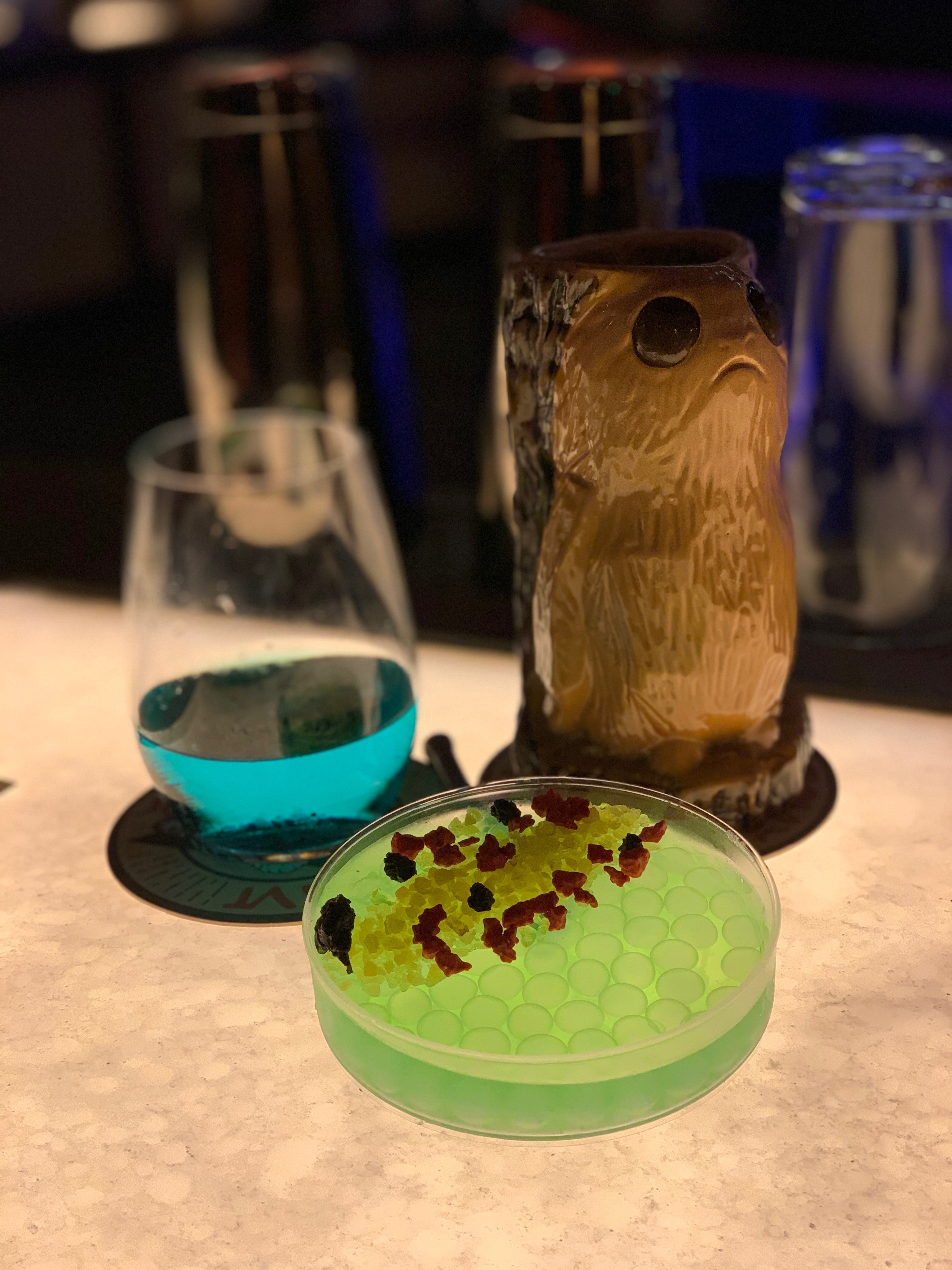 If you're hungry, you might try a Mustafarian Cinnamon Roll or some Batuu Bits with your Blue Bantha or Yub Nub. But you're not really here for the food or the pricey drinks. You're here because it's a one-of-a-kind experience in Disney World. With DJ R-3X spinning tunes and your bartenders in full costume and character, the vibe will turn even the most anti-Star Wars person into a smiling participant.
Sci-Fi Dine-In Theater
Cool and atmospheric, this restaurant is on a less-traveled walkway in Hollywood Studios.
You can dine in your own "car" while watching old movies. Better yet, let your kids have their own car so you can eat in relative peace. The menu is a la carte, ranging from hamburgers to pasta and shrimp. It's fairly easy on the budget, at about $20 an entree, and the cast members really get into their roles. The old movie clips shown aren't likely to hold your kids' attention, but it's still a cool experience to try once.
Rose and Crown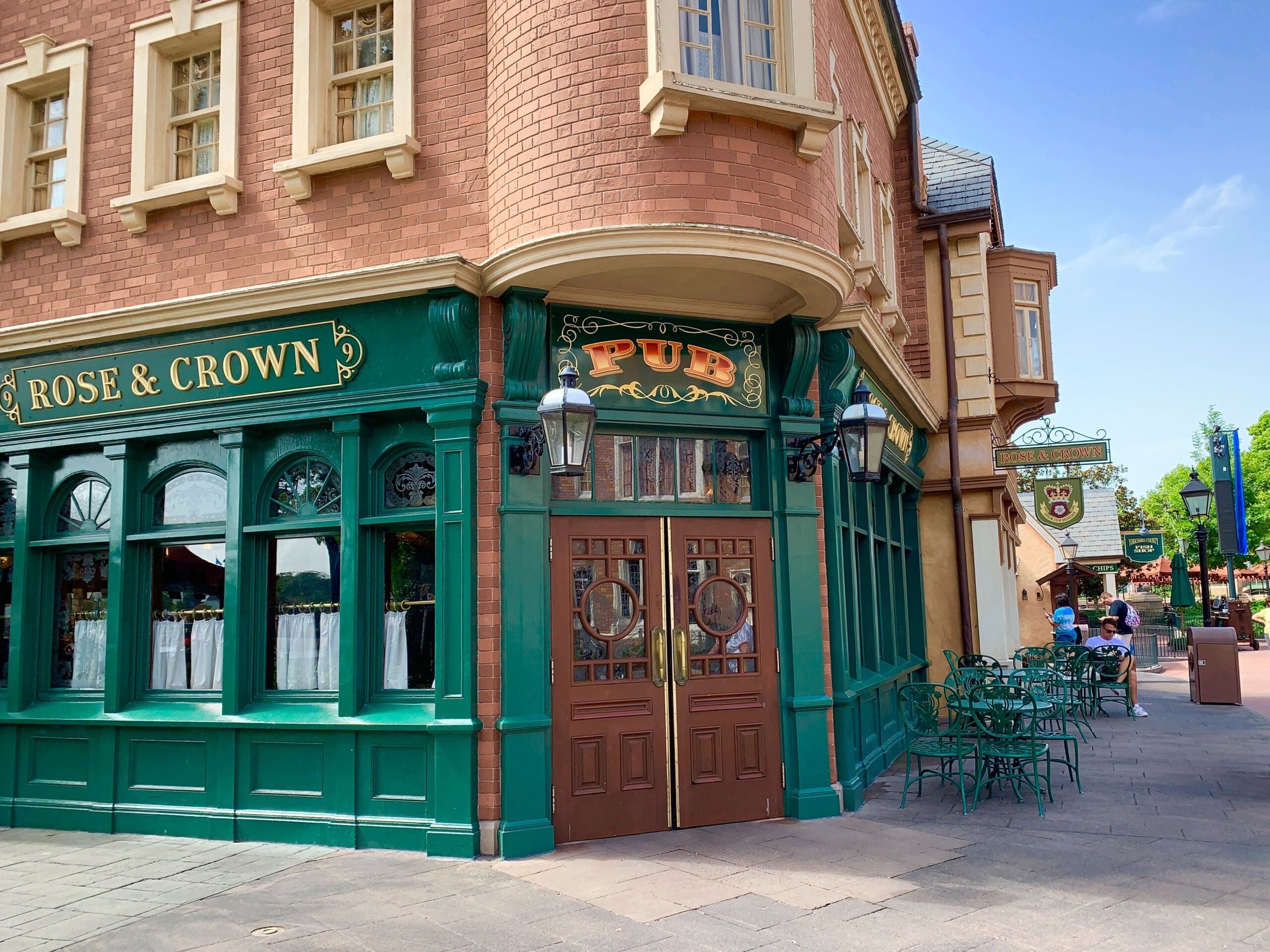 This Epcot take on U.K. fare serves an authentic plate of fish and chips or bangers and mash. If you can't or don't want to sit down, there's often a to-go counter next to Rose and Crown where you can get your fish and chips on the run.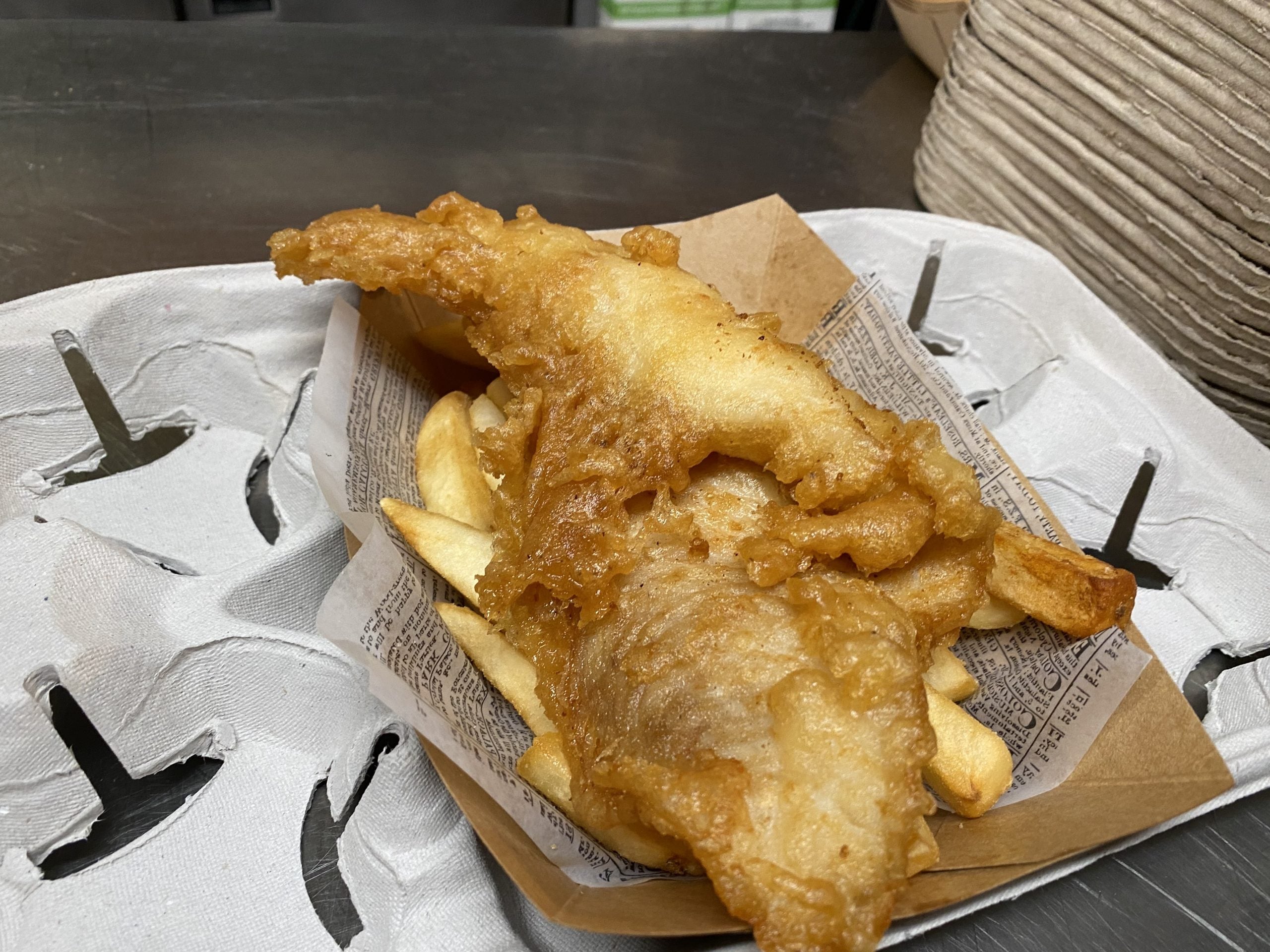 You can usually find some adorable nooks and crannies with tables around the U.K. pavilion to eat your to-go order with a side of ambience.
California Grill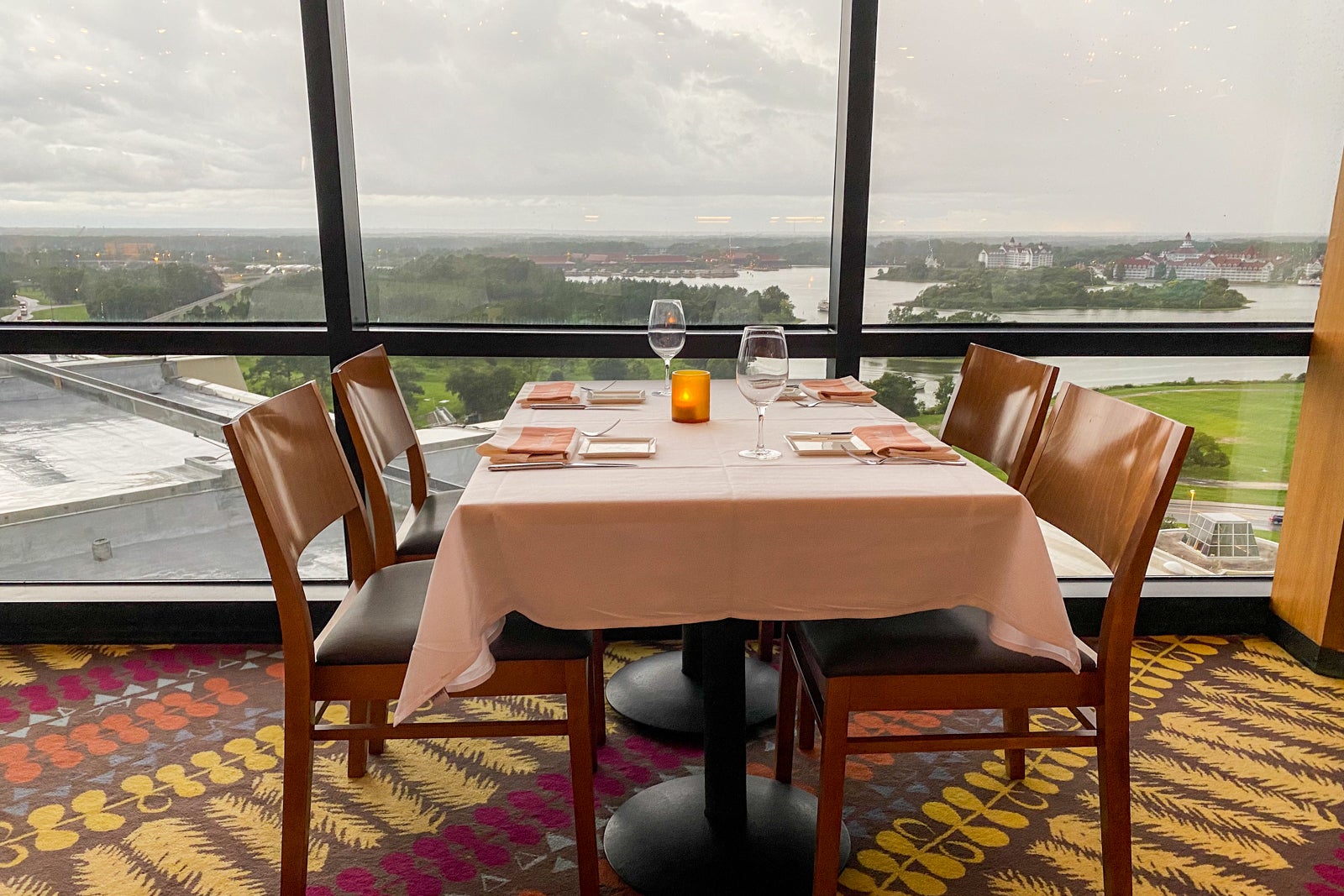 If you want an upscale Disney dinner but not quite Victoria & Albert's level of fancy (or expensive), try California Grill.
The check-in desk is on the second floor of Disney's Contemporary Resort, but the actual dining room is on the 15th floor. This elevated location gives it a five-star sunset and fireworks view of the Magic Kingdom and surrounding resorts.
There is a dress code at California Grill, but it isn't as strict as at Victoria & Albert's — jeans in good condition are permitted, though men are asked to wear collared shirts.
Here you'll find fresh foods inspired by the Pacific coast such as sushi and sashimi, goat cheese ravioli, yellowfin tuna, oak-fired Angus filet, rack of lamb, a platter of farmhouse and artisanal cheeses and a truly amazing chef's garden heirloom-tomato starter.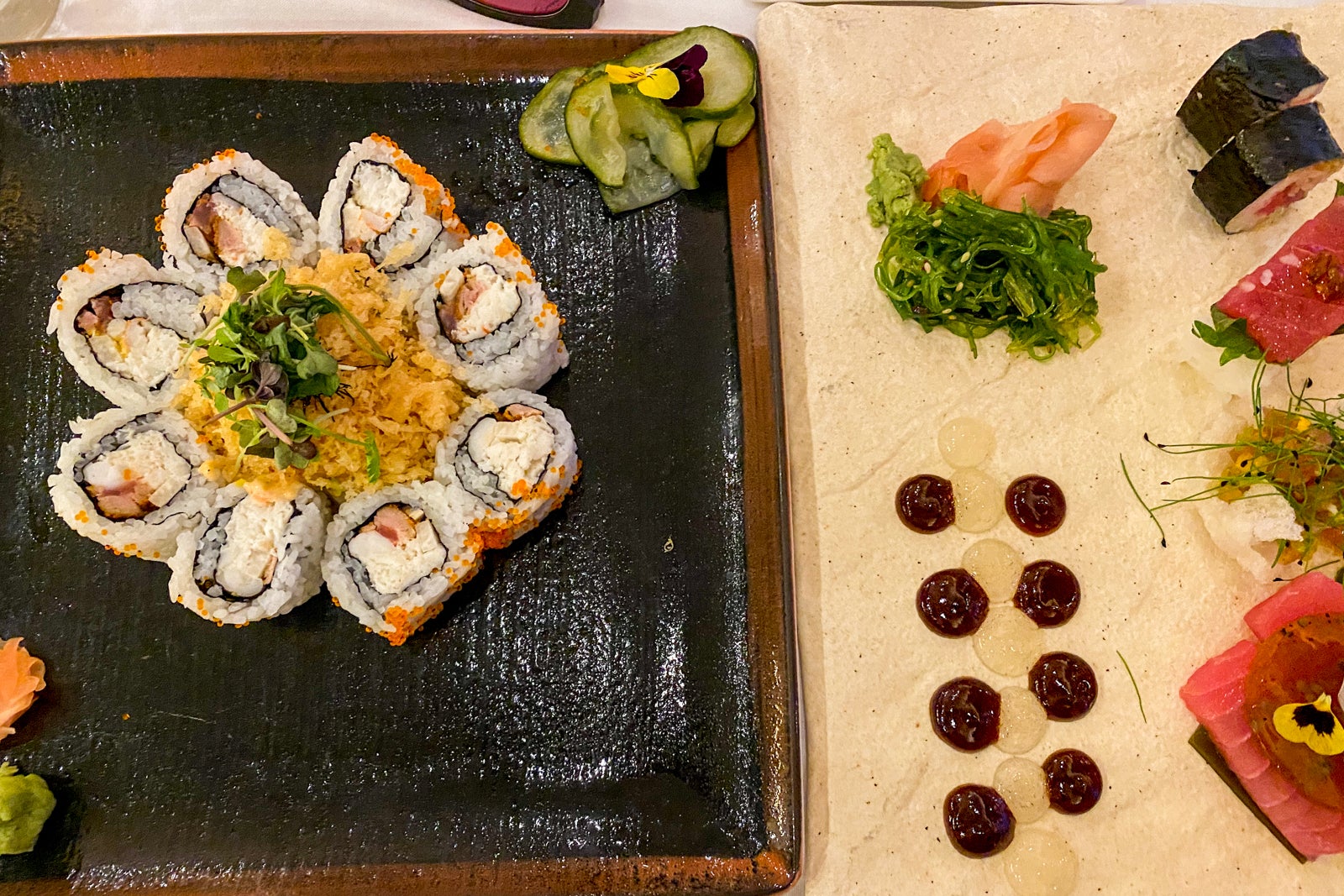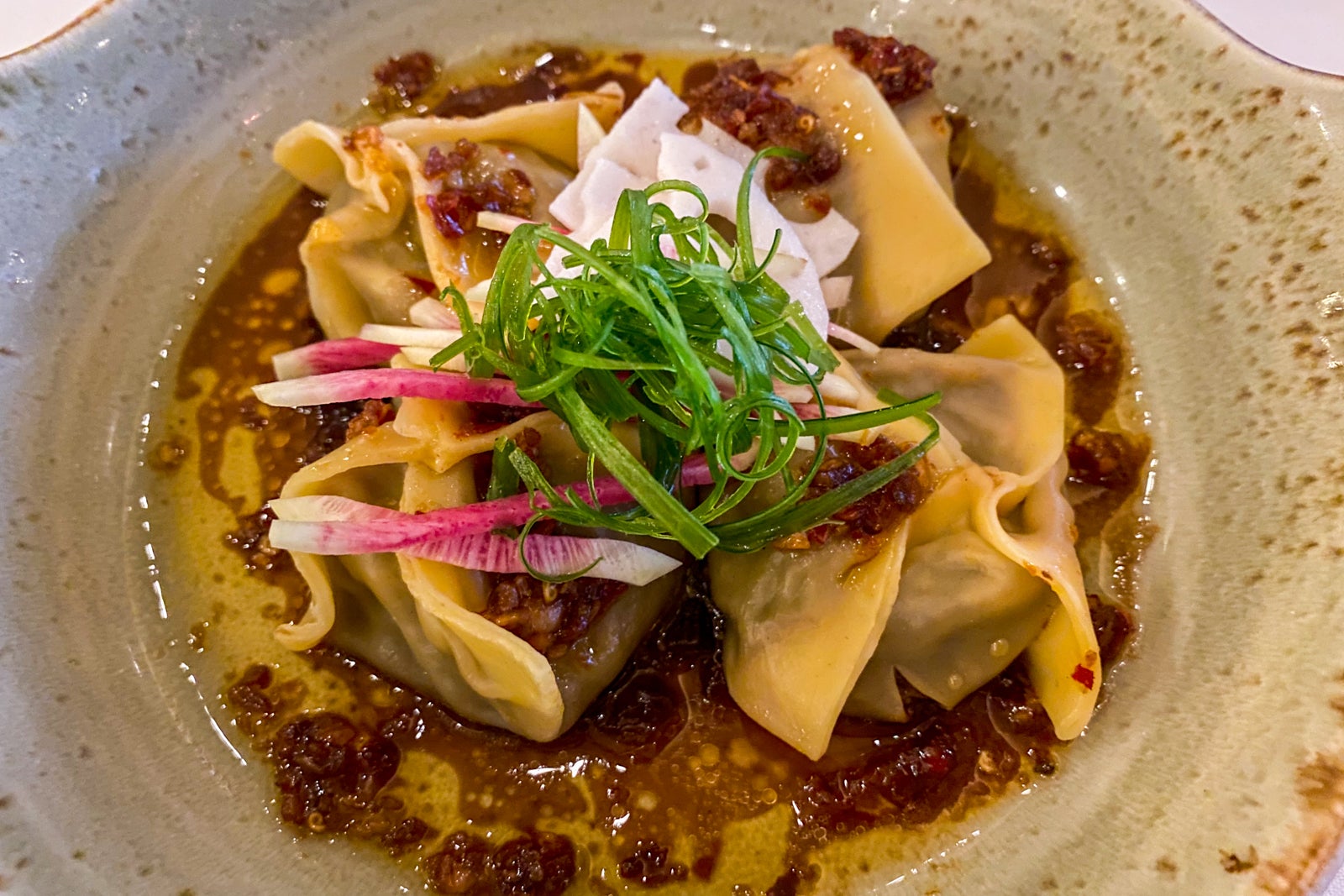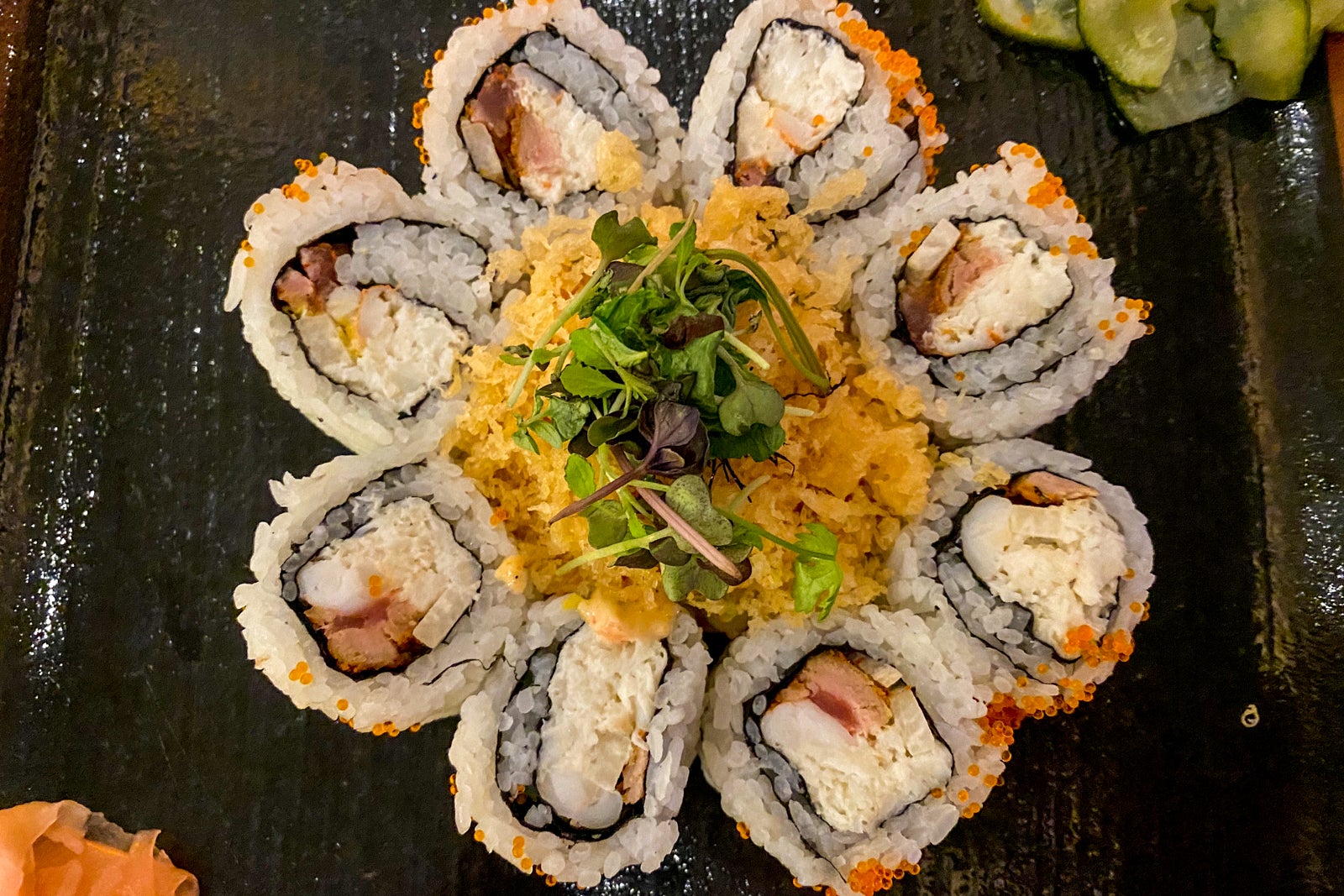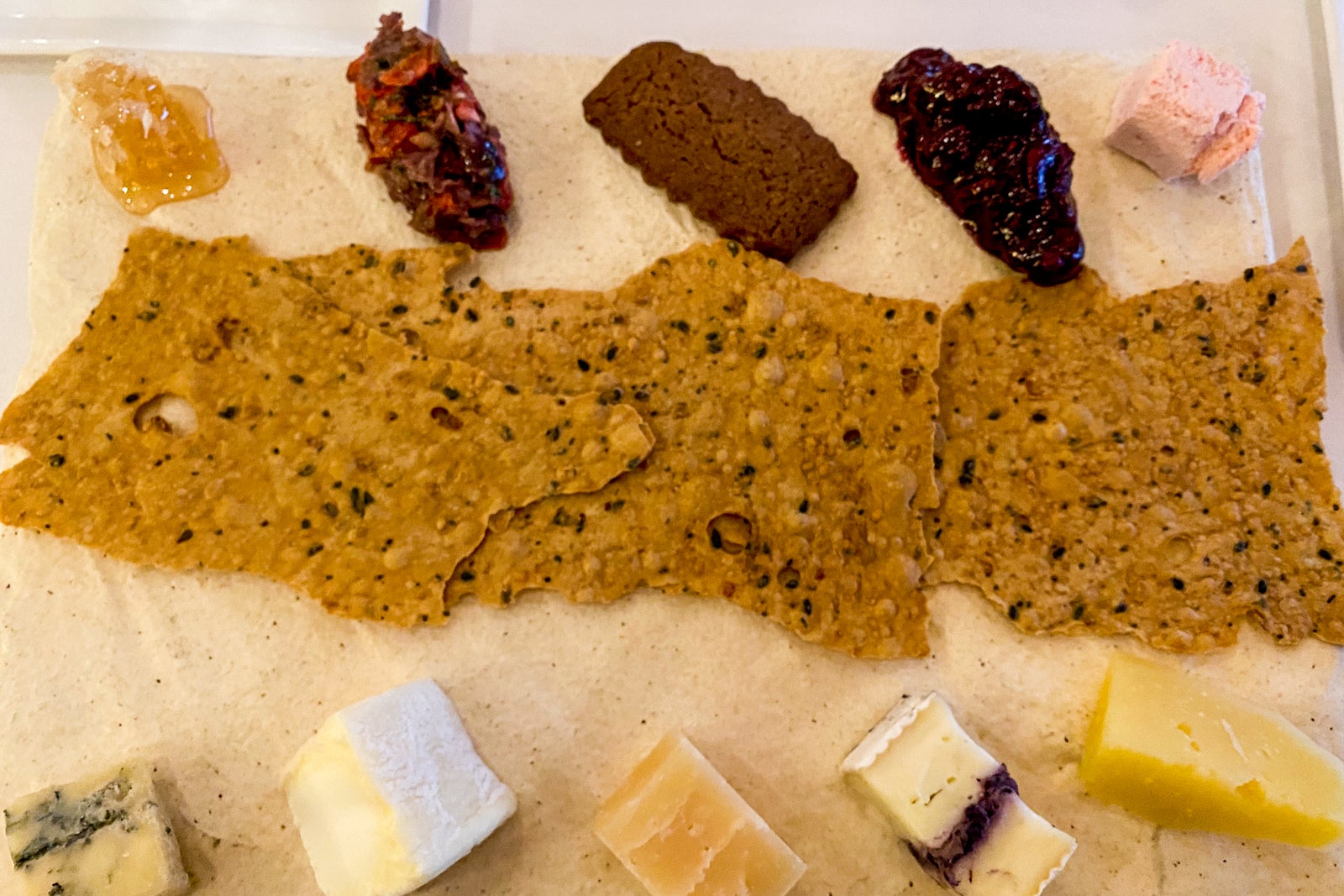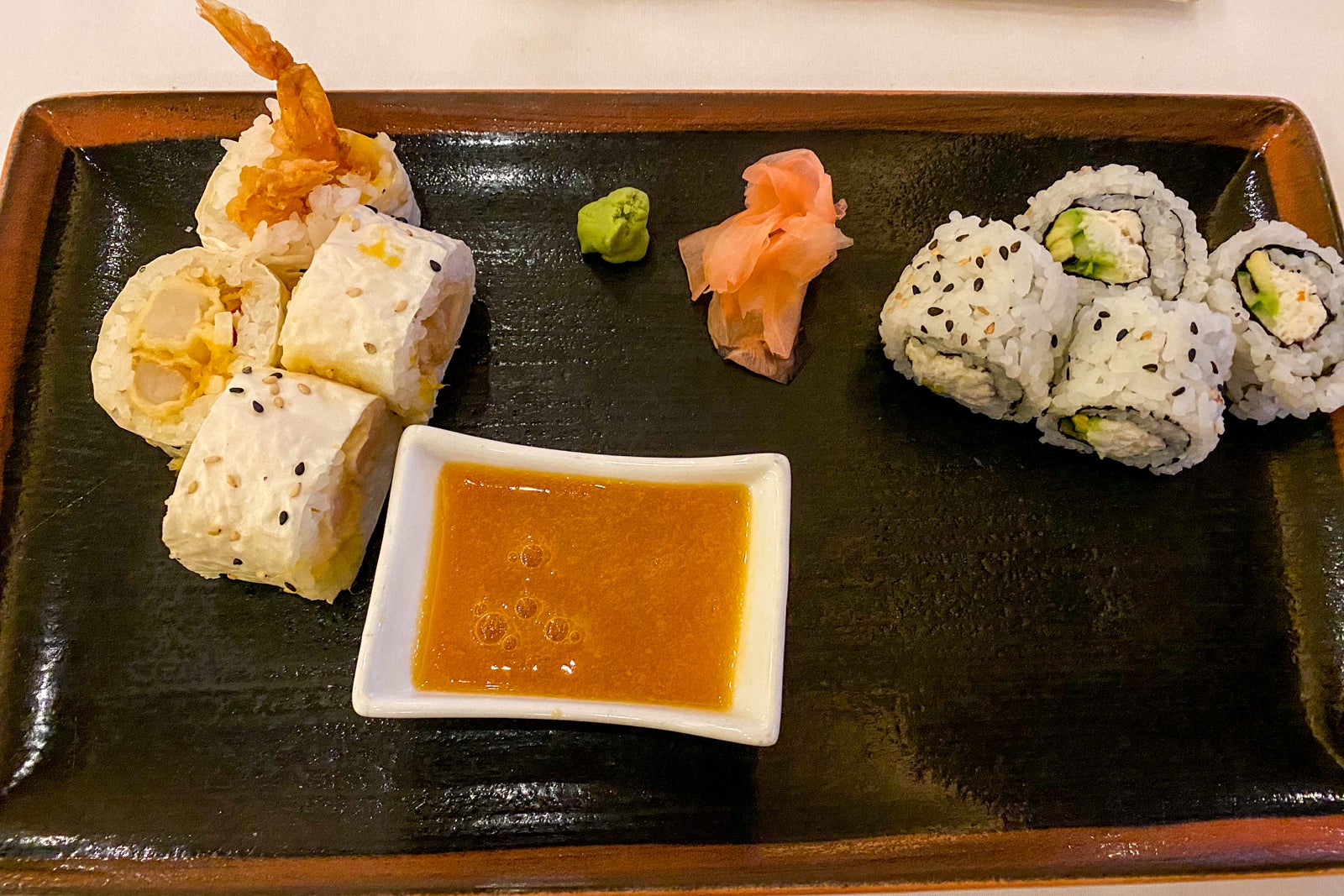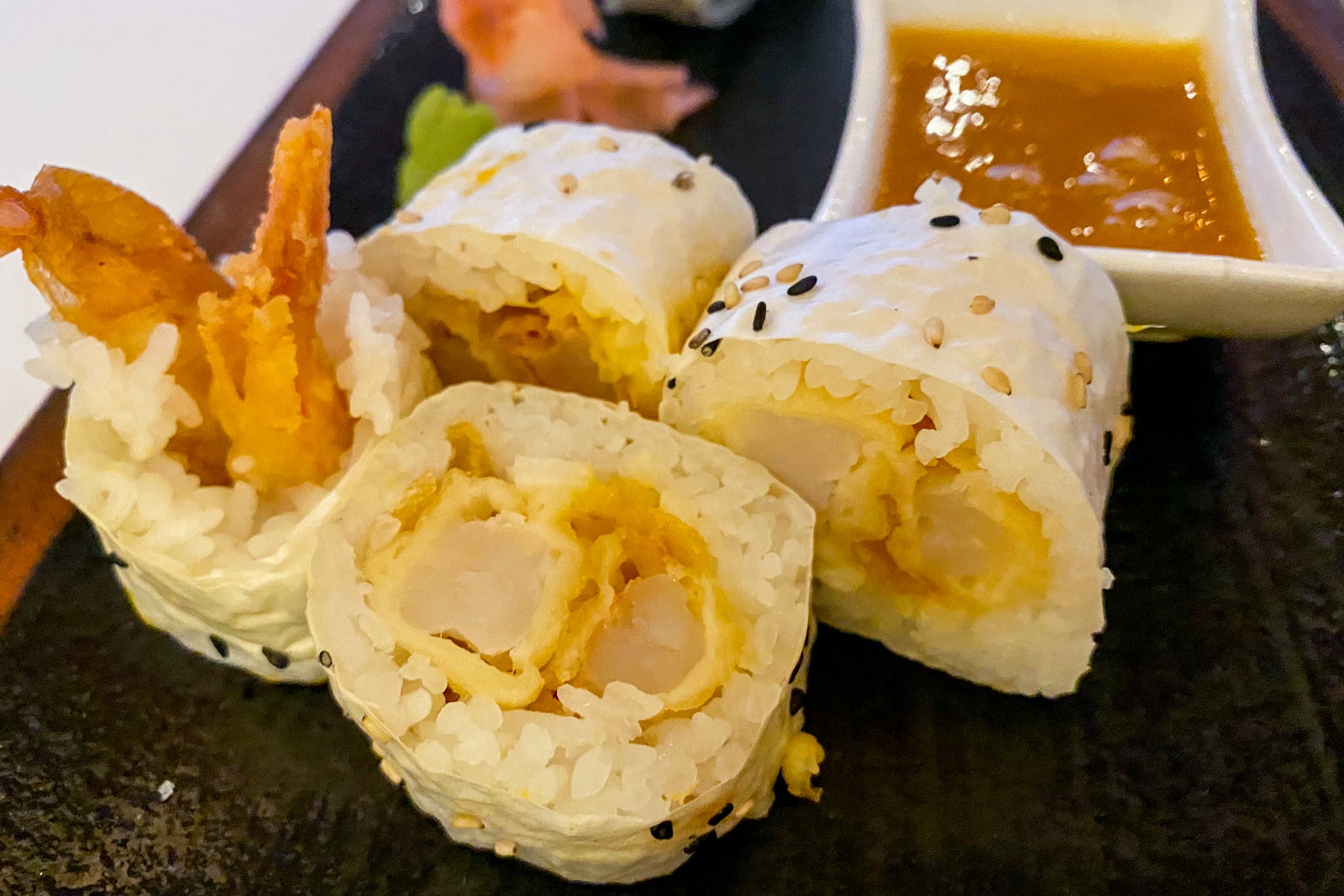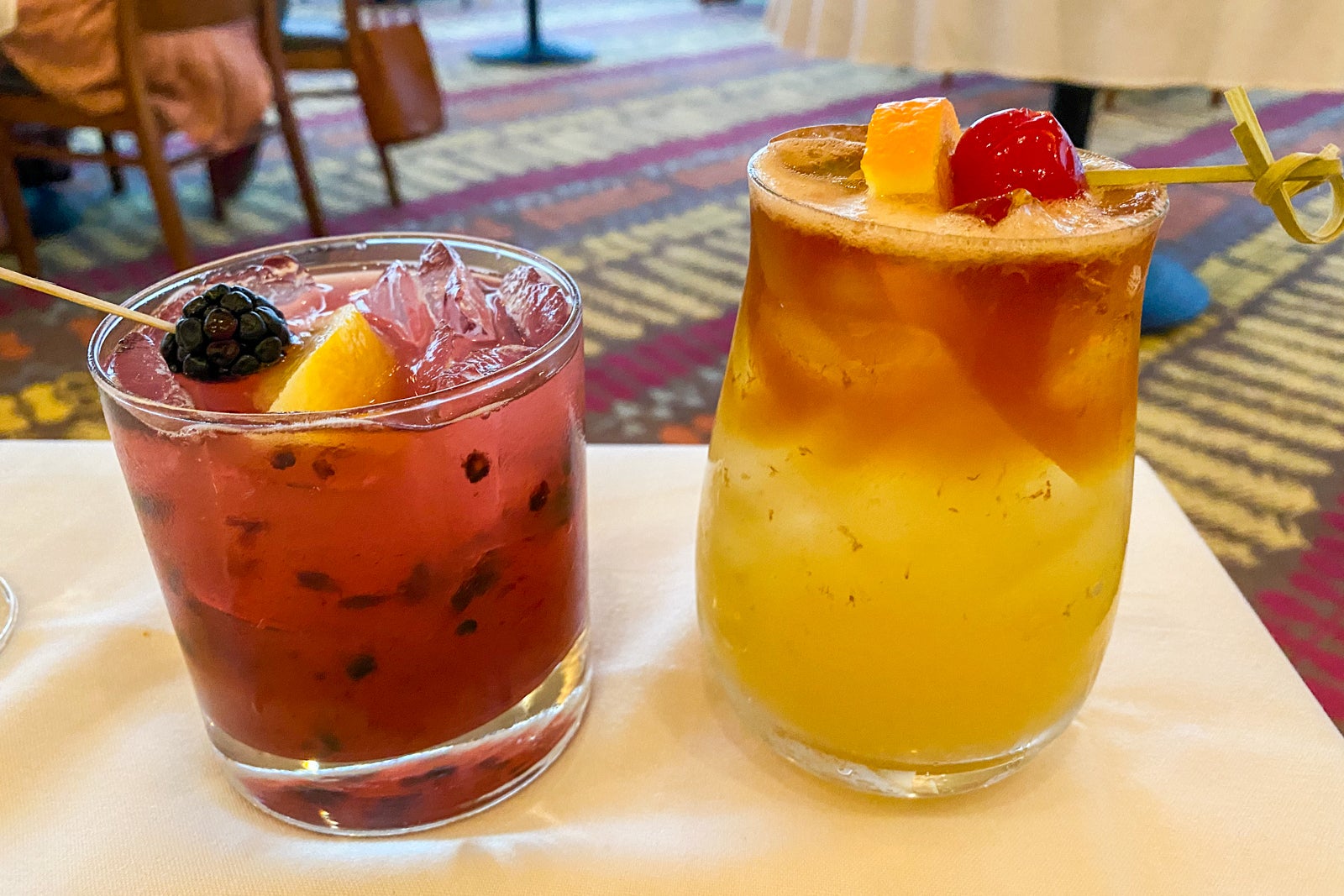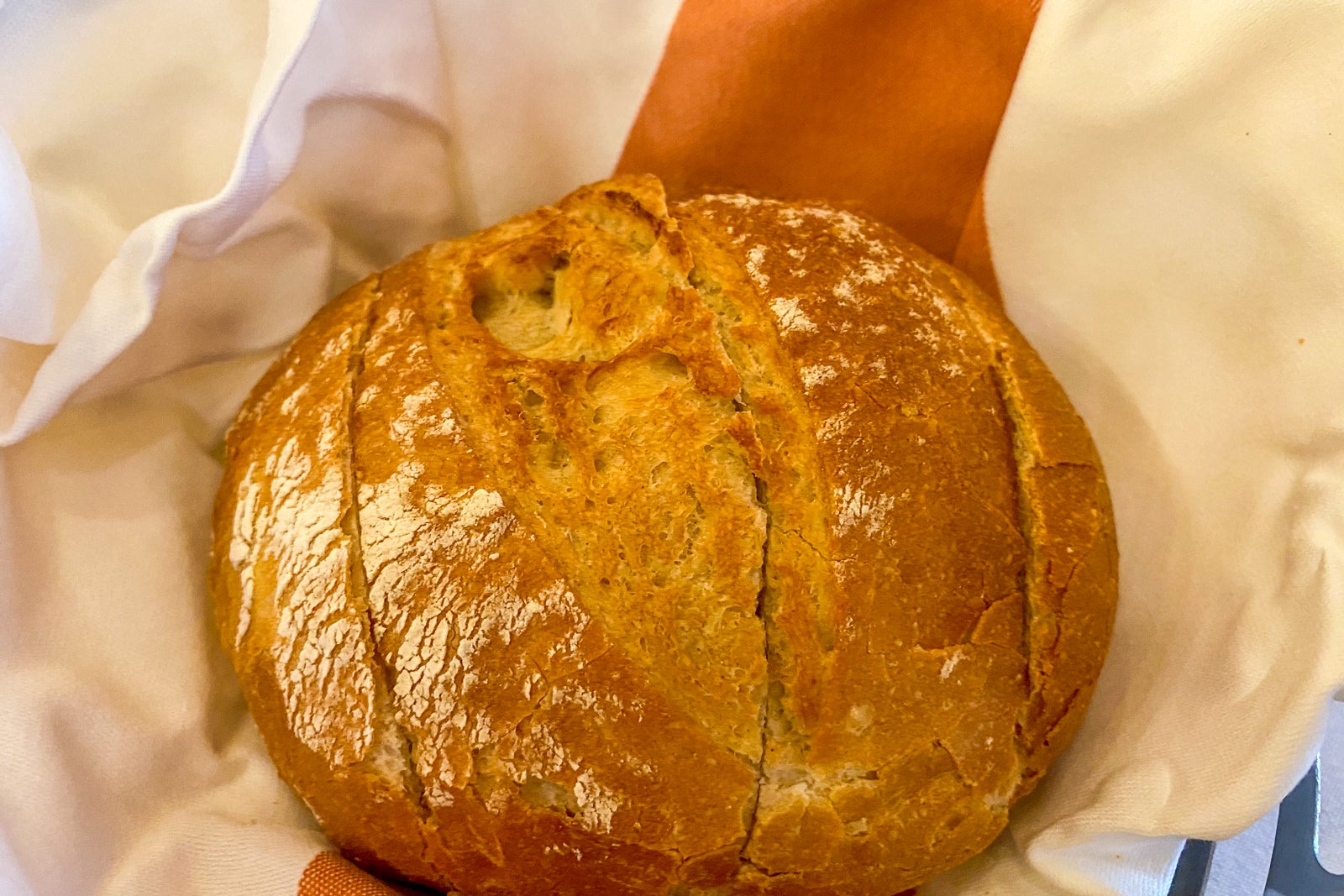 You can expect to spend about $20 on appetizers, $25 on sushi rolls and $40 – $60 on entrees.
Related: How much does it cost to go to Disney World?
Steakhouse 71
Brand new to Walt Disney World is Steakhouse 71, which is also located inside the Contemporary. This restaurant, which takes the places of The Wave, ties its menu and stories back to the roots of Walt Disney and the opening of Disney World in 1971.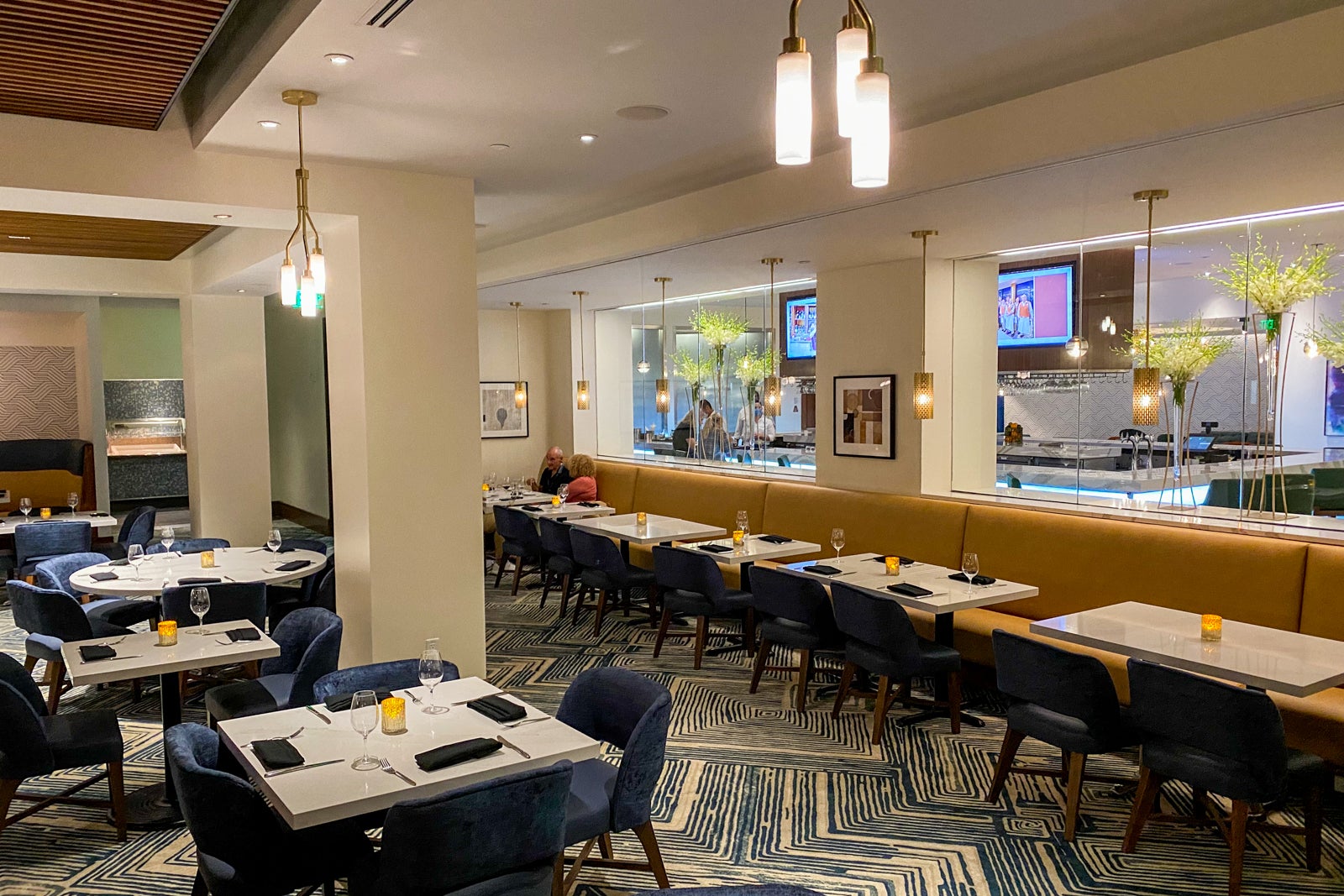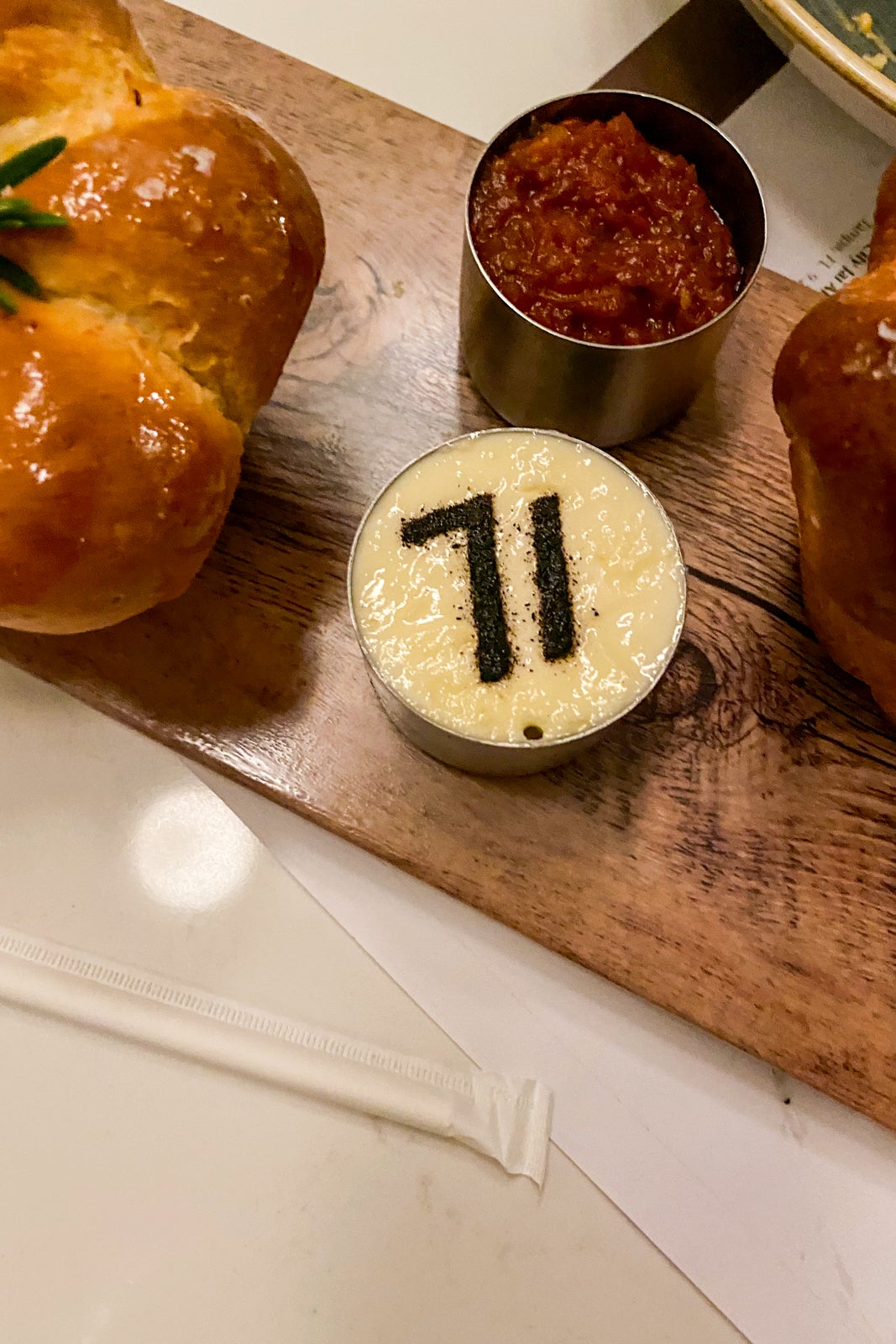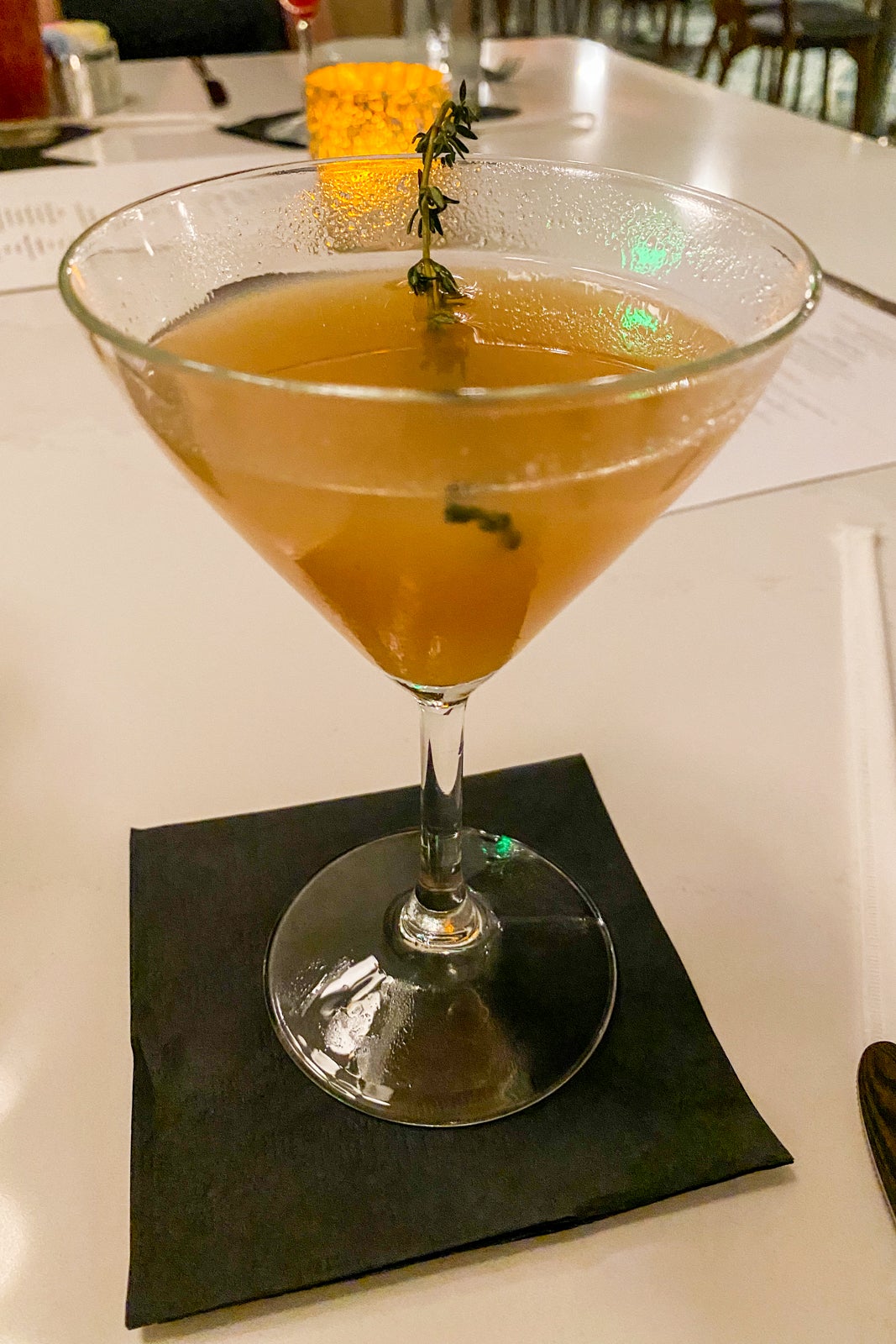 Menu standouts here are the Sea Salt-dusted Potato Brioche ($12), Steakhouse 71 Stack Burger with fun touches such as lemon aioli and a brioche bun ($20), the Vegetable "Wellington" ($26), Steakhouse 71 Chocolate Cake ($11) that has 16 layers (to match the 16 floors of the Contemporary) and even the surpisingly delicious Ambrosia ($8).
'Ohana
Located outside the parks, 'Ohana at Disney's Polynesian Village Resort offers family-style dining in a Hawaiian-themed restaurant. Polynesian Village is undergoing renovations and 'Ohana just recently reopened after a lengthy closure.
While the restaurant was historically a fan favorite, the reviews since it reopened have been more mixed. For one, the breakfast is currently sans characters, which does make it cheaper than normal at $25 per adult and $14 per kid. (That's down from $40 per adult and $25 for kids when Lilo and Stitch made appearances.)
The all-you-care-to-enjoy breakfast platter is comprised of pineapple-coconut breakfast bread, scrambled eggs, sausage links, Hawaiian-style ham, fried island-style potatoes, Mickey-shaped waffles and biscuits. For an extra $9, you can get real Kona coffee for two in a French press pot.
For dinner, your $55 per adult and $33 per child gets you all-you-care-to-enjoy grilled teriyaki beef, spicy peel-and-eat shrimp, grilled chicken, 'Ohana Noodles, roasted broccolini, 'Ohana bread, pork dumplings and 'Ohana bread pudding. We haven't tried it since its reopening, but hope to soon.
Our least favorite Disney meals
Even with all the magical pixie dust at Disney World, there are misfires. Granted, most of these haven't reopened or haven't reopened in this form, but it's still good to know what might not be a good fit for you when it does come back.
Akershus Royal Banquet Hall
Character dining is a big part of the Disney experience and you might think you can save a few dollars by dining with the princesses at Akershus Royal Banquet Hall in Epcot rather than Cinderella's Royal Table, but it's a poor substitute (unless you just need a bite near the "Frozen" ride in Norway).
Although your favorite princesses will join you for breakfast, lunch and dinner, the food just isn't on par with the other Disney eateries. That said, it's an easier reservation to snag than Cinderella's Royal Table, so keep it in your back pocket if you need a "last-minute" princess meal.
Teppan Edo
This spot in the Japanese Pavilion at Epcot is another letdown, especially compared to the spectacular Takumi-Tei. The food here is decent, but there's not a lot of performance factor at this teppanyaki place. Frankly, we've seen better performances at a more reasonable price point in teppanyaki restaurants in strip malls closer to home. At Disney prices, there are definitely better values for your hard-earned dollars, with themes you can't easily recreate elsewhere.
Pecos Bill's Tall Tale Inn & Cafe
With a few exceptions, it's hard to find great food in Magic Kingdom, but you should avoid the worst of the worst, which has recently been Pecos Bill's quick service. The menu looks somewhat interesting, with a mix of rice bowls, nachos, fajitas and burgers, but in the end, the service can be curt, the food a bit disappointing and recently, even our mini churros were hard and almost inedible.
Cosmic Ray's Starlight Cafe
Another Magic Kingdom misfire is Cosmic Ray's. The menu is very limited to theme park staples such as chicken fingers, burgers and fries, which would be OK in theory if that's what you were after. In practice, Cosmic Rays can get very crowded and run way behind with orders. And at the end of the day you still end up with … theme park burgers and fries.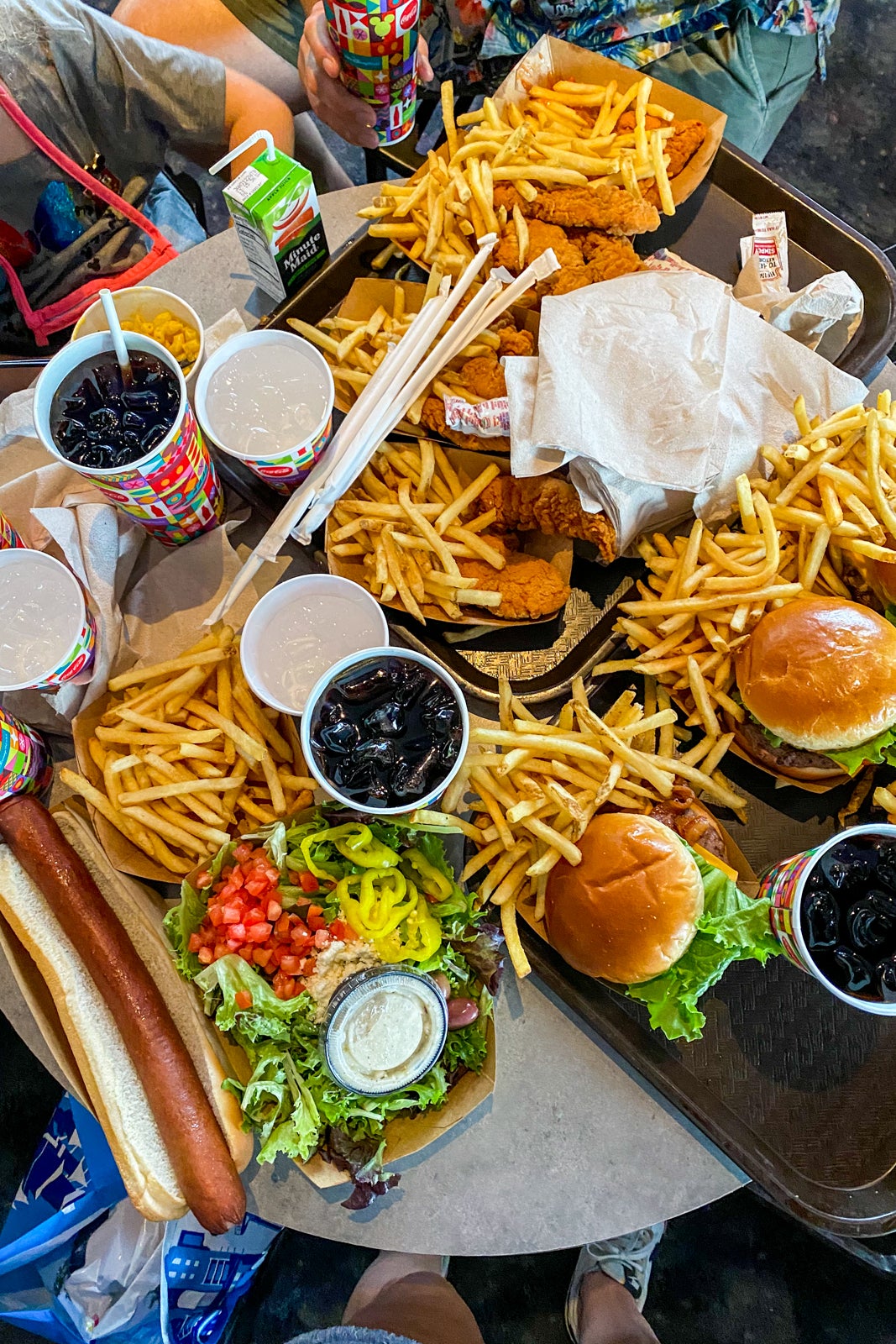 Be Our Guest
Surprised this perennial favorite made this list? Consider it a victim of its own success. We're not saying it's a bad place to eat — watching the rose petals fall when the lightning crashes is a nice effect — but the crowds at lunchtime before it became sit-down service during the pandemic could be brutal.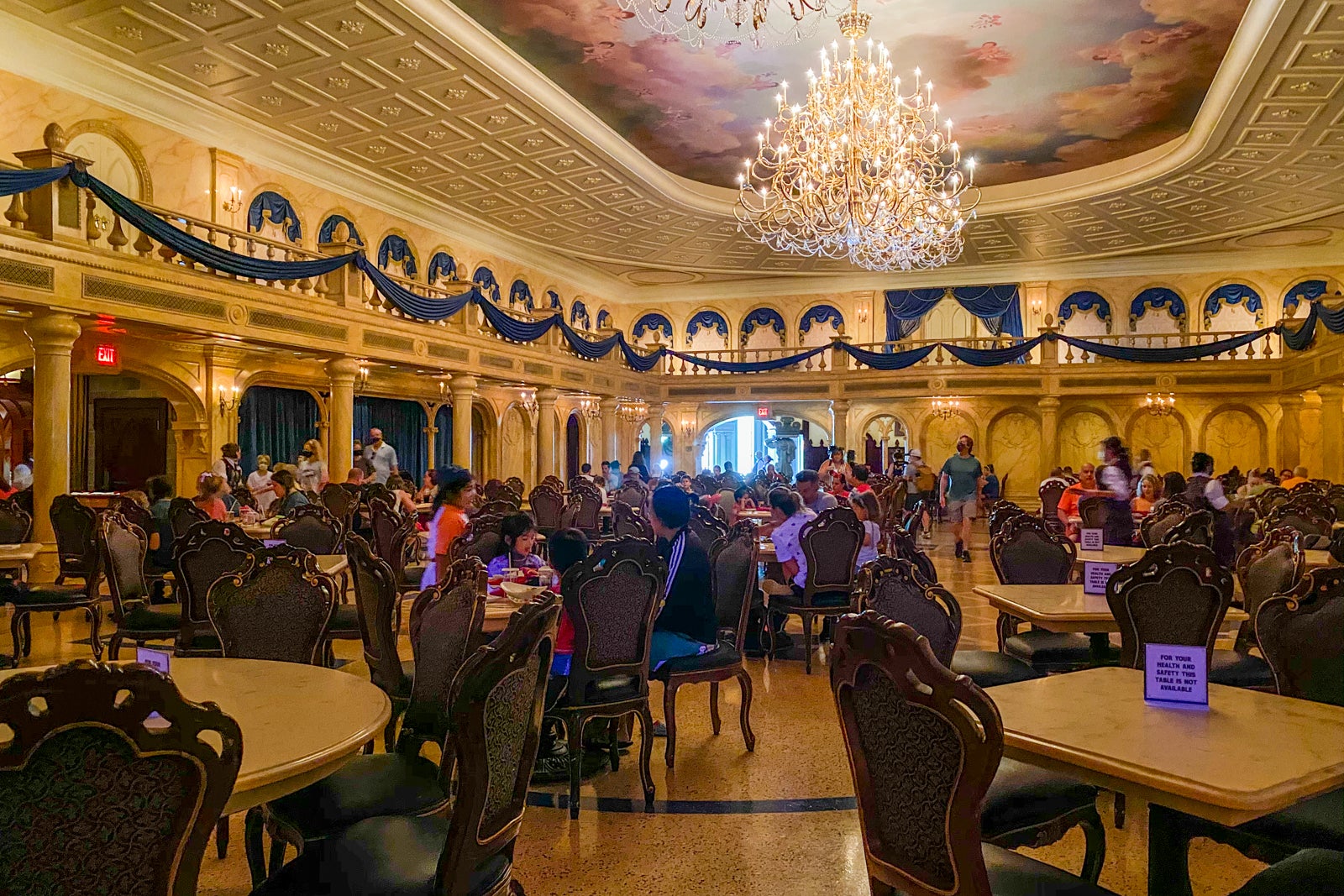 Right now, Be Our Guest is a fine choice if you're okay with the high price tag. If it goes back to a la carte dining for lunch, think twice if you want to avoid crowds. Regardless of when you eat, ask for the Beast's dining room, as it's by far the coolest of the three dining areas.
To give you a better idea of what we mean by lunchtime crowds, compare the stock image for Be Our Guest with a photograph of what it actually looked like at lunch before the coronavirus pandemic: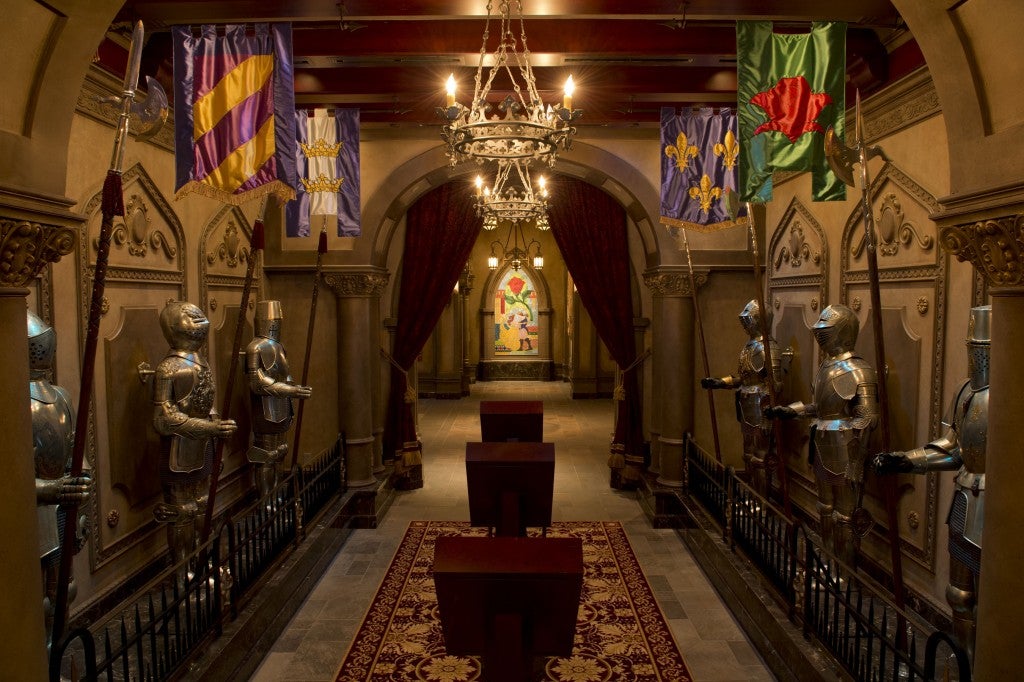 For now, we fully support a fancy sit-down meal at Be Our Guest as both lunch and dinner offer set menus, if your wallet is ready for the hit. Just know a lunch for two adults and two children will likely cost about $250 when you factor in tax and tip.
Related: What to expect at a Disney hotel right now 
Our final tip
If you want to enjoy a Disney World sit-down meal (and we recommend it), be sure and make your reservation well in advance. You can cancel or modify if you change your mind, but it's good to have the option of being waited on in the air conditioning. Services like Mouse Dining can help you keep an eye on availability if you don't want to refresh hundreds of times per day looking for a spot at one of your favorites. Booking your Disney trip via an agent that specializes in Disney, such as our partners at Mouse Counselors, is another great way to get some professional help with snagging those hard-to-get reservations.
If you are ordering from a counter-service restaurant, you'll need to have the My Disney Experience app downloaded, as you can't even enter quick-service restaurants right now until you've placed your food order in the app and have been notified that it is ready.
To rack up extra points, you can charge Disney meals to your room (using the app or your Magic Bands) and then earn a bonus on all your in-park meals by paying at resort checkout with a card that gives you a bonus on travel. Paying with Disney gift cards you purchased at a discount is another great way to save a bit while dining at some of Disney World's best restaurants.
If you pay for your Disney meal on the spot with a credit card, use one that gives you the best payout on dining.
Most Disney World restaurants do code as dining charges, even within the parks. This means you can earn 4 points per dollar awarded on dining with the American Express® Gold Card, 3 points per dollar on the Chase Sapphire Preferred Card or use one of the other best credit cards for dining.
Featured photo by Summer Hull/The Points Guy.
---
Want to read more about Disney parks around the world? Check out our other Disney guides …