Happy weekend, y'all! Have you enjoyed the short week? I could not keep track of what day it was to save my life this week!

Did you have that problem too? It's been a challenge to keep days straight during these stay-at-home months, and this short week just complicated matters for me!
Where We're Headed
It's been a busy week of posting, prepping, and packing for this girl! (And making copious lists for the house sitter, of course!) As you read this, Bob and I are on our way to our beach condo in Sanibel Island, Florida! It's our favorite place in the world! I'm going to try to slow down on blog posts a little bit while we're there, but rest assured, I'll be all over Instagram and Instastories with cute outfits, a behind-the-scenes peek at our condo, and all the beach footage you could ever want! (To check out the view from our condo, click HERE.)
Speaking of Instagram, if you've never signed up, this would be a good time to do it! Feeling a little intimidated? Never fear, I wrote a blog post that will walk you right through it! You can read it HERE. (I recommend reading it on a tablet, laptop, or desktop so you can go through all of the signup steps on your phone while you read.

) If you pretty much "get" Instagram, but you're confused about Instastories, I wrote a post about that too! You can read that one HERE.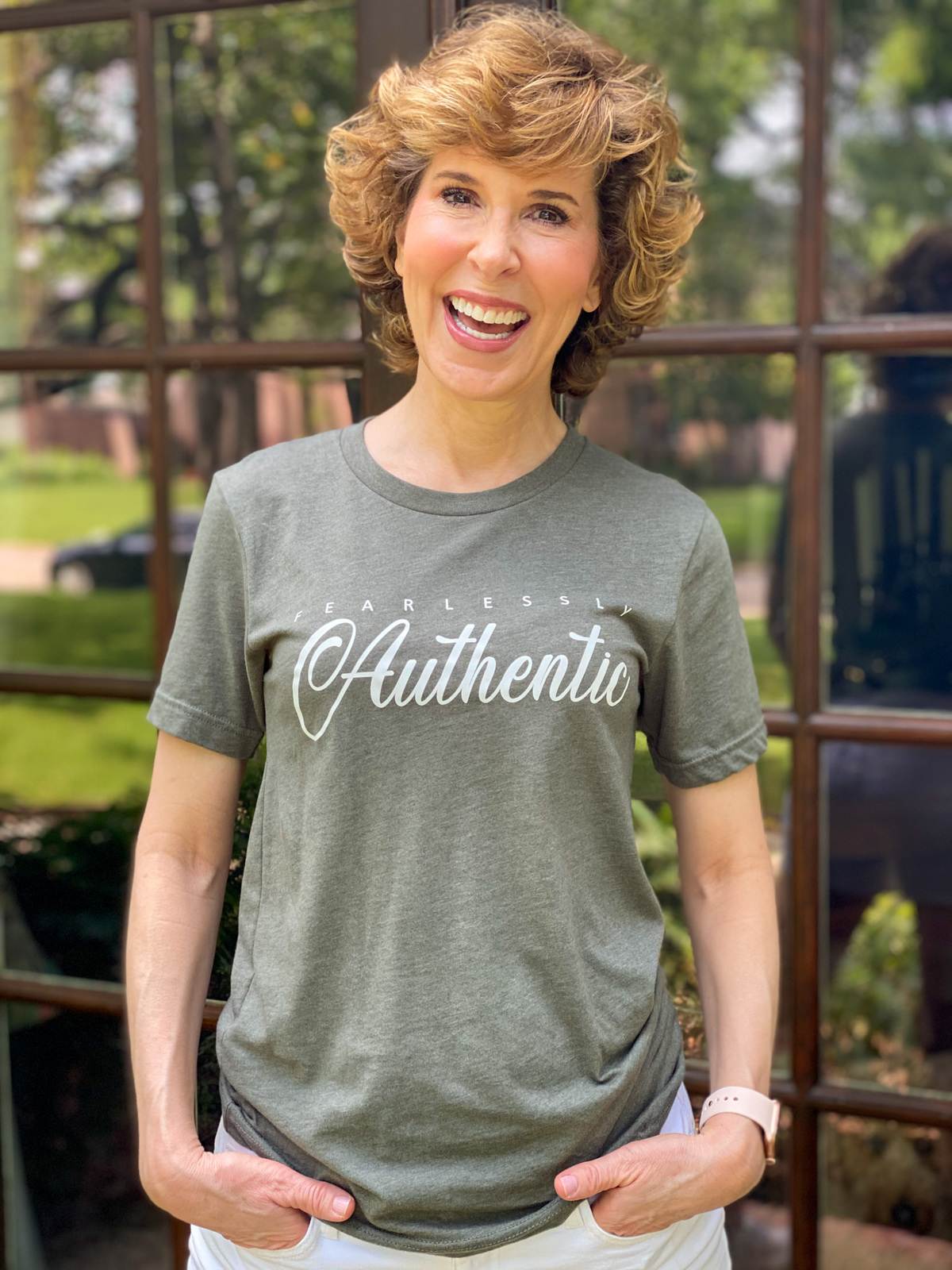 More Tech Posts Coming!
The funniest thing happened the other day, y'all! I got an email from an Empty Nest Blessed follower thanking me for all of my tech-related posts (like the ones I referenced above). She said, "Those posts are the reason I follow you!"

Ohhhh, dear! No pressure! I'm not a tech expert, by any means, but I won't roll my eyes at your questions the way your kids will!


Truthfully, though, it reminded me that I hadn't done a tech post in a pretty long time!
I get lots of tech questions in DMs and emails, and I'm going to answer them in a post next week (anonymously, of course). So please send me yours! You can leave them in the comments below, or email me at suzy@emptynestblessed.com.
Other Upcoming Posts
I have another post coming up next week that I am more excited about than I have been about any post so far this year! We're talking a potential game-changer for many of us! Seriously, y'all. I honestly believe that the Lord gave me the idea for this post. I pray about what I post more than you can probably imagine. Although it may seem like the Lord doesn't care too much about posts like The Cutest Summer Handbags You Ever Did See

, I believe He guides me as I plan my posts.
I digress! As I was saying, I believe the Lord gave me the idea for this upcoming post. I don't want to give too much away, but it falls under the "parenting adult children" category. So much so that I couldn't even ask my own children to weigh in on the subject matter, for fear they wouldn't feel they could be completely honest! So I took it to my much-adored 23-year-old assistant, Natalie. She loved the idea, and we decided that she should take the lead in writing it. But we've both been working on it, texting and emailing lots of 20-somethings we know to ask them to give us quotes and thoughts. It is powerful, y'all. And it's coming next week.
If you're not on my email list, please consider signing up! I don't want you to miss a thing! I usually send out three newsletters a week, with info on my newest post, popular older posts you may have missed, and even a few of my favorite new discoveries on the web. I'd love to have you!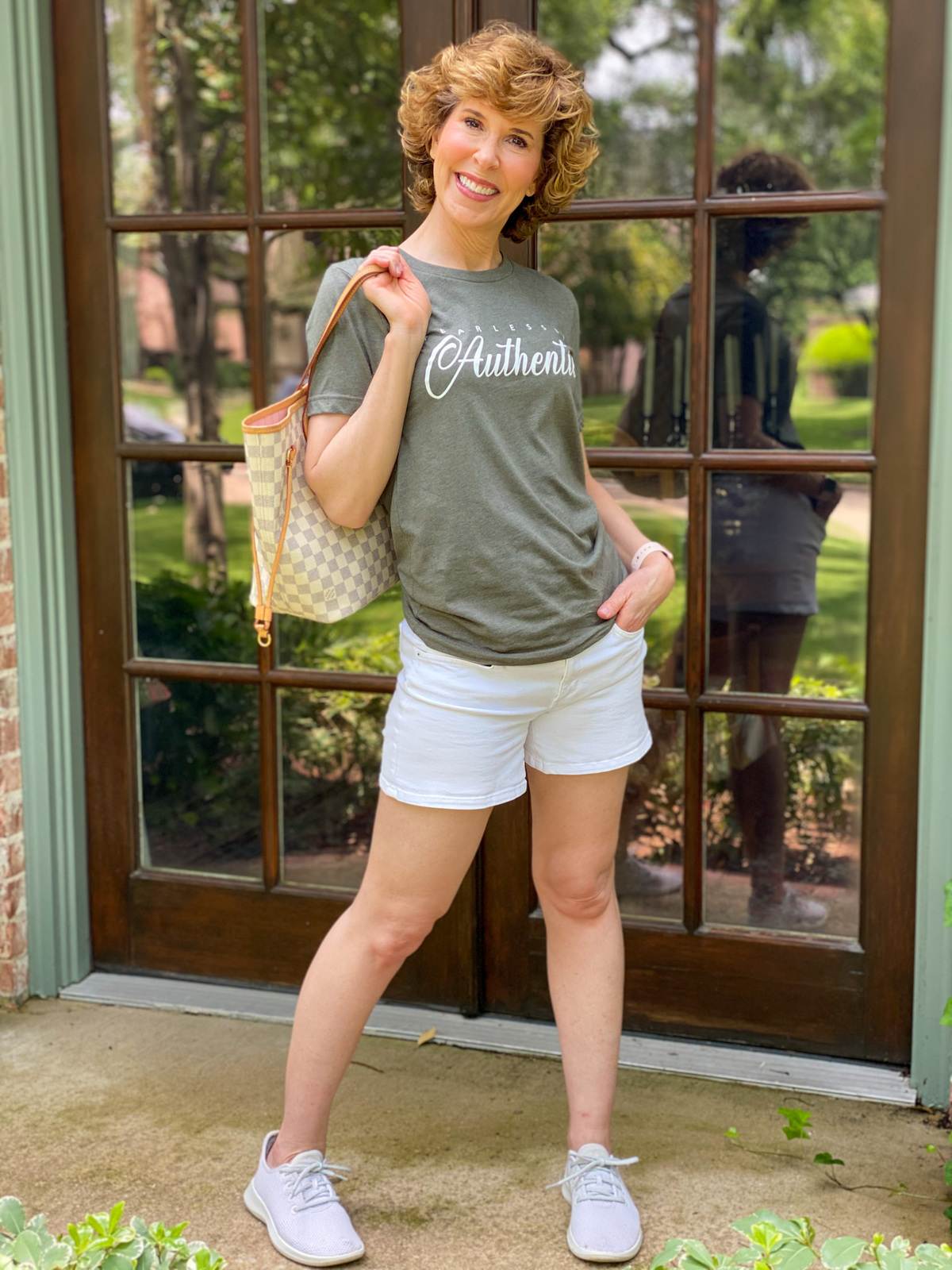 "Fearlessly Authentic" Tee | White Denim Shorts (similar) | White Tennies | Lipstick | Forgot Earrings!!!


It's no secret that I love a graphic tee! A good one does the talking for you! My favorite source? Etsy! When I spotted this one, it just spoke to me! Fearlessly Authentic describes what I try to be as I live my life before you all, letting you into some of my most private and personal areas. (Like my weight, diet, size, and body image or like my, er, complicated, relationship with the sun and sun protection.)
I want to take this opportunity to thank you for your support and flexibility as I've navigated this challenging season we've been living through together. In a livelihood maintained in large part by online sale commissions, I've grappled with how to carry on in the midst of everything. While I certainly don't think I've gotten it right 100% of the time, I hope I've walked the delicate line of creating uplifting and appropriate content while adding some encouragement and even a few pretty things to your days!
If you like graphic tees as much as I do (They make great gifts!

), you might be interested in some of the Etsy Shops where I source mine!
Ella's Mother: I have to tell you a secret that will see you through all the trials that life can offer. Have courage and be kind. When there is kindness, there is goodness.

Disney's Cinderella, 2015

The Best Weekend Sales
I think the best sales this weekend are at Soma, Land's End, and Gap. See below for all the details and promo codes!
ANTHROPOLOGIE | Extra 25% off sale clothing, shoes, accessories.
BANANA REPUBLIC | 40% off everything + extra 50% off sale styles. This classy tie dye short sleeve sweater and these fun tie dye socks were featured in my How to Wear Tie Dye When You're Over 50 post this week!
BODEN | 15% off + free shipping/returns. I found this beautiful embroidered dress while I was browsing the Boden site this week. I've been thinking about it ever since! I may have to make it mine this weekend!
CABANA LIFE | 20% off all UPF 50+ swim & rashguards with code SUMMERSWIM. Did you catch all of the cute Cabana Life swimwear in my recent swimwear post? This fun striped one was a best-seller! Y'all loved it, and I do too!
Navy Geo Sleeveless Shift Dress | Navy Stripe Sleeveless Terry Tunic

GAP | Up to 60% off everything + an extra 20% off with code DEAL + an extra 50% off sale with code MORESALE.
KATE SPADE |$50 off $200+ (that's 25%) and $100 off $$300 shoes with code NEWSHOES. Also, there are so many great bags marked down in the sale section! I've been on the hunt for the perfect white crossbody, and I bought this one for a great price!

LAND'S END |Take 50% off your entire order with code GEMS. Did you catch my recent swimwear post featuring the adorable Draper James + Land's End swimwear collection?
MARLEY LILLY | I just placed an order for a few things from this brand. They'll be fun to photograph at the beach! Here's what I ordered:

NORDSTROM | Still need graduation gifts? Their Graduation Gift Guide is epic.
SOMA |Semi-Annual Sale! (It's their biggest one ever!) Up to 70% off sale styles + 6 for $38 panties (that's 50% off!).
Okay, call me late to the game, but I just realized that Soma carries clothes as well as all of the awesome Cool Nights sleepwear and intimates they're known for! So what did I do? Why, I placed an order, of course! There was soooo much goodness; it was hard to narrow it down! Here's what I'm getting:

TALBOTS | 40% off regular-priced styles & 50% off sale styles. (This is a good sale!)
TARGET | Is it just me, or has Target really stepped up their game lately?
WAYFAIR | Up to 70% off outdoor sale! I'm still shopping for my beachy vibe patio and have loved the beautiful things I've found here! I'll do a full reveal when I'm finished! This week I was down to these two wreaths, but finally decided on the Seaglass Wreath. (The first one below.)

Happy, happy weekend, sweet friends! Be sure to tune into my Instastories for our adventures this weekend! I'll let you know what it's like in the airports, on the plane, and especially on our island!
Blessings,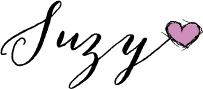 The post What's Up, Weekend? Guess Where We Are + What's Coming Up on ENB appeared first on Empty Nest Blessed.