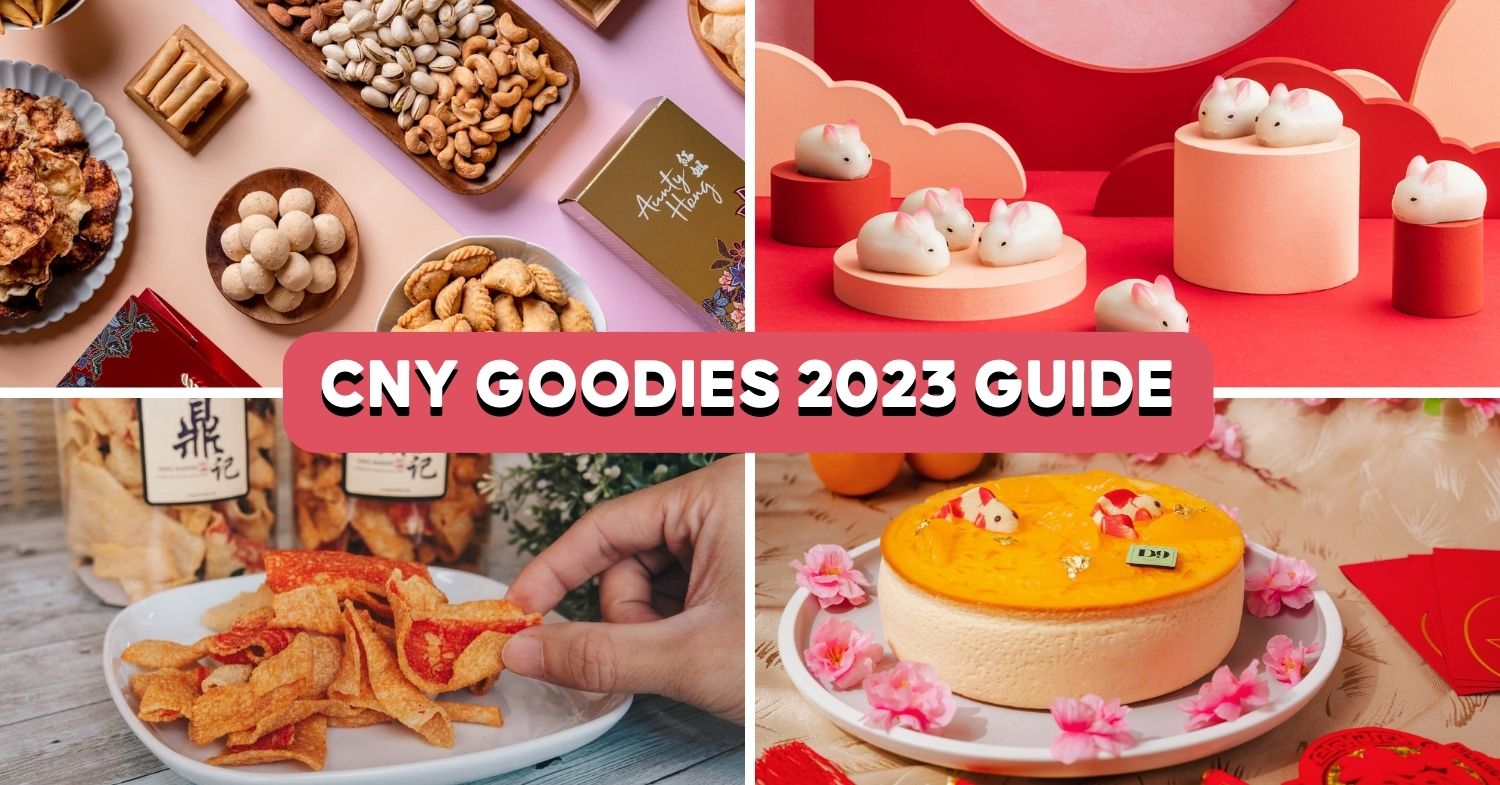 ---
Best Chinese New Year goodies in Singapore for 2023
---
Chinese New Year (CNY) goodies are a hallmark of the festive experience. Each year, Singaporeans scramble to buy pineapple tarts, bak kwa, kueh bangkit, and a whole slew of other classic CNY snacks to kickstart the new year on a delicious high. If you'd like to know what the best CNY goodies for 2023 are, read on to find out more.
---
1. Ding Bakery
---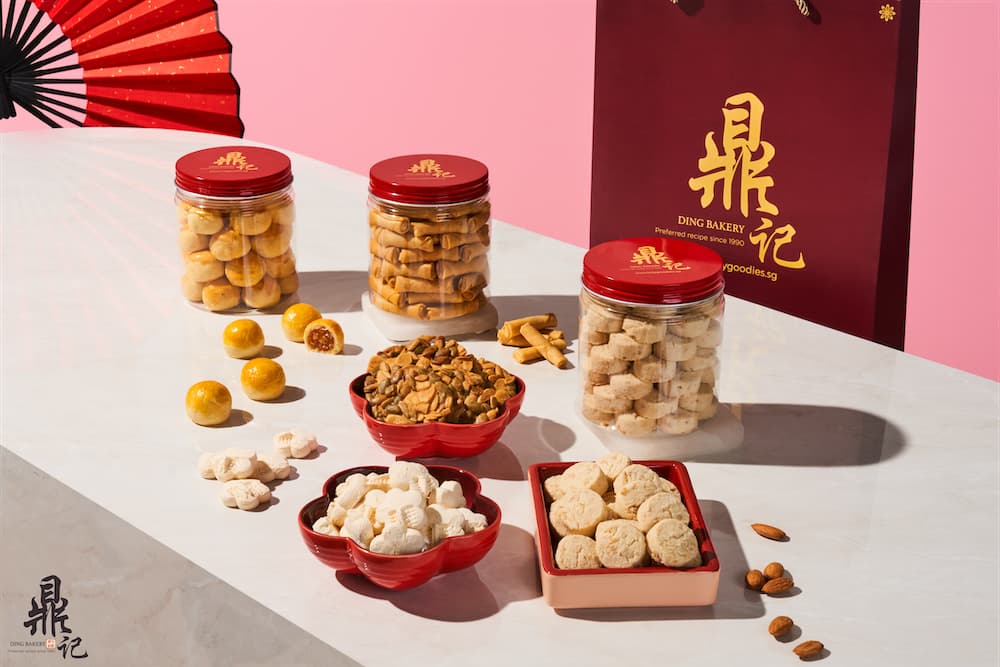 Image credit: Ding Bakery
Ding Bakery has been a perennial local favourite for their CNY goodies—they're both tasty and value for money. This year, if you're looking for a one-stop shop for all your CNY snack needs, give them a try. Their handmade pineapple tarts, which contain no preservatives, are always the bestseller. Available in three options, you have their ball-shaped Melt-In-Your-Mouth Pineapple Tarts ($22.90), the open-faced Nyonya Pineapple Tarts ($19.90), and the Melt-In-Your-Mouth Pineapple Tarts (French Butter)($24.90), which upgrades the former with rich French butter. All of these tarts are made from scratch by hand, with premium ingredients, and come with buttery crusts paired with a tangy, sweet pineapple jam. This year, they also have an expanded range of tart flavours if you prefer to level up your usual tart order, including salted egg, matcha, mango, pandan, and taro blueberry.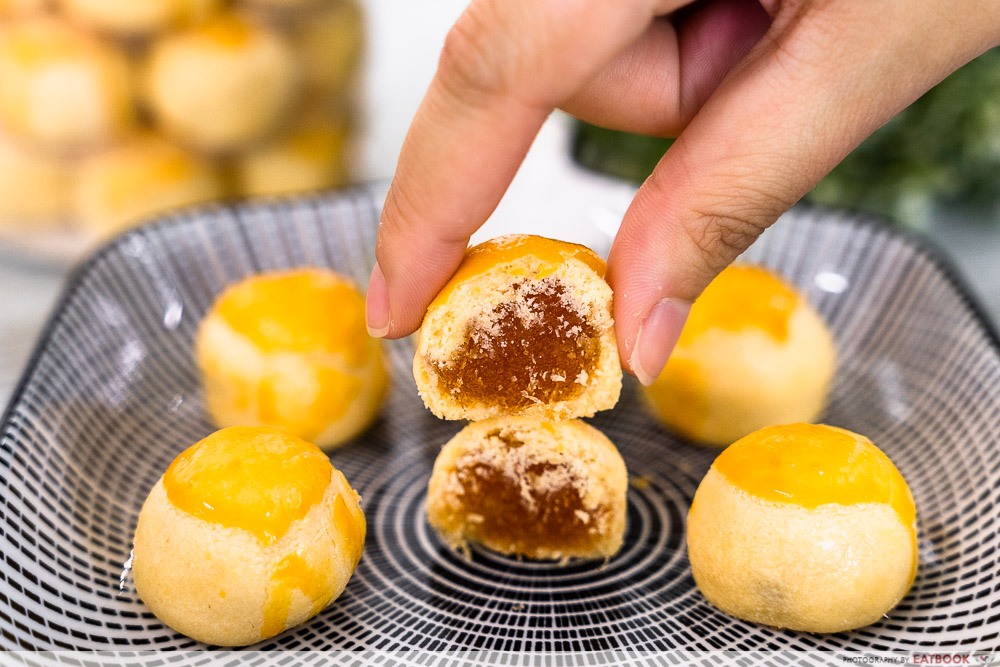 For more CNY treats, also check out their Award-Winning Melt-In-Your-Mouth Kueh Bangkit ($16.50), laced with notes of pandan, and their savoury options too, which include their popular Crispy Ma La Crab Stick ($18.90) and more. Get free delivery when you purchase over $100. Please note that all prices mentioned are valid till 5 January only, so order before then to enjoy these early bird discounts.
Order now via the Ding Bakery e-store.
Select products from Ding Bakery are halal-certified. 
---
2. Singapore Marriott Tang Plaza Hotel
---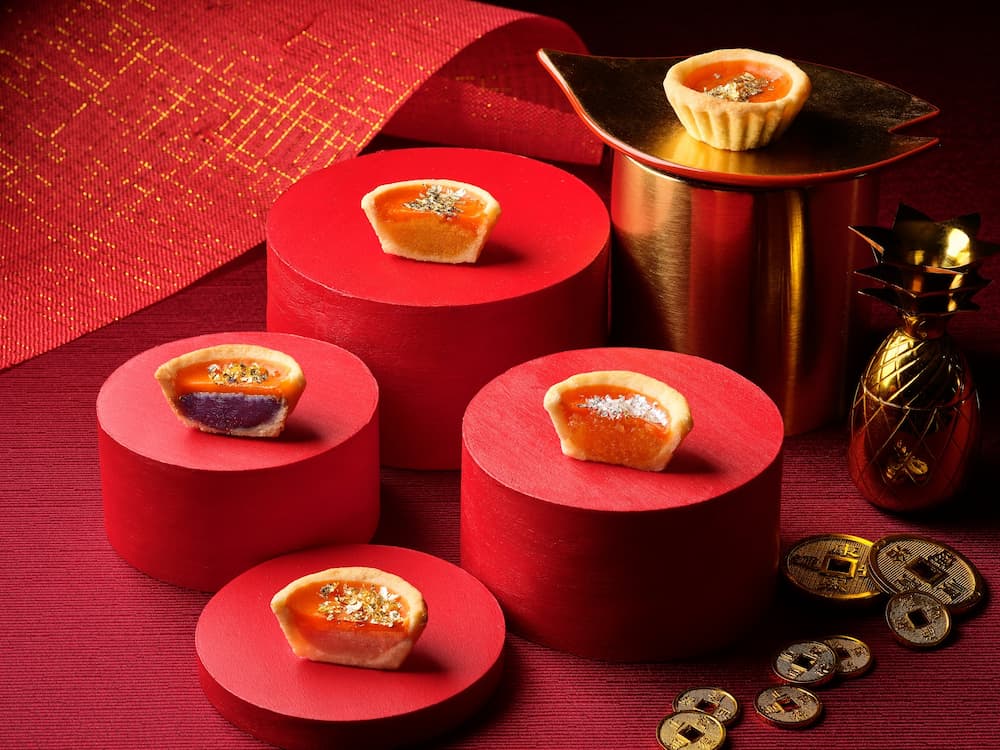 Image credit: Singapore Marriott Tang Plaza Hotel
Singapore Marriott Tang Plaza's award-winning Wan Hao Chinese Restaurant is bringing back their famous Nian Gao Tarts for CNY 2023, with a brand-new flavour too. If this is your first time trying out the tarts, here's the lowdown: these tarts star a buttery tart shell and thin layer of mochi-like nian gao atop. Slice them in half, and you'll find fillings such as Purple Sweet Potato ($32), Pineapple ($32), Yam ($30), and the all-new Cempedak Custard ($32). The latter is a tropical treat that marries smooth custard with sweet cempedak. Each box comes with eight tarts, and definitely brings something different to the bai nian snacking table.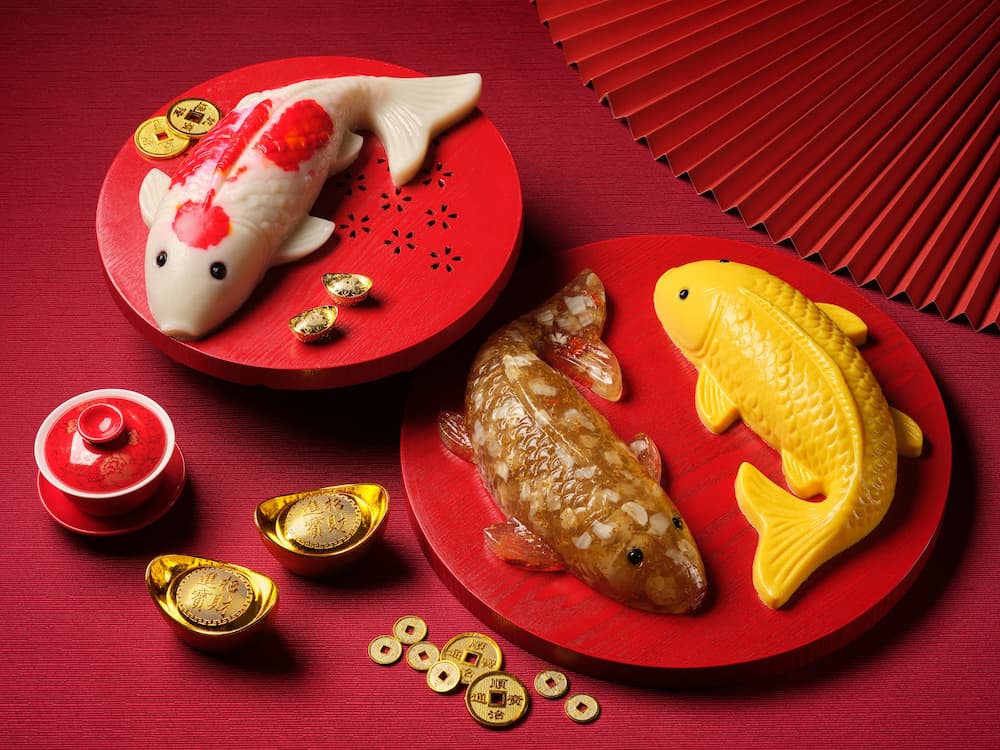 Image credit: Singapore Marriott Tang Plaza Hotel
Those seeking out corporate gifts can turn to Wan Hao Chinese Restaurant's Koi Fish Desserts, which look as good as they taste. These stunning jelly cakes serve four to six, and come in three different flavours: the refreshing Osmanthus Water Chestnut Cake, Fresh Mango Pudding, and Traditional Nian Gao. All of them are priced at $58 each. Order from now to 21 January via Singapore Marriott Tang Plaza Hotel's website below, or visit the hotel's Lunar New Year booth, located in the Hotel's Forecourt entrance for takeaway purchases. Note that pre-orders must be made three working days in advance.
Order from Singapore Marriott Tang Plaza Hotel's CNY e-store!
Address: 320 Orchard Rd, Singapore 238865
Collection hours: Daily 11am to 9pm, (except 21 January 2023, 11am to 5pm)
Website
Wan Hao Chinese Restaurant is not a halal-certified eatery.
---
3. Baker's Brew
---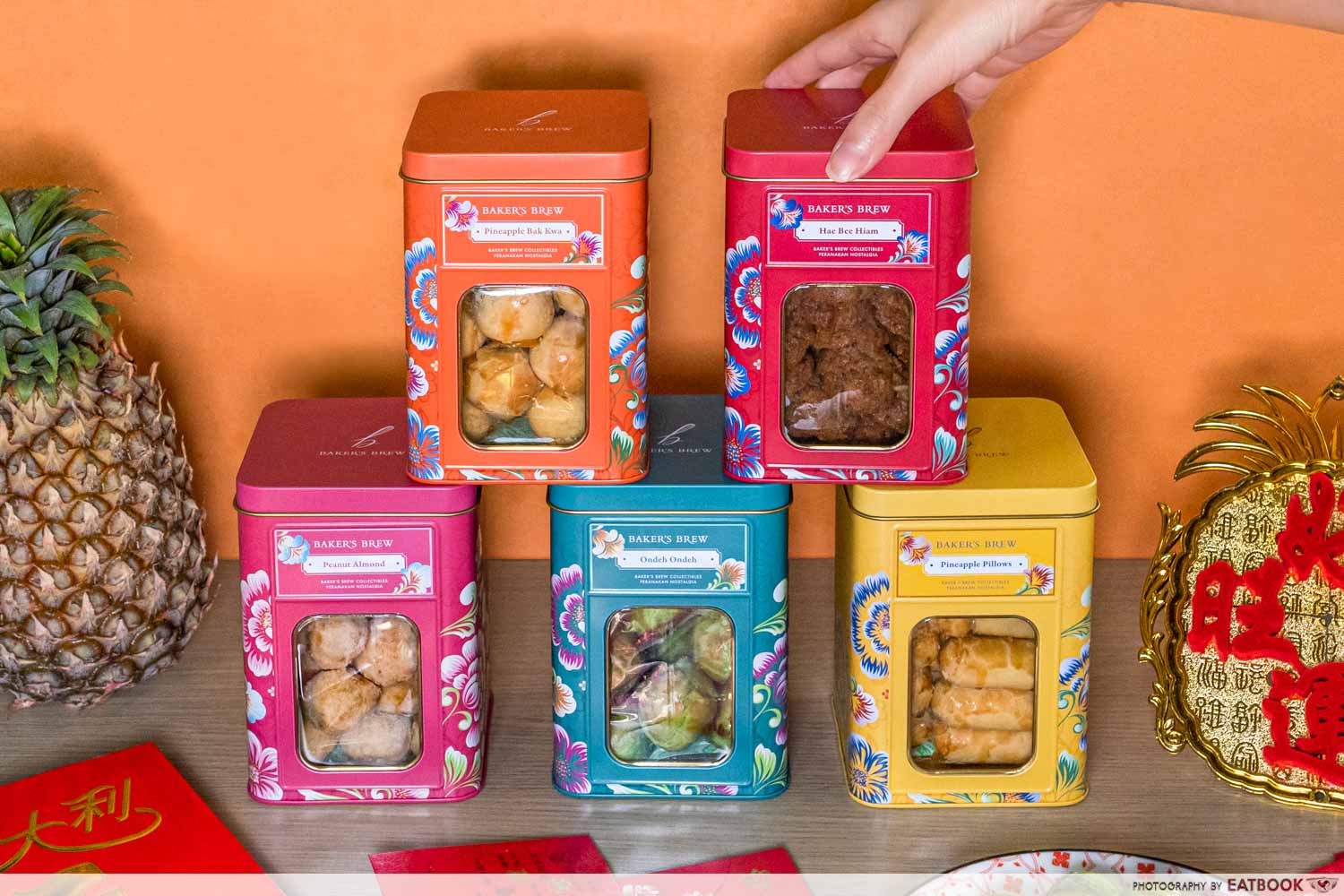 Baker's Brew is back with their bestselling Chinese New Year goodies this year, all of them a unique take on the classic snacks we know and love. The lineup includes their Ondeh-Ondeh Cookies, which come with a pandan-infused tart shell and a generous gula melaka coconut filling; their sweet-salty Pineapple Bak Kwa Cookies, with a filling composed of Thai pineapple and bak kwa bits; the nutty Peanut Almond Cookies that melt in your mouth; Hae Bee Hiam Cookies, where each bite is filled with a sambal-shrimp combo; and finally, the Pineapple Pillows, a less-sweet addition to the lineup starring a classic butter and cheese pastry, and a slightly tart Thai pineapple middle. All mentioned items are priced at $28.80 each.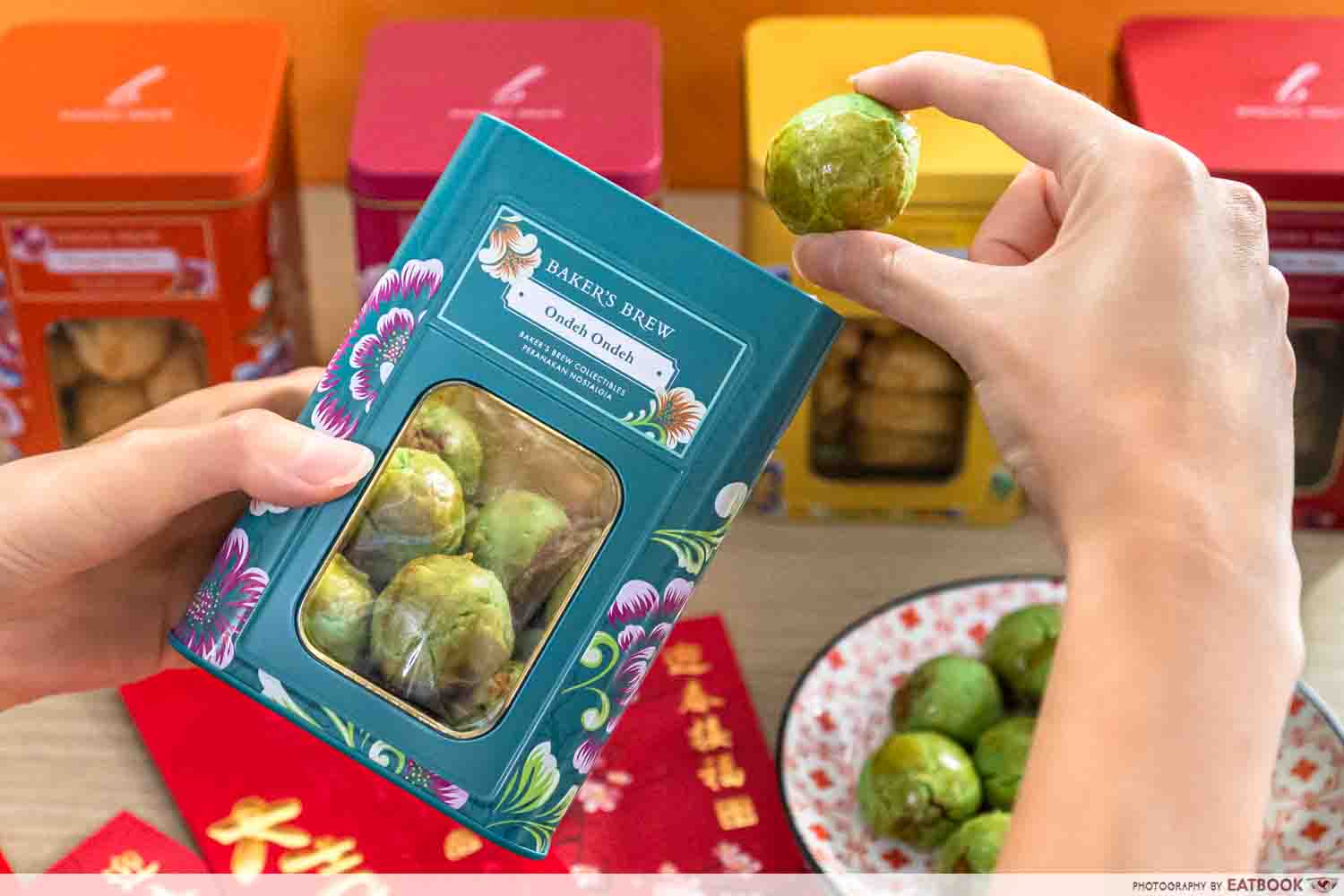 You can purchase these individually, or in bundles, ranging from their Signature Collection ($86), which comes with the Ondeh-Ondeh, Pineapple Bak Kwa, and Peanut Almond offerings, to the Peranakan Nostalgia Collection ($138), which includes all five. Baker's Brew also delivers the wow factor each year with their packaging, and this CNY is no different—your snacks come housed in nostalgic biscuit tins with Peranakan motifs that are bound to impress, whether you're buying these for the fam or as gifts. From now till 8 January, use the promo code 'BBSCNYxEB8' for 8% off your online order with a minimum purchase of three tins! Orders for CNY overall run till 18 January.
Order via the Baker's Brew e-store.
Baker's Brew is not a halal-certified bakery.
---
4. Aunty Hong
---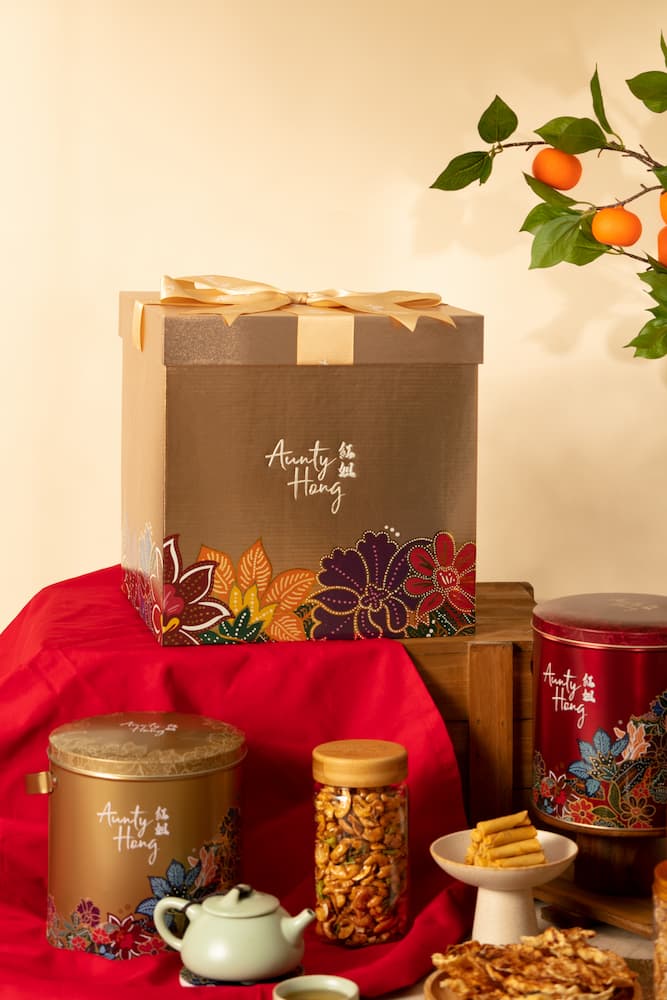 Image credit: Aunty Hong
Homegrown heritage brand Aunty Hong pays tribute to family recipes with a selection of tasty, traditional Chinese New Year goodies. All their snacks are handcrafted in Singapore and come in elegant tins, so they are great for bai nian or as corporate gifts. We recommend the Shrimp Fries ($20), an Aunty Hong signature that stars strips of prawn crackers fried in high-quality coconut oil. Each stick comprises 40% shrimp meat, so you're getting the good stuff! Other highlights include their brand-new Handmade Melty Kuih Bangkit ($36)—addictive morsels that melt in your mouth with every bite.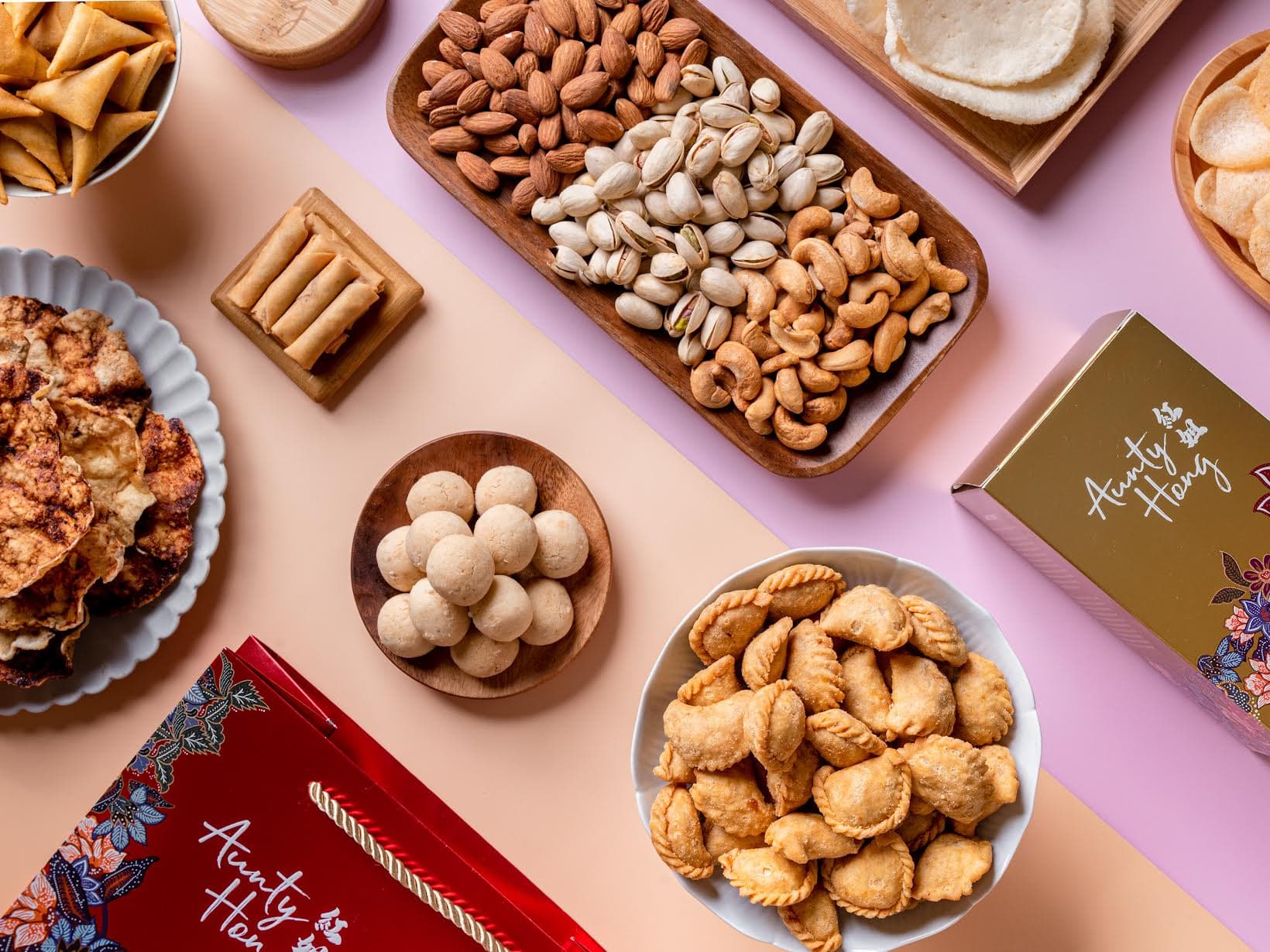 Image credit: Aunty Hong
If you can't just pick one item, go for their The Prosperity Mix ($128), a fully customisable medley of gifts comprising six items, including an exclusive Diatomite Coaster Set. This also makes for a great present to gift your elders or clients, as it comes in a sturdy gift box, complete with a satin bow atop. Aunty Hong's customisable gift sets also come with intricately decorated ang pows and gift cards with personalised messages. Aunty Hong also does not use pork or lard in their CNY range!
Order now via the Aunty Hong e-store.
Aunty Hong is not a halal-certified eatery.
---
5. D9 Cakery
---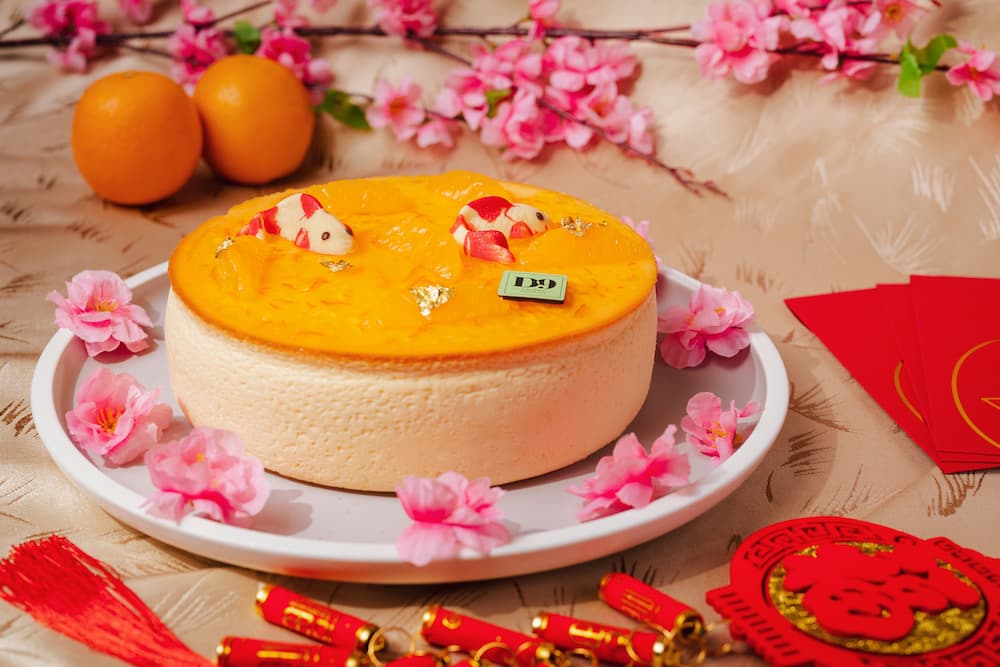 Image credit: voco Orchard Singapore
Shake up the usual bai nian repertoire of sweet and savoury cookies with some of D9 Cakery's creations. Consider their signature, lush Mandarin Cheesecake (from $68), perfumed with the sweetness of the citrus fruit, and topped with adorable koi fishes. Also, their visually striking Auspicious Red Raspberry Lego Petit Gateau ($12) makes for a lovely sweet finish to any reunion dinner feast.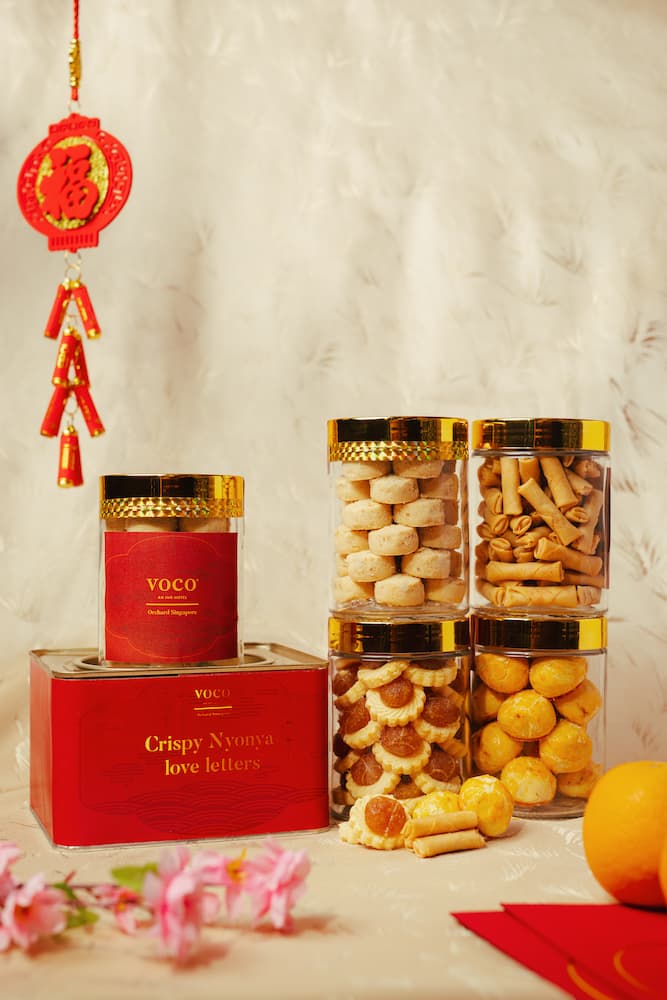 Image credit: voco Orchard Singapore
Naturally, D9 Cakery also has a range of classic CNY treats, including their D9 Signature Pineapple Tart, Pineapple Filled Cookies, Almond Sugee, Prawn Rolls, and Crispy Nyonya Love Letters, so you can bring the best of both worlds to whatever family or corporate gathering you're having over the Lunar New Year. Each jar is priced from $32.
On the topic of gifting, consider the bakery's famed Macaron Gift Set ($22 for six pieces), which comes with airy yellow and red macarons, the latter printed with a rabbit decal for extra festive cheer. Assorted Chinese New Year Praline Box ($22 for six pieces) are available as another option. Early birds get 10% off from now till 15 January when you quote 'vocoxEB10' during checkout.
Order via D9 Cakery's e-store.
Address: 581 Orchard Road, Singapore 238883
Tel: 6737 2233
Website
D9 Cakery is not a halal-certified eatery
---
6. La Levain 
---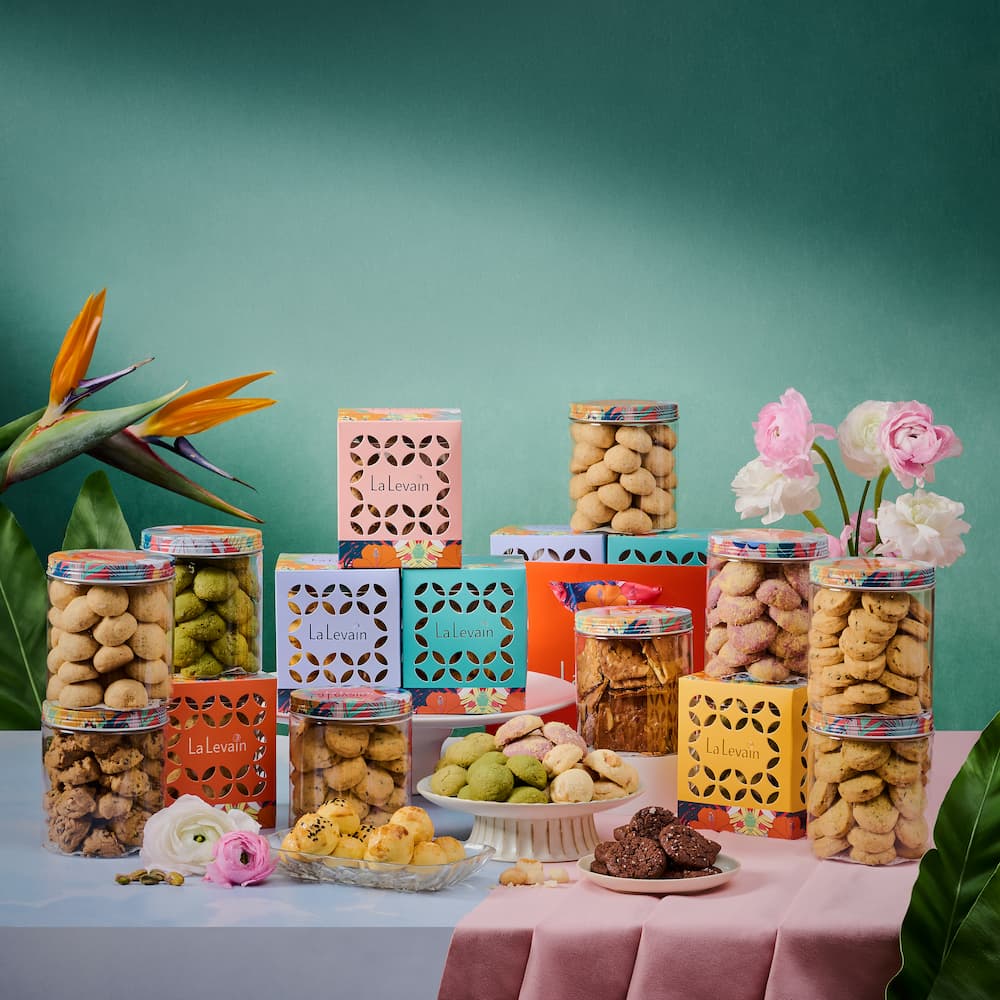 Image credit: La Levain
Impress your relatives with the unique CNY cookies from La Levain, a popular local bakery. They're bringing on the fusion with the likes of their Bobochacha Cookies ($24.80), starring a moist biscuit, which combines the sweetness of Korean sweet potato with natural pumpkin powder. The treat is then rolled in desiccated coconut powder for added freshness.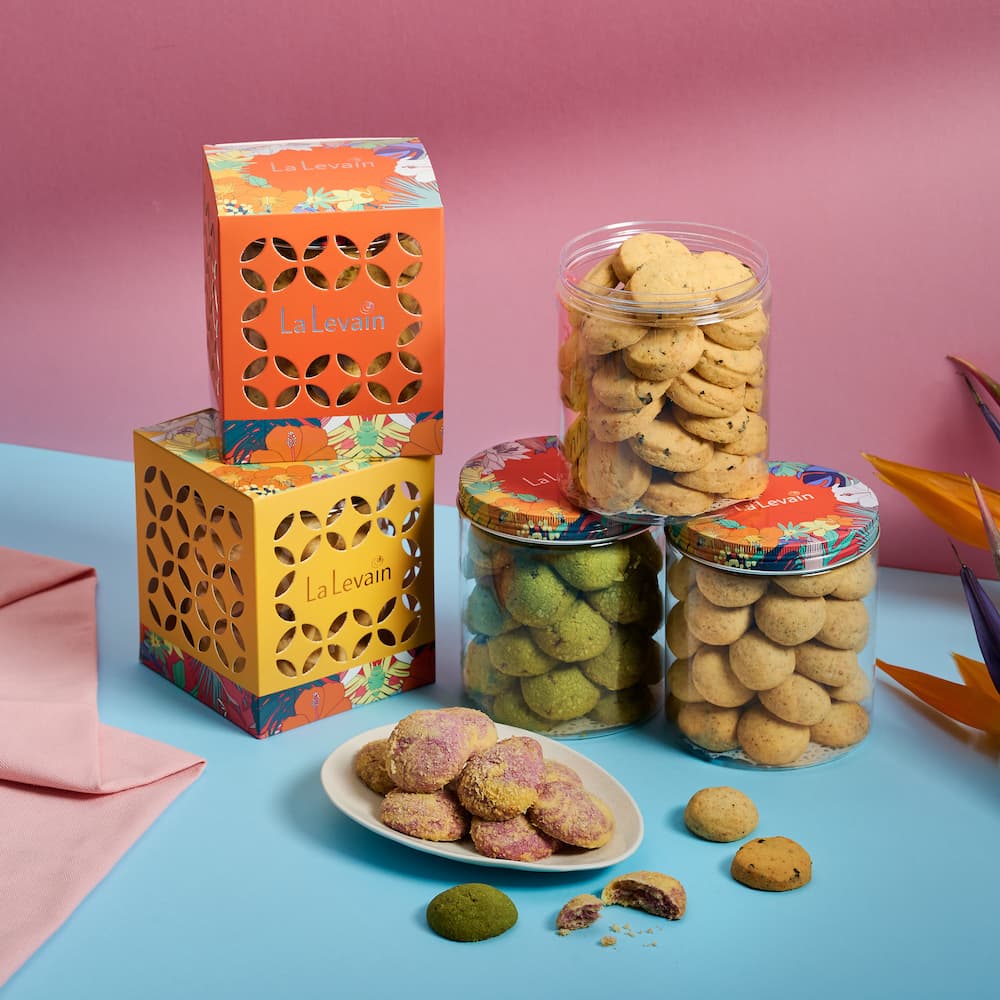 Image credit: La Levain
If you're on team savoury snacks for CNY, La Levain has got a unique Cacio e Pepe ($26.80) snack that elevates the usual CNY cheese cookies with parmigiano reggiano cheese, complete with a hint of black pepper. All the goods are handmade and comprise pure French butter for added richness.
Order La Levain's CNY cookies here.
La Levain is not a halal-certified eatery.
---
7. Rempapa x Sourbombe
---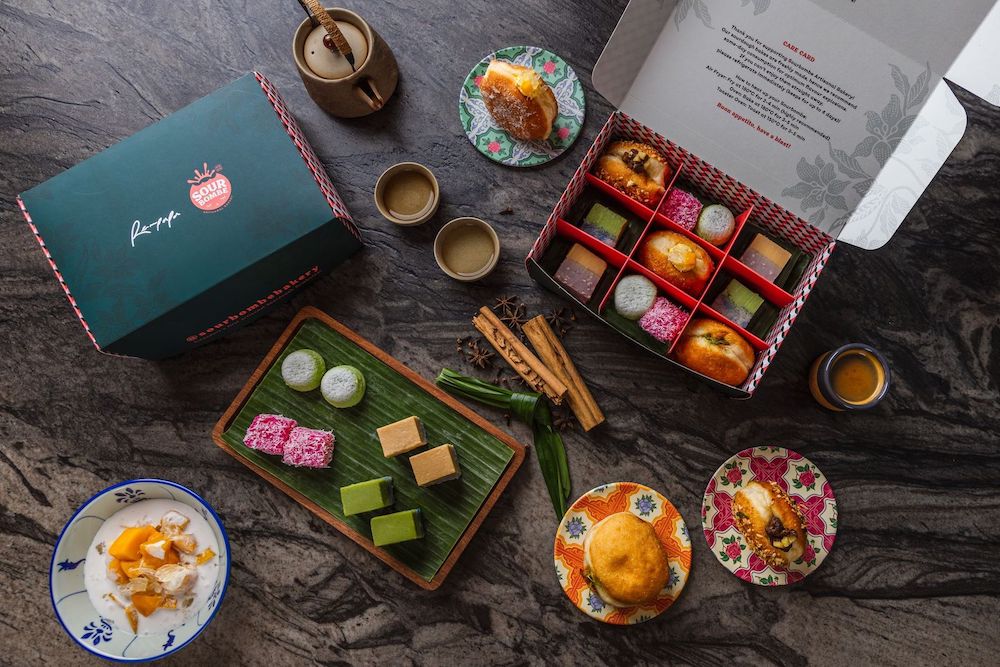 Image credit: Rempapa
Swap out the usual cookies and tarts for something a little more unique this CNY: the Rempapa x Sourbombe A-bun-dance Box ($32+). This box pairs Sourbombe's signature bombolone—this time with a Eurasian twist—and small handmade kueh bites from Rempapa. The box comes with three bombolone, in flavours such as Mango Pomelo, Pang Susi, and Prawn Bostador, the latter being a fiery green chilli sambal prawn mixture Rempapa chef Damian D'Silva often prepares for his family.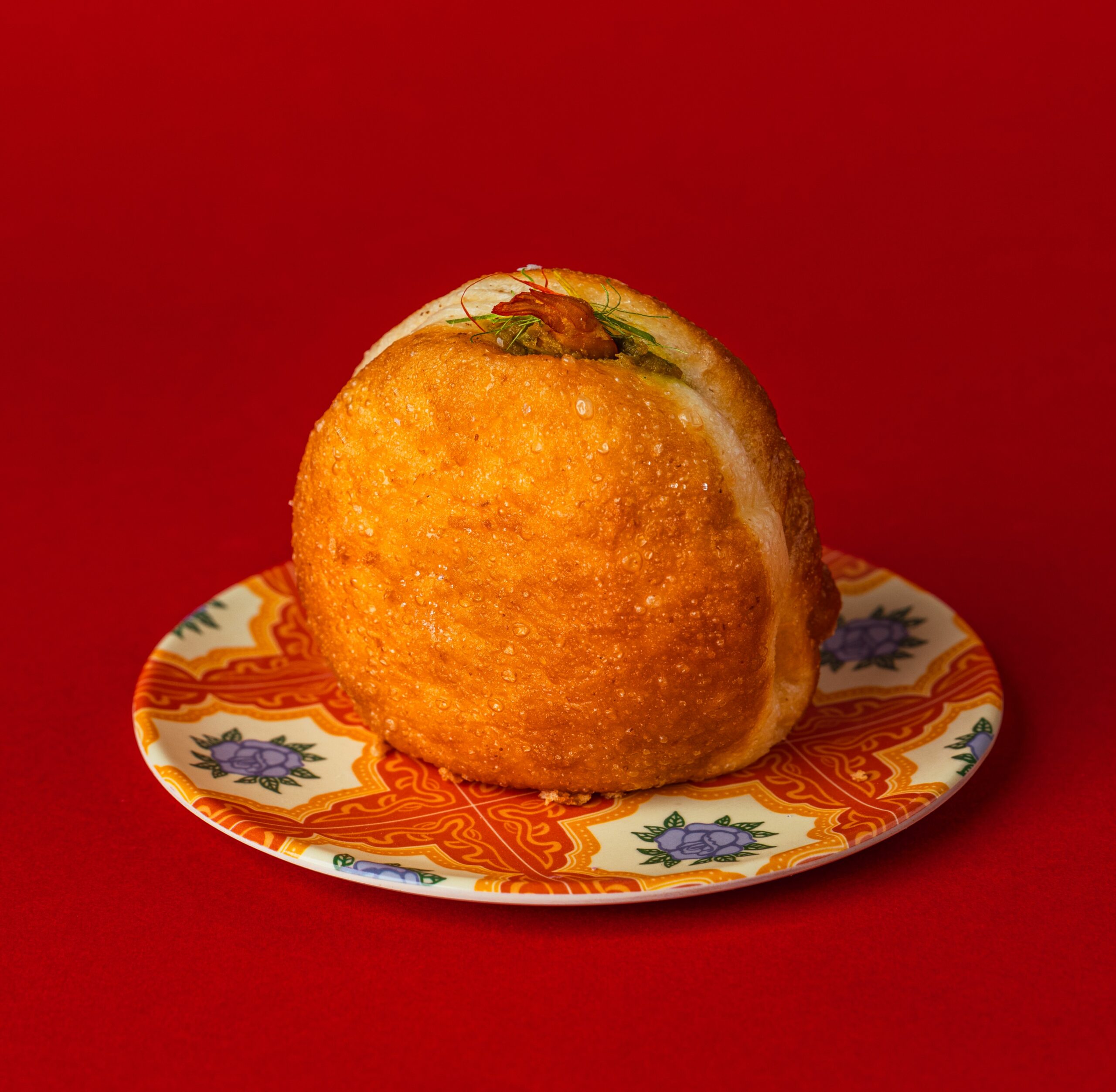 Image credit: Sourmbombe
As for the kueh, you get two pieces each of Puteri Ayu, Sago Bandung, Talam Keladi, and Kueh Salat—the full monty comes in a box decorated with motifs of heritage Peranakan tiles.
Order the Rempapa x Sourbombe collab here
Rempapa and Sourbombe are not halal-certified eateries.
---
8. Capitol Kempinski 
---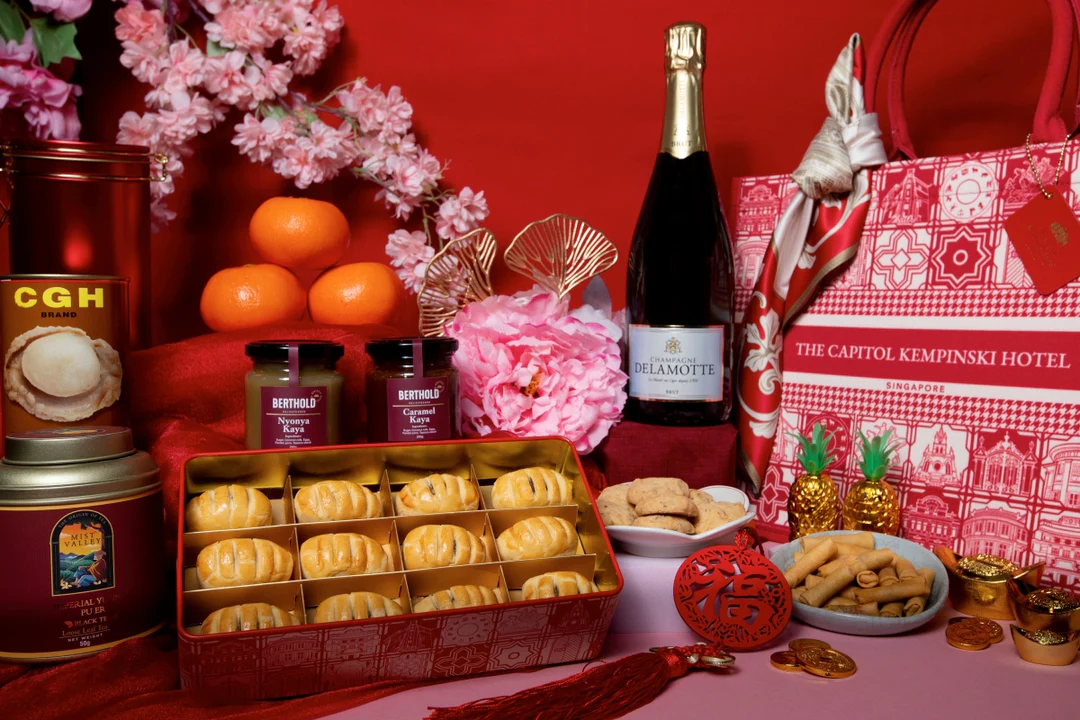 Image credit: Capitol Kempinski Singapore
For CNY goodies that come with a side of style, check out Capitol Kempinski's Lunar New Year Tote Bag Hamper ($318). The price point may be steep but you do get a handful of luxurious treats, including a 12-piece jar of their Pineapple Tarts, filled with a rich pineapple jam, the Crispy Hae Bi Hiam Rolls, which pack quite the spicy punch, and moreish Pork Floss cookies.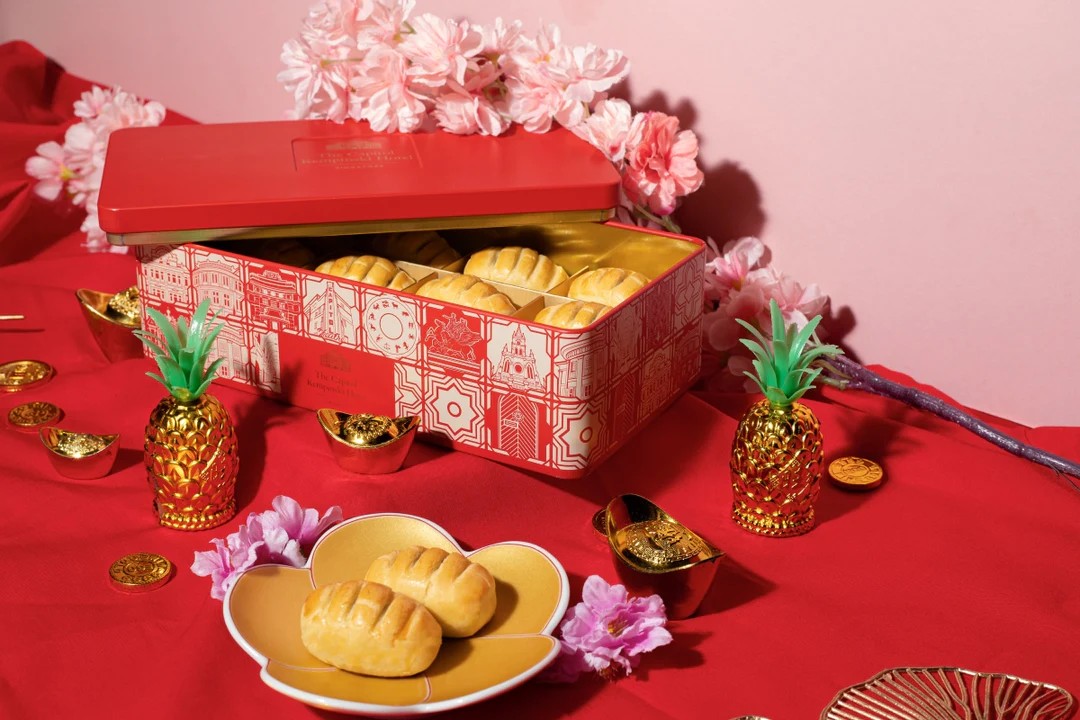 Image credit: Capitol Kempinski Singapore
Also, the set comes with a few other goodies, including tea and champagne, all housed in a red Kempinski tote bag you can repurpose for your bai nian needs. Do note that a minimum order of three days is required. 
Order Capitol Kempinski's CNY goodies here
Capitol Kempinski is not a halal-certified eatery.
---
9. Da Paolo Gastronomia
---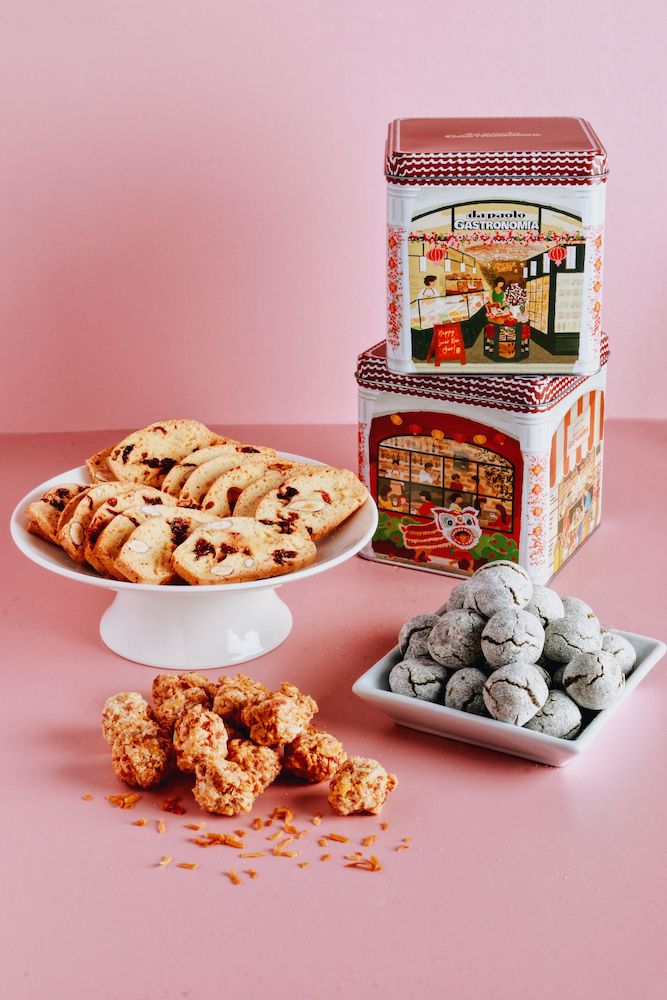 Image credit: Da Paolo Gastronomia
Western-style bakes can have a place on the CNY table too, especially if they're Da Paolo Gastronomia's. The bakery has a variety of baked goods that are made for sharing at the reunion dinner table.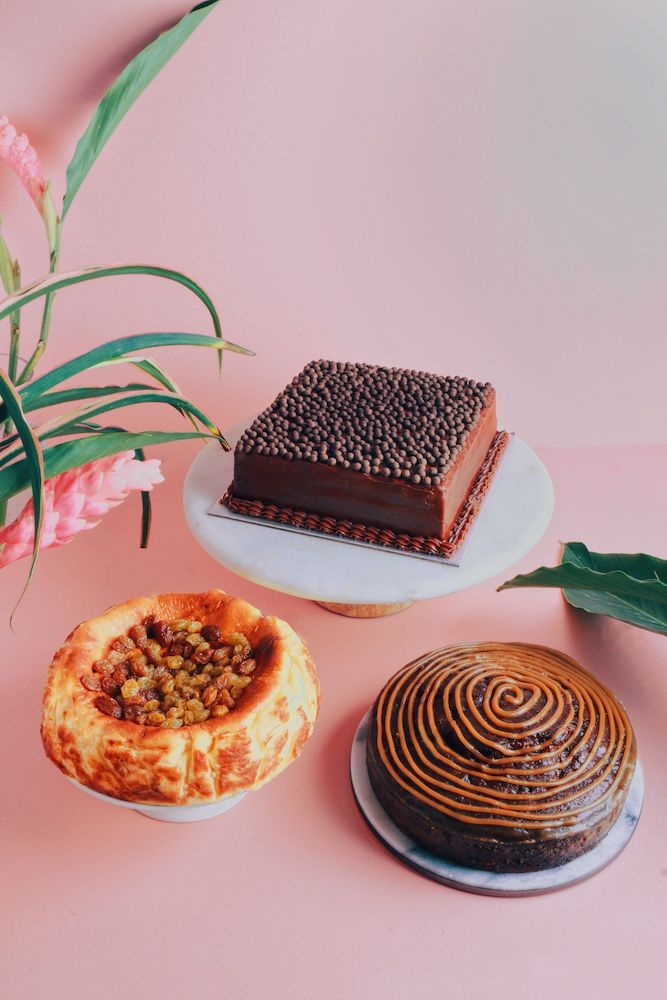 Image credit: Da Paolo Gastronomia
This includes their sweet, coconutty Gula Melaka Butter Cake ($48), and their White Rabbit Bread ($16.80), made with fluffy eggless milk dough, swirled with a carrot-and-candied-orange dough for colour and flavour.
Order via Da Paolo Gastronomia's e-store here.
Website
Full list of locations
Da Paolo Gastronomia is not a halal-certified eatery.
---
10. Goodwood Park Hotel
---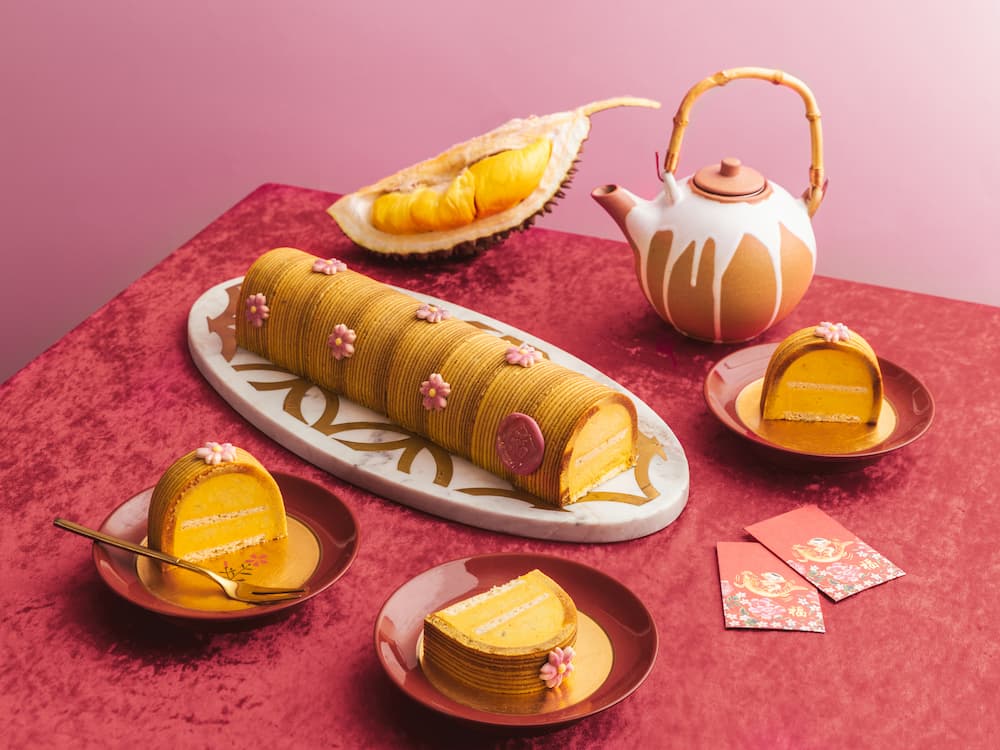 Image credit: Goodwood Park Hotel
Goodwood Park Hotel's The Deli is best known for their durian goodies, and Chinese New Year is no different. Share your love for the King of Fruits with your fam and purchase the hotel bakery's lush Mao Shan Wang Durian Kueh Lapis ($138), a dense 1kg kueh lapis cake layered with MSW pulp and almond sponge.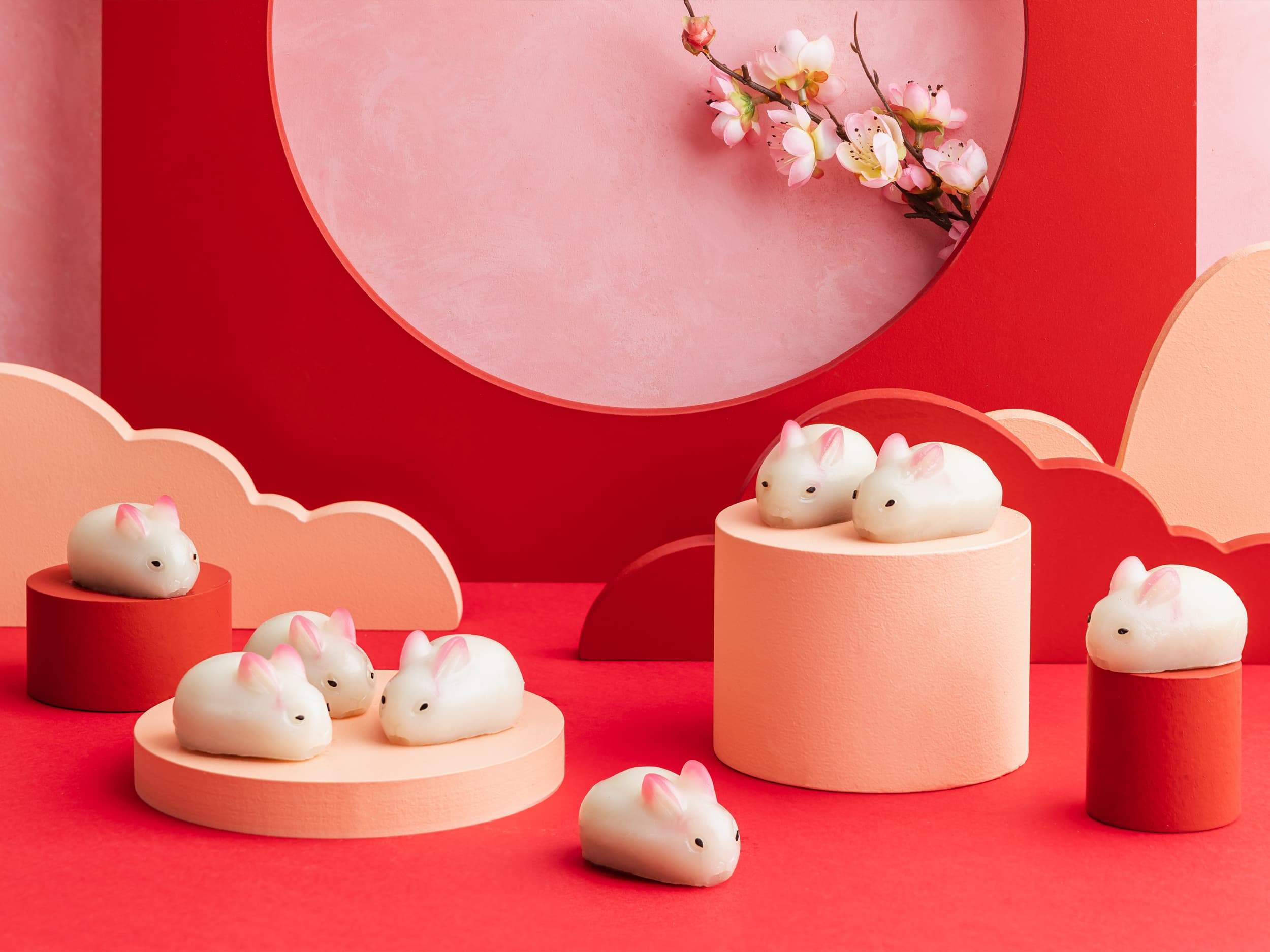 Image credit: Goodwood Park Hotel
Another must-try on their menu is the Bountiful Bunnies Nian Gao with Black Sesame Paste ($59.80 for eight pieces), where nian gao is filled with a nutty black sesame paste, and wrapped in a white skin moulded to look like adorable bunnies. Kids will love this one too! Various credit cards also enjoy discounts of up to 20% off.
Order via Goodwood Park Hotel's e-store here.
Address: 22 Scotts Road, Singapore 228221
Opening hours: Daily 11am to 7pm
Tel: 6737 7411
Website
Goodwood Park Hotel's The Deli is not a halal-certified eatery.
---
Must-try CNY snacks this 2023
---
Here are all the CNY goodies you must try for 2023! If you're looking for more takeaways to impress your fam and friends over your various reunion dinners, check out our yusheng delivery guide.
8 Yusheng Delivery To Order For CNY, Including Rojak Yusheng, Bak Kwa Yusheng And More
This post was brought to you by Ding Bakery, Singapore Marriott Tangs Plaza Hotel, Baker's Brew, Aunty Hong, and voco Orchard.
Featured image adapted from Goodwood Park Hotel, Singapore Marriott Tangs Plaza Hotel and Aunty Hong.
The post 10 Best Chinese New Year Goodies In 2023, Including Nian Gao Tarts And Durian Kueh Lapis appeared first on EatBook.sg - Local Singapore Food Guide And Review Site.