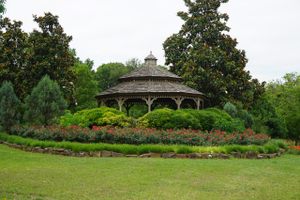 Chandor Gardens combines elements of ancient Chinese architecture and formal English gardens. The Texas estate is filled with beauty and wonder, from the 30-foot artificial waterfall to fountains, gazebos, and of course flora, the gardens offer something new and exciting at every turn.
The historic 3.5-acre garden was established in Weatherford, Texas, by the British-born painter Douglas Chandor in 1936. Originally named White Shadows, the garden was renamed by Chandor's late wife, Ina Kuteman, after his death in 1953. It was kept open to the public until her death in 1978. After her death, the property was a Bandan, and for the next 16 years remained unattended, overgrown, and deteriorating.
In 1994, Melody and Chuck Bradford purchase the estate and took on the enormous task of restoring the gardens and home. In what can only be described as a true labor of love, they painstakingly spent years, cleaning, clearing, and replanting. Thanks to their efforts, Chandor Gardens was, once again, transformed into a lush, tranquil oasis.
The city of Weatherford purchase the property from the Bradfords in May 2002 and reopened it to the public in the fall of that year. The Gardens and home are listed in the national register of historic places.