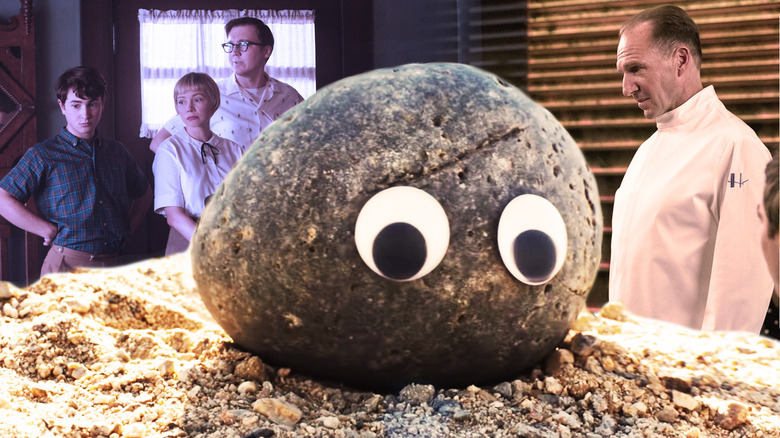 Another year has come and gone. As we say goodbye to 2022 and hello to 2023, it's natural to reflect back on the big events of the past calendar year — and given that I'm an editor and critic for /Film, movies are, uh, a pretty big part of my life. 
The last year was a big one for me, movie-wise. I joined the /Film family. I took my 3-year-old to his first in-person theater experience. I attended my first film festival as an accredited press person, where I got to be in the same room as some very cool actors, directors, and film critics. I also discovered a love of Thursday afternoon opening weekend matinees at my small town Cineplex. 
Generally speaking, this also felt like a big year for the industry in general. We saw the indie-movie-that-could "Everything Everywhere All at Once" beat all odds with an impressive theater run, mostly propelled by word of mouth. Then, Tom Cruise said "hold my beer," and "Top Gun: Maverick" exploded onto the scene with its own mighty box office performance, mostly propelled by charisma and nostalgia. On the other end of the spectrum, Steven Spielberg's critically acclaimed "The Fabelmans" was a bit of a bomb, and Warner Bros. pulled the plug on "Batgirl," despite spending $90 million on the almost-complete film. 
Who knows where they industry is going from here? (Probably /Film's box office guru, Ryan Scott.) Either way, below are my picks for they year's best movies. 
Honorable Mentions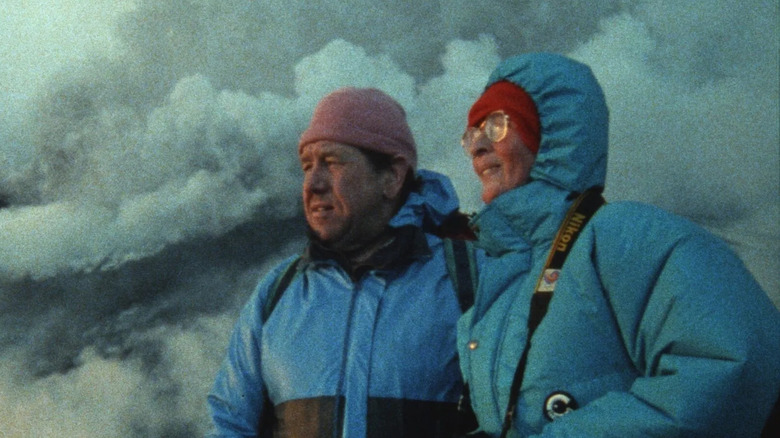 Before I get into my picks for the year, I want to do a quick shout out to a number of fantastic films that I almost included in my top 10. 
I'll start with the blockbusters. "Maverick" was very entertaining — I think the massive box office performance speaks for itself — but I found the writing and the acting pretty basic. Similarly, I really enjoyed the "maximalist" approach to "RRR," and I had a lot of fun watching it; yet, the film sags a bit in the middle and honestly the exaggerated tone hurts the overall pacing and performances. "Avatar: The Way of Water" was easily the most visually appealing entry of the year, but it's too long and the story needed another draft or two.
We had a strong year for animated films. I would definitely recommend "Lightyear," "Wendell & Wild," "My Father's Dragon," and "Minions: The Rise of Gru," but none of these were quite at the level of the films listed below. In more serious fare, the documentary "Eternal Spring" — which tells its story using 3D animation — was one of the best documentaries of 2022. (Other great documentaries from the year include "Fire of Love," "Moonage Daydream" and "Prehistoric Planet.")
For more adult, darker fare: "The Banshees of Inisherin" should probably be on this list (it's gorgeous, razor-sharp, and well executed on every technical level) but it just didn't resonate with me. I really enjoyed Sam Mendes' "Empire of Light" — I am in the minority with that opinion — but it definitely has flaws in terms of structure and pacing.
Finally, I saw some fantastic releases this year that may not be "the best" but are worth mentioning: Bess Wohl's "Baby Ruby" (it lives in my head rent-free), Charlotte Wells' "Aftersun," Marie Kreutzer's "Corsage," and Ti West's "Pearl."  
10. Bros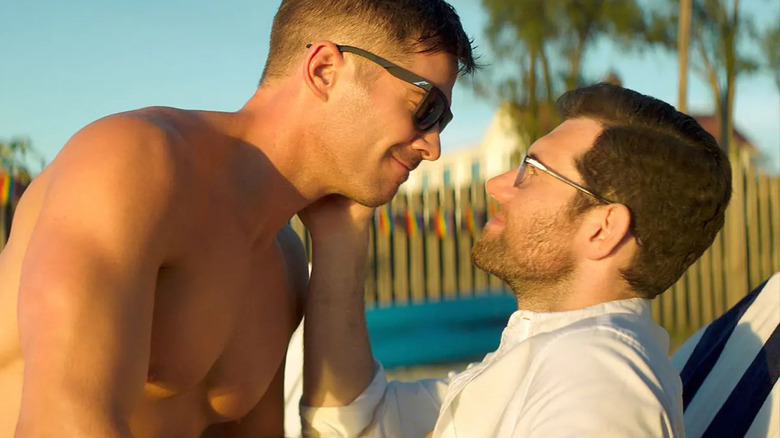 Starting things off with an unpopular choice, I give you my first pick for best films of 2022: the queer rom-com "Bros." I had the benefit of seeing the film in a packed theater (something I assume is a rare experience, based on the movie's box office performance), and the energy in the room was absolutely uproarious. I laughed until I cried and then I laughed again. 
"Bros" is a queer rom-com, and yes, star and writer Billy Eichner did definitely promote the "representation" angle rather than, you know, how funny it is, and that marketing strategy likely hurt "Bros" more than it helped. Is the movie perfect? No — comedies rarely are.
"Bros" is the kind of rom-com that doesn't condescend the viewer with lazy stereotypes and contrived plot points. The representation here is great, and not simply because it is there (which, granted, is in itself an achievement) but more because the film feels three-dimensional. There's a self-awareness not usually found in love stories. "Bros" pokes fun at its own almost conservative approach to progressive storytelling, but in a way that makes space for a social-media-obsessed transgender woman to get in a few hilarious barbs. It's all very funny, but it's also fresh, and interesting, and relatable for anyone with ties to the LGBTQ+ community.    
9. I Like Movies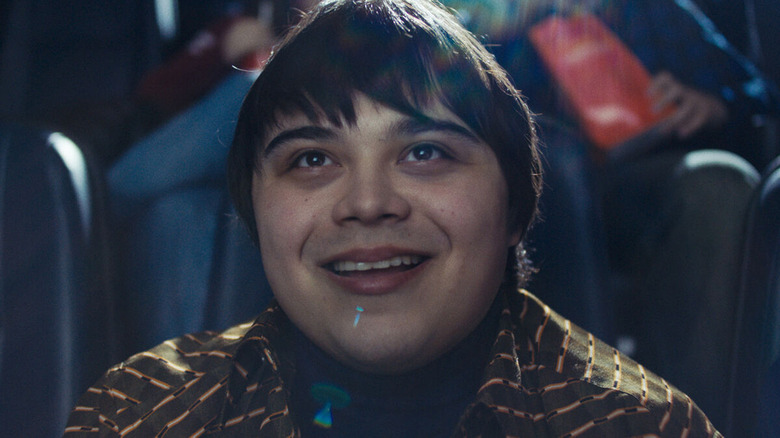 Nostalgia is a potent drug. As I approach my mid-30s, I find myself more and more acutely aware of the passage of time. It feels like I was in my 20s for ages. My teens, an eternity. But my 30s? So far, it's been a flash in the pan. It's in this spirit that the retrospective "I Like Movies" really appealed to me.
Written and directed by Canadian filmmaker (and critic) Chandler Levack, and inspired by her own childhood, "I Like Movies" is almost painfully relatable to the teenage experience — more so than other similar movies that came out this year (like the critical darling "Aftersun," which I found a bit too abstract for my liking). Lawrence (Isaiah Lehtinen) is an insufferable teen boy who believes he's better than everyone around him, including his best friend Matt (Percy Hynes White). I knew guys like Lawrence in high school, and I very much was the "Matt" of that relationship. 
The film draws comparisons to Greta Gerwig's "Lady Bird," but with a male film nerd with an anxiety disorder at the center of its coming-of-age story. There's an undercurrent of misogyny here too, giving the story a deeper significance. Levack is making a commentary about the film-bro culture from this time period, and subtly setting a case for how young women were made to feel unwelcome in this space (like Lawrence's definitely not subtle hostility towards a female peer who shares his interest in filmmaking and editing). We can still see Lawrence's perspective even as we're actively encouraged to condemn it. 
It's a real shame that the film hasn't made a bigger splash. It's genuinely very, very funny — but also unafraid to get very, very dark.  
8. Turning Red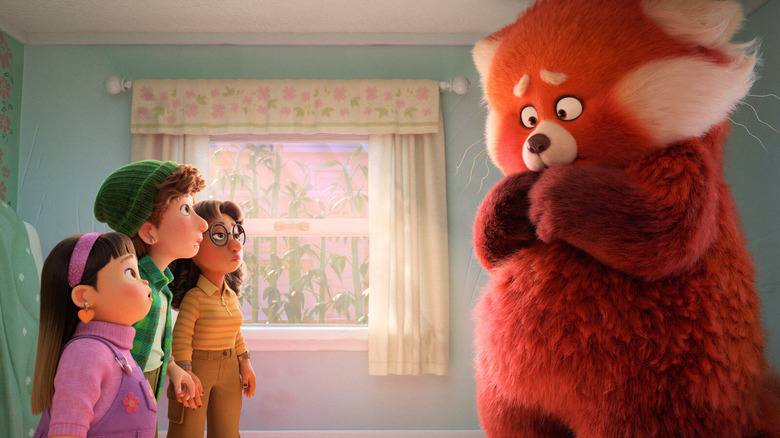 Speaking of nostalgic-driven movies set in Canada that deserved a wide theatrical release: Pixar's "Turning Red" is easily the best film the studio has produced in years. The film follows 13-year-old Meilin "Mei" Lee, who — after a particularly humiliating pubescent experience — triggers an innate ability: women in her family can transform into giant red pandas. For Mei, this newfound ability is unpredictable, happening whenever she feels a strong emotion.
No shame to "Onward," "Soul," and "Luca," but Domee Shi's deeply personal and very funny feature film debut is a fresh of breath air. For one, it lets a girl be the main character for once, unlike the vast majority of Pixar films ("Brave" and "Inside Out" excluded).
In a since-deleted Tweet, Sean O'Connell called the film "exhausting" and suggested it wasn't made for universal audiences. Well, my (non-Asian) kids loved this movie because even a first-grader can understand an impossible crush on an older boy and the frustration of being denied something by your parents or other authority figures. Heck, my 6-year-old daughter sings the fictional 4*Town songs almost as often as "Let It Go." Sure, the menarche and puberty allegory completely went over her and my 3-year-old son's heads, but the familial drama, the stakes, and the physical comedy are all elements that anyone can enjoy. 
As a Canadian millennial, I found the world welcoming and familiar; as a former teenager, I found the coming-of-age story almost painfully relatable. It's thoroughly charming and easily one of the year's best films.
7. Women Talking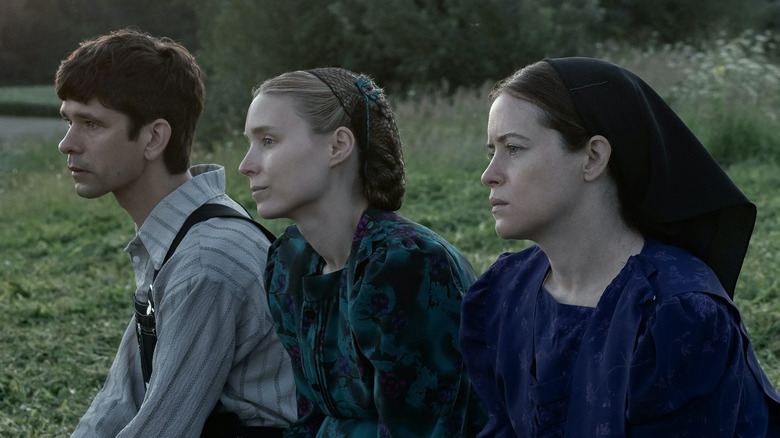 Sarah Polley's 2022 drama "Women Talking" has been divisive, to say the least. Based on the novel of the same name by Miriam Toews, the story follows a group of women from an isolated Mennonite settlement who are forced to deal with the unthinkable: They and their children have been subjected to horrible sexual abuse by men in the community, and now that the transgressions have been exposed, they have a very short period of time to decide how to respond. Heartbreakingly, the story is inspired by true events. 
"Women Talking" deals with a difficult subject, and the approach Polley takes will not satisfy all viewers. In my "Women Talking" review, I noted that Polley neither wallows in the lurid details of the abuse, nor does she portray the Mennonites as idiot cultists. It's the most challenging approach in terms of entertaining viewers, but one that I think most respects the real-life counterparts. 
"Women Talking" uses a muted aesthetic and is limited to a few basic locations. Most of the drama comes not from scenes of violence but from spirited discussions, which are at times horrific, harrowing, affable, sweet, or even funny. I personally like dialogue-heavy films that feature limited scope like this — it adds tension and creates an intimate atmosphere (that's essentially what makes "bottle episodes" in TV effective) without exploiting and depicting sexual violence. It's a tasteful if disturbing story that is ultimately more about empowering women than objectifying them, and for that, I am grateful. 
6. Pinocchio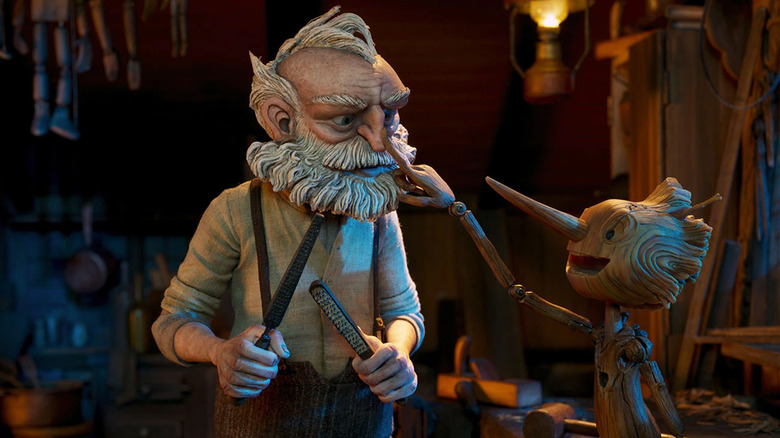 I am a great admirer of Guillermo del Toro, so it should be of no surprise to see his stop-motion adaptation of "Pinocchio" on this list. The Netflix film is a decadent mix of fairy tale, dark fantasy, and social commentary. There's a wooden, handcrafted quality to the puppets used here — something that would be a bit on the nose by a lesser filmmaker, but done with just the right nuance and deft touch that instead it feels perfect. 
This is not your Disney "Pinocchio," nor is it some lame Tim-Burton-esque grim-dark re-imagining. The film is brutal at times and a bit scary, but it all serves a purpose. All the best del Toro themes are here: fascism, death, Catholicism, childhood innocence, paganism — what more could you want? The voice acting is impeccable — that was actually my biggest issue with "Wendell & Wild," but in this Netflix film, the director does a better job of getting emotion out of the performers.
If I were to nitpick, I wish "Pinocchio" had better music. I also personally found the early characterization of the freshly-sentient Pinocchio extremely annoying (maybe that's what del Toro was going for?) but I was won over by the end. "Pinocchio" is the best animated feature of the year, and one of the best movies of 2022 overall.
5. The Fabelmans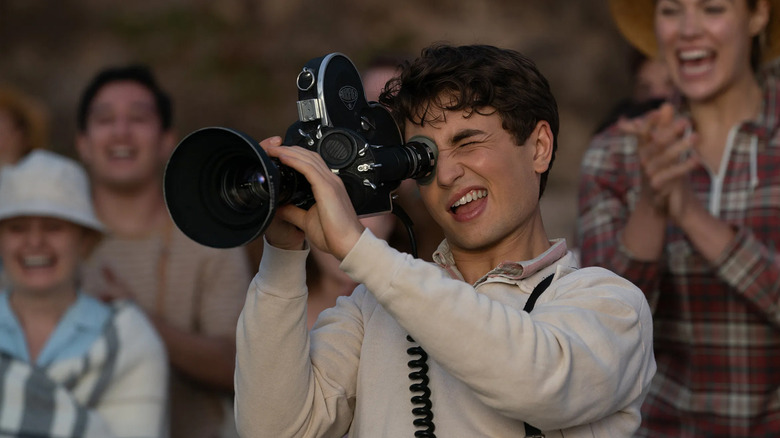 When I first watched "The Fabelmans," I came out feeling underwhelmed. It was my last screening at the Toronto International Film Festival, and I'd been hearing all week that it was this amazing, groundbreaking, return-to-form moment for Steven Spielberg. This historical drama is no "Schindler's List," and I came away from my screening slightly annoyed with myself for staying the extra day just to see this movie.
Now that some time has passed and I've been able to revisit "The Fabelmans" while feeling a little less burnt out, I've warmed up to the film significantly. 
I'd argue this is Spielberg's most overtly political film — he confronts antisemitism in America post World War II, which is pretty daring. He's taking a pot shot at Californian culture, which has a reputation for being progressive; as young Sammy finds out, it is anything but. Spielberg is a very financially successful filmmaker and part of his strategy is he doesn't rock to boat too much with his messaging. The "bad guys" are often "othered" in a way that sells well — Nazis in the Indiana Jones movies, faceless government men in "E.T. the Extra-Terrestrial" — but the choice to include a culture of tolerating antisemitism at the high school was bold. 
Spielberg is one of the best in the business, and he brings his everything to "The Fabelmans." He has the audience in the palm of his hand; watching this film, you're taken on an emotional journey that you can't look away from. This is Spielberg's life on film, and we're all so lucky to see it.
4. The Menu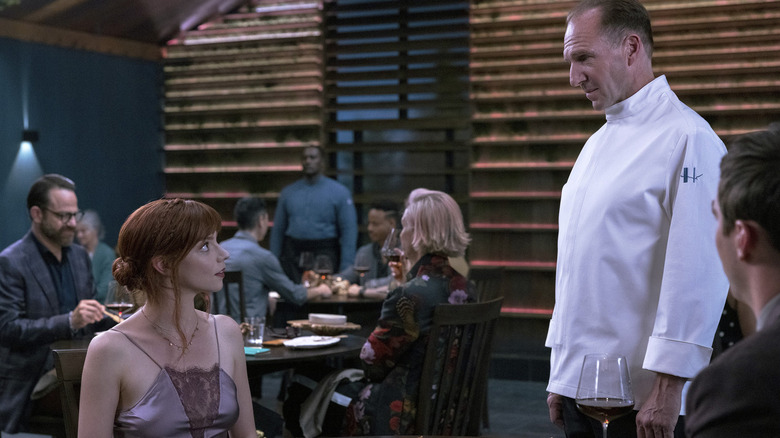 I like food, but would I die for it? Probably not — but the foodies in Mark Mylod's "The Menu" sure will. For the guests of this exclusive, gourmet meal prepared by world renown chef Julian Slowik (Ralph Fiennes), this will be the meal of a lifetime. There is, of course, a snag: the guests themselves are part of the night's offerings. 
The dark comedy horror film is a real treat for audiences. It's a sharp, smart satire of fine dining. The pretension, the weirdly pseudo-religious tone, the fetishizing of food — it's all-too relatable for anyone even passingly in the know. The guests, specially selected by Chef Slowik himself, are representative of the worst kinds this world attracts: rich entitled snobs, pompous food critics, rowdy tech bros, and wealthy dilettantes who can't even boil an egg. These are the "eaters." The kitchen staff — including the chef himself — are the feeders. It's a class struggle that no amount of prestige can destabilize.
Fiennes is the driving force of the film, elevating the satire with a deeply committed performance. Reader, if you haven't seen "The Menu," you really should. I don't want to give much away because it will detract from the overall experience. Let's just leave it at this: by the end, you'll want to go out and buy your own slutty cheeseburger. 
3. Nope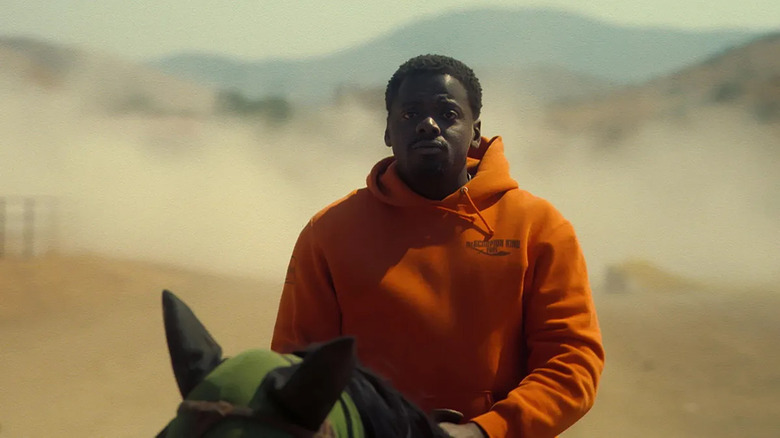 Jordan Peele's third directorial effort "Nope" is a sci-fi thriller made for film lovers. Like the other Monkeypaw Productions titles — ("Get Out," "Use," "Candyman" etc.) — the neo-Western story of two horse-wrangling siblings trying to get the "Oprah Shot" is a multilayered affair, entertaining audiences while also delivery social commentary on themes of race, class, and identity in America. In particular, the film is preoccupied with exploitation for the sake of entertainment — a fitting motif for a film about the great, great, great grandkids of the unnamed (Black) jockey depicted in the first motion picture "Plate 626" from Eadweard Muybridge's "Animal Locomotion." 
There's an old adage (coined by comedian W. C. Fields ): "never work with children or animals." In "Nope," Peele subverts this, highlighting the ways in which children, animals, and — to a lesser extent — animal trainers are chewed up and spit out by Hollywood machinations. 
This is a story that needs time to sink in. The "Gordy's Home" subplot is haunting, and although it's not immediately clear how the tragic past of Ricky "Jupe" Park (Steven Yeun) fits into the present-day story, the thematic parallels emerge after the fact. "Nope" is one of those stories that is engrossing in the moment, but its true power is how it lingers rent-free in the minds of viewers after the fact. As /Film's Chris Evangelista states in his "Nope" review, Peele's third film is a "true summer movie spectacle" —  but unlike most blockbusters, this one leaves a mark. 
2. All Quiet On The Western Front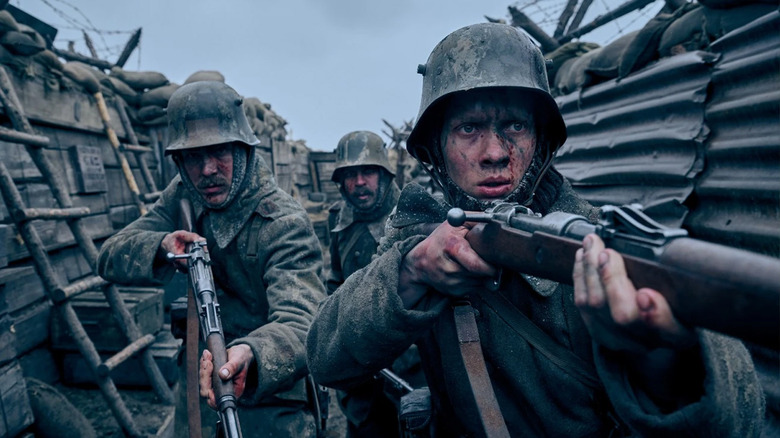 War is a spectacle — a horrific, violent, and extreme form of violence played on a grand scale. No wonder the subject is a popular topic for epic films. 
"All Quiet on the Western Front" is an adaptation of the novel of the same name by Erich Maria Remarque. It tells the story of a young German soldier, Paul Bäumer, who is sent to the Western Front with his friends and schoolmates. These young men — boys really — are steadily demoralized and downtrodden by the experience. There's no glory to be found on the Western Front — only death. Remarque was a German veteran and wrote his novel, which was published in 1928, detailing his experiences in The Great War. The book was strictly anti-war, which led to it being targeted by Nazi Germany.  
Edward Berger's 2022 adaptation of "All Quiet on the Western Front" is the first major adaptation since Universal released its groundbreaking film 1930, and marks really the first time the story has been told by a German filmmaker. Berger's take on the material is transcendent; he takes the original pacifist message of the novel, uses gritty, historically accurate, but then implements a contemporary score that really melds beautifully with the story being told. It is uncomfortable  but in the way that a war film should be. 
"All Quiet on the Western Front" is philosophical, and suspenseful, and political, and just so harrowing. It's a film that demands to be seen on a big screen (so hopefully your home set-up has that — this is a Netflix production). I am so sorry that the film did not get a proper theatrical run because it is easily the best film of the year, and one of the best war dramas I have ever seen.  
1. Everything Everywhere All At Once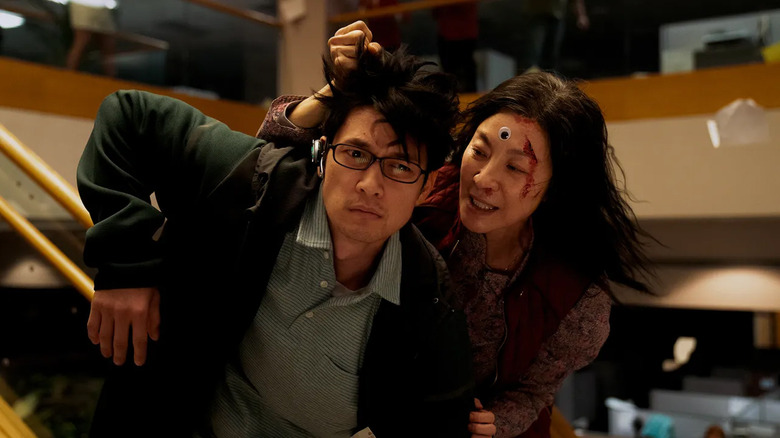 The A24 multiversal comedy-drama "Everything Everywhere All At Once," directed by Daniel Kwan and Daniel Scheinert, is a lot. Jacob Hall's /Film review of "Everything Everywhere All At Once" presents the film as "impossible to describe. It's unlike anything you've ever seen. It's the best American movie in years." I couldn't agree more. 
"Everything Everywhere All At Once" sees Chinese-American immigrant Evelyn (Michelle Yeoh) dealing with multiple crises. Her laundromat is being audited by the IRS. She has to prepare for a New Year's Party being hosted later that day. Her estranged father Gong Gong (James Hong) is in town, and they have a lot of baggage. Things are tense between Evelyn and her daughter Joy (Stephanie Hsu). Oh, and her husband Waymond (Ke Huy Quan) wants a divorce. It's all seemingly low states interpersonal drama that everyone deals with, but when it happens to you like this all at once, it's completely overwhelming.
Evelyn's journey goes from the mundane to the absurd. We get action fight sequences punctuated with confetti and hot dog fingers. We get philosophical conversations about the meaning of life. Googly eyes abound. Yet, the heart of the Daniels' "Everything Everywhere All At Once" is what makes the film the best of 2022: The story looks nihilism in the face and laughs — sure nothing matters, unless you want it to. We are small and insignificant, but that's okay. We're allowed to be. What matters is the relationships we foster in life, including our relationship with our self. 
Read this next: The Best Movies Of 2022 So Far
The post Sarah Bea Milner's Top 10 Films of 2022 appeared first on /Film.