This post contains affiliate links which we are compensated for if a purchase is made. Using links costs you nothing and helps to support the ongoing creation of content.
Here's a very old video to show you how fun and cool it is to see the dough inflate. Sorry for the shakiness. Deep-frying with one hand and recording with the other was quite tricky. 
What is Bánh Tiêu
Bánh Tiêu is one of my favorite Vietnamese desserts. It's a Vietnamese hollow donut with a crispy sesame seed crust. The dough is flattened into a small disk and then deep-fried in oil until golden brown.
What sets it apart from traditional western donuts is the airy and soft hollow interior and the fragrant sesame seed crust. In Vietnam, it is often sold as street food and enjoyed as is or filled with sweet sticky rice (Xôi). Bánh Tiêu is not too sweet, making it very easy to scarf down a bunch at once...something I'm not ashamed to admit.
What You Will Need
The ingredients for Bánh Tiêu are simple. Here's what you will need:
Bleached Wheat Flour — This is also known as all-purpose flour. All-purpose flour has the right amount of protein to develop the gluten needed for the soft interior.
Salt — A must in anything sweet to enhance the flavor of the other ingredients.
Sugar — Our sweetener. I'm using white granulated cane sugar.
Baking Powder — Our leavening agent that will make the dough rise. I'm using double-acting baking powder here. You cannot substitute baking soda for baking powder. Baking soda requires an acid to activate and there is no acid here. Other recipes will call for yeast as well as baking powder, but you will not need yeast in this recipe.
Whole Milk — The liquid to bring the flour together to make a dough. Other Bánh Tiêu recipes use water instead of milk, but milk yields a much softer texture.
White Sesame Seeds — You can use either raw or toasted sesame seeds. It doesn't matter since the cook time is short. The sesame seeds will not burn if you are using toasted/roasted sesame seeds.
Vegetable Oil — My go-to neutral oil to deep fry the dough. You can also use canola oil, peanut oil, sunflower oil, or corn oil.
Deep Frying
The temperature of the oil is extremely crucial to a successful Bánh Tiêu. I use a thermometer to keep the oil temperature at around 360°F but you may find that you have to adjust the heat accordingly.
You want the oil hot enough that it takes only 3 seconds for the dough to float to the top and start inflating. Because the dough is flattened, it only takes about 1 minute for the dough to cook completely.
If it takes longer than that, the oil temperature is too low. Low oil temperature won't inflate the dough as it should and it will change the texture of the finished Bánh Tiêu. Plus, it will absorb too much oil. Increase the temperature in this case.
If it's shorter than 1 minute, the oil temperature is too high. This will burn and darken the outside without cooking all the way through. You will need to decrease the temperature.
When deep frying, make sure you flip the dough every few seconds for even cooking. If you are using chopsticks to flip the donut, be careful not to puncture them. If possible, use two spatulas or two large spoons for flipping instead. If you do accidentally puncture the Bánh Tiêu, it's not a big deal. It will not look as pretty, but it will continue to inflate.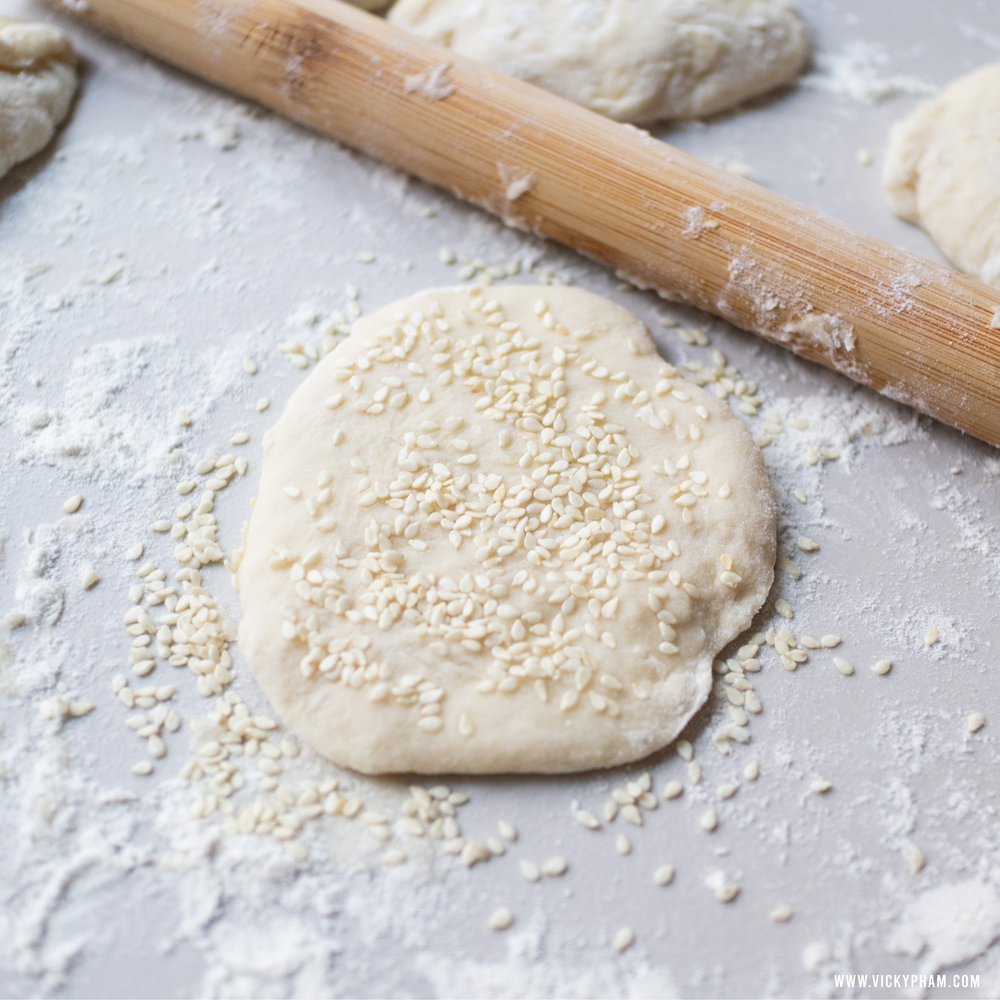 Enjoy Bánh Tiêu with these Drinks
Starbucks Hack: Vietnamese Iced Coffee
Vietnamese Hot Milk Coffee (Ca Phe Sua Nong)
Vietnamese Egg Coffee (Ca Phe Trung)
Vietnamese Iced Coffee (Ca Phe Sua Da)
Thai Iced Tea (Tra Sua Thai)
Yield
5
Author
Vicky Pham
Prep time
10 Min
Cook time
5 Min
Inactive time
1 Hour
Total time
1 H & 15 M
Vietnamese Hollow Donut (Bánh Tiêu)
An airy and soft Vietnamese donut with a crispy sesame seed crust and a hollow interior. Enjoy as is or fill with sweet sticky rice for a tasty sweet treat. This recipe makes 5 large donuts.
Ingredients
Instructions
In a bowl of a stand mixer with a whisk attachment, mix together flour, sugar, salt, and baking powder until combined. Add milk and knead the dough with a hook attachment until it comes together and pulls away from the sides of the bowl (about 10 minutes on the second speed). Scrap down the sides of the bowl if needed. If the dough isn't coming together, add an additional ½ teaspoon of milk at a time and knead until it comes together. The dough should be sticky and leaves small traces of dough stuck to your hands, but it's still manageable. This can certainly be done without a stand mixer, but it will take a bit longer.
Transfer the dough to a well-oiled bowl. Cover tightly with plastic wrap and place it in a warm place such as the oven with the lights on for one hour. The dough will not change much in size. It simply needs to rest.
Lightly dust your work surface and hands with additional flour to prevent sticking. Divide the dough evenly into 5 balls. Roll each ball into a bowl of sesame seeds until completely covered. Flatten the dough with a rolling pin to make thin round discs (about 2-3 mm thick, about the stack of two quarters). Dust the disc lightly to prevent sticking.
Fill a medium pot or wok with 2 inches of vegetable oil then heat to 360°F. Deep-fry the dough one or two at a time if space allows. It should start to rise from the oil within 3 seconds and start to inflate. Use two spatulas or two large spoons to continuously flip the dough for even cooking. Be careful not to puncture the puff. But if you do, it's ok as it will continue to inflate. It just won't look as pretty. It should take about 1 minute to cook completely with a light golden crust. If it takes longer than that, the oil is too warm. This will change the texture and absorb too much oil. Increase the temperature. If it takes less than that, the oil is too hot. This will burn the outside before it gets enough time to inflate. Decrease the temperature. After one minute, transfer to a wire rack to drain off excess oil. Repeat with the remaining dough.
Recommended Products:
KitchenAid Stand Mixer, 5 quart
Wire Rack
Nutrition Facts
Calories
190
Fat
7
Sat. Fat
1
Carbs
40
Fiber
2
Net carbs
37
Sugar
13
Protein
6
Sodium
347
Cholesterol
0
The values provided should be considered estimates. Factors such as brands purchased, natural variations in fresh ingredients, etc. will change the nutritional information in any recipe. To obtain accurate nutritional information for a recipe, use your preferred nutrition calculator to determine nutritional information with the actual ingredients and quantities used.
Similar Recipes
Vietnamese Fried Sesame Balls with Sweet Mung Bean Filling (Bánh Cam | Bánh Rán)
Mooncake with Sweet Lotus Paste (Banh Trung Thu Nhan Hat Sen)
Vietnamese Vanilla Sponge Cake (Bánh Bông Lan)
How to Make Vietnamese Coconut Pandan Waffles (Bánh Kẹp Lá Dứa)
https://www.vickypham.com/blog/vietnamese-hollow-donut-banh-tieu
banh tieu recipe, banh tieu, bánh tiêu, bánh tiêu recipe, Vietnamese hollow donut, Vietnamese hollow donut with sesame seed crust, sesame seeds, Vietnamese donut recipe, vietnamese hollow donut recipe, Vietnamese donut, Chinese hollow donut, Chinese hollow donut recipe, how to make banh tieu, how to make Vietnamese hollow donut, white sesame seeds, Vietnamese dessert, asian dessert, Chinese dessert, Vietnamese dessert recipe, asian dessert recipe, chinese dessert recipe, banh tieu ingredients, what is banh tieu, what is banh tieu made ofdessertVietnamese, Chinese
Did you make this recipe?
Tag
@vicky.pham
on instagram and hashtag it # vickypham