Theme: HAT TRICK

19. Hat that sounds right for an eco-conscious poet?: SOLAR BOWLER. The BOWLER hat was originally created by the London hat-makers Thomas and William Bowler in 1849.


31. Hat that sounds right for a futuristic cartoon poet?: JETSON STETSON. John Batterson STETSON is the the inventor of the cowboy hat. Near the end of his life, STETSON began donating almost all of his money to charitable organizations. He built grammar and high schools and helped build colleges, helped establish the YMCA in Philadelphia, co-founded Sunday Breakfast Rescue Mission, and a homeless shelter and soup kitchen, in 1878. Here's a favorite version of St. James Infirmary, covered by Arlo Guthrie, where he croons about being buried in a STETSON hat (@5:10).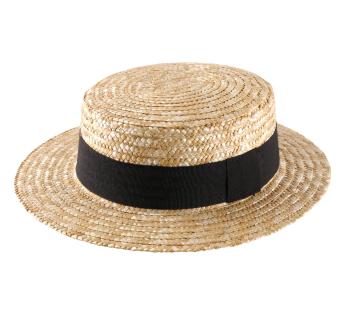 Melissa here. Pretty straightforward theme here, rhyming phrases for hats that "sound right" for certain occasions. I'm guessing the seed phrase was either SOLAR BOWLER or VOTER BOATER.
Across:
 
1. Hair-covering garments: HIJABS. Not a hat, but a kind of head covering.

7. __ oil: CASTOR. No thanks.

13. Together at the movies, say: ON A DATE.

15. Army swimmer?: OCTOPUS. Get it? 8 arms?

17. Equestrian loop: STIRRUP. Loop for a foot.

18. "Success at last!": I MADE IT.

21. Opposite of SSW: NNE.

22. Thompson who plays Bianca in the "Creed" films: TESSA.

23. Foil alternative: EPEE.

24. Bend at a 5-Down: PLIE. Ballet. 

 27. Some chats, briefly: IMS. Instant messages.

30. Cheryl of "Charlie's Angels": LADD. She joined the show after Season One when Farrah Fawcett left the show, playing Kris Munroe, Jill's younger sister.

36. Eur. carrier: SAS. Scandinavian Airlines.

37. Carnival city: RIO. The Carnival in Rio de Janeiro is a festival held every year before Lent; it is considered the biggest carnival in the world, with two million people per day on the streets. The first Carnival festival in Rio occurred in 1723.

38. Concept in East Asian philosophy: TAO. Chinese word signifying way, path, route, road or, sometimes more loosely, doctrine.

39. Scheduling abbr.: TBA. To be announced.

46. 2% alternative: SKIM. Milk.

48. Phillipa of "Hamilton": SOO. She played Eliza Hamilton.
49. "Auld Lang __": SYNE. "The good old times."
50. Tea brand with an Iced Citrus Jasmine variety: TAZO.
Starbucks sold the Tazo Tea brand to Unilever.
51. Letter-shaped fastener: T-BOLT. T-bolts are a type of threaded fastener that is used to secure two or more objects together. They consist of a head with two wings on either side, which allows them to be tightened securely when inserted into a pre-drilled hole.
55. Notable period: ERA.
62. Backdrop for some History Channel programming: WARTIME.
64. Flyer making short hops: AIR TAXI. A small commercial airplane used for short flights between localities not served by scheduled airlines.
65. Tries hard: STRIVES.
66. Joint Chiefs member: GENERAL. General Mark A. Milley is the 20th Chairman of the Joint Chiefs of Staff, the nation's highest-ranking military officer, and the principal military advisor to the President, Secretary of Defense, and National Security Council.
67. Trigonometry function: SECANT. I was told there would be no math. For those who like math ... here's more about it.
68. __ seed: SESAME. People suffering from gout and Wilson's disease should avoid sesame seeds as they are rich in copper. Sesame seeds might lower blood sugar levels, thus making the ingredient unsafe for people on blood sugar medication.
Down:
1. "Bonanza" brother: HOSS. Played by Dan Blocker.
2. Engrossed by: INTO.
3. Monopoly corner: JAIL. The board game.
4. Classified info?: AD RATES.
5. Supporter of dance troupes: BARRE. The horizontal handrail, usually wooden, that is fixed to the walls of a ballet studio approximately 3.5 feet (1 m) from the floor.
6. Short Wikipedia entries: STUBS. A stub is an article deemed too short and incomplete to provide encyclopedic coverage of a subject.
7. Slinky, for one: COIL.
8. Top: ACME.
9. "There was a __ danced, and under that was I born": "Much Ado About Nothing": STAR. What does it mean?
10. "Dracula" director Browning: TOD. The films of Tod Browning.
11. Kitchen storage option: OPEN PANTRY. 16 Ideas How to Make Your Open Pantry Look Good.
12. Beyond repair: RUINED.
14. Thematic set of poems: EPOS. A group of poems, transmitted orally, concerned with parts of a common epic theme.
16. Fine mount: STEED. A very old-fashioned way to say "horse." In Middle English, a steed was distinguished as "a great horse," as opposed to a palfrey, an ordinary, everyday horse. So a steed was typically a war horse that carried warriors into battle.
20. "Don't go!": WAIT.
23. Jeff Lynne's band: ELO. Wikipedia: The Electric Light Orchestra are an English rock band formed in Birmingham in 1970 by songwriters and multi-instrumentalists Jeff Lynne and Roy Wood with drummer Bev Bevan. Their music is characterized by a fusion of pop and classical arrangements with futuristic iconography.
24. Short nightwear?: PJS. Short for pajamas.
25. "Mulan" singer Salonga: LEA. Renown across the world for her powerful voice and perfect pitch. She is best known for her Tony Award winning role in Miss Saigon.
26. "I've never seen anything so weird!": IT'S BIZARRE. That did not come easy.
28. Facebook parent company: META. The rebranding is part of the global company's big plan to develop a virtual world but critics say its an attempt to shift focus from recent controversies.
29. "Don't go!": STAY.
32. NHL great Bobby: ORR. Robert Gordon Orr OC is a Canadian former professional ice hockey player, widely acknowledged as one of the greatest of all time.
33. Minor complaints: NITS.
34. Nabe in lower Manhattan: SOHO. Nabe being short for neighborhood. SoHo is short for "south of Houston Street." Today, the neighborhood is famous for its upscale boutiques, artists, and cast-iron architecture. But in the mid-1900s, SoHo was known for its factories and industries, earning it the nickname "Hell's Hundred Acres." What To Do in SoHo: Art, Food and Elegance in New York City.
35. __ story: SOB.
40. 2016 World Series MVP Zobrist: BEN. He played in Major League Baseball for the Tampa Bay Devil Rays/Rays, Oakland Athletics, Kansas City Royals, and Chicago Cubs.
41. Broke bread: ATE.
43. Tweeter's "I think": IMO. In my opinion.
44. Pour on the TLC: DOTE.
45. Some country homes: ESTATES.
46. Instant Pot dishes: STEWS. So many recipes these days are either for the Instant Pot or the air fryer.
47. Gold standards: KARATS.
52. Crow: BRAG. Seeing this as cow didn't help.
53. Stage awards: OBIES. Notable achievement in plays performed off-Broadway.
54. TV producer Michaels: LORNE. Best known for creating and producing Saturday Night Live and producing the Late Night series, The Kids in the Hall and The Tonight Show.
56. Bounty alternative: VIVA. Paper towel brands.
57. Harbinger: OMEN. Rain, hail and snow still here - but the harbingers of Spring have appeared - ants!
58. Skills assessment: TEST.
59. Skating commentator Lipinski: TARA. 
Notes from C.C.: 
Happy birthday to dear Agnes (Irish Miss), who helped me so much during the last few years of Boomer's life. I can't imagine the mistakes I would have made without her always prompt and practical advice. Thank you so much for the love and care you've been so generously giving to me, Agnes!