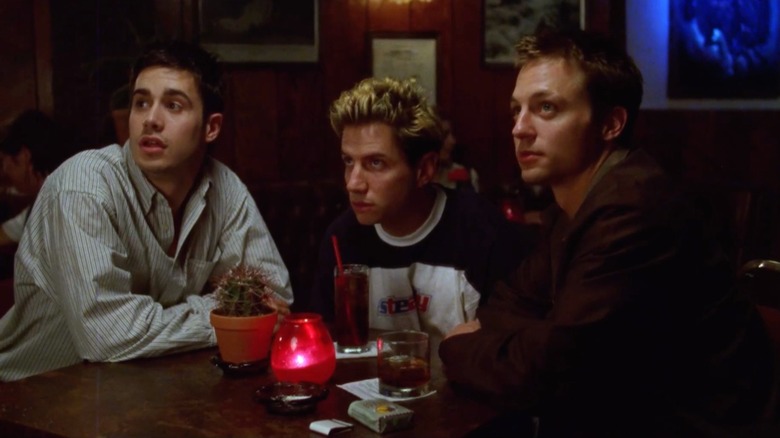 After an exhausting day, sometimes the antidote is turning on Ti West's "X," so we can bask in Maxine's unshakable and b**** courage -- channeling any of that power and strength for ourselves. Other times, we crave a kinder touch and assurances that we're precious too: This is what the goddess Melba May (Park Overall) provides viewers in Darren Stein's directorial feature debut, 1997's "Sparkler." Ok, she's not actually a goddess in the film, but she might as well be! If you've never heard of the low-budget comedy road trip film from the creative mind of "Jawbreaker," it's because it was virtually impossible to find until it hit streaming this month. 
Not only does it cast Freddie Prinze Jr. against type as an antagonist heel (which we love to see), but it also stars Jamie Kennedy ("Scream"), Steven Petrarca, and horror legend Veronica Cartwright. (If that's not enticing enough, Oscar-winning Octavia Spencer has a brief role in "Sparkler" too!) What opens up as a seemingly predictable road trip adventure to Vegas with Brad (Prinze Jr.), Trent (Kennedy), and Joel (Petraca) turns into a heartfelt coming-out story filled with showgirls, empathy, and compassion. Mistakes are made. Boundaries are crossed. But through it all, Melba and showgirl Dottie (Cartwright) gently guide viewers to an essential truth: Keep close to those who support you because you'll need them when times are tough.
I Believe She Did Things With A Baton.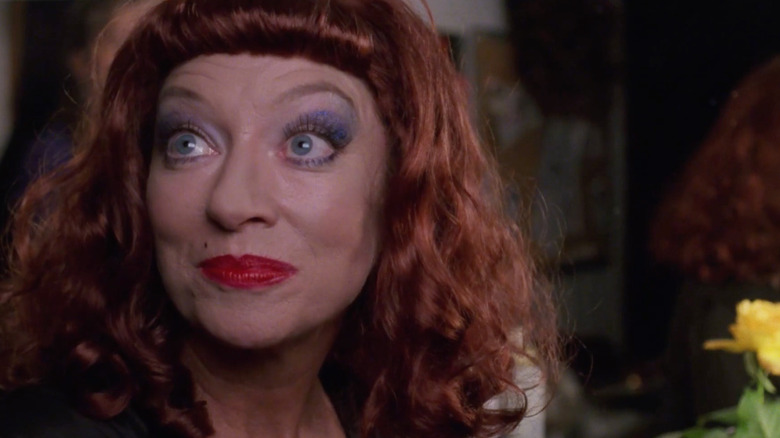 The premise of the film goes something like this: Melba contacts a phone psychic who tells her to look for three kings that'll change her life. After she discovers her husband cheating on her in their trailer, she goes out for a night in the town in glittery attire. At a local bar, she meets Joel, Brad, and Trent and becomes convinced these are the men she must follow. Initially, Trent admires Melba — but treats her more like a trailer park princess sideshow attraction — whereas Joel is indifferent and Brad is pretentiously dismissive of her quaintness and doe-eyed style.
From the get-go, it's clear "Sparkler" doesn't judge Melba for her income level or trailer park lifestyle. Instead, we see Melba look the other way when the boys are mean to her — waiting to speak her mind until she's ready. She's a curious character who assumes it's best to learn as much as possible about people before passing judgment on them, as she knows how quickly people discard her not being a "fancy" woman and misreading kindness as submissiveness. When people say there are ways to write characters to address socio-cultural concerns without outright spelling it out for audiences, this is how you do it. Stein lets Melba's interiority shine through each line, so we see how her struggle has informed who she's become.
Queerness Is The Norm Here.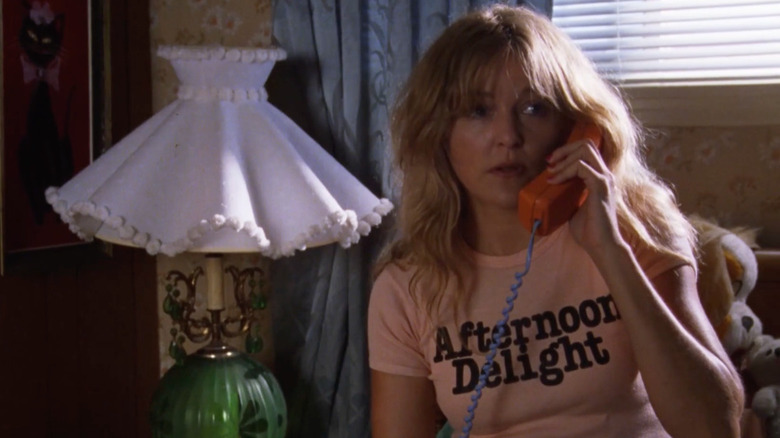 Eventually, everyone ends up in Vegas where Melba reunites with her high school friend and now professional showgirl, the baton-twirling Dottie. While the movie's first half feels akin to something like "True Romance" -- dialogue-heavy, hazy landscapes, raw but vulnerable --the second half is as delightfully unexpected as Vegas is in real life. When Melba arrives at The Crack, a club owned by Dottie's butch girlfriend, Ed (Sandy Martin), Melba puts her foot in her mouth a lot. When she learns of Dottie's bisexuality and meets Ed, she asks Dottie why Ed dresses like a man. (Oh, boy!) Between this and an early-in-the-runtime F-slur dropped, it's fair for queer viewers to have their hackles raised. However, trust me when I say that the film's larger goal is absolutely serving us with slice-of-life queer acceptance, camp, and curiosity.
The film's focus isn't on how "odd" it is to be queer but on how oddly cishet people react to discovering the vast array of queer experiences and identities. Melba's questions about gender and sexuality contrast against Ed and Dottie's lovingly homemade dinner scene. When one of the boys comes out to his friends, they all contend with their blatant and unquestioned homophobia — as they never connected how their ideas hurt actual queer people.
We Seldom See Characters Learn From Mistakes On-Screen.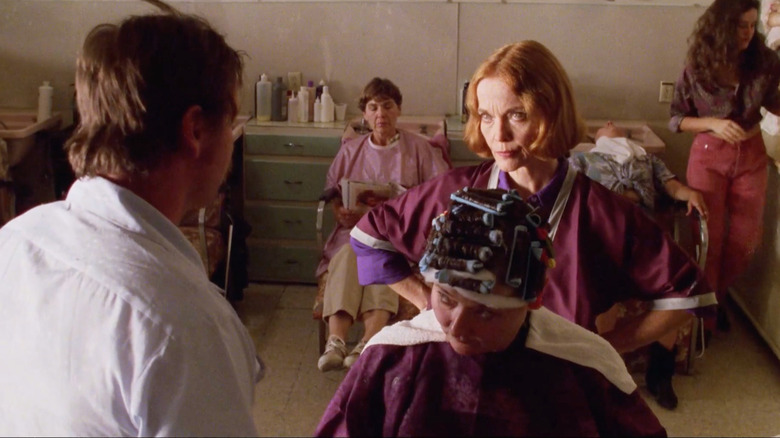 When a film describes itself as queer, so much pressure comes attached. While I appreciate the level of care that went into creating and casting "Bros," it didn't work for me because it felt like it had to cover each part of the queer community. There aren't many queer films, so I understand the ambitious drive to want to include as many experiences as possible. But that has the unfortunate side-effect of making people's sexuality and gender (let's not forget class levels, ethnicity, or heritage that adds layers upon layers of complexities to explore) feel like check-boxes to tick off. Sadly, this wide array approach makes it much harder to dial-in to smaller moments within specific queer experiences and let them breathe like how "Saving Face" shows how difficult it is to be out in a Chinese family or how gay hookup culture has made Noah afraid to be vulnerable in love in "Fire Island." 
I'm not saying that films shouldn't endeavor to be more inclusive: Unequivocably, they should. But it's also clear when a film feels like it's expressing itself through the experiences it can speak to on-screen. "Sparkler" feels like a fun and wacky coming-out comedy crafted by someone who has lived through coming out as a gay man. Many modern-day films (see: "They/Them") craft queer worlds where people always know the right pronouns to use or expression to say, but that's not how life or people work. We can and do make mistakes and films give us a way to articulate those pitfalls, lessons, and growth on-screen. There's queer power in Melba's curiosity and kindness, inviting us to learn and explore more than we assume and judge. She's a beacon, and I'd love to ask her to dance.
"Sparkler" is streaming now on Prime Video, iTunes, GooglePlay, YouTube, Vudu, and Fandango.
Read this next: The 15 Best '90s Comedies Ranked
The post You Can Finally Stream Sparkler, The 1997 Queer Gem You've Never Seen appeared first on /Film.