Whether you are travelling to Sydney for the week or are a born and bred Sydneysider, consider this your guide to what to do, where to eat, and where to drink when you head out in our city. 
We've done the hard yards (yes, hard yards), and found everything you absolutely must do when you are in Sydney.
Explore Taronga Zoo
Mosman
Kicking off this list of iconic Sydney attractions is one of the biggest and the best. Taronga Zoo is a classic weekend activity that is fun for literally all ages. Between the animal encounters, tiger treks, gorilla feeds and seal shows, there is action around every single corner. Sunscreen is recommended (learnt this one from experience), and ice cream is essential if you want to have the absolute best time at the zoo. BTW if you want to level up your experience, book yourself into Roar and Snore for a spot of glamping and education about all the next-level conservation work these legends are doing after your day in the Sydney sun. Spoiler alert: we're pretty sure zookeepers might just be the nicest humans in the world.
Drinks At Hacienda
Circular Quay
If you want the ultimate views of Circular Quay you need to head up to Hacienda at the Pullman Quay Grand. If getting your Sunday sesh on in what is basically a giant glass terrarium with views of the Harbour Bridge isn't on your bucket list, it really should be. At this point, drinks up here are basically a Sydney right of passage, because you get to soak up all of those iconic views without being swamped by the crowds (read: hoards of tourists) below.
Backstage Tour Of The Opera House
Circular Quay
We've all seen those beautiful white sails of the Opera House hundreds of times and when you make your way here for the first time it'll be just as special as you have wanted it to be. If you want to get the whole Opera House experience, book yourself in for a backstage tour of the landmark. The small group tours run every day from 7am so there is no excuse not to immerse yourself in the best Sydney has to offer. Once the tour wraps up, head to Opera Bar and order a bottle of rosé. When in Sydney...
Bondi To Bronte Walk
Eastern Suburbs
This one is short and sweet (and free). Chuck on your activewear and your nicest pair of joggers (if you want to look like a legit local), kick off your stroll near Bondi Icebergs and head south to Bronte before heading back again. If you're feeling keen, you can walk all the way too Coogee and claim it as a workout. Brunch afterwards is pretty much mandatory.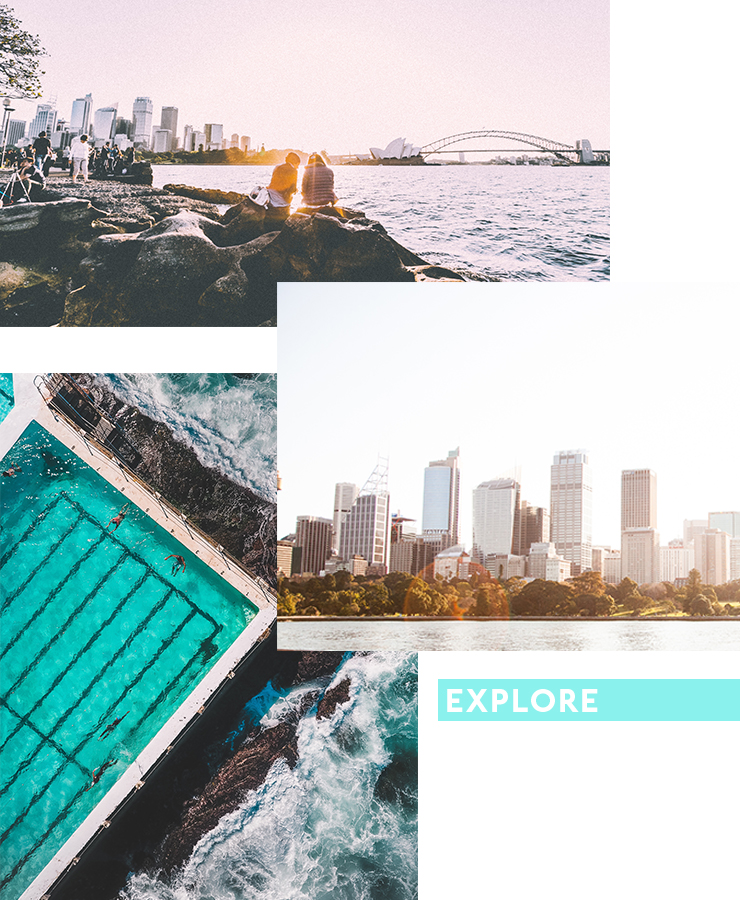 Catch A Ferry Somewhere
Various Locations
To make you feel like a true Sydneysider, you'll need to get yourself on a ferry. We suggest you hop on at Circular Quay and ride the ferry over to Manly for the day and make the most of the beach and awesome restaurants and bars on that side of town. Or, head to Cockatoo Island for the day; they often have events, exhibitions or, in winter, haunted tours happening.
Picnic In The Botanic Gardens
CBD
Sometimes you don't feel like heading to one of Sydney's amazing restaurants or bars and just want to sit back and relax in the great outdoors. We'll we feel you guys, and that's why we think you should head down the Royal Botanic Gardens for a picnic. Bring along a cheese board and some friends for an amazing afternoon in Sydney plus one of the best views of the Harbour Bridge and Opera House.
Explore Barangaroo & Get A Drink
Barangaroo
Sydney's latest and greatest precinct, Barangaroo, is home to a whole bunch of amazing and unusual bars and restaurants. Go for a stroll up and down the harbourside before taking your pick of some of the city's best new venues. If in doubt, head to Smoke Bar at Barangaroo House, the views up there are almost as incredible as the cocktails being served. 
Go For A Dip At Icebergs
Bondi
If you find yourself in Sydney during summer (or winter, no judgement), you've gotta get down to Bondi. While the famed beach is fantastic, the ocean pool at the south end of the beach (AKA Icebergs) is just a little bit cooler. If you don't feel like getting wet, just perch up on the iconic white deck by the pool with all the influencers. You're also guaranteed to snap some very Insta-worthy pics and spot a few Insta-famous people at this spot, team.
Drop Some Dollars At The QVB Or The Strand Arcade
CBD
After all the action and adventure so far on this list, you might want to wind it back a bit with a spot of shopping. The Queen Victoria Building and The Strand Arcade are home to some of Sydney's most beautiful boutique stores, as well as some of the usual suspects we can never walk past without popping our heads in (umm, Mecca). As the levels go up, so do the price tags but honestly, a little high-end splurge never killed anybody, did it? 
Dinner & Drinks Aat Hotel Palisade
Millers Point
A Sydney institution, Hotel Palisade returned after seven years with a fresh new look and quickly became the go-to for sweet eats, cocktails and views. It's basically the perfect spot for rooftop drinks, with stunning views over the harbour. Downstairs, it's all about the classic pub dishes are turned up a notch and we are warning you now—they're super tasty. This joint is exactly where you want to be on a warm summer evening and you can bet that's where you'll find us. Bonus points if you book a room for the night.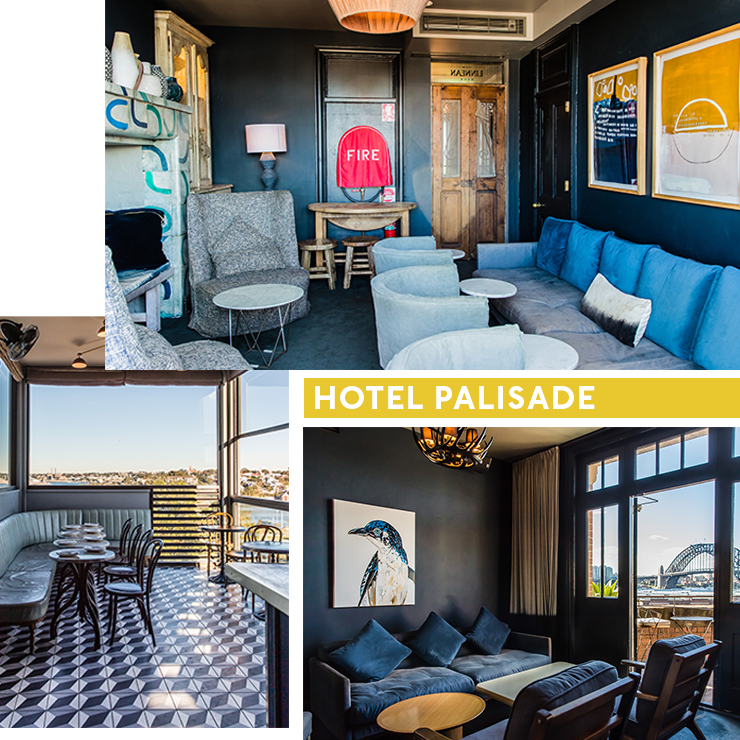 Climb The Sydney Harbour Bridge
The Rocks
One bucket list item for both tourists and locals alike is climbing that big bridge in the middle of the harbour—you know the one. Take your pick from daytime, sunset or night climbs and get completely different sights from each of them. This attraction is well worth it and is something everyone should do when they come to Sydney. If you're thinking this is just one big tourist trap, well, we thought the same. That is until we did it. So just do it, okay. 
Chinatown Night Markets
Haymarket
Muse over local designers and sink your teeth into some damn delicious Chinese street food at the Chinatown Night Markets. This tasty precinct is really getting its hustle and bustle on and is an epic (not to mention drool-worthy) way to celebrate those TGIF feels. Get your ass down here this Friday and dive deep into all of those delicious eats. 
Drink At Blu Bar In The Shangri-La Hotel, Sydney
The Rocks
Located within the glorious Shangri-La Hotel, Sydney, Blu Bar on level 36 has literally the best view in Sydney (for reals, you can see all the way from Balmain and beyond to the east). Settle in for the night and let the mixologists (i.e. bartender) whip you up something special, and maybe go all out with one of the creative cocktails from their Liquid Physics menu. You also won't need to travel too far (or at all) to fill your belly if you're hungry because they do snacks too. 
Lunch At CHISWICK At The Gallery
CBD
For a morning full of culture, head down to the Art Gallery Of NSW in the Botanic Gardens. Get your art critic on with their ever-changing exhibits and displays before you head up for your lunch reservation at CHISWICK. Nestled in the gallery is a little taste of Matt Moran's restaurant and honestly, what could be better than a day jam-packed with amazing art and even more amazing eats? You're right. Nothing.  
Stay At Sofitel Darling Harbour
Darling Harbour
This new whiz bang hotel in Darling Harbour oozes European luxury and if you're prepared to ignore everything else we've written on this list, then you won't need to leave the hotel for your whole stay. Between the three on-site bars, luxe restaurant, club lounge and rooftop pool, we're pretty sure you'll find something to keep yourself busy. Park it on a lounge chair by the rooftop bar and soak up those fab views. Cocktail in hand, obvs. 
Image credit: Hero | Federica Portentoso